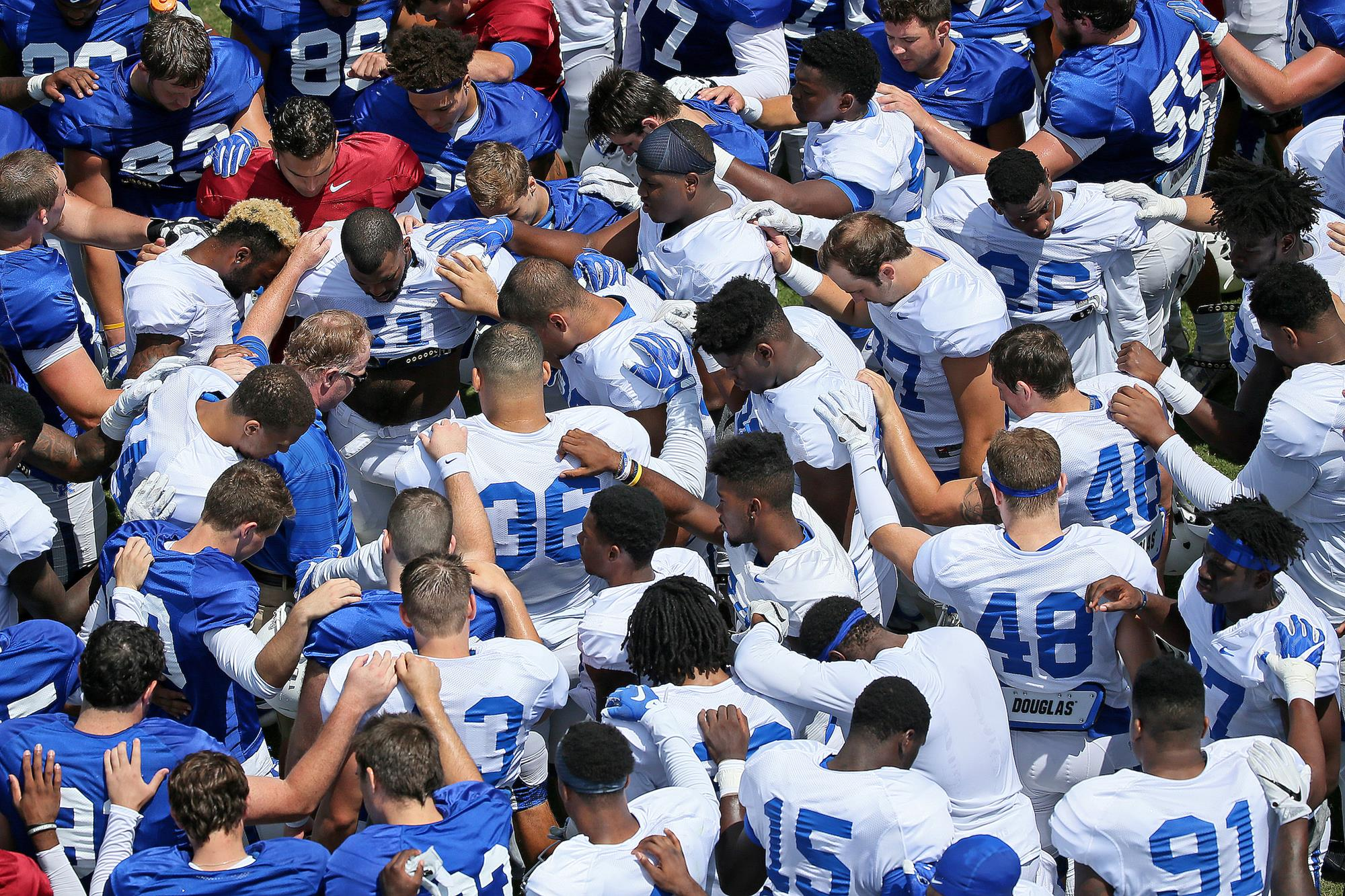 The goal of fall camp is to improve.
Looking back at a scrimmage last Saturday, the week of practice that followed it and now another scrimmage on Saturday, Mark Stoops can confidently say Kentucky is doing exactly that.
"It was good work today. Feel like it was a better scrimmage than it was a week ago, as it should be," Stoops said. "I thought we had a really good solid week of practice this week. We got a lot of work in. Wrapping it up today with a good, long scrimmage. I feel like we did some good things on both sides of the ball."
The defense had the better of the action in the early going when neither side was holding back personnel, but the offense had its moments as well. Freshman wide receivers Lynn Bowden, Josh Ali, Isaiah Epps and Clevan Thomas continued to draw rave reviews, while Benny Snell "was Benny" in his limited practice time and the quarterbacks protected the ball as they have throughout camp.
Nonetheless, the offense could sense how the defense had gotten better in the span of a week.
"You go against somebody for so long that they start to pick up on certain things you do, how receivers run routes," Stephen Johnson said. "When you got Derrick Baity out there calling out plays before they happen, it makes it kind of difficult. They definitely pick stuff up. We're definitely looking forward to in about two weeks when we play somebody else."
"We just had to make a statement today, prepare ourselves for Southern Miss and I think we did a good job, but we can always do better and improve," Josh Allen said.
That game in a couple weeks came up frequently in interviews following the scrimmage, a signal of the focus this team has on the task at hand. Of course UK has season-long goals in mind, but the Wildcats know everything starts in Hattiesburg, Mississippi, on Sept. 2.
"I feel like we're much further ahead in our maturity level," Stoops said. "This team has been a lot of fun to coach. I don't know if it's different with the structure of it. This is the first time we've gone through this structure of training camp without the two a days. Starting earlier with the day off and all that. I don't know if that has all to do with it or if the team is just more mature or we're just further along or the continuity of our staff, but it's been an enjoyable camp."
It's been an enjoyable camp that is now well past the halfway point. That means the competition that in many ways has defined fall camp is about to come to a head.
"I told the team that point blank yesterday in a team meeting that we're going to be making some decisions with playing time and moves on the depth chart after this scrimmage," Stoops said. "Guys that either can't do it or won't do it are going to get passed up because we do have a lot of depth and a lot of talent on this team. At least a lot more than we've had."
A lot of that has to do with the freshman class UK signed last winter. Among that group, those four wide receivers, defensive lineman Quinton Bohanna and linebacker Josh Paschal are making a strong push for immediate playing time.
"I'm very comfortable and happy with this team, with their mentality," Stoops said. "We're not 100 percent there. We're not. I don't know if anybody ever is. But we're striving to be that way. I really feel good with our team, but I love this freshmen group. I think they're instinctual, they're ball players, they love playing, they're here all the time. They've been impressive."
The one piece of bad news on Saturday was an ankle injury to senior wide receiver Dorian Baker that Stoops deemed "fairly substantial." An update on his status will follow next week but the Cats must forge ahead regardless, just as they did after Cole Mosier was lost to a knee injury.
"You try to keep the team up, because those two are two big guys on our team, big playmakers, especially Cole and Dorian," Johnson said. "Just to keep everybody moving in the same direction so we don't fall back and fall into some depressed state."
UK has shown no sign that should be a concern.
"There's still so much work daily to do but it's been fun," Stoops sad. "The guys have really taken to the coaching. I think it's very important to them. I feel like we're further ahead with the details."