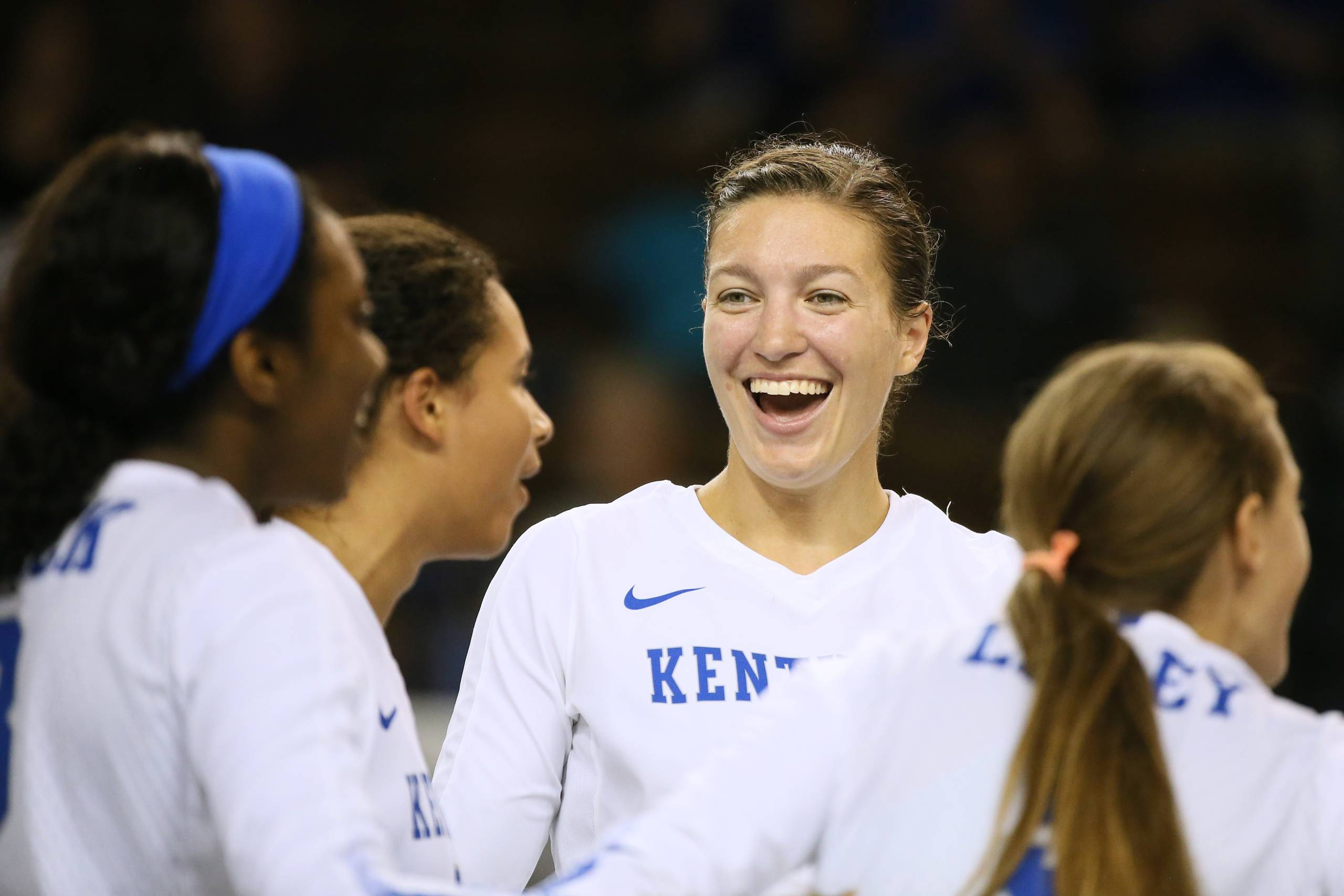 August 18, 2017 - 12:02 PM
Franklin Ready for Last Leg of Long Journey
Emily Franklin has come a long way, both literally and figuratively, during her career with the Kentucky volleyball program.
The literal part of her long journey started with a decision that Franklin made when she was still in high school.
"I think, just going through high school, I didn't want to stay close to home (for college)," said Franklin, who grew up in Mesa, Arizona. "I was sick and tired of the heat and I was looking at schools that weren't close to home. Obviously, Kentucky is 2,000 miles from Arizona. Coming here for my visit, it just clicked and I loved the weather, so it felt like the right place."
But things in Lexington didn't get off to a great start for Franklin. She had a broken finger as a true freshman, and ended up redshirting during that year. But that's not the memory that head coach Craig Skinner has of Franklin's first season at Kentucky.
"Emily will admit that, I believe she cried in her first week of practice as a true freshman," Skinner said. "I don't think she knew what to expect."
Things obviously improved for Franklin, who is now a senior, the oldest player on the team and in her fifth year as a Wildcat. Skinner knows that there's no way Franklin would have a similar reaction now.
"I don't think you'd probably ever see her do that now," Skinner said. "Now, she's a very hardened leader."  
Franklin has become a force in the middle of the floor for the Wildcats. She has 277 total blocks in her UK career, which ranks eighth in UK history during the rally-scoring era. Of those blocks, 251 have been block assists, and that's good for seventh in UK history during the rally-scoring era. She also stands seventh on UK's career hitting percentage list (rally-scoring era), with a .305 clip.
Skinner has seen Franklin improve each season, and he thinks she may not yet be done with her ascent.
"She (set personal records) in four or five things in our summer strength program, and that is almost impossible to do," Skinner said. "So, whatever determination she has this year showed in the results during the summer time."
Franklin agrees with that assessment.
"I want to keep improving, I think I can have my best season," she said. "I've had a lot of time to prepare."
The 6-4 senior also hopes that she and her team can take another step forward as a program this season. She cites "getting past that second round in the (NCAA) tournament, winning the SEC Championship," among goals she thinks the team has within its reach in 2017.
And Franklin knows how she and the team can get past those hurdles.
"You can't think about what has happened in the past," she said. "You have to look toward to the future. Don't think about the last point that just happened. You just have to keep focusing on what you can do to get better. If you need to come in for extra reps, putting in the extra time and work. We've been working really hard this summer."
And if the hard work pays off, Franklin's long journey could end up with a very special season.