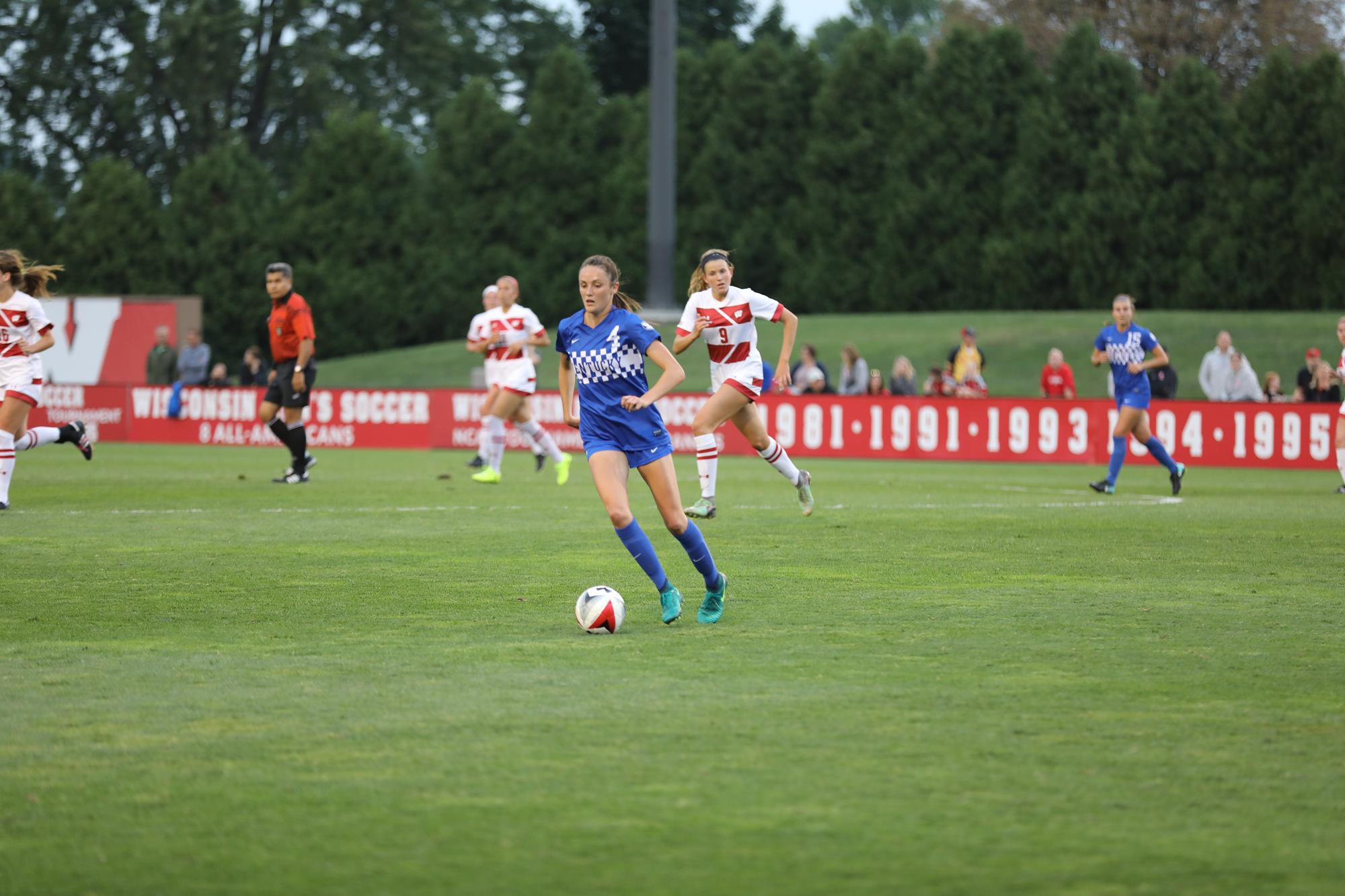 August 18, 2017 - 10:35 PM
Soucie's Epic Match Not Enough to Top Badgers on Opening Night
MADISON, Wisc. – The Wisconsin Badgers scored a goal in the 77th minute off a re-directed entry ball into the box, which proved to be enough to defeat the Kentucky Wildcats on opening night of the 2017 season.
 
"Tonight was an unbelievable performance by the Kentucky Wildcats," head coach Ian Carry said. "The workrate was through the roof, and tonight we made a statement that this is a new era of Kentucky Women's Soccer. We leave with our heads held high.  I couldn't be more proud of these young women as they competed toe to toe with a team in Wisconsin that we know will do well in the Big Ten. We will turn around and get ready for Marquette by learning from tonights lessons in order to move forward in a positive direction."
 
Evangeline Soucie was brilliant in the net all night long keeping the Wildcats in the game time after time, including stopping a penalty kick midway through the second half. Her eight saves were just three off her career high set last season. Soucie's PK stop was the first of her NCAA career, as one in 2016 was missed – and not saved.
 
"Although we did not get the result we may have wanted, I'm extremely proud of the performance we put on the field tonight," Soucie said. "Wisconsin is a great team and challenged us in many ways. As a young team, these are the kinds of experiences that we need to have in order to grow and become a postseason team."
 
The lone goal of the match came in the 77th minute after a spell of Wisconsin pressure as Emily Borgmann scored off a re-directed ball in front of Soucie after wide service was played in from 20 yards out off the feet of Payton Wesley. The Badgers ended up outshooting the Wildcats 12-5 and nine of the 12 shots were on target.
 
Kentucky had plenty of scoring opportunities themselves to score, including three corner kick opportunities. The best scoring chance for UK came in the first half as Yuuka Kurasoki played a free kick into the area that was flicked on and saved well in the box by Badger keeper, Caitlyn Clem.
 
"Considering it was our first game with a totally new team and system, I thought the girls did outstanding and everyone battled and worked so hard for each other," Hollie Olding said. "This game was just one of the stepping stones to get better and improve and we will continue to get after it and prove not only to our conference but the country what our new identity is."
 
The Wildcats return to the pitch on Sunday afternoon against Marquette at 3:30 p.m. ET from Milwaukee.
 
For the latest on the Kentucky women's soccer team, follow @UKWomensSoccer on Twitter, Instagram and Facebook, as well as on the web at UKathletics.com.