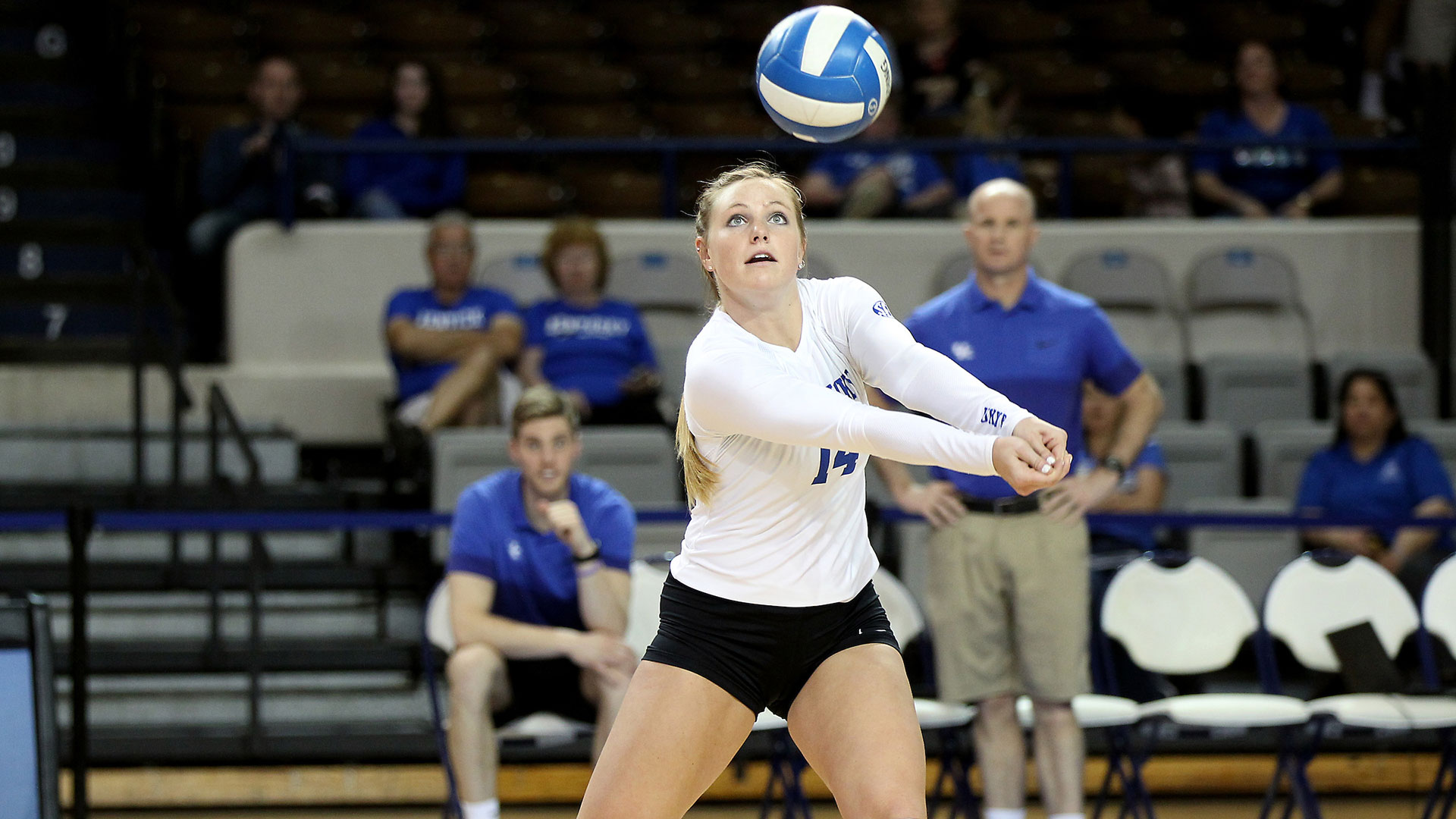 August 17, 2017 - 11:31 AM
UK Volleyball's Hempel Proud to Be Playing at Kentucky
Many young people growing up in the Commonwealth of Kentucky dream of one day wearing the Blue and White and playing sports for the state's flagship institution. However, playing for the University of Kentucky remains a dream for almost all of them.
For Harper Hempel, a native of Union, Kentucky who played at Ryle High School, playing for UK was, naturally, always a dream. However, in Hempel's case, her dream became a reality.
Hempel never had any doubt that she would attend UK. In fact, it was sort of a family tradition.
"My whole family came to UK," Hempel said. "I was dead set on UK. I didn't even look at any other schools."
Hempel's grandfather, Mickey Conner, played baseball at Kentucky from 1958-60. So picking UK seemed to be a no-brainer for Hempel. 
But she didn't immediately join the volleyball team upon her arrival in Lexington. Kentucky head coach Craig Skinner allowed Hempel to practice with the team for a while before offering her a scholarship.
"I will never forget that day," Hempel said of the day she was informed about her earning a scholarship. "I had been with the team about a month, and I kind of figured something would happen eventually. They called me into the office that day and they said I had been doing really good, that I fit in good with the team, and they wanted to offer me a spot. I obviously accepted and was very happy. It was very cool."
Now in her third season with the program, Hempel is extremely grateful for the chance to play for Kentucky.
"It means everything," Hempel said of being able to play for the Wildcats. "Being from Kentucky and wearing Kentucky on my chest, it's just incredible. I never thought I'd be playing volleyball for UK."
Skinner appreciates the feeling that a native Kentuckian has when they suit up for UK.
"I think, without question, if you're from the Commonwealth, there's an immense amount of pride," Skinner said. "I would hope that there are goosebumps that go into it when you slide on that jersey and play in Memorial Coliseum."
Hempel has seen limited action during her two-year Kentucky career. However, she has proven to be extremely valuable, both in games and in practice.
"She didn't get a whole lot of recognition last season, but she was the setter on the other side of the net the entire season in practice," Skinner said. "If we don't have a good player in that position, we can't do the things we did in matches. So, if that's what she provides in practice, or she goes in and serves two game-winning serves against Purdue on the road to win the match, our staff has a lot of trust in her and that's why she's so valuable."
Hempel has proven to be a valuable teammate, whether she's showing her versatility on the court, or simply cheering on her teammates.
"If Harper was asked to start and asked to play six rotations, or Harper was asked to be in a supportive role, she would do it with the same intensity and same passion," Skinner said. "I think that's why her teammates have so much respect for us. She's genuinely as excited when her teammates do something as she is when she does something."
As for her senior season, Hempel is prepared to do what she can for the benefit of the team.
"Being here and being able to do whatever I can to help the team out, that's what I'm here for," she said. "I'll do whatever they need."
And in doing so, Hempel will make the most of her final season in a Kentucky jersey.