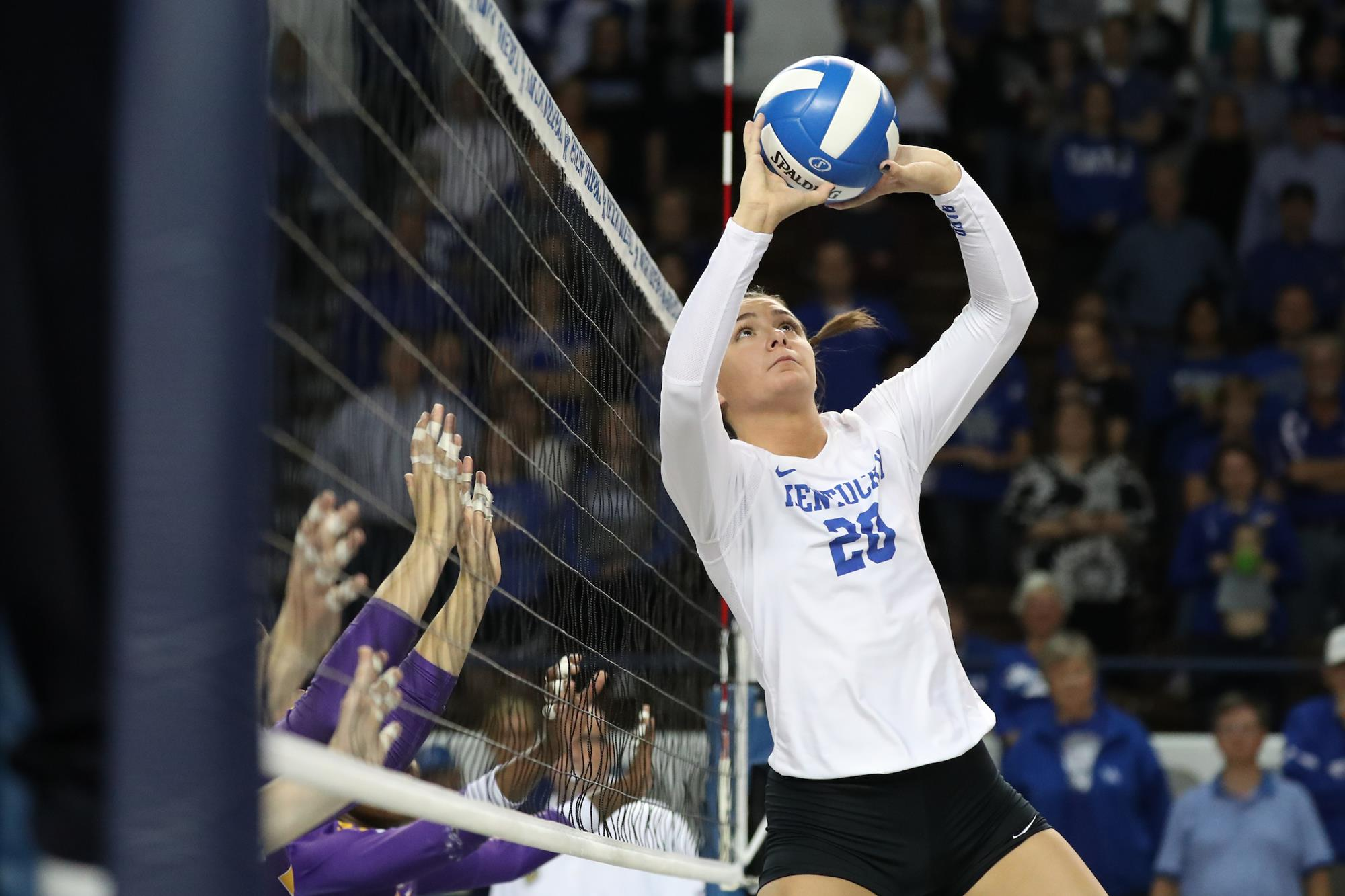 August 16, 2017 - 11:53 AM
Confidence, Experience Prepare Dailey for 2017 Season
As a sophomore during the 2016 season, Kentucky setter Olivia Dailey enjoyed a breakout campaign. In her first year as a starter, Dailey was second in the league in assists per set, dishing out 11.78 per frame.
The experience gained last season provides Dailey with a ton of confidence heading into the 2017 campaign. She notices a huge difference from where she was this time last year.
"It's like night and day," Dailey said. "Heading into my sophomore season, having to fill Morgan Bergren's shoes and having all of those expectations and pressure. Now, I definitely feel more confident and at home. I know how it runs now."
Dailey earned All-SEC honors for her efforts last season. She was the five-time SEC Setter of the Week and was honorable mention All-American.
While some might rest on those laurels, Kentucky head coach Craig Skinner sees none of that from Dailey in fall practice.
"Liv has really taken on a very focused, intense way about her this preseason," Skinner said. "She's very observant and plays the game very calmly, which is very good in the setting position. She's very focused and more intense this fall."
Dailey had the opportunity to play with the USA Collegiate National Team during the summer, which helped her build upon her considerable skills. It also gave her an additional level of confidence.
"It's hard to develop chemistry with different hitters when you've never set them before," Dailey said of her summer teammates. "I definitely became more comfortable and set from places I had never set before. Playing there was one of the coolest things I've ever done. I think it will definitely help me as I go into this year."
Dailey's hitters say that she sets a very accurate ball, something that Skinner knows comes from years of playing experience.
"Liv has had a ball in her hands since she could walk," Skinner said. "She takes a lot of pride in her accuracy."
When asked about her expectations for the 2017 season, Dailey immediately turned to team goals.
"We want to win the SEC Championship," Dailey said. "Beyond that, we want to get into the more elite group of being in the Sweet 16 and Elite Eight regularly. This year, we can definitely start that with this talented group."
Dailey's 1,202 assists last season rank sixth in UK's single-season record book for the rally-scoring era. And Dailey also played well defensively, tying for third on the team with 73 total blocks and scooping 202 digs on the season.
The 2017 Kentucky squad is loaded with hitters, which is a dream for any setter. Dailey knows she has a number of weapons at her disposal, and she knows what her job is.
"I want to make my hitters look as good as possible," she says. 
If Dailey can take another step forward, as she did last year, she, and the Wildcats, could be in for another big season.