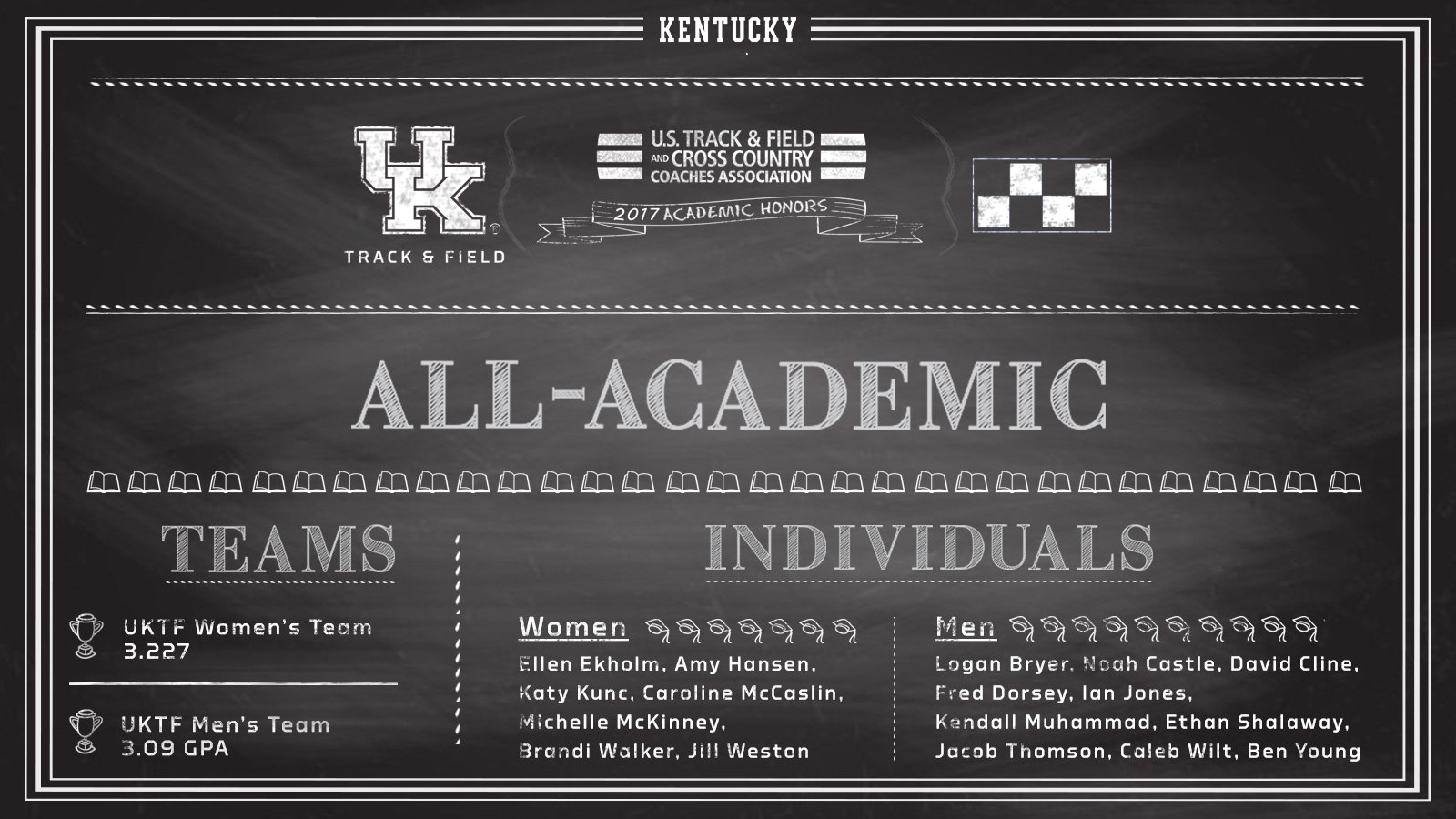 August 16, 2017 - 06:46 PM
Both UKTF Teams, 17 Individuals Earn USTFCCCA All-Academic Status
LEXINGTON, Ky.  – Both the Kentucky men's and women's track and field teams in addition to 17 individual students – 10 men and seven women – picked up All-Academic honors from the U.S. Track & Field and Cross Country Coaches Association.
To earn All-Academic status, teams had to have a cumulative GPA better than 3.0. Teams with that GPA and top NCAA finishes are considered for Scholar Team of the Year.
All told, 360 NCAA Division I teams were honored for their academics by the USTFCCCA.
 
Breaking it down further, 218 of those were women's teams compared to 142 men's programs.
 
To qualify for individual USTFCCCA All-Academic honors, the student-athlete must have compiled a cumulative GPA of 3.25 and have met at least one of the following athletic standards:
 
For the indoor season, a student-athlete must have finished the regular season ranked in the national top 96 in an individual event or ranked in the national top 48 (collective listing) in a relay event on the official NCAA POP list provided by TFRRS.org.
For the outdoor season, a student-athlete must have participated in any round of the NCAA Division I Championships (including preliminary rounds).

All-Academic Teams
Women's Team: 3.227 GPA
Men's Team: 3.09 GPA
All-Academic Individuals
Women (seven)
Ellen Ekholm
Amy Hansen
Katy Kunc
Caroline McCaslin
Michelle McKinney
Brandi Walker
Jill Weston
Men (10)
Logan Bryer
Noah Castle
David Cline
Fred Dorsey
Ian Jones
Kendall Muhammad
Ethan Shalaway
Jacob Thomson
Caleb Wilt
Ben Young
 
The most up-to-date coverage of the UK track and field program is available via @KentuckyTrack handles on Twitter, Instagram and Facebook.