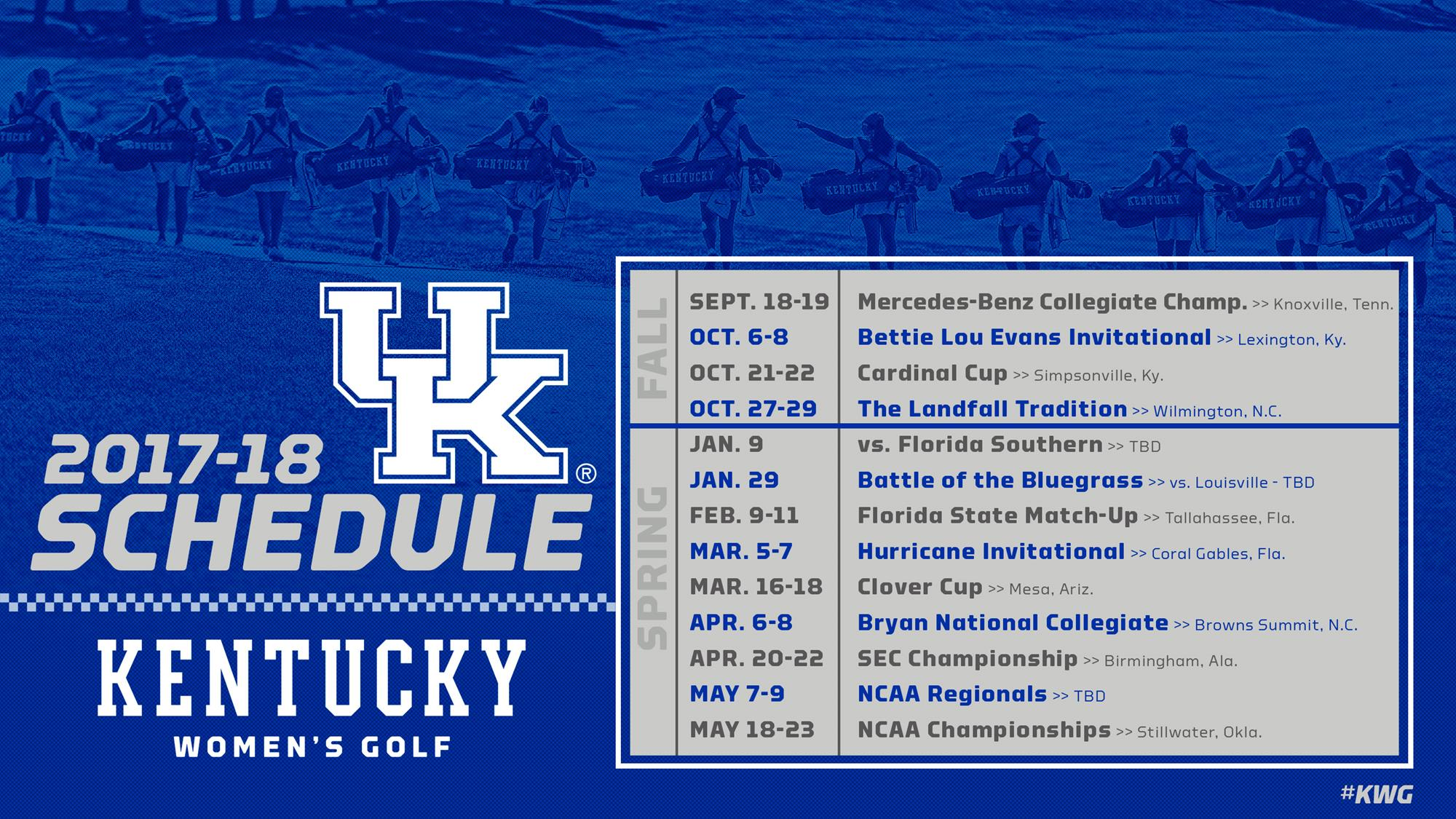 August 16, 2017 - 09:00 AM
Kentucky Women's Golf Unveils 2017-18 Tournament Schedule
LEXINGTON, Ky. – After regular appearances in NCAA regionals and equipped with an experienced, battle-tested team that's been infused with additional young talent, the Kentucky women's golf team has grander goals in 2017-18 to not only make it to the NCAA Championships but to compete for a national championship.
 
That ultimate goal this season is clear for Golda Borst's team, as is the path now it must take to get there. Borst and her staff have pieced together a schedule that will present challenges and opportunities for success and growth in 2017-18, all while preparing a talented team to be ready for its first run to the NCAA Championships since 1992.
 
"I am really excited about our schedule this year," Borst said. "Not only are we bringing back our home tournament this fall but we will be playing in some of the best collegiate tournaments in the country, which will really challenge our team. As in years past, I have tried to balance our schedule so that our team will have an opportunity to play against the nation's best players as well as truly be in contention to win. You have to learn to win, and I believe this schedule will provide us with several chances to do so."
 
UK's 2017-18 slate features seven regular-season stroke-play tournaments, a matchup tournament where the Wildcats will pair with another team, two dual matches, the Southeastern Conference Championship and then NCAAs.
 
The schedule includes a return trip out west, annual stops at some traditionally strong tournaments in the southeast, new stops in Florida, and for the first time since fall 2011, Kentucky will host a tournament: the Bettie Lou Evans Invitational.
 
But the Wildcats will officially tee off their season Sept. 18-19 in Knoxville, Tennessee, at the Mercedes-Benz Collegiate Championship. UK has been a frequent visitor at the Mercedes-Benz but last appeared in the tournament in 2015. The tournament will feature 36 holes on the first day of competition before a final round of 18 holes on the second day.
 
The highlight of the fall schedule will be the Bettie Lou Evans Invitational, Oct. 6-8, at the Big Blue Course at the University Club of Kentucky. It will mark the 28th edition of the Bettie Lou, previously known as the Wildcat Fall Invitational.
 
"We have talked about bringing back our home tournament for several years and I know the team is very excited about playing in front of their family and friends on their home course," Borst said. "This event will give us a chance to compete close to home, and it's a tournament that we will continue to build on so that the best teams in the country will want to come and play in the Bluegrass State."
 
This year's Bettie Lou Evans Invitational will feature 16 teams, including UK. The Wildcats have won the tournament 11 times, including the last time in 2011. It began in 1979 (there were actually two tournaments in 1976 and 1977 before women's golf became a varsity sport at UK) and was played every year until a four-year hiatus from 1998 to 2001. The Kentucky tournament also took one-year breaks in 2008 and 2010 before its current six-year gap.
 
The Wildcats won't venture far for their third tournament of the fall. For the second straight year, UK will play in Louisville's Cardinal Cup in Simpsonville, Kentucky. This year's tournament will take place Oct. 21-22 with 36 holes on the first day and the final 18 holes on the second day. UK placed third in last year's tournament with three top-25 individual finishes and two top-10 showings. Of those three, Isabelle Johansson (tied for sixth) and Sarah Shipley (tied for 21st) will be back on the roster this season.
 
Kentucky will end the fall portion of its schedule Oct. 27-29 at the Landfall Tradition in Wilmington, North Carolina. The Landfall Tradition is consistently one of the top spots of the fall, as 12 of the 18-team field from last season made NCAA regionals.
 
"Our toughest test of the fall will be the Landfall Tradition in Wilmington," Borst said. "The field is always solid and we will be playing on a course that has hosted national championships in the past. I believe our team will be able to handle this golf course well and I am looking forward to us competing against some of the best teams in the country to finish up our fall season."
 
The Wildcats will warm up for the spring season with a pair of dual matches in January. First will be a matchup vs. Florida Southern on Jan. 9 at a location to be determined, then the Wildcats will take on Louisville in the annual Battle of the Bluegrass on Jan. 29 at a location to be determined. UK won last year's meeting vs. the Cardinals.
 
In a changeup of tournament formats, Borst's group will team up with Notre Dame in the Florida State Match-Up, Feb. 9-11, in Tallahassee, Florida. Each team will play three rounds in a traditional tournament format, but unlike other tourneys, teams will pair up with another school and combine scores for a two-team total. 
 
For the first time in the Borst era, Kentucky will participate in the Hurricane Invitational in Miami, March 5-7. After nearly a month off, the Wildcats will begin a stretch of four tournaments in a seven-week span.
 
"We decided to add a couple of new events in the spring to give our team new experiences and for us to play on some different courses," Borst said. "The Florida State Match-Up and the Hurricane Invitational will give us those opportunities. It is also our goal to play against a variety of teams throughout the season and this will give us the chance to do so."
 
After a successful showing at last year's Clover Cup, UK will return to Mesa, Arizona, March 16-18, for Notre Dame's annual tournament out west. All five Wildcats who helped the Wildcats to a fifth-place finish return this season.
 
There may be no better tournament to prepare a team for postseason play than the Bryan National Collegiate, which the Wildcats will return to April 6-8 following a one-year break. Arguably the most difficult course UK will play on during the regular season, the Bryan Park Champions Golf Course in Brown Summit, North Carolina, yielded just one-under par team score in the 2017 tournament.
 
The SEC Championship, slated for April 20-22, returns to Greystone Golf & Country Club in Birmingham, Alabama. As always, the SEC Championship is expected to be one of the top conference tournaments of the season, as nine of the league's teams made NCAA regionals last year.
 
UK will try to build off last year's NCAA regional appearance in Columbus and make it to the postseason for a seventh season in Borst's eight years. Regionals will take place May 7-9 at one of the four following sites: Stanford, California; Austin, Texas; Madison, Wisconsin; and Tallahassee.
 
The year's NCAA Championships will be held May 18-23 at the Karsten Creek Golf Club in Stillwater, Oklahoma.
 
The Wildcats are poised for a big season in 2017-18. UK will return all but two of its players from the 2016-17 squad that qualified for NCAA regionals, broke individual and team records, and won two individual titles. Johansson – who broke the school's single-season stroke average record last season – Grace Rose and Ale Walker will return as seniors alongside a young but experienced nucleus of sophomores in Josephine Chang and Shipley, who combined to appear in all but one event in their freshman seasons.
 
Joining them will be Leonie Bettel, a highly regarded transfer that helped NC State to postseason play last year, as well as talented freshmen in Claire Cameron and Sarah Fite.
 
For the latest on the Kentucky women's golf team, follow the team on Twitter, Facebook, Instagram and Snapchat, as well as on the web at UKathletics.com.