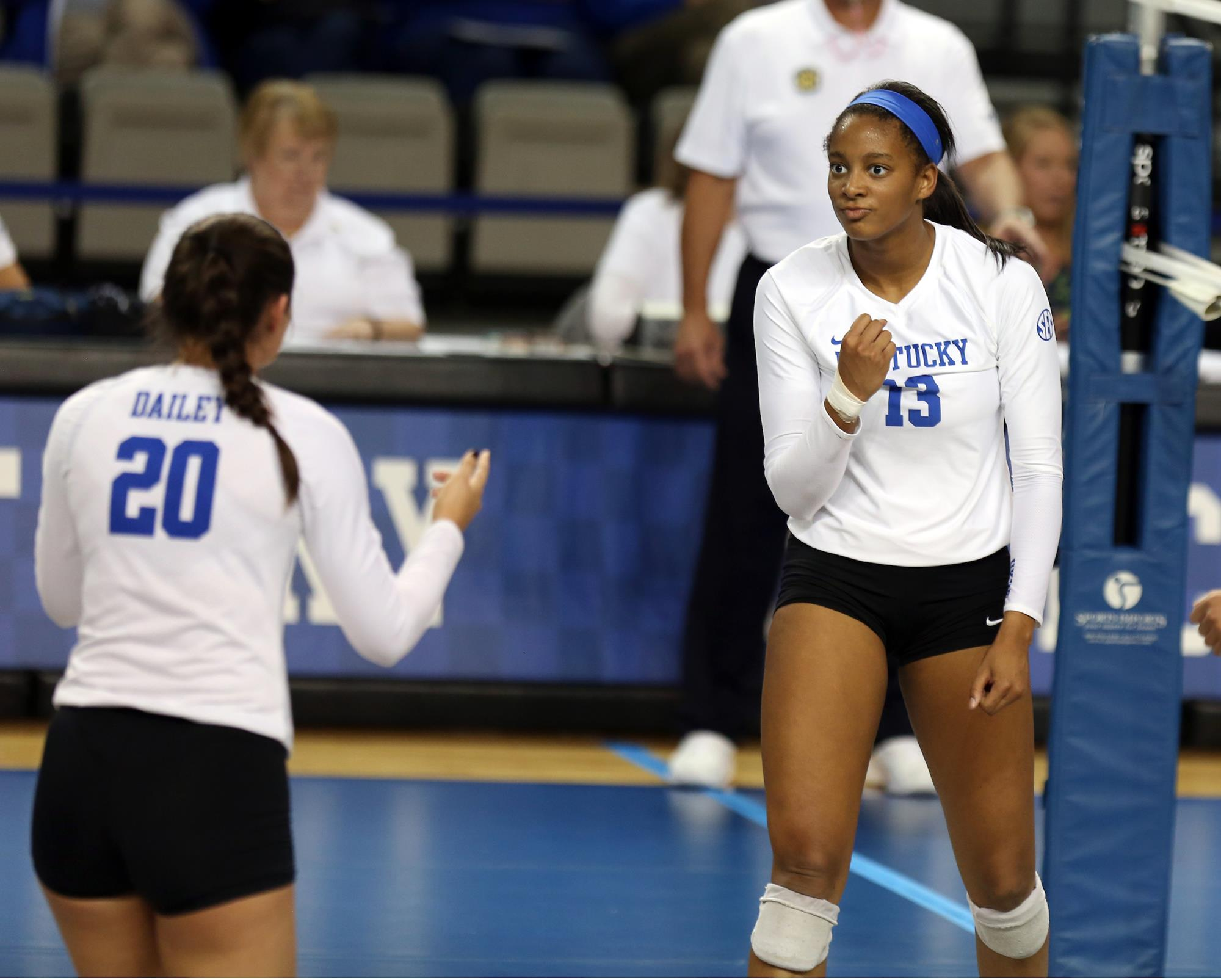 August 15, 2017 - 10:24 AM
UK Volleyball's Edmond Hopes to Build on Big Freshman Season
The storyline regarding Kentucky volleyball standout Leah Edmond changed dramatically throughout the 2016 season. Prior to beginning her first year in the program, the story was about how Edmond would become the first player from the city of Lexington to play for UK. 
But as the season moved forward, the narrative changed. No longer was Edmond just the "girl from Lexington". She was quickly proving herself to be not only the best freshman in the SEC, but among the best freshmen in the country.
Edmond notched a team-high 450 kills as a freshman while hitting .259. In doing so, she earned SEC Freshman of the Year honors, as well as being named to the All-SEC Team. Edmond was also a third-team AVCA All-American, while earning 10 SEC weekly honors.
So what does Edmond do for an encore?
"I still expect bigger things out of myself," Edmond said. "I expect to be more involved in the back row, but I also want to improve my blocking and other aspects where I can help the team."
Edmond had 25 matches with double-figure kills last season, including five matches in which she logged at least 20 kills.
Despite her success in her first year, Edmond hopes to continue to gain knowledge about the game. In doing so, she hopes to become more of a leader on the team.
"I am still working on my game and I'm still learning things about the game every day," Edmond said. "I'm hoping that the more I play, the team starts to see me as a leader."
Kentucky head coach Craig Skinner hopes that Edmond can focus on herself, and can lead when necessary.
"She's a very competitive, vocal person on the court," Skinner said. "She doesn't need to take on as much of a leadership role. She can play the game and be consumed with being a great teammate at the same time."
Despite her list of accolades, Skinner knows that Edmond can be even better than she was last season.
"We expect her to continue to improve," Skinner said. "She had a phenomenal freshman year. She expects, and we expect, more."
Edmond has focused on some of the areas in which she struggled last season, and Skinner has seen improvement in her game. 
"I've been very impressed with her development as a serve receiver and a blocker, and those were two areas where she needed some improvement," Skinner said. "Whether it was the spring (practice) or her international experience with USA Volleyball, she's made some strides in that area, so that's encouraging to see."
That international experience came when Edmond was invited to play with the USA Volleyball U20 team in Mexico this summer, an experience that she will never forget.
"It was incredible, I was so blessed to have that opportunity," Edmond said. "Talking to girls from other countries and how they train. I had never seen volleyball like that."
Edmond's teammates know that she is a reliable resource on the court.
"Leah is a firecracker," said junior setter Olivia Dailey. "I know in a pressure situation, if I set Leah the ball, she'll get it done."
If Edmond can build on what she did as a freshman, big things could be in store for the 2017 UK volleyball team.