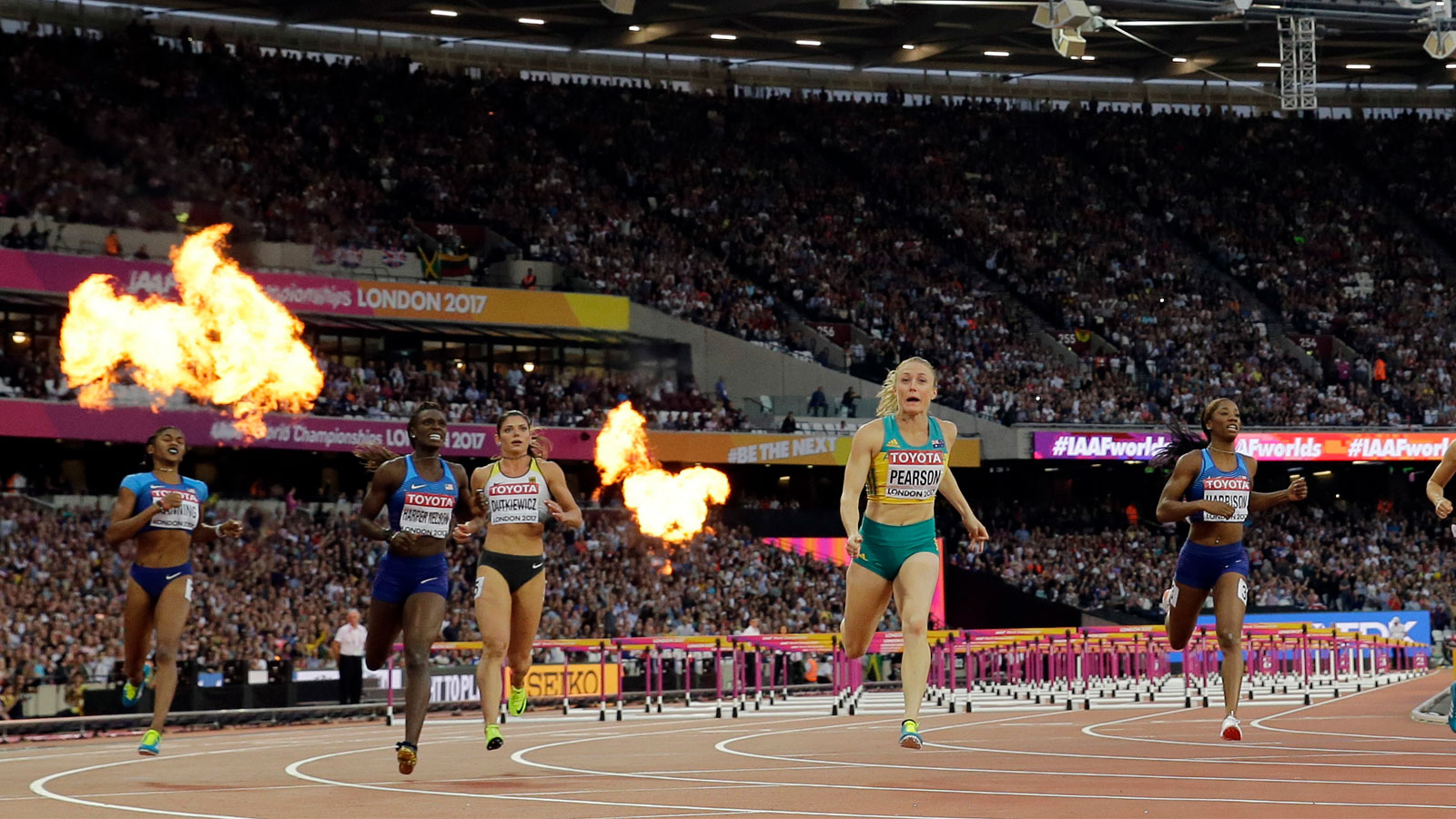 August 12, 2017 - 08:49 PM
UKTF Alumna Kendra Harrison Fourth in World 100H Final
Live Results/Timetable | American Broadcast Listings
LONDON – Kentucky alumna Kendra Harrison missed out on a medal by .02 seconds, placing fourth in 12.74 (+0.1) IAAF World Championships final in the 100-meter hurdles at London Stadium on Friday.
"Sometimes at these Championships it's not about going out there it's not about going out there and running fast it's about just executing your race and I didn't do that," Harrison said. "I had a few nicks (of hurdles) and I tried to get back into it.
"This is my first time making the final ever so to get fourth, it's bittersweet right now."
The road to the final was paved with some unanticipated peril, but perhaps as a sign of how far Harrison has come in her still young professional career, the two-time NCAA Champion found a way to overcome.
The field had to be recalled to the blocks upon the first start gun firing, but a green card was issued to the field. On the restart, Harrison got out of the blocks well, but then flew into the first hurdle. She did well to stay in contention, and finished third in semifinal three with a 12.86 time to qualify as the second non-automatic qualifier by just a 0.01-second margin.
"I'm a fighter and this is only going to make me train even harder," Harrison said.
Harrison's Championships opener on Friday was a smoother trip as she was fastest qualifier in the preliminary heats winning the third prelim in 12.60Q (-0.6).
Harrison will run out of lane three in the final, which is scheduled for 3:05 p.m. ET on Saturday. That race will fall in the NBC live broadcast window.
Two of Harrison's training partners (Lexington resident non-UK alum hurdlers that now work with the current Wildcats and train under UK head coach Edrick Floréal's direction) have already claimed gold at these World Championships. On Thursday, Stanford alumna and now UK volunteer assistant coach Kori Carter won the 400m hurdles. On Monday, Arkansas alumnus – a UK volunteer assistant too – won the 110m hurdles.
 
"I love training with Omar and Kori," Harrison explained. "We push each other. We all have high standards. We like to reach our goals and to have such a strong group of teammates is why we're successful.
"Watching them run and get their jobs done is inspiration for me to go out there and do what I know I can."
At the semifinal stage of the last IAAF World Championships in Beijing 2015, Harrison was disqualified for a false start. She placed eighth in the final at the 2016 World Indoor Championships after hitting a hurdle early on.
She famously placed sixth at the United States Olympic Trials last summer, missing a spot on Team USATF for the Rio Games weeks after breaking the American record at the same track in Oregon. Harrison followed up the trials disappointment by breaking the world record running a time of 12.20 at the Diamond League Anniversary Games inside London Stadium two weeks later.
 
UKTF Results/ Timetable – 2017 IAAF World Championships: London
Event
UK entry/attachment
Friday, August 4
Men's Discus qualification
20. Andrew Evans (U.S.): 201'1″/61.32m
Sunday, August 6
Men's 110H heats
2. (Omar McLeod – Volunteer assistant coach/Arkansas alum [Jamaica]): 13.23Q (-1.2)
Men's Marathon
67. Luis Orta (Venezuela): 2:33.42
Women's Marathon
DNF: Hiruni Wijuayaratne (Sri Lanka)
Men's 110H Semifinals
1. McLeod: 13.10Q (+0.2)
Monday, August 7
Women's 400H Heats
 3. (Kori Carter — Volunteer assistant coach/Stanford alum [U.S.]): 54.99Q
17. Leah Nugent (Jamaica): 56.16q
Men's 110H Final
1. Omar McLeod (Jamaica – UA alum): 13.04 (0.0) | World Champion
Tuesday, August 8
Women's 200m heats
Seven heats | First 3 in each heat (Q), next 3 fastest (q)
35. Kayelle Clarke: 23.75 (-0.1)
400m Hurdles semifinals
Three heats | Top 2 in each heat (Q), next fastest (q)
4. Kori Carter (U.S – SU alum): 54.92Q
14. Leah Nugent: 56.19
Wednesday, August 9
Women's Long Jump qualification
Automatic qualifying mark: 21'11.75″/6.70m (Q) or at least 12 best performers (q)
21. Sha'Keela Saunders (U.S.): 20'9″/6.32m
Thursday, August 10
Women's 400m hurdles final
1. Kori Carter (U.S. | Stanford alumna): 53.07 – World Champion
Women's 100m Hurdles Heats
Five heats | First four in each heat (Q) next four fastest times (q)
1. Kendra Harrison (U.S. – UK Class of 2015): 12.60Q (-0.6)
Women's 100m Hurdles Semifinals
8. Harrison: 12.86q (+0.2)
Saturday, August 12
Women's 100m Hurdles Final
4. Kendra Harrison (U.S. – UK Class of 2015): 12.74 (+0.1)
Women's 4x100m relay final
TBD

—
The most up-to-date coverage of the UK track and field program is available via @KentuckyTrack handles on Twitter, Instagram and Facebook.