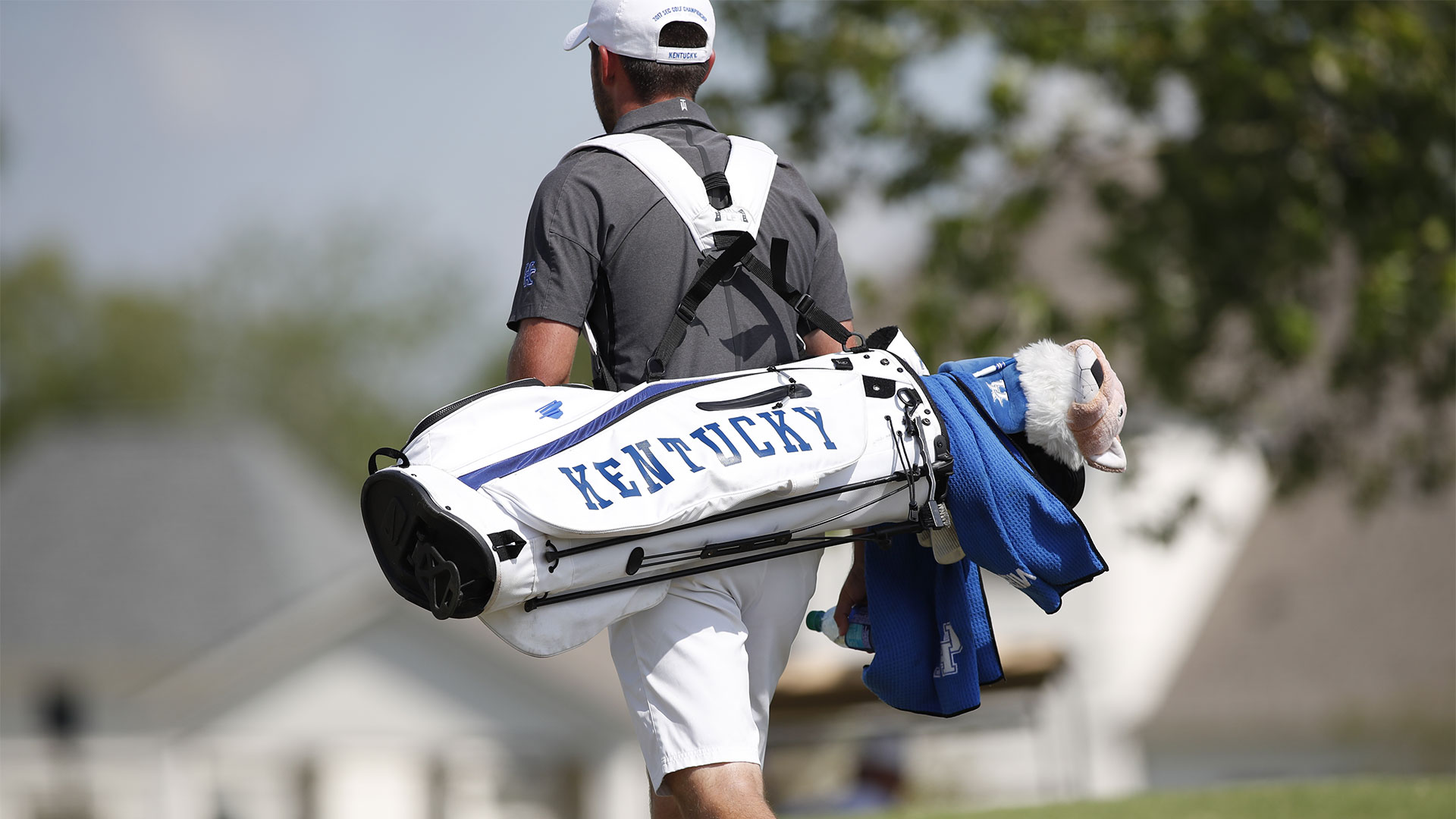 August 10, 2017 - 12:18 PM
Kentucky Unveils Competitive 2017-18 Schedule
PDF Schedule
LEXINGTON, Ky. – After placing in the top five in four events and advancing to its second-consecutive NCAA Regional appearance last season, head coach Brian Craig pieced together another impressive slate of tournaments for the 2017-18 season. 
The Wildcats return their top two performers from a season ago in seniors Tyler "Chip" McDaniel and Cooper Musselman. That duo will be tasked with leading the team into a challenging, yet familiar schedule. 
"What a schedule we have put together for our team," Craig said. "In golf, your main competition is the golf course and you always want to play the best courses you can get your team on. In the fall alone, we are playing Crooked Stick, Wolf Run and Coldstream. We also have a return trip to Puerto Rico and play a super competitive spring schedule. The highlight, of course, is playing in the best conference championship in all of Division I golf. It simply does not get any better than playing in the SEC Championship on the Seaside Course on St. Simons Island. This team has a chance to accomplish some wonderful things this season and this schedule will definitely help us to prepare for that postseason run."
Kentucky will kick off the season with the Wolf Run Intercollegiate at Wolf Run Golf Club, which is setup on bent grass with a length of 6,805 yards and par of 71, in Zionsville, Indiana, Sept. 8-10. UK started the 2016-17 season with a third-place finish at Wolf Run for its sixth top-10 placement since it won the event in 2006. 
Coldstream Country Club in Cincinnati, Ohio, will play host to the Cincinnati Intercollegiate Sept. 25-26. McDaniel finished tied for third place and the team finished in sixth at last season's tournament. 
Following a brief two-week break, the Wildcats will head to the esteemed Crooked Stick Golf Club in Carmel, Indiana, for their first appearance at the Crooked Stick Intercollegiate since 2015 when they finished in fourth place. Home to the 1991 PGA Championship and the 2016 & 2017 BMW Championships, Pete Dye's first creation plays at a long 7,500 yards and par 72. This two-day event runs from Oct. 16-17.
UK's second place finish, its highest standing on a leaderboard during the 2016-17 season, came at the Steelwood Collegiate Invitational. The team will look to replicate, or better, its result from last season when it takes to Steelwood Country Club in Loxley, Alabama, Oct. 28-29 for its final contest of the fall schedule. Designed by former U.S. Open Champion Jerry Pate, Steelwood has been rated as one of the best courses in Alabama by GolfDigest. This scenic course is centered on Steelwood Lake, holds Bermuda grass, and provides many perplexing shots throughout its 7,000-yard layout.
Greg Norman's stunning River Course at Wyndham Rio Mar Beach Resort in Puerto Rico awaits Kentucky after the winter break. Scheduled for Feb. 18-20, 2018 the Puerto Rico Classic takes full advantage of the attractive setup with large fairways on the island along the Mamaeyes. Musselman tied for fifth place last season, McDaniel and Stephen Stallings finished in the top 20, and the team finished sixth overall. 
UK will return to the General Hackler Collegiate at the Dunes Club in Myrtle Beach, South Carolina, for the second-consecutive season March 10-11. This Robert Trent Jones course plays over 7,300 yards and underwent a three-month renovation in 2013 in order to co-host the 2014 PGA Professional National Championship. The Dunes Club has also hosted many PGA Tour, Senior PGA Tour, Amateur, National, and State competitions, while being ranked in the "Top 100 Golf Courses" in numerous magazines. Two Wildcats placed inside the top 10 during last season's event.  
With three top-10 finishes in its last five appearances at Forest Heights Country Club, UK will travel to Statesboro, Georgia, March 16-18 for the Schenkel Invitational. Last season's fifth-place finish also saw three Wildcats make the top 30 among individuals with Musselman finishing tied for eighth place. 
For the 14th consecutive season, the team will compete in the Hootie at Bulls Bay Intercollegiate. Bulls Bay Golf Club in Awendaw, South Carolina, will host the event March 25-27. This 7,220-yard course, just minutes from Charleston, is stimulating and offers two par fives that are more than 600 yards long. This tournament annually features some of the best collegiate programs in the nation.
The Gary Koch Invitational will close out the regular-season schedule for the fourth time in the Craig Era April 9-10. The Wildcats will make their 12th appearance since 2001 and have finished in the top five on six occasions with one win and two second-place finishes. Known for its tactical shot placement and lightning-quick greens, Gaston Country Club was also selected to host U.S Open qualifiers and the North Carolina Women's Amateur. Last season McDaniel fired a blistering seven-under-par 65 – the team-low 18-hole round for the season – on the final day of competition. 
The Seaside Course at the picturesque Sea Island Golf Club in St. Simons Island, Georgia, will host the Southeastern Conference Championship for the 18th time April 25-29. Since 1927, the Sea Island Golf Club has enjoyed a legacy as one of America's premier golf clubs. Rated No. 1 in the U.S. among the "World's 50 Best Golf Resorts" by Golf Digest, Sea Island offers three exceptional 18-hole championship courses. The Seaside Course, updated by Tom Fazio in 1999 and home to the PGA Tour's McGladrey Classic, is a links course graced by majestic ocean vistas in the tradition of St. Andrews. Sea Island is also the only resort in the world to receive four Forbes Five-Stars nine years in a row.
Following the SEC Championship will be the NCAA Regional Championship May 14-16. UK finished seventh last season while McDaniel finished in a tie for seventh as an individual with a total score of 219.
The 2018 NCAA Championships will be held from May 25-30 at, arguably, the most elite college competition golf course in the country – Karsten Creek in Stillwater, Oklahoma. Also a Tom Fazio design, Karsten Creek is situated on Lake Louise and extends to over 7,400 yards with zoysia fairways and bent-grass greens.