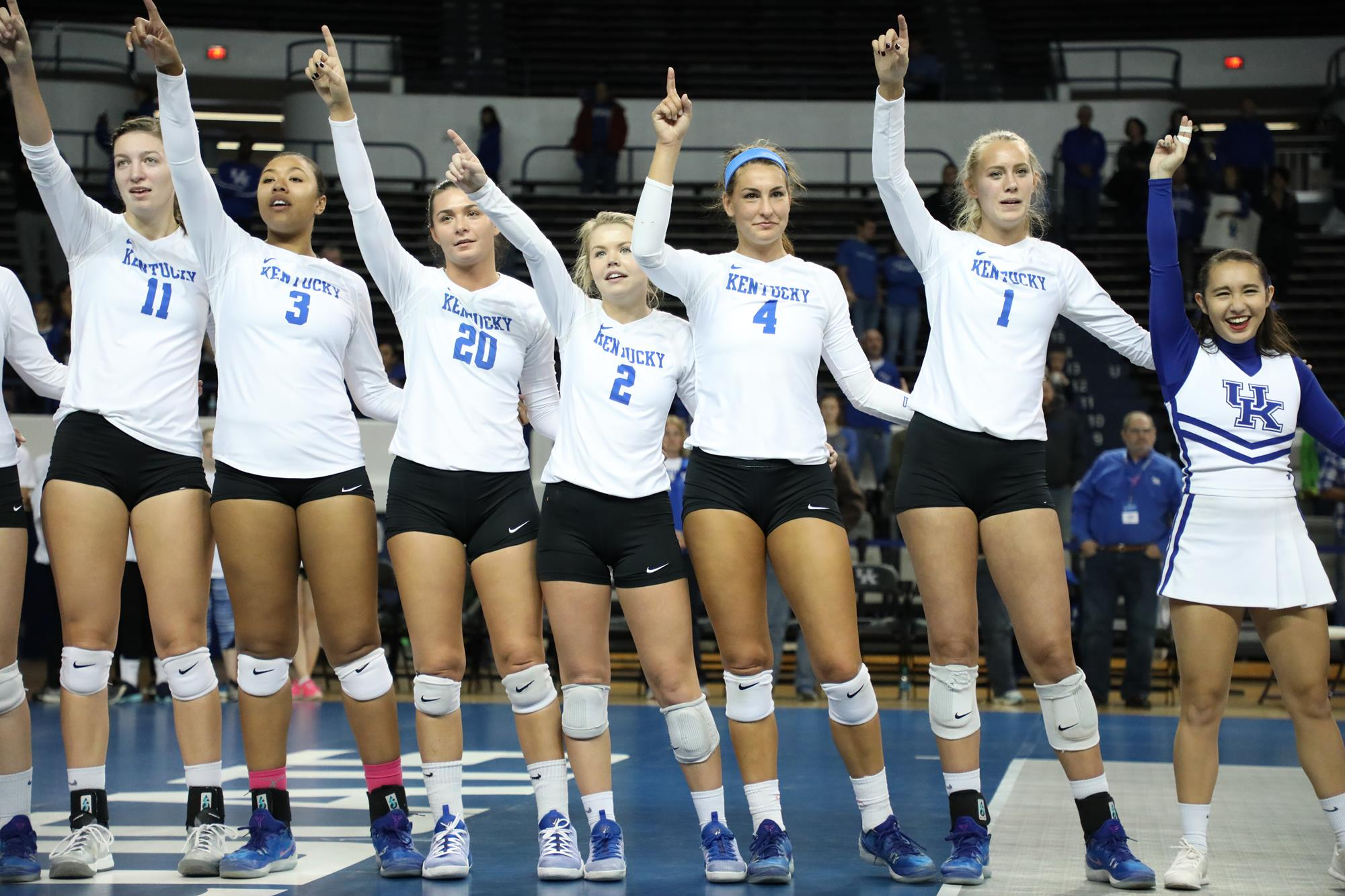 August 9, 2017 - 09:53 AM
Kentucky Volleyball Television Schedule Released
LEXINGTON, Ky. –  The Southeastern Conference revealed its television schedule Wednesday, featuring 42 SEC Volleyball matches on the SEC Network and the ESPN family of networks, with Kentucky playing in at least eight of those contests.
 
Six Kentucky matches will be shown live on the SEC Network, including four against 2016 NCAA Tournament teams. UK will face PAC-12 power Utah on the network, as well rival Louisville. In SEC play, the Cats will see Texas A&M, Florida and Alabama on the SEC Network.
 
SEC matches against Auburn and Florida will appear on ESPNU.
 
In addition to the televised events, all of UK's home matches and select conference matches will be available for live streaming through the WatchESPN app on tablets and mobile devices. Fans can also watch the action online at espn.go.com/watchespn.
 
Kentucky is slated to return 91.9 percent of its leading kill production, including its top five terminators in Leah Edmond, Kaz Brown, Darian Mack,  Emily Franklin and Brooke Morgan. Defensively, UK returns 97.8 percent of its blocking numbers and 84.5 percent of its dig production. Brown, who already holds numerous 25-point rally scoring era records, is UK's leading returning blocker with 151 rejections a season ago. Ashley Dusek has posted more than 200 digs in all three seasons with the Cats.
 
With the announcement of the TV schedule, times for all matches are set. The full schedule can be found here.
 
| | | | | |
| --- | --- | --- | --- | --- |
| DATE | OPPONENT | LOCATION | TIME | TV |
| Aug. 16 | WKU@ | Lexington, Ky. | 5 p.m. | |
| Aug. 25 | Arkansas State1 | Lexington, Ky. | 11 a.m. | |
| Aug. 25 | Utah1 | Lexington, Ky. | 9 p.m. | SEC Network |
| Aug. 26 | Cincinnati1 | Lexington, Ky. | 7:30 p.m. | |
| Sept. 1 | Creighton2 | Omaha, Neb. | 8 p.m. | |
| Sept. 2 | Northern Iowa2 | Omaha, Neb. | 11 a.m. | |
| Sept. 2 | Southern Cal2 | Omaha, Neb. | 6:30 p.m. | |
| Sept. 4 | Kansas | Lawrence, Kan. | 2 p.m. | |
| Sept. 9 | Loyola3 | Milwaukee | 7 p.m. | |
| Sept. 10 | Marquette3 | Milwaukee | 2 p.m. | |
| Sept. 15 | Louisville | Lexington, Ky. | 7 p.m. | SEC Network |
| Sept. 16 | Kennesaw State | Lexington, Ky. | 7 p.m. | |
| Sept. 20 | Missouri* | Columbia, Mo. | 8 p.m. | SEC Network |
| Sept. 24 | LSU* | Lexington, Ky. | 1:30 p.m. | |
| Oct. 1 | Mississippi State* | Starkville, Miss. | TBD | |
| Oct. 6 | Alabama* | Lexington, Ky. | 7 p.m. | |
| Oct. 8 | Auburn* | Lexington, Ky. | 2 p.m. | ESPNU |
| Oct. 11 | Texas A&M* | Lexington, Ky. | 8 p.m. | SEC Network |
| Oct. 15 | Florida* | Gainesville, Fla. | 7 p.m. | SEC Network |
| Oct. 22 | Tennessee* | Lexington, Ky. | 1:30 p.m. | |
| Oct. 27 | LSU* | Baton Rouge, La. | TBD | |
| Oct. 29 | Texas A&M* | College Station, Texas | 2:30 p.m. | |
| Nov. 1 | Florida* | Lexington, Ky. | 7 p.m. | ESPNU |
| Nov. 5 | South Carolina* | Lexington, Ky. | 1:30 p.m. | |
| Nov. 8 | Alabama* | Tuscaloosa, Ala. | 8 p.m. | SEC Network |
| Nov. 12 | Auburn* | Auburn, Ala. | TBD | |
| Nov. 17 | Georgia* | Lexington, Ky. | 7 p.m. | |
| Nov. 19 | Ole Miss* | Lexington, Ky. | 1:30 p.m. | |
| Nov. 22 | Arkansas* | Fayetteville, Ark. | TBD | |
| Nov. 24 | Georgia* | Athens, Ga. | TBD | |
@ – Exhibition
* – SEC Match
1 – Bluegrass Battle
2 – Creighton Tournament
3 – Marquette Tournament
 
All times Eastern and subject to change
Home matches, listed in bold, played in Memorial Coliseum