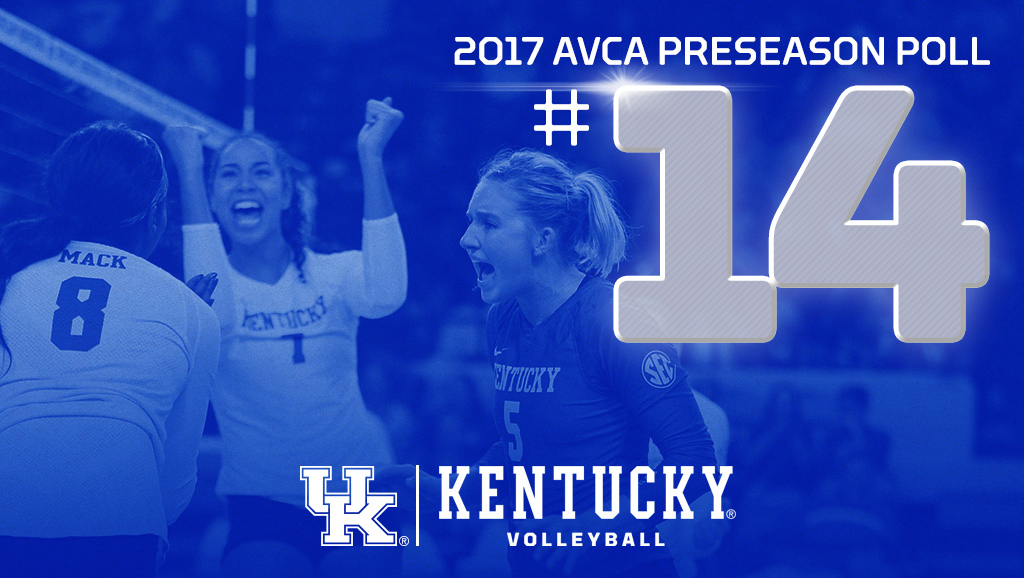 August 9, 2017 - 02:32 PM
Kentucky Ranked No. 14 in AVCA Preseason Poll
LEXINGTON, Ky. – For a program-record sixth-consecutive year, the Kentucky volleyball team will begin the season ranked in the American Volleyball Coaches Association's preseason top 25 after the Wildcats earned a No. 14 ranking in the poll released on Wednesday.
 
UK's spot in the top-25 poll marks the eighth time in the last nine years in which the Wildcats have earned a place in the preseason poll, all under head coach Craig Skinner.
 
The preseason ranking marks the 170th time the Wildcats have been ranked in the preseason, weekly or final poll by the AVCA. Throughout program history, UK has been ranked in 33.7% of the all-time polls. Kentucky's highest ranking under Skinner is No. 8, which the team reached in 2009, coinciding with its first Sweet 16 appearance under the program's all-time winningest coach.
 
The poll features five teams UK will face in 2017. In non-conference play, the Cats will face No. 8 Kansas and No. 9 Creighton on the road, while UK will welcome No. 23 Utah in the Bluegrass Battle. In Southeastern Conference play, UK will take on No. 12 Florida and No. 19 Missouri.
 
Kentucky is slated to return 91.9 percent of its leading kill production, including its top five terminators in Leah Edmond, Kaz Brown, Darian Mack, Emily Franklin and Brooke Morgan. Defensively, UK returns 97.8 percent of its blocking numbers and 84.5 percent of its dig production. Brown, who already holds numerous 25-point rally scoring era records, is UK's leading returning blocker with 151 rejections a season ago. Ashley Dusek has posted more than 200 digs in all three seasons with the Cats.
 
Single-match and season tickets for the 2017 campaign are on sale now. Season tickets begin at $35. Fans may purchase new season tickets online now at UKathletics.com/tickets or by calling the UK Ticket Office at (800) 928-2287. Season tickets offer considerable savings over the cost of buying single-match tickets. Season ticket prices include admission to all 15 home matches in Memorial Coliseum.
 
Rank
School (First-Place Votes)
Total Points
2016
Record
2016 Final Rank
1
Texas (25)
1547
27-5
2
2
Stanford (35)
1533
27-7
1
3
Washington (2)
1370
29-5
7
4
Minnesota (2)
1349
29-5
3
5
Nebraska
1313
31-3
4
6
Penn State
1249
24-10
10
7
Wisconsin
1145
28-5
5
8
Kansas
1085
27-3
12
9
Creighton
1007
29-7
9
10
BYU
975
29-4
8
11
North Carolina
939
29-4
11
12
Florida
925
27-4
15
13
UCLA
866
27-7
6
14
Kentucky
654
23-8
23
15
Florida State
641
26-6
13
16
Michigan
615
24-11
14
17
Michigan State
523
25-9
19
18
Oregon
498
21-10
21
19
Missouri
424
27-6
16
20
Hawai'i
343
23-6
17
21
Ohio State
332
22-13
18
22
San Diego
287
24-6
22
23
Utah
203
20-12
25
24
Arizona
174
20-15
20
25
Purdue
147
19-14
RV