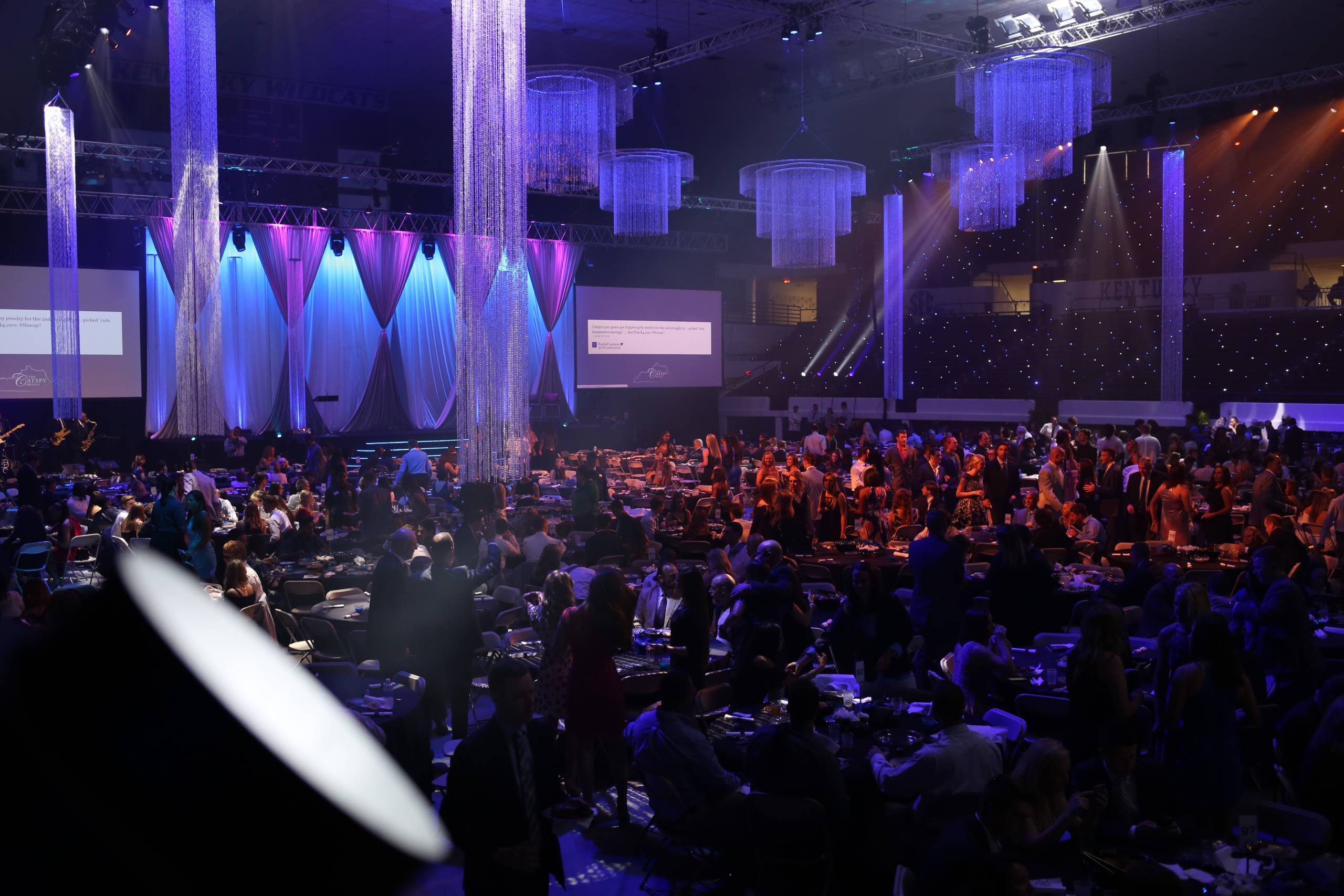 LEXINGTON, Ky. –The 15th annual CATSPY Awards were held Monday in Memorial Coliseum to recognize athletic and academic performances during the 2016-17 year in the UK Athletics department. With co-winners in some categories, 20 individuals were recognized as well as four teams.
"It's a real pleasure to have everyone here tonight," Athletics Director Mitch Barnhart said in a speech welcoming student-athletes, coaches, staff and fans. "As usual, everyone looks tremendous. It's a night of celebrations, a night of achievement and a night of challenge. It's been a real special year in a lot of ways."
WKYT will air the CATSPY Awards at a later time to be announced. A replay is also available on
UKathletics.com
.
Headlining the awards this year were men's basketball and women's swimming and diving. 
The Kentucky men's basketball team, which had to replace 75.8 percent of its scoring and 70.0 percent of its rebounding from a season ago, won Male Team of the Year after winning its 48th regular-season Southeastern Conference championship and its 30th SEC Tournament title this season. The team also advanced to the Elite Eight for the sixth time in John Calipari's eight years at Kentucky.
The Kentucky women's swimming and diving team put together one of the best seasons in school history in 2016-17 to win Female Team of the Year. Spurred by gold-medal performances from freshman Asia Seidt and sophomore Geena Freriks, the Wildcats placed third at the SEC Championships to match their highest finish in program history. The team went on to post its highest point total ever at the NCAA Championships en route to a 14th-place finish, with eight women achieving All-America distinction across nine different events.
The Mr. and Miss Wildcat awards – dedicated in honor of the late Bruno Agostinelli, a UK men's tennis All-American and past Mr. Wildcat winner – are given for all-around excellence in athletics, academics, character and service. Senior Jon Toth (football), an All-America honoree, an All-SEC First Team selection and a four-time SEC Academic Honor Roll member, won this year's Mr. Wildcat honor. Senior Danielle Galyer (women's swimming and diving) captured Miss Wildcat for the second year in a row after an illustrious career that has included winning the NCAA's Elite 90 academic award in each of the last two seasons, the school's first national championship in the 200-backstroke and multiple All-America honors.
Track and field won both the Male and Female Athlete of the Year awards. After winning the 2017 NCAA championship and the SEC championship in the indoor long jump, senior Sha'Keela Saunders took home Female Athlete of the Year. Junior Jacob Thomson won Male Athlete of the Year after a decorated year that included SEC championships in the 5,000- and 10,000-meter runs. 
Women's tennis captured Female Academic Team of the Year and men's golf won Male Academic Team of the Year. The Female Scholar-Athlete of the Year was Galyer (women's swimming and diving), a two-time NCAA Elite 90 winner. Paul Sime (men's soccer), the 2017 winner of the Arthur Ashe Jr. Male Sports Scholar of the Year award, won Male Scholar-Athlete of the Year.
"We fight for our Kentucky home together," Barnhart said. "Thirty-eight states, 18 countries, one department all play a really cool part in this really, really special story we call the University of Kentucky."
A complete list of awards is below:
Community Service Award
Alex Carter (women's soccer)
Sean Gunn (men's swimming and diving)
Female Rookie of the Year
Jasmine Camacho-Quinn (women's track and field)
Male Rookie of the Year
Malik Monk (men's basketball)
Bill Keightley "Assist" Award
Ryan Clark (men's basketball) 
Blue Heart Award
Kole Cottam (baseball)
Alex Montgomery (football)
Female Scholar-Athlete of the Year
Danielle Galyer (women's swimming and diving)
Male Scholar-Athlete of the Year
Paul Sime (men's soccer)
Female Academic Team of the Year
Women's tennis
Male Academic Team of the Year
Men's golf
Scratch Award
Paige Poffenberger (women's basketball)
Supporting Role
Dominique Hawkins (men's basketball)
Heart of a Wildcat
Makayla Epps (women's basketball)
Evelyn Akhator (women's basketball)
Female Athlete of the Year
Sha'Keela Saunders (women's track and field)
Male Athlete of the Year
Jacob Thomson (men's track and field)
Coach(es) of the Year
Mark Stoops (football)
John Calipari (men's basketball)
Lars Jorgensen (swimming and diving)
Edrick Floréal (track and field)
Female Team of the Year
Women's swimming and diving
Male Team of the Year
Men's basketball
Miss Wildcat
Danielle Galyer (swimming and diving)
Mr. Wildcat
Jon Toth (football)