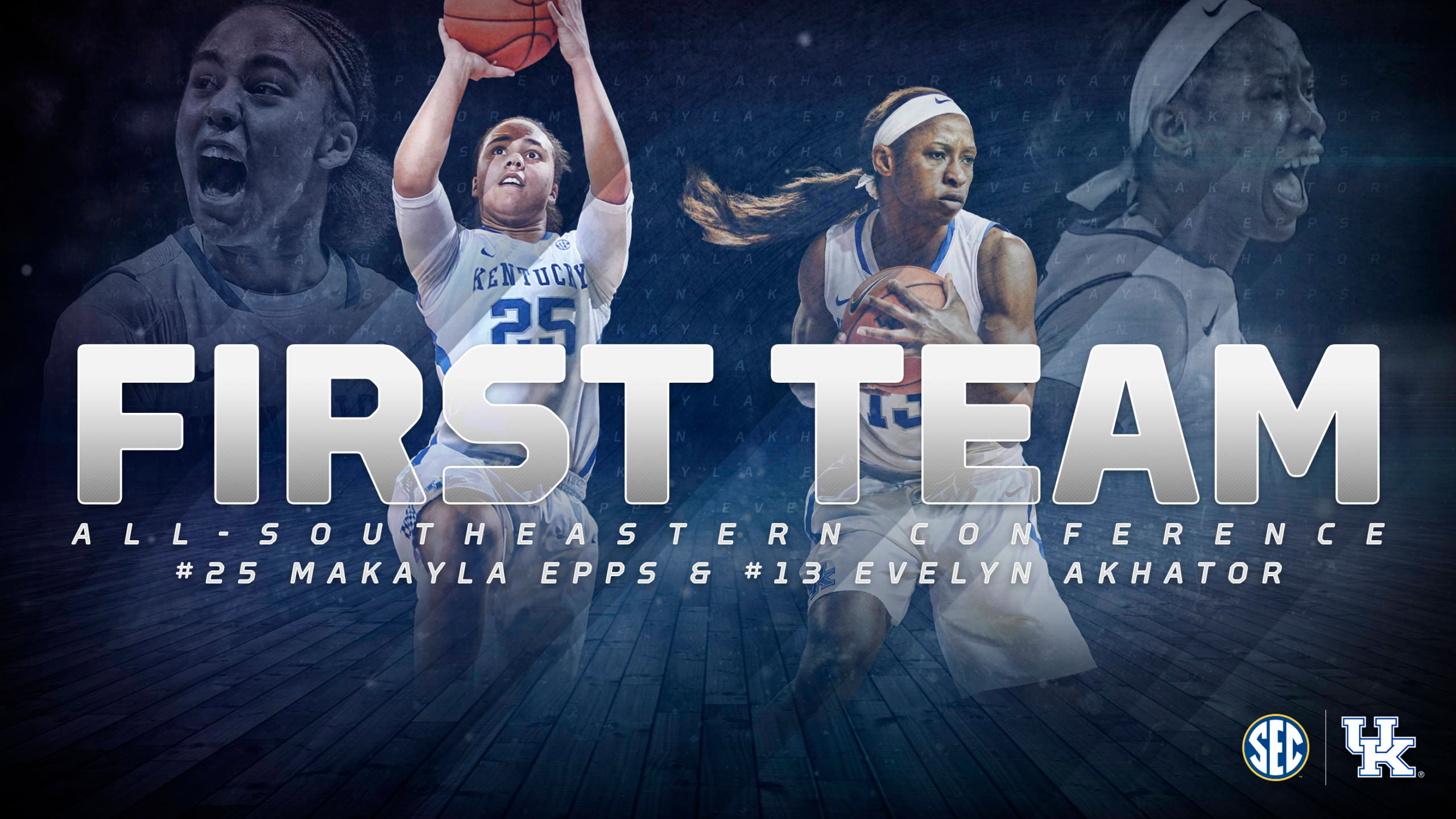 February 28, 2017 - 10:23 AM
Makayla Epps, Evelyn Akhator Named First Team All-SEC
LEXINGTON, Ky. – University of Kentucky women's basketball senior guard Makayla Epps and senior forward Evelyn Akhator have been named All-Southeastern Conference First Team performers by league coaches, it was announced Tuesday morning. 
Epps and Akhator are joined on the first team by Ronni Williams (Florida), Victoria Vivians (Mississippi State), Sophie Cunningham (Missouri), Alaina Coates (South Carolina), A'ja Wilson (South Carolina) and Diamond DeShields (Tennessee). Kentucky and South Carolina are the only teams to have two players on the first team. UK has had at least one first-team selection in seven of the last eight seasons. 
The honor marks the third-straight season that Epps has been named to the first team by league coaches. The native of Lebanon, Ky., becomes only the second player in program history to be named first-team by league coaches three times, joining Leslie Nichols. Akhator, who was named second-team All-SEC last season, has earned her first first-team honor. Matthew Mitchell has now coached 16 different players to 40 All-SEC honors in his 10 seasons at the helm of the program. 
First-team and second-team All-SEC honorees, All-Freshman team, All-Defensive team, along with Player, Coach, Freshman, Defensive Player, 6th Player and Scholar-Athlete of the Year were chosen by the league's 14 coaches.
Epps is having a great season for the Wildcats, averaging a team-best 16.9 points per game with a team-best 108 assists. The senior ranks second on the team in 3-point field-goal percentage, while sitting third in field-goal percentage, rebounds per game and steals per game. Epps is the only player in the SEC to end the regular season ranked top 10 in the league in points, field goal percentage and assists. Epps is the only player in school history to rank to five in UK history in scoring and top eight in career assists. The explosive guard has scored in double figures 26 times this season, including 11 games with 20 or more points. 
Akhator is having another stellar season for Kentucky, sitting second on the team with 15.3 points per game, adding 10.5 rebounds per game. The native of Lagos, Nigeria, has 15 double-doubles this season, which ranks 11th-most nationally and second in the league. Akhator also ranks top 25 nationally in defensive rebounds per game, field-goal percentage, total rebounds and rebounds per game. Akhator, who has been named SEC Player of the Week three times this season, become only the second player in school history to score 24 or more points with 15 or more rebounds in consecutive games. Although she has only been on campus for two years, Akhator ranks fourth in career double-doubles, second in rebounding averaging, ninth in scoring average and fourth in field-goal percentage. 
Kentucky will begin its SEC Tournament run later this week when it plays either Tennessee, Alabama or Vanderbilt in the quarterfinals on Friday at approx. 2 p.m. ET. The Wildcats are the No. 4 seed in the event after earning its eighth top-four league finish under Mitchell. 
For more information on the Kentucky women's basketball team, visit UKathletics.com or follow @KentuckyWBB on Twitter, Instagram and Snapchat, or Kentucky Women's Basketball on Facebook.
First Team All-SEC
Ronni Williams, Florida
Evelyn Akhator, Kentucky
Makayla Epps, Kentucky
Victoria Vivians, Mississppi State
Sophie Cunningham, Missouir
Alaina Coates, South Carolina
A'ja Wilson, South Carolina
Diamond DeShields, Tennessee
Second Team All-SEC
Katie Frerking, Auburn
Pachis Roberts, Georgia
Raigyne Moncrief, LSU
Morgan William, Mississippi State
Jaime Nared, Tennessee
Mercedes Russell, Tennessee
Khaalia Hillsman, Texas A&M
Curtyce Knox, Texas A&M
Danni Williams, Texas A&M
All-Freshman
Ashley Knight, Alabama
Jordan Lewis, Alabama
Jailyn Mason, Arkansas
Delicia Washington, Florida
Amber Smith, Missouri
Tyasha Harris, South Carolina
Kayla Overbeck, Vanderbilt
Erin Whalen, Vanderbilt
All-Defensive
Katie Frerking, Auburn 
Caliya Robinson, Georgia
Raigyne Moncrief, LSU
Dominique Dillingham, Mississippi State
Alaina Coates, South Carolina
A'ja Wilson, South Carolina
Coach of the Year: Robin Pingeton, Missouri
Player of the Year: A'ja Wilson, South Carolina
Co-Freshmen of the Year: Delicia Washington, Florida / Amber Smith, Missouri
Defensive Player of the Year: Raigyne Moncrief, LSU
6th Woman of the Year: Teaira McCowan, Mississippi State
Scholar-Athlete of the Year: Katie Frerking, Auburn