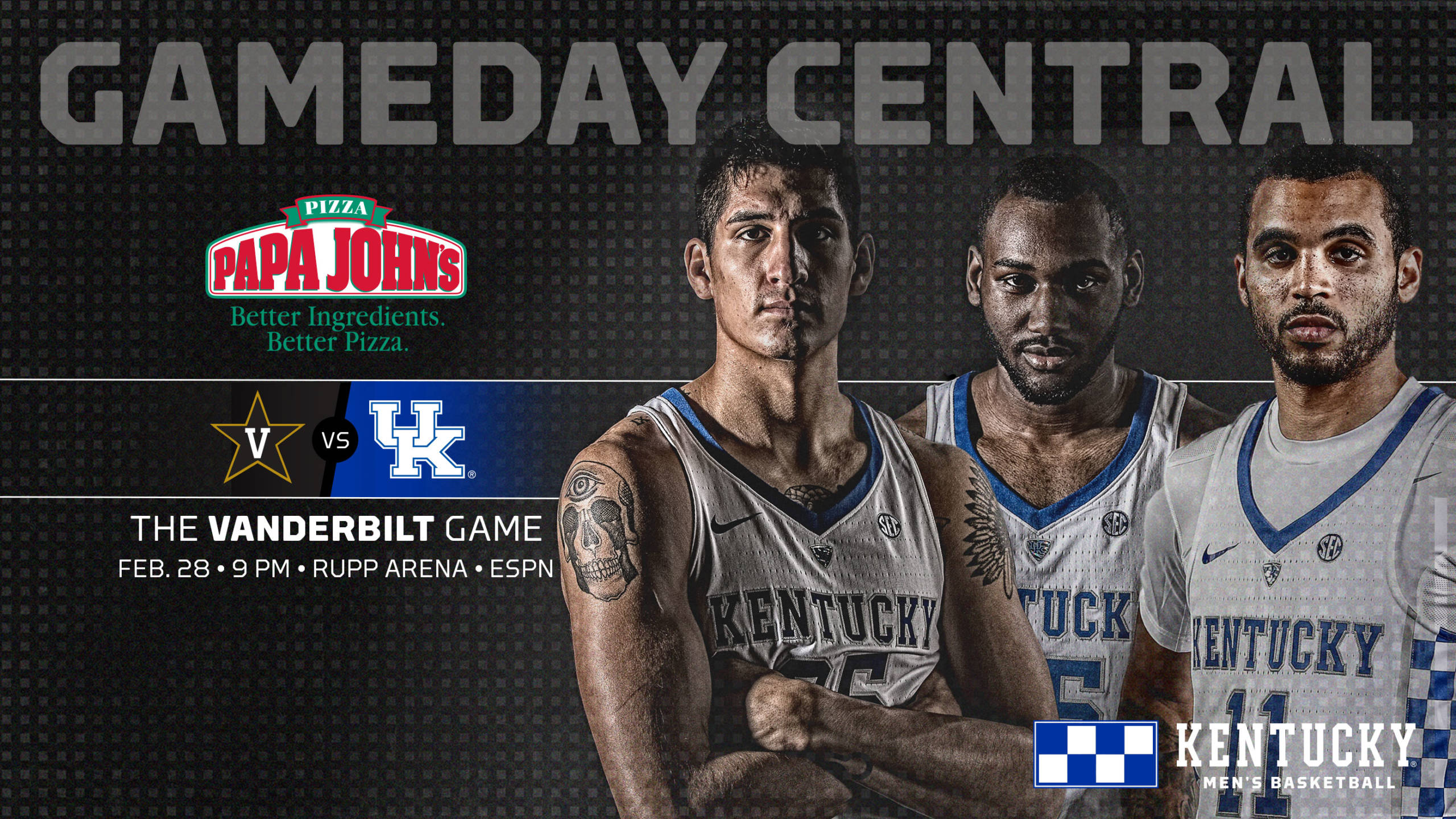 February 27, 2017 - 05:59 PM
Kentucky Seniors Exiting on High Note
Throughout the course of any college basketball player's career – one-and-done stars and four-year players alike – there will be ups and downs.
Kentucky vs. Vanderbilt

Tue., Feb. 28 – 9 p.m. ET
Rupp Arena
Lexington, Ky.
Game Notes: UK

| VU



Gameday App

Coverage

TV: ESPN
Radio: UK Sports Network
Live Stream
Live Audio
Live Stats
Digital Gameday Guide
Text Updates

UK
2016-17 Team Stats
VU
24-5
Record
16-13
14-2
Conference Record
9-7
87.8
PPG
71.8
72.6
Opp PPG
68.8
.481
FG%
.436
.426
Opp FG%
.424
40.8
RPG
34.8
.356
3PT FG%
.384
.309
Opp 3PT FG%
.346
.698
FT%
.772
16.3
APG
13.5
6.2
SPG
4.0
5.5
BPG
3.8
It's only fitting that Kentucky's three seniors – Dominique Hawkins, Mychal Mulder and Derek Willis, who have each worked so hard to get to where they are today – that they're each playing their best as Senior Night arrives Tuesday.
"What I can tell you about those two, and I said it this morning in a meeting with them, they've never played better in their careers than they're playing right now," Calipari said of Hawkins and Willis. "I can say the same for Mychal. That's what you want as a coach."
Hawkins, a 6-foot guard out of nearby Richmond, Kentucky, has never been a player who is going to fill up the box score, though he will forever live in Kentucky lore after hitting three 3-pointers and scoring a career-high 13 points in a win over Louisville last season. What can always be expected from Hawkins is great energy, a hard-nosed defensive presence and a great attitude.
After never averaging more than 9.2 minutes per game over his first three seasons, Hawkins is playing 18.3 minutes per game as a senior. Over the past four games he's played 25.3 minutes per game, including a career-high 37 minutes in UK's most recent game against then-No. 13/12 Florida.
"The way he's been playing now, just fight, battle," Calipari said. "And he forgets stuff and he'll go, 'Oh.' But what are you gonna say to a guy that's diving all over the floor, taking charges, sticking his nose in, coming up with balls he shouldn't come up with, making layups and runners and not afraid to play?"
Mulder came to Kentucky last season after playing the first two years of his career at Vincennes University, a junior college in Indiana. 
The Windsor, Ontario, native scored just 12 total points and hit two 3-pointers during his first season in a Kentucky uniform. This season, he's averaging 5.8 points in 11.7 minutes per game. His 30 3-pointers are the third most on the team and his 39.0 percent shooting from beyond the arc is the second-best clip among players with at least two 3-pointers made. With freshman De'Aaron Fox out with a left knee contusion against Florida on Saturday, it was Mulder who got the start.
"It was my first career start here, it meant a lot to me," Mulder said. "I have been working really hard for it and knowing that I would get one on Senior Night, but being surprised with getting one before that was a great thing for me."
"It's a great feeling to be as confident as ever, as comfortable as ever," Mulder said later. "There is no better time than now to be comfortable now, so I'm glad I feel this way at this point in the season."
Willis had his breakout campaign as a junior as someone who helped space the floor for guards Tyler Ulis and Jamal Murray. The 6-9 forward from Mt. Washington, Kentucky, has only built on that as a senior, averaging 7.0 points and 4.8 rebounds while playing a career-high 20.3 minutes per contest.
Willis has averaged nearly 25 minutes per game over UK's last four games. During that time, he scored 16 points and knocked down four 3-pointers at home against Tennessee, grabbed a career-high tying 12 rebounds at Georgia and pulled down nine more in UK's most victory Saturday over Florida.
"I think this is probably some of the best basketball we've played in our whole lives," Willis said of UK's three-man senior class. "I think just collectively for our senior class I think we've tried to really focus in as much as we could with everything we're doing."
But with these three seniors, it's not only their growth on the court that has made Calipari proud, he said it's what they've done off the floor as well. As rising sophomores, Hawkins and Willis participated with Samaritan's Feet during their summer trip to the Bahamas. During the 2016 summer, all three seniors were among the UK players around to fit those in need with hearing aids prior to the inaugural Coach Cal Celebrity Softball Classic. They've sung carols and given gifts each Christmas, visited elementary schools and children's hospitals as well.
"(You) try to get them to grow from every experience, and you look at these players, those three seniors, and they've all grown," Calipari said.
"You want them to be ready for opportunities when they have to wait. You want them to learn about leadership, servant leadership. You want them to share, to give up something so someone else can have something. They embody that."
Coach Cal said he "always" starts his seniors on Senior Night, and Hawkins, Mulder and Willis will each start Tuesday against Vanderbilt (9 p.m. ET on ESPN). Calipari added that he has "no idea" whether Fox will play or not.
The Commodores (16-13, 9-7 SEC), like UK's three seniors, are playing their best basketball of the season and are currently among the last four teams in the NCAA Tournament field, according to ESPN bracketologist Joe Lunardi. Vanderbilt has won each of its past four games, including a nine-point win against South Carolina.
"Very dangerous," Calipari said of Vanderbilt. "… They're playing their best basketball. They're making shots. They're cutting hard. They played us all zone last time, and now they're not playing zone at all. They struggled defensively and they're not now. I tell ya, they're playing and they're playing together and they've figured it out."
Wildcats Rally Past Florida for SEC Lead
Not satisfied with making perimeter jumpers, Malik Monk drove to the basket to create numerous opportunities at the free-throw line and found openings to feed his Kentucky teammates. The freshman guard wasn't aware until afterward of how many points he had piled up, but he knew that they helped the 11th-ranked Wildcats earn their most important victory this season.
Monk scored 30 of his 33 points in the second half, Bam Adebayo added 18 points with 15 rebounds, and Kentucky rallied past No. 13 Florida for a 76-66 victory Saturday to take over the Southeastern Conference lead.
While another week remains in SEC play for both teams, the Wildcats (24-5, 14-2 SEC) took an important step toward clinching the regular-season title by twice rallying from eight or more points down to win the pivotal matchup, including a 12-point first half deficit after the Gators raced out to an 8-0 lead. UK came back without the services of point guard De'Aaron Fox, who sat out with a knee contusion. Fox and UK can thank Monk and Adebayo for making it happen as the duo scored 42 of Kentucky's 48 second-half points.
Monk scored 14 points during an 18-10 run that tied the game at 55 with 9:54 remaining. The high-scoring Monk ended up with the most points in one half by a player under coach John Calipari at Kentucky.
Adebayo followed Monk's key stretch with six straight points before Monk added seven more in between lobbing a pass to Adebayo for a 70-60 lead with 4:04 left. Monk sandwiched two free throws around layups by Isaiah Briscoe and Adebayo, points that proved critical in thwarting rally attempts by the Gators (23-6, 13-3).
Kentucky shot 64 percent in the second half to avenge a 22-point loss to Florida earlier this month. The Wildcats also outrebounded thevGators 48-30 after getting outrebounded by 25 in the first meeting in Gainesville, Florida.
Additional notes:
• UK held Florida to 66 points, improving to 15-0 this season when limiting the opponent to 72 or fewer points
• The Wildcats also limited Florida to 36.6 percent shooting. UK is 14-0 this season when holding the opponent to less than 43 percent
• UK is 20-2 this season when outrebounding the opponent
o Since losing the battle of the boards in the loss at Florida, UK has had an average rebounding margin of plus-11.8 per game during the current six-game win streak
• UK's six-game winning streak is its longest since winning seven in a row from Dec. 29-Jan. 21
• Monk became the only freshman in school history with four games of 30 points or more. Kentucky is 4-0 in those games
• Adebayo's double-double was his second straight and team-leading fifth of the season. He's the first Wildcat with consecutive double- doubles since Tyler Ulis last March
o He's the first Wildcat since Jared Prickett (Feb. 6 and Feb. 9, 1994) to post back-to-back games of at least 15 boards and the first UK player to do it in consecutive SEC games since Sam Bowie on March 1 and March 3, 1984.
• Senior Mychal Mulder made his first career start
• Senior Dominique Hawkins played a career-high 37 minutes, totaling three points, a career-high six rebounds and four assists
Cats Can Clinch SEC Title on Tuesday
With two games remaining in the regular season for the 2016-17 edition of the Kentucky Wildcats, John Calipari's squad is in position for its 48th Southeastern Conference regular-season championship. UK currently leads Florida for the SEC lead after the Wildcats defeated the Gators 76-66 on Saturday.
A victory on Tuesday vs. Vanderbilt would ensure the Wildcats of at least a share of the SEC regular-season title, which would be UK's fifth under Calipari.
Of course, the Wildcats would like to win the title outright and claim the No. 1 seed at the SEC Tournament. They can do that by winning their final two games, but there are still scenarios in which the Wildcats could fall to the second seed.
Here is how Kentucky has fared in similar situations over the last 30 seasons:
• 2015-16: Kentucky finished in a tie with Texas A&M and shared the crown. UK went 3-2 over its last five games
• 2012-13: Kentucky finished two games back of Florida. UK went 1-2 over the final three games with the win coming over Florida
• 2009-10: Kentucky won the league by two games over Vanderbilt thanks to a 14-2 overall conference record
• 2007-08: UK tied for second, two games behind Tennessee, going 2-1 over the final three games. The one loss? Tennessee
• 2004-05: UK finished first by two games over three teams with a 2-1 record to end the season
• 2003-04: Mississippi State edged Kentucky by one game despite UK going 6-0 to end the conference season
• 2000-01: Kentucky managed to win the tiebreaker over Florida for the league crown despite going 1-2 over the final three
• 1999-00: Kentucky won the tiebreaker for the league title with three other teams; a 3-0 finish aided the cause
• 1997-98: UK held on to a two-game lead over Ole Miss thanks to a 4-0 run to end the year
• 1996-97: Kentucky finished second by two games to South Carolina which included a loss to the Gamecocks in the final game
• 1994-95: UK edged out two teams by two games behind a five-game winning streak to end the season
• 1993-94: Arkansas won the conference by a two-game margin despite a 5-1 push late by the Wildcats
• 1992-93: Vanderbilt edged the Cats by one game despite a 3-0 mark to finish the year for UK
• 1991-92: Arkansas held on for a one-game lead for the title as a loss to Florida hurt the Cats with two games to go
• 1987-88: A 4-0 record to end the season propelled UK to a two-game lead for the league title