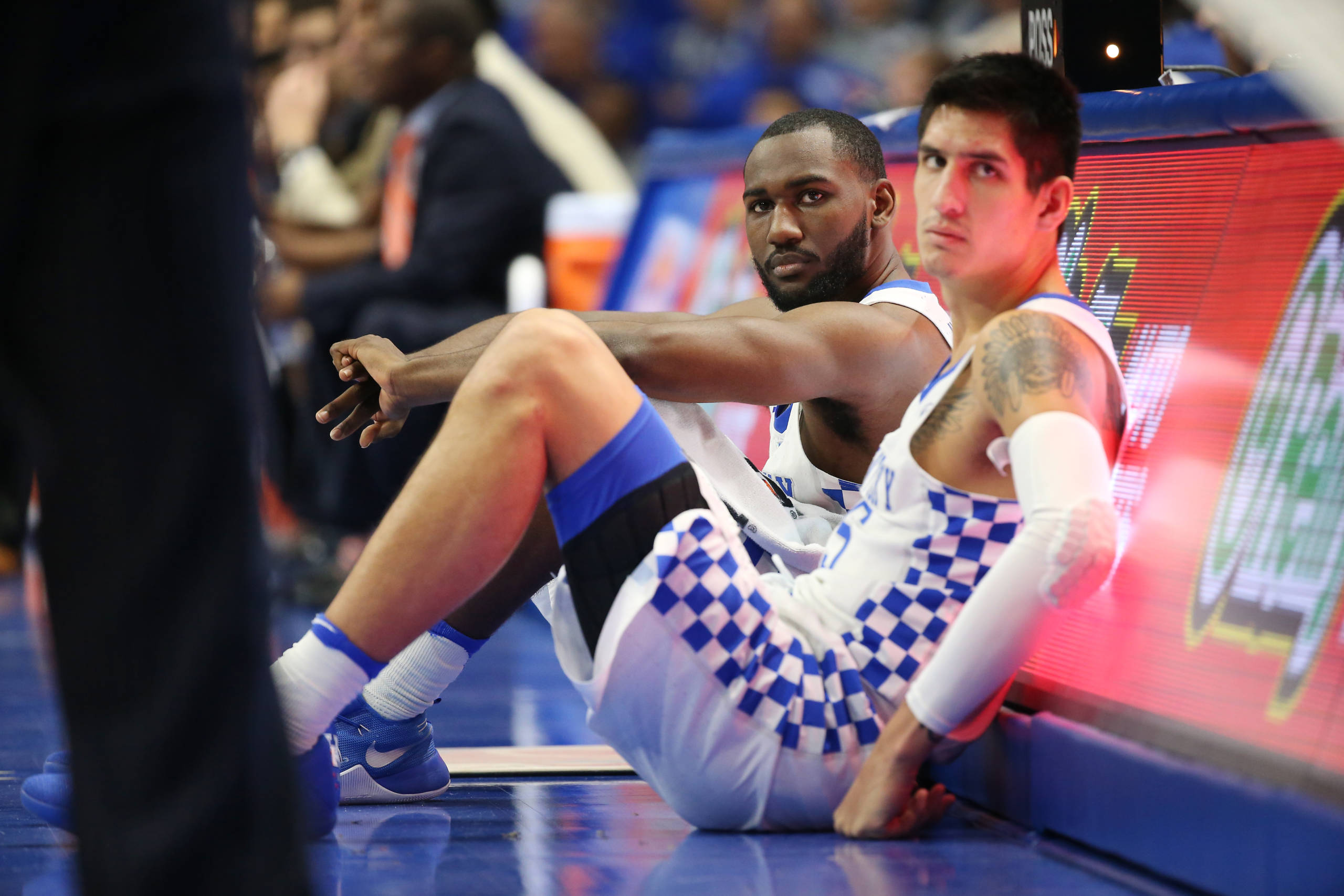 February 27, 2017 - 05:54 PM
Bluegrass Roots, Friendship, Patience Unite Hawkins, Willis
For the last four years and the rest of their lives, Dominique Hawkins and Derek Willis have been and will be linked together. It only makes sense.
They share a heritage, both born in the Bluegrass State.
They shared a dream, both wanting to play basketball for their state's flagship program.
They've shared a journey, both weathering the ups and downs of four-year careers at Kentucky.
Now they, along with Mychal Mulder, are about to share a Senior Night, a final time to put on those blue and white jerseys in Rupp Arena.
"It's going to be unbelievable," Hawkins said. "It's crazy that it's actually here now. We're all going to have fun and just play the game that we love."
When Hawkins and Willis step through those hoops, hold those framed jerseys and sway arm in arm with their families to "My Old Kentucky Home" before No. 9 UK (24-5, 14-2 Southeastern Conference) hosts Vanderbilt (16-13, 9-7 SEC) those ties will be on full display. But don't think of the two seniors as exactly the same.
Take that shared heritage for example.
Hawkins is a native of Richmond, partial to his Wildcats for as long as he can remember. One of the only things that dates back his fandom, Hawkins says, is that ever-present smile.
"Definitely my dream school," Hawkins said. "Always wanted to come to Kentucky and play. I know how everybody's passionate about Kentucky basketball and I just wanted to play for everybody in the state of Kentucky and put my heart out for them."
Willis, meanwhile, hails from Mt. Washington – very much purple territory, where Kentucky blue and Louisville red are forced to mix. After originally committing to Purdue, Willis considered both in-state schools before ultimately realizing that he felt about UK the same way Hawkins long had.
"I mean, it's just what you work for," Willis said. "Like I said, since high school it's been my dream. It's been great for me and my family. All the work has paid off, just trying to finish off strong now."
Once Hawkins and Willis made it to that dream school, the same challenges – facing soon-to-be lottery picks every day, limited playing time – awaited them. Persistence was essential and patience even more so.
For Hawkins, that came naturally and quickly. For Willis, it took work and time.
"I think patience has really been a big thing, because I'm not the most patient person at times," Willis said. "I want things to happen right at the moment and I can't really picture what's going to happen down the road. A big part of that is really my dad staying on me about keep working, stay in there and stay tough through things. It's paid off now."
For both Hawkins and Willis, that patience – combined with lots and lots of work – has yielded results. They are regular contributors for a UK team ranked in the top 10 that has everything to play before as March approaches. 
Willis is fifth on the team in scoring (7.0 points) and fourth in rebounding (4.8 rebounds), while Hawkins is playing a career-high 18.3 minutes per game and last time out came off the bench to play 37 minutes. To John Calipari – the man who recruited the two to UK and has watched them develop over four years – that's about as rewarding as it gets.
"Well, you care about every kid in your program and you want them to be the best version of themselves," Coach Cal said. "What I can tell you about those two, and I said it this morning in a meeting with them, they've never played better in their careers than they're playing right now."
For all the growth Hawkins and Willis have made as players at UK, their development as people is just as noticeable. What Willis has gained in patience, Hawkins has matched in confidence. They'll carry those things forward as they pursue professional basketball careers and whatever might follow.
"You know, you see their growth not only on the basketball court, (but) as people," Calipari said. "You see the opportunities they're now getting. You think about all of the players they had to go against and you shake your head and say, 'How'd they survive?' And they're all three going to graduate. I mean, there's a lot of stuff that's there."
Not to be forgotten among all of that stuff is the friendship Willis and Hawkins forged along the way.
"We've roomed together for four years," Willis said. "I'd say we're best friends on the team. I feel like that's a dude who definitely has my back, for sure."
"It's been unbelievable," Hawkins said. "In high school, I played against him so much, really didn't get to talk to him until I came here. He's definitely become one of my best friends coming here and it's going to be a great night for us tomorrow."
It's a night that will bring, for just the second time in four years, a starting assignment for both of the two close friends.
Fitting they'll share one more thing.