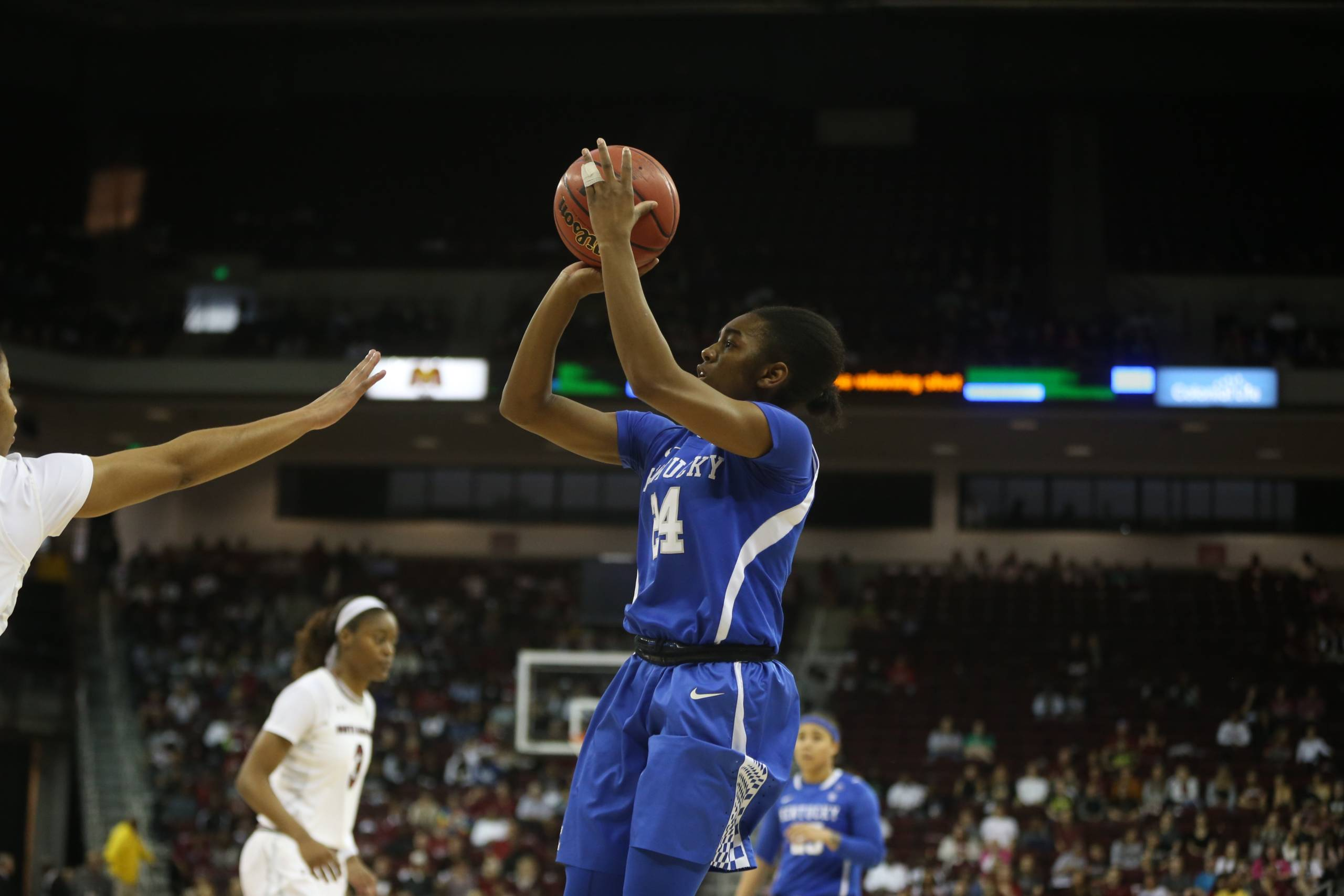 February 26, 2017 - 04:15 PM
No. 22 Kentucky Falls at No. 7 South Carolina, 95-87
COLUMBIA, S.C. – Taylor Murray scored a career-high 29 points, but No. 22 Kentucky fell at seventh-ranked South Carolina 95-87 on Sunday at Colonial Life Arena in the regular season finale for both teams.
Kentucky (20-9, 11-5 SEC) had five players in double figures in the game. In addition to Murray, Makenzie Cann had 15 points, Evelyn Akhator and Maci Morris each had 14, and Makayla Epps added 10.
South Carolina (24-4, 14-2) shot a sizzling 61.8 percent from the floor in the game, while Kentucky hit 44.8 percent of its shots. Kentucky stayed in the game by hitting nine three-point shots, including three by Cann and two apiece by Epps, Morris and Murray. 
Despite a huge size advantage inside, South Carolina only had two more rebounds than Kentucky (31-29). Kentucky had 11 offensive rebounds, which led to 10 second-chance points, compared to just eight second-chance points for the Gamecocks. The Wildcats used their speed to outscore South Carolina 17-2 on fast break points.
South Carolina started the game very quickly, hitting its first seven shots and building a 15-9 advantage. The Gamecocks would finish the first period by hitting 11-of-19 (57.9 percent) from the floor and taking a 25-17 lead at the end of the frame. Kentucky hit six of its 14 (42.9 percent) field goal attempts in the period.
In the second quarter, South Carolina built its lead to as many as 14 before the Wildcats got it going. With South Carolina leading 43-30, Kentucky went on an 8-0 run to cut the lead to five. Murray had six of Kentucky's eight points in the run on a pair of three-point plays. South Carolina scored the next five points, and the Gamecocks would lead 48-40 at the break.
Early in the third quarter, Kentucky was able to cut the South Carolina lead to five on two occasions. But the Gamecocks assembled an 8-0 run to stretch its lead to 13 at 60-47. Kentucky fought back again and cut the lead to eight on another three-point play by Murray. But the Gamecocks scored the final basket of the period to take a 65-55 lead into the fourth quarter.
In the final period, South Carolina again stretched the lead to 14 on four occasions. But Kentucky would not go away quietly. The Wildcats continued to chip away at the deficit, but could never get over the hump. Kentucky finally got within six, at 93-87, on a three-pointer by Cann, but just 11 seconds remained at that point.
South Carolina was led by A'ja Wilson with 25 points and 10 rebounds. Kaela Davis added 20 for the Gamecocks. 
Kentucky returns to action on Friday in the quarterfinals of the SEC Tournament in Greenville, S.C. The Wildcats' opponent will be determined later on Sunday.