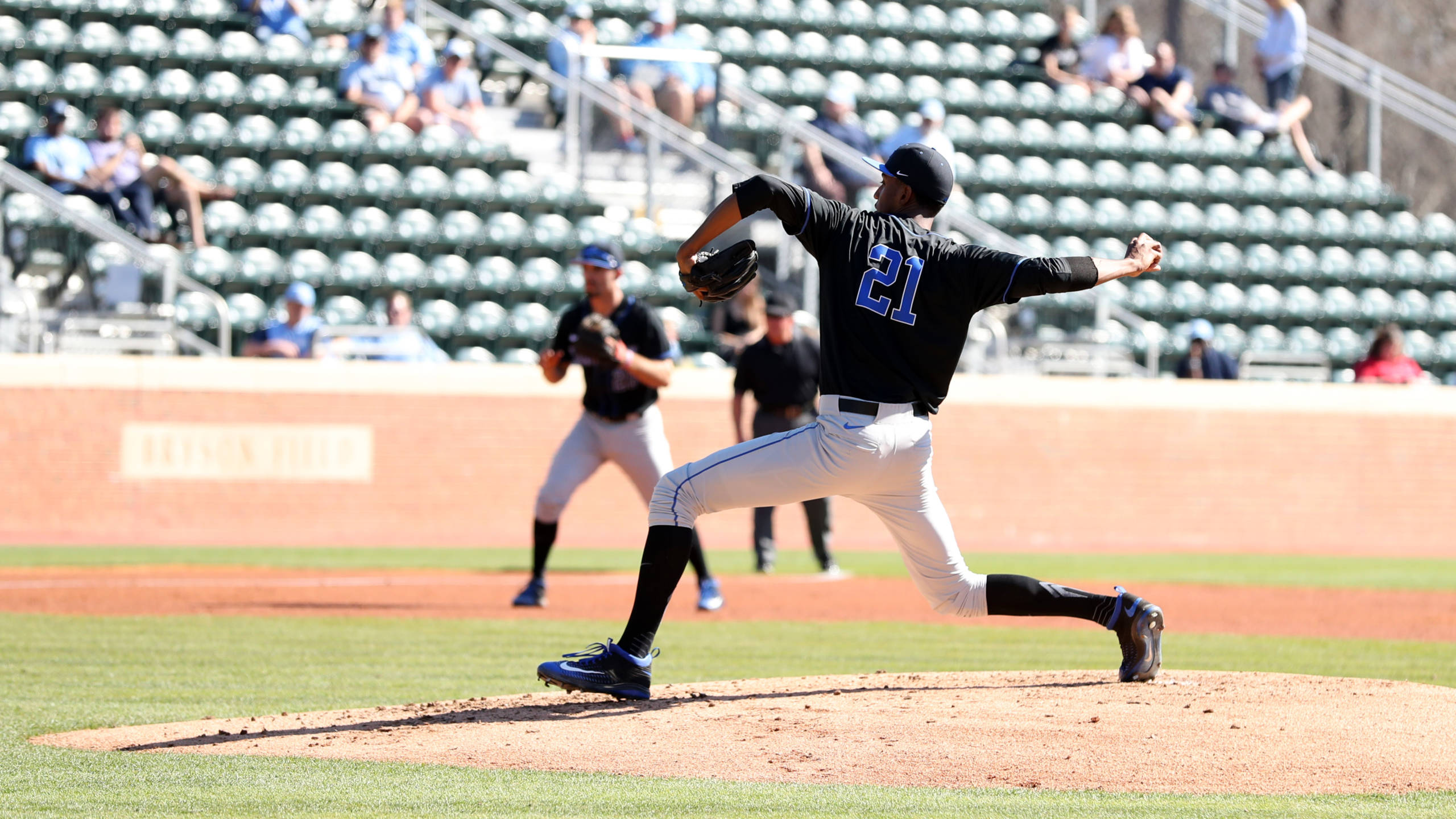 NORFOLK, Va. – Justin Lewis pitched seven lights out innings of two-hit, shutout baseball but a throwing error on a potential double play ball allowed Delaware to rally with four unearned runs in the eighth inning to upend Kentucky 4-3 in a Sunday matinee at Bud Metheny Baseball Complex.
The Cats (2-5) finished 2-1 on the weekend and return to Lexington for their home opener on Tuesday against Eastern Kentucky, the first of six consecutive games at Cliff Hagan Stadium. On Friday, UK defeated Saint Joseph's, 16-9, and on Sunday knocked off host Old Dominion, 19-2. 
Lewis, making just his second collegiate start, was dominant from the start. He gave up a hit to start the second inning before retiring 14 batters in a row. He finished with just one walk, struck out four and left with a 3-0 lead. 
Preseason All-America first baseman Evan White returned after missing five games due to a hip injury. The junior served as DH and went 2-for-2 with a double and two walks, including an RBI double on the first pitch he saw. The Blue Hens (2-5) were taking no chances with White, intentionally walking him once and pitching around him on the other.
Marcus Carson continued his hot start to the season, going 2-for-4 with a flare to left at the end of an eight-pitch at bat that drove in a run. But that was as much as the Cats could muster against left-handed starter Kevin Milley, who gave up nine hits and three runs – two earned – in 6.2 innings. Relievers James Meeker and Ron Marinnacio delivered 2.2 perfect innings in relief.
Still, the Cats had control until the bottom of the eighth. With one out and a runner on first, senior reliever Logan Salow induced a comebacker but his throw to second base sailed into centerfield and allowed the runners to move to second and third. After a sacrifice fly scored a run, back-to-back doubles plated three more to give the Blue Hens the lead. All four runs in the rally were unearned. 
AT THE PLATE
After exploding for 35 runs in the first two games of the weekend the Cats piled up scoring chances but left nine men on base and couldn't deliver the knockout punch early in the game. However, it was good to see preseason All-American Evan White return to the lineup and deliver an RBI double on the first pitch he saw from Delaware starter Kevin Milley.
ON THE MOUND
Sophomore righty Justin Lewis was on his game from the outset, striking out two batters in the first inning and deftly mixing his off-speed pitches in with his fastball through seven shutout innings. Lewis retired 14 consecutive hitters from the second to the sixth innings and left after throwing a career-high 78 pitches. Senior lefty Logan Salow took the loss despite all four runs he allowed being unearned after his throwing error on the front end of a potential inning-ending double play.
SCORING
Top 1st – Riley Mahan singled to LF, moved to second on a balk and scored on Evan White's double into the LF corner. UK 1, Delaware 0.
Top 3rd – Connor Heady reached on an error, advanced to second on Mahan's bunt single, stole third and scored on a wild pitch. UK 2, Delaware 0.
Top 7th – Zach Reks slapped a double the opposite way down the LF line, moved to second on an intentional walk to White and scored on Marcus Carson's well-placed single to shallow left. UK 3, Delaware 0.
Bottom 8th – Brian Mayer singled through the infield, moved to third after UK pitcher Logan Salow threw the ball into CF trying to start a double play and scored on Jordan Glover's sacrifice fly. Doug Trimble doubled into the RF corner to score Kevin Molhollen, who reached on Salow's error. Nick Patten doubled over Zach Reks' head in LF to score two and give the Blue Hens the lead. Delaware 4, UK 3.
NOTES
• Preseason All-America first baseman Evan White returned after missing five games due to a hip injury. The junior served as DH and went 2-for-2, including an RBI double on the first pitch he saw, and two walks.
• Senior OF Marcus Carson went 2-for-4 with an RBI to give him his ninth career multi-hit game. He finished 8-for-12 on the weekend with four RBI. He has an RBI in four straight games.
• Sophomore right-hander Justin Lewis had his longest career outing with 7.0 shutout innings. He threw a career-high 78 pitches and tied his career-high with four strikeouts.
• The Cats have outhit their opponent in each of the past six games.
ON DECK
UK returns to Lexington after the game and will host Eastern Kentucky in its home opener on Tuesday at Cliff Hagan Stadium. First pitch for the game against the Colonels is scheduled for 4 p.m. and fans can listen on the UK Sports Network via UKathletics.com and iHeart Radio or 98.5 FM in the Lexington area. The game also will be aired on SECN+.