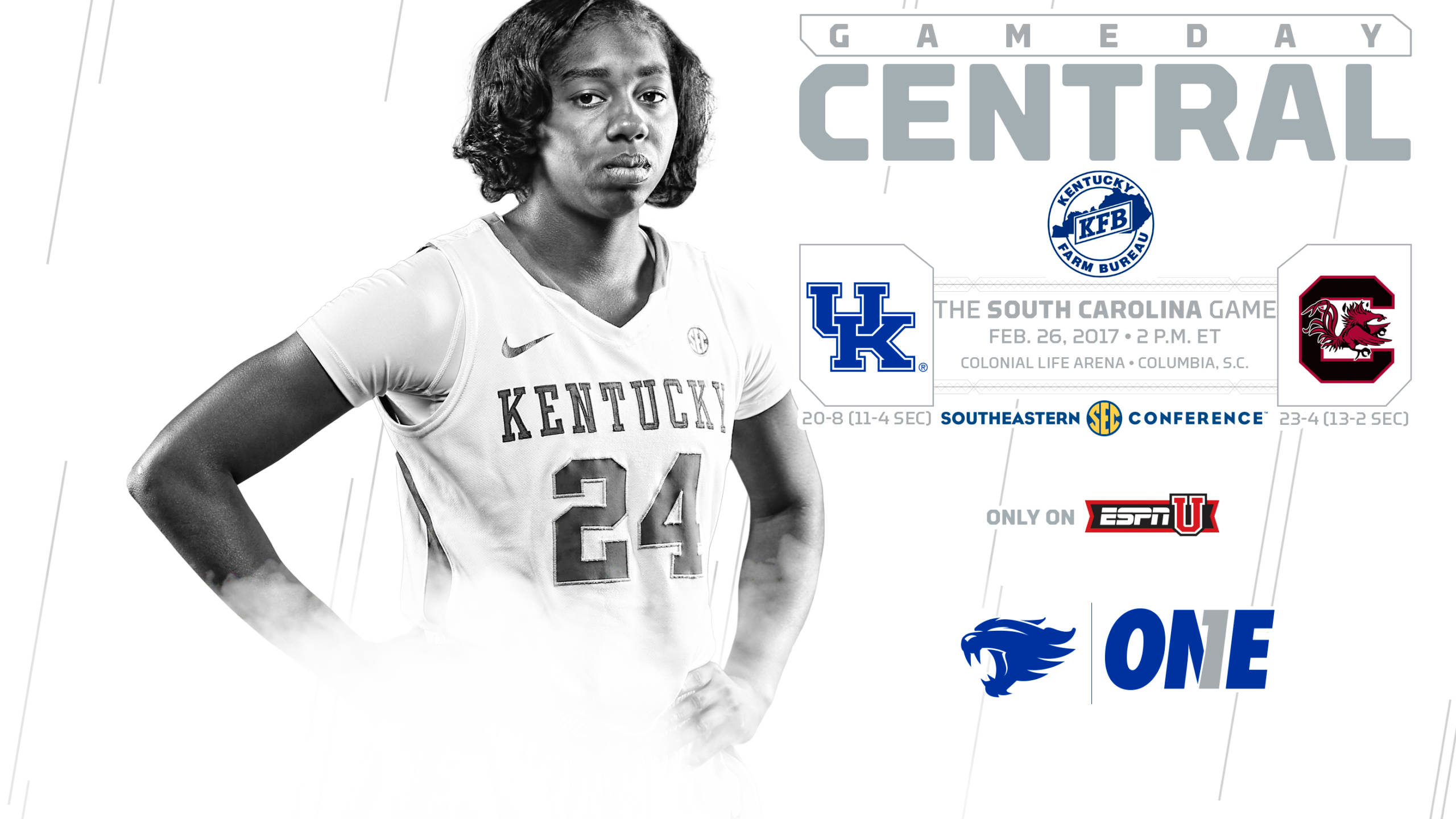 February 25, 2017 - 01:08 PM
No. 22 Kentucky Ends Regular Season at No. 7 South Carolina
LEXINGTON, Ky. – Fresh off its memorable win Thursday against No. 3 Mississippi State on Senior Night, the No. 22 University of Kentucky women's basketball team looks to keep its momentum alive as it ends the 2016-17 regular season at No. 7 South Carolina on Sunday at 2 p.m. ET inside Colonial Life Arena. 
The game will be broadcast on the ESPNU with John Brickley on play-by-play and Nell Fortner as the analyst. The game can also be seen through WatchESPN on computers, smartphones and tablets. Now in his 12th season, Neil Price will have the call on the UK Sports Network. Fans in Lexington can hear Price's call of the game on WLAP 630 AM. Live stats and free audio will be available online at ukathletics.com.
Kentucky (20-8, 11-4 Southeastern Conference) is coming off its biggest win of the season Thursday, taking down No. 3 Mississippi State in an overtime thriller 78-75. The win clinched Kentucky's eighth straight 20-win season, which is a school record, while UK's 11 conference wins are the most since the 2012-13 team earned 13 victories. Thursday's victory concluded UK's 2016-17 home schedule with the Wildcats going 15-3 overall, including 15-2 inside Memorial Coliseum. The Wildcats have now won 14 or more home games in five of the last six seasons. 
Seniors Evelyn Akhator and Makayla Epps paced Kentucky in the win, giving the Wildcats their eighth straight victory on Senior Night, including two of the last three wins coming against top-five ranked teams. Combined the two seniors scored 49 points, hitting UK's last 11 field goals and scoring 28 of the final 30 points. Akhator scored 27 points in the game, adding 16 rebounds for her 15th double-double of the season, while Epps had 22 points and five assists, including the game-winning offensive rebound and put-back layup to clinch the UK victory. 
Epps leads Kentucky in scoring this season averaging 17.1 points per game while leading the team with 104 assists and sitting third with 28 steals. Akhator is averaging a double-double with 15.3 points and 10.6 rebound per game. Two other Wildcats are averaging double figures with sophomore Taylor Murray averaging 12.2 points and 5.1 rebounds per game, while fellow sophomore Maci Morris is averaging 11.7 points and has hit a team-best 46 3-pointers this season. 
South Carolina enters Sunday's regular-season finale with a 23-4 record, including a 13-2 mark in conference play. The Gamecocks are 12-1 overall this season inside Colonial Life Arena, including 6-1 in conference games at home. South Carolina has played three of its last four games away from home against some of the best teams in the country. The stretch started at No. 1 UConn, falling 66-55, before returning home and earning a 82-51 win over Vanderbilt. The Gamecocks lost their second conference game of the season last Sunday at Missouri, 62-60, before earning a win in their final regular-season road game at Texas A&M, 80-64.
As a team, South Carolina is averaging 75.9 points per game, limiting opponents to just 55.7 points per game. The Gamecocks are hitting 46.2 percent from the field and 32.4 percent from 3, while opponents hit just 35.1 percent from the field against the Gamecocks. South Carolina has a +7.8 rebounding margin this season and are averaging 15.1 assists per game. 
Junior forward A'ja Wilson paces the Gamecocks with 17.1 points per game, adding 7.5 rebounds and a team-best 56 blocks, while senior center Alaina Coates is averaging 13.4 points and a team-best 11.2 rebounds per game. Coates is second on the team with 38 blocks. Two other South Carolina players are averaging double figures with junior guard Allisha Gray posting 12.8 points and junior guard Kaela Davis earning 11.4 points. 
Sunday's meeting with South Carolina is the 60th all-time in program history with the Wildcats leading the all-time series 33-26. South Carolina leads the series in games played in Columbia, 16-10 and has won the last four meetings in Colonial Life Arena. Kentucky's last win at South Carolina came on Jan. 15, 2012 when it took down the Gamecocks 66-58. 
UK's last win against South Carolina came March 1, 2015 in Memorial. The Gamecocks have currently won four straight in the series, which ties its longest winning streak in the series. Matthew Mitchell is 10-11 all-time as a head coach against South Carolina.
Kentucky and South Carolina met earlier this season in Lexington with the Gamecocks posting a 75-63 victory over the Wildcats. USC used a 22-8 advantage in the second quarter to earn the win, although the Wildcats outscored the Gamecocks 40-33 in the second half. South Carolina shot 50 percent from the field in the game, including 7-of-19 from 3, while the Wildcats shot 33.9 percent and 6-of-19 from 3. USC outrebounded UK 40-29 and won the battle in the paint 34-20. Epps paced Kentucky with a game-high 23 points, adding nine rebounds, while Morris had 14 points and Alyssa Rice had 10 points. Wilson scored 20 points with nine rebounds, while Coates had 20 points and 18 rebounds.
For more information on the Kentucky women's basketball team, visit UKathletics.com or follow @KentuckyWBB on Twitter, Instagram and Snapchat, or Kentucky Women's Basketball on Facebook.
Kentucky Head Coach Matthew Mitchell
Opening Statement…
"Well, we have a tough game ahead of us Sunday against a very talented South Carolina team that played very hard against us here at Memorial and we did not have the outcome that we wanted. We will have a great two days of preparation and get ready to go over and earn what would be a really hard-fought victory. That is what is on our mind right now, is trying to get ready for South Carolina." 
On needing a similar effort to last night's performance on Sunday …
"Yeah, we need a very good effort against South Carolina. They are so big and physical and athletic. I think the thing that makes them so unique is the mobility of their size. Obviously with Coates and Wilson, that is a really unique combination of athletes that can move and have such a large presence in the paint. You really have to work for your offense and when you are on defense you have to play smart and play together. So effort will be important for us. We will have to give a great effort. I am sure that is what will be on our minds as we try to get prepared." 
On if he worries about the team's energy coming off such an emotional game …
"Yeah, I think our team has done a great job all year of sort of bouncing back and they do not show any signs of physical letdown. I think everybody understands that this is a really important game for us and they need to get ready. We will be ready to play." 
On the team's 3-point shooting …
"I don't think that we have been shooting the ball great from the 3. We continue to get together and talk about our team – all of us here – and one thing I would remind you all of is that if we can every put a night together where we really shot the ball. We have had some nights where we have shot 50 or 55 percent, but I think it is going to be one of those games where we would need something like that. I think to beat South Carolina time after time, you know one single 40 minutes game a bunch of things can happen, but I think a formula for success against them is hitting some perimeter shots. They just have what I think is the two best shot blockers and it is so hard to get to the rim consistently. The way that they play, where Mississippi State really came out of the paint last night and guarded everybody really closely and that gave you some driving lanes to get to the rim, South Carolina stays more in and says come to me and see if you can score that way. You can get to the rim some, but I do think making some 3s would really help us out and that will have to be part of our gameplan going in. We will try to spread the floor some and if they don't guard our 3-point shooters try to knock those down." 
On if it is good to go into tournament time and feel like you have a lot of upside left …
"I think we are playing really hard from an effort standpoint and where the players really are and how much they care and are wanting to win, I think we are at a maximum there. What I am saying is there are little things and points in practice where you can see us progressing. Like Alyssa Rice, I think over the last month, she is trending up at the end of the season. That is where our upside is where I still think players are coming to practice hungry every day and trying to get better. I think it is a great thing. We need to travel those last few feet or yards or whatever it may be so we can play our best at the end, but I think it keeps kids very hungry to come back to practice when they think they are getting better and I think that we are." 
On where last night's Senior Night ranks …
"Last night was among the best. You love all these players and you love all the seniors and each one of them is unique, but from what those two were facing last April and May, I don't know how it gets much better than last night for them. They will always have that. I am happy for them that they do." 
On Makayla and Taylor being one of the top guard combos …
"I don't know. I don't know. But I am glad that they are playing for us and I don't watch a whole lot of people play besides of who we have coming up. I am sure there are some great backcourt combos around the country, but they are playing well and playing hard and playing for each other and working hard in practice trying to be better. I think where our best improvement has been since the South Carolina game is just been our effort to try to communicate better with each other: coaches, players, player to player, player to coach. All of those things have improved and everybody has had to work at that. I am proud of everybody for putting in the time and working hard enough and caring enough to try to get better." 
On Taylor Murray talking to him during the games …
"A lot of it is strategy. Like, 'Hey, this is what is happening on the court,' and I cannot tell you how helpful that is and how that aides me in trying to aide them. So there are a lot of strategic things. Then I have been asking them to try to help me. I want it so bad for them that sometimes that works against me. I get a little too amped up, whether it be a call by an official and then you go back and watch it and the official made a good call. But in the moment, you are wanting it so bad. I have been honest with the team to help me with that. He is helping there too, like, 'Coach, it's fine. Were OK.' So they are helping me with my poise and then there are times where I can help her with hers. So it is just a real good collaboration right now and I am grateful that we kind of found that because we needed each other there. It is working out in games and it has been really helpful. She is really, really engaged on what is happening at the time and what can help us have some success the next play. She is doing a great job with that." 
On Epps looking to facilitate in the first half and then scoring more in the second …
"Well, I think that last night that is a hard game. You are playing a very good team. They are highly ranked and talented. They had only been beat once before and everybody knows that going into the game. Then you are dealing with the emotion of 7,000 people cheering for you and you see what the place means to her, she kisses the floor before the tip, which I love and think is fantastic. But that is a hard game. I just think Senior Night here at Kentucky is so special and it is just a hard game. I don't know how much of it was trying to get settled down from that. But at halftime, I think she knew what needed to happen because you saw her come out on the attack right away in the second half. I don't know if there is every a plan for her to ease into the game, but I think last night was a big moment for her and I think it is hard to process all that. I think she did a good job of really locking in when we needed her and she was good." 
On this team limiting foul trouble …
"I just think early on there were a few things we knew we had to do. We had to take care of the ball and we just don't have the luxury where you can check out mentally and get careless fouls. I just think they know that. Early in the year, we really called the scrimmages in a realistic fashion to imprint it in their mind. And again, we had a 3.5 team GPA in the fall. There are some smart cookies out there. We are not dealing with people who cannot process information, although we do have some mental errors at times. But overall we are a pretty intelligent group of people, but Evelyn is a year older and more experienced.  She used to really take some bad fouls. Alyssa Rice has just worked so hard. She fouled out last night, but she didn't score a point last night but she was big for us in that victory with her defensive presence and defensive intelligence. I think we all knew that going in and we have done a good job with it." 
On taking care of the ball …
"That turnover margin for us has been positive. It is has been important for us to have a chance to be successful in the league because we have not been a team that could really cause the volume of turnovers of what we have done in the past. Last night was a great time for us to go against that norm as we forced them into 22 turnovers. We have had to approach it in a different way. We used to have to cause a bunch of turnovers, this year we have tried to keep that turnover margin positive by taking care of the ball. I think turnover margin is a big indicator of your ability to win a game and we did a great job of that last night." 
On what makes each game so unpredictable …
"I think with our team we clearly have some talented players but we are not walking on the court and marking it down because of our talent. So we do have some flaws. We are a team that sort of – we have a core group that gets some things done and then it is kind of a hodgepodge. Listen, Makenzie Cann came in last night and her 3 was at a time where we could not score and were out of rhythm and she had a steal at the end of the game. You just never know where it is going to come from. So Makenzie Cann was huge in the game last night at critical times. If we don't have those plays we lose. We have got to do it together and make plays at critical times because we are not just going to blow you away at talent and talent alone. We are not just going to show up and win games. So for us, I think it is helpful because it keeps us in the moment and we cannot get our heads too high in the clouds. For every game we have won, you can go back and see some flaws and mistakes that we made that we feel like we can improve on. I don't know, it is just a healthy self-awareness that we know who we are. I think Makayla said it in her senior day press conference. We know who we are and we know what we have to do. That self-awareness has helped us."