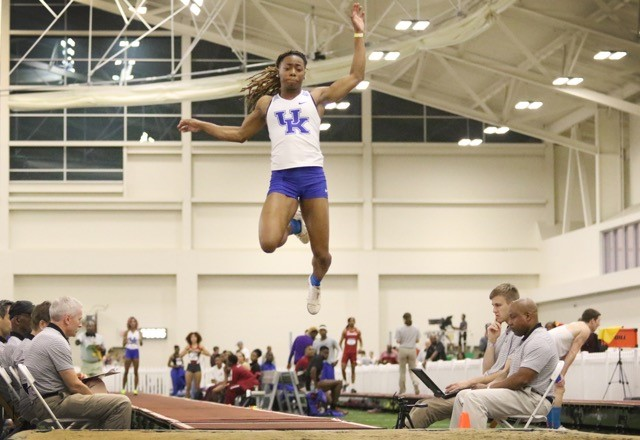 February 25, 2017 - 12:30 AM
Saunders Reclaims SEC Gold in Historic LJ Competition
NASHVILLE, Tenn. – Kentucky track and field standouts Sha'Keela Saunders and Olivia Gruver walked out of the Vanderbilt Multipurpose Facility with medals on Friday, the first day of the 2017 Southeastern Conference Indoor Championships. Each had to travel historic distances – Saunders horizontally, Gruver vertically – to lay claim to said medals. 
Saunders reclaimed the SEC indoor long jump gold that she first won at home in 2015. She needed to reach the No. 6 indoor mark in collegiate history — 22-feet, 4.5 inches/6.82 meters to win. 
Living up to the conference's well-earned formidable reputation Friday's long jump was the most competitive in indoor collegiate history as three collegians passed 22 feet in the same meet for the first time, per
USTFCCCA records
. Alabama's defending champion Quanesha Burks was the runner-up with a mark of 22'2.25"/6.76m, and Georgia's Keturah Orji was third with a mark of 22'0.75"/6.72m.
"This long jump competition gets harder every year," Saunders said. "I can honestly say my competitors have made me better. We can never get comfortable, and nothing is ever easy in this league. I'm so grateful to be in a conference that forces us to achieve greatness."
All three marks lead the nation, and of course the competition was filled with dramatic shifts, up and down. Saunders took the early lead with a first-round jump just shy of 22 feet, before Burks and Orji passed the UK senior in the third round. Saunders reclaimed the lead in the fifth round with her winning mark – an indoor personal best.
Olivia Gruver needed multiple PRs to claim her first SEC medal – bronze in the women's pole vault. Arkansas finished with gold and silver as sisters Tori Weeks and Lexi Weeks cleared 15'0"/ 4.57m, marking the first time two women cleared 15 feet in the same conference meet. Indeed it was the first conference meet in which three women bettered 14'8.75"/4.49m as Gruver got over that height. Those are the three best marks in the nation this year.
Team competition checkpoint
The Georgia men currently lead the team standings with 30 team points, while Arkansas is second with 27 points and Kentucky is third with 23 points. Alabama is currently fourth with 21 points and Florida is fifth with 18 points.
The Arkansas women headline the team standings with 48.5 total team points, while Georgia is second with 25 and Ole Miss is third with 24.5. Kentucky is fourth with 23, while Alabama is fifth with 22.
On the men's side, Arkansas leads all running-event qualifiers from Friday's prelims with eight, while LSU is second with seven, and Auburn, Ole Miss and Texas A&M each have six. On the women's side, LSU leads all running-event qualifiers from Friday's prelims with 14, while Arkansas has eight and Texas A&M has six.
Kentucky advanced Nick Anderson to the 60m hurdles final from Friday men's prelims. Cameron Short sits in eighth place in the heptathlon on 3045 points.
Kentucky had five entries – Javianne Oliver in the 60m, Jasmine Camacho-Quinn and Jacklyn Howell in the 60m hurdles, and Camacho-Quinn and Destiny Carter in the 200m — advance to women's running-event finals from Friday prelims.
Friday scorers
Men's team scorers
Tim Duckworth – currently ranked No. 2 in the NCAA in the heptathlon – elected to enter three individual events instead this weekend and that decision paid a strong initial dividend on Friday.
By generous accounting he totaled a combined 10 points by placing fourth in both the high jump and long jump. Xaivier McAllister tied Duckworth for fourth in the high jump as they cleared 7'0.25"/2.14m.
Fred Dorsey was seventh in the long jump having reached a mark of 25'2.5"/7.68m scoring two points, to go along with Duckworth's five, from a mark of 25'7.25"/7.80m
Both David Cline and Logan Bryer set new PR's in the weight throw to score points, with each making the final from the first flight. Cline broke Andy Fryman's school record with a mark of 67'8.75"/20.64m to place sixth and score three points. Bryer placed eight with a mark of 66'8"/20.32m.
Jacob Thomson finished sixth in the 3k scoring three points with a time of 8:07.19.
Women's team scorers
Katy Kunc ran a PR 9:25.54 to score five points by finishing fourth in the women's 3k. That time made her the No. 8 performer in UK history.
Destiny Carter reached an indoor PR mark 20'10"/6.35m to place seventh in the long jump and score two points. 
Where to find Saturday coverage
The meet continues at 11 a.m. ET both days and live results can be found via pttiming.com.
The SEC Indoor Championships will be streamed live on SEC Network + Saturday from 2:55-7:45 p.m. ET. The meet will also air as part of a two-hour show on ESPN on Sunday at 8 p.m. ET. The broadcast talent includes Dwight Stones, Larry Rawson, Jill Montgomery and John Anderson. 
SECITF History and Logistics
Arkansas won the men's and women's SEC Indoor titles last season.
The Kentucky women's team was sixth (48 points) last season and the men's team was 11th (32 points) at the SEC Indoor Championships. 
Kentucky's best-ever SEC indoor women's finish was third with 92 points in 1989. The UK men's team's best SEC indoor finish was second in 1960.
The Vanderbilt Multipurpose Facility is playing host to the SEC Championships for the first time. The facility opened in 2013.
Tickets can be purchased through the Vanderbilt ticket office. They will be available for sale on location one hour prior to the first competition of each day. Ticket prices are $15 for general admission (single session) and $5 for students/seniors (65+) and youth (2-12).
Meet Notes
Friday Champion
• Long Jump – Sha'Keela Saunders
o No. 6 collegiate indoor jump all-time, NCAA-leader – 22'4.5"/6.82m, 10 points
Friday Medal
• Pole Vault – Olivia Gruver, Bronze Medal
o UK record, No. 3 in NCAA right now – 14'8.75"/20.64m – Six points
Friday Scorers
Men's
• High Jump – Tied fourth place, Tim Duckworth and Xaivier McAllister
o 7'0.25"/2.14m – 5+4= Combined nine points
• Long Jump – Fred Dorsey: seventh place
o 25'2.5"/7.68m – two points
• Long Jump – Tim Duckworth: fourth place
o 25'7.25"/7.80m – five points
• Weight Throw – Logan Bryer: Eighth place
o PR 66'8"/20.32m – one point
• Weight Throw – David Cline. Sixth place
o School record: 67'8.75"/20.64m – Three points
• 3k – Jacob Thomson, sixth place 
o 8:07.19 – Three points
Women's
• Long Jump – Destiny Carter, Seventh place
o Indoor UK best: 20'10"/6.35m – two points
• 3k – Katy Kunc, Fourth place
o PR, No. 8 in school history, 9:25.54 – five points
Advancers from Prelims
Men's
• 60H – Nick Anderson: 7.84q, sixth
• Heptathlon – Cameron Short – 3045 pts, eighth
Women's
• 60H – Jackie Howell: 8.21Q, third
• 60H – Jasmine Camacho-Quinn: 8.06Q, first
• 60M – Javianne Oliver: 7.22Q, second
• 200M –  Jasmine Camacho-Quinn: 23.37q, second
• Women's 200M – Destiny Carter: 23.50q, fifth
UK
Results – Friday, Feb. 24

Event

UK Entries

Men's
Heptathlon 60m Dash

12. Cameron Short: 7.25 (796 points)

Men's
Heptathlon Long Jump

14. Short: 21'4"/6.50m (697 points)

Men's
Heptathlon Shot Put]

3. Short: 47'0.75"/14.34m (749 points)

Men's
Heptathlon High Jump

1. Short: 6'6.75"/2.00m (803 points)

Men's
Heptathlon Day 1 Total

8. Cameron Short: 3045 points

Men's
High Jump Final

4. Tim Duckworth: 7'0.25"/2.14m (4.5
points)

4. Xaivier McAllister: 7'0.25"/2.14m (4.5
points)

Women's
Pole Vault Final

3. Olivia Gruver: 14'8.75"/4.49m (6 points) – School Record –
No. 3 NCAA rn,

Men's
Weight Throw Final

6. David Cline: 67'8.75"/20.64m         – School Record –
8. Logan Bryer: 66'8"/20.32m

Women's
60m Hurdles Prelims
3 Heats. Winner plus Top 5
Times Advance to Final.

1. Jasmine Camacho-Quinn: 8.06Q
3. Jacklyn Howell: 8.21Q
9. Faith Ross: 8.34

Men's
60m Hurdles Prelims
2 Heats. Winner plus Top 6
Times Advance to Final.

6. Nick Anderson: 7.84q
12. Caleb Wilt: 8.10

Women's
60m Dash Prelims
5 Heats. Winner Plus Top 3
Times Advance to Final.

2. Javianne Oliver: 7.22Q

15. Destiny Carter: 7.39

Men's
60m Dash Prelims
4
Heats. Winner plus Top 4 Times Advance to Final.

11. Kenshard Hamilton: 6.73
20. Craig Green: 6.90

Women's
Long Jump Final
Top 9 after 3 jumps to final

1. Sha'Keela Saunders: 22'4.5"/6.82m (10 points)– No. 6
collegiate jump all-time, indoor PR

7. Destiny Carter: 20'10"/6.35m (2 points) – indoor PR

13. Marie-Josee Ebwea-Bile: 20'1.75"/6.14m

Men's
Long Jump Final
Top 9 after 3 jumps to final

4. Tim Duckworth: 25'7.25"/7.80m (5 pts)

7. Fred Dorsey: 25'2.5"/7.68m (2 pts)

14. Mohammed Abubakar: 24'1"/7.34m

Women's
Mile Prelims
2 Heats. Top 3 in Each Heat
Plus Top 4 Times Advance to Final.

14. Michelle McKinney: 4:52.80

Men's
Mile Prelim
2 Heats. Top 3 in Each Heat
Plus Top 4 Times Advance to Final.

12. Kendall Muhammad: 4:12.18

Women's
Shot Put Final

9. Nicole Fautsch: 48'9"/14.86m
10. Adriana Brown: 46'11.75"/14.32m

Men's
800m Prelims
3 Heats. Top
2 in Each Heat Plus Top 2 Times Advance to Final.

10. Ian Jones: 1:50.48 – PR –

Women's
200m Dash Prelims
10 Heats. Top
8 Times Advance to Final.; Two Section Final.

2. Jasmine Camacho-Quinn: 23.37q
5. Destiny Carter: 23.50q
18. Javianne Oliver: 24.02

Men's
200m Dash Prelims
9 Heats. Top 8 Times Advance
to Final.; Two Section Final.

25. Kenshard Hamilton: 21.90
27. Craig Green: 21.99

Women's
3000m Final

4. Katy Kunc: 9:25.54 (five points) – PR —

Men's
3000m Final

6. Jacob Thomson: 8:07.19 (three points)
—