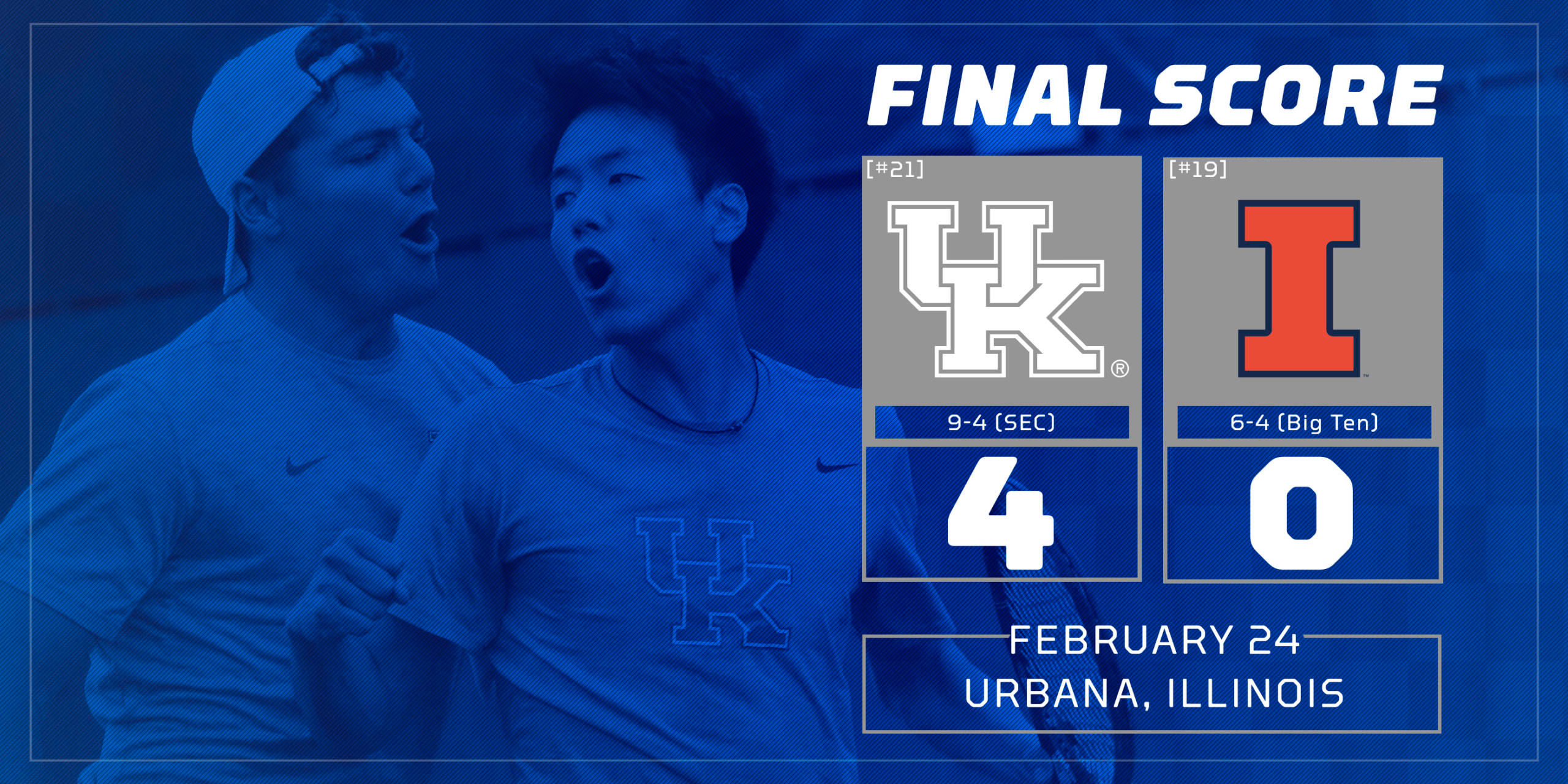 February 24, 2017 - 11:44 PM
No. 21 Kentucky Earns 4-0 Win Over No. 19 Illinois
URBANA, Ill. – No. 21 Kentucky jumped out in front with the doubles point and did not look back, as UK beat Illinois, 4-0, on the road at the Atkins Tennis Center. UK improves to 9-4 this season, while Illinois falls to 6-4.
"It was a great team win today," head coach Cedric Kauffmann said. "We could have won on all courts if we kept playing. To win on the road against a top-20 school by that score is really hard. I am proud of everyone today. We are ready to start the SEC season next weekend."
After Kentucky went down in the battle for the doubles point when the No. 33 duo of senior Beck Pennington and sophomore Enzo Wallart fell, 6-2, UK bounced back to take the point. Sophomore Ryo Matsumura and junior Trey Yates even the battle with a 6-4 win. Sophomore Will Bushamuka and senior Nils Ellefsen clinched the point in a hard fought 7-5 win.
Pennington was the first to grab a singles victory and put the Cats up 2-0. He defeated Julian Childers in straight sets, 6-2, 6-1.
No. 78 Ellefsen was the next Wildcat to grab a win when he beat Gui Gomes, 6-4, 7-5. Yates grabbed the match for Kentucky at 4-0 when he took down Noe Khlif, 7-5, 6-2.
Wallart, Bushamuka and Wallart all had matches that went unfinished. No. 35 Bushamuka, on the No. 1 singles court, was locked in a battle with No. 23 Aron Hiltzik at 3-6, 6-4. No. 21 Matsumura was at 6-3, 4-4 when play was called and Wallart was at 2-6, 6-2, 1-2. 
Kentucky will be back in action next weekend to begin SEC play at the Boone Tennis Center in Lexington. The Wildcats will take on Tennessee on Friday, March 3 at 5 p.m. and Georgia on Sunday, March 5 at 1 p.m.
For more information on the Kentucky men's tennis team, follow @UKMensTennis on Twitter or Kentucky Men's Tennis Team on Facebook. 
#21 Kentucky 4, #19 Illinois 0
Singles competition
1. #23 Aron Hiltzik (ILL) vs. #35 William Bushamuka (UK) 6-3, 4-6, unfinished
2. #29 Aleks Vukic (ILL) vs. #21 Ryotaro Matsumura (UK) 3-6, 4-4, unfinished
3. Beck Pennington (UK) def. Julian Childers (ILL) 6-2, 6-1
4. #78 Nils Ellefsen (UK) def. Gui Gomes (ILL) 6-4, 7-5
5. Aleks Kovacevic (ILL) vs. Enzo Wallart (UK) 6-2, 2-6, 2-1, unfinished
6. Trey Yates (UK) def. Noe Khlif (ILL) 7-5, 6-2
Doubles competition
1. Aron Hiltzik/Aleks Vukic (ILL) def. #33 Beck Pennington/Enzo Wallart (UK) 6-2
2. William Bushamuka/Nils Ellefsen (UK) def. Alex Jesse/Aleks Kovacevic (ILL) 7-5
3. Ryotaro Matsumura/Trey Yates (UK) def. Zeke Clark/Gui Gomes (ILL) 6-4
Match Notes:
Kentucky 9-4; National ranking #21
Illinois 6-4; National ranking #19
Order of finish: Doubles (1,3,2); Singles (3,4,6)
T-2:48 A-766