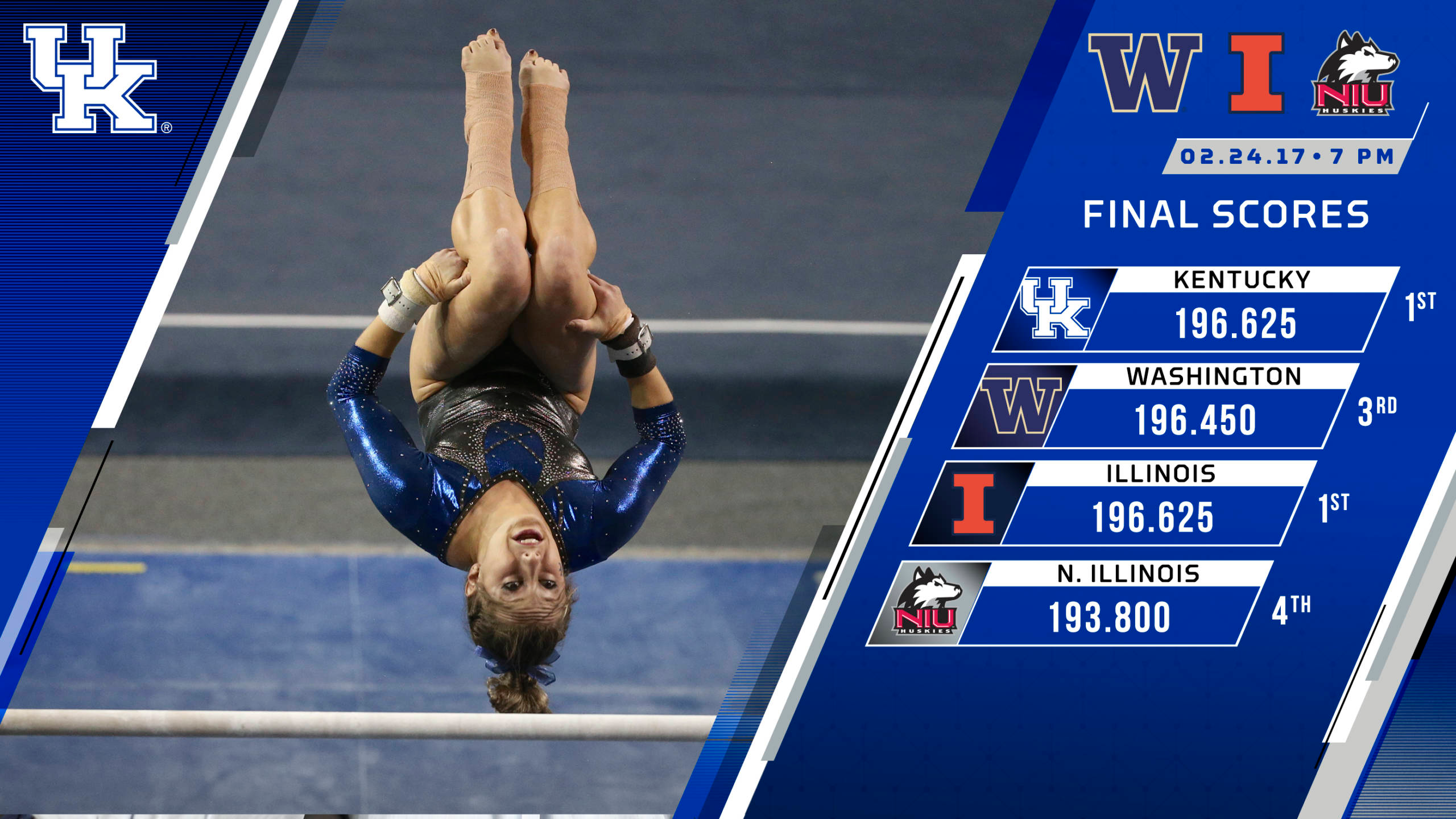 February 24, 2017 - 11:15 PM
Kentucky and Illinois Post Matching Scores to Win Quad Meet, Down Washington and NIU
LEXINGTON, Ky. – The No. 11 Kentucky gymnastics team took home a tie for first place in the Kentucky Quad Meet inside Memorial Coliseum on Friday night. UK posted a 196.625, matching Illinois' score and besting Washington and Northern Illinois. 
"First of all, thank you the Big Blue Nation and the competition on the floor," head coach Tim Garrison said. "It really had a championship feel tonight which is something we can absolutely use moving forward, because in three weeks we go to the SEC Championships."
UK was solid on all four rotations, and did not post a score below 49.075 in any event. Kentucky impressed on vault for the second consecutive week after posting a 49.275, tying for the fifth-best score in school history. Freshman Mollie Korth earned her fourth vault individual title and 17th crown this season with a 9.925. Sophomore Katie Stuart repeated last week's performance with another 9.9. 
Kentucky tied with Illinois with scores of 196.625. Washington finished in third with a mark of 196.450, and Northern Illinois finished with a 193.800. UK improved to 9-3-1 this season.
"We had some great performances, but we also gave a lot away tonight and we can't afford to do that," Garrison added. "We need to get back in the gym and work on fine tuning some things."
Sophomore Alex Hyland continued her strong performance this season with a second place finish in the all-around with a 39.375. Hyland has been incredibly consistent on the beam this season, and sat at third in the nation in average beam score of 9.9. Tonight, she kept that average the same with another 9.9 on the beam. 
"She's just Al. That's just what she does," Garrison remarked on Hyland's consistency. "She does it in the gym, does it in warmup and does it in competition. She just keeps rolling. It's just Al, and there's no better way to describe it."
Coming off an all-around win last week, sophomore Sidney Dukes finished third in this week's all-around competition. Dukes capped her night off with an impressive 9.9 on the floor, her fifth 9.9 or higher this season in that event. 
Freshman Hailey Poland tied a career best on the beam with a score of 9.875. One judge allotted her a 9.95.
Vault
Kentucky continued its hot vault streak with a score of 49.100. Korth won the event with a 9.925, and Stuart followed with a 9.9. Sophomore Danaea Davis put up a 9.85, while Hyland scored a 9.825. Sophomore Aubree Rosa and Dukes both scored 9.775.
Bars
Junior Cori Rechenmacher led the way for the Cats with a 9.850 as UK posted a 49.100 on bars as a team. Three Wildcats – junior Katie Carlisle, Dukes and Stuart – all scored 9.825. Hyland also contributed with a 9.775. 
Beam
UK scored a 49.175 and were led by Alex Hyland, with a 9.9. Poland hit her career best with a 9.875, and Korth scored a 9.850. Stuart and Dukes rounded out the scoring for the Cats with scores of 9.775.
Floor
The Wildcats wrapped up on floor and with Dukes posting a 9.9. Hyland followed behind her with a 9.875. Carlisle earned a 9.8, while Rechenmacher came in with a 9.775. Korth also contributed with a 9.725.
For complete news and updates on the Kentucky Gymnastics program, go to UKathletics.com. Season tickets can be found on UKathletics.com/Tickets. News and updates on the team can also be found on Twitter at @UKGymnastics and at @UKCoachGarrison and Facebook at Facebook.com/UKGymnastics.