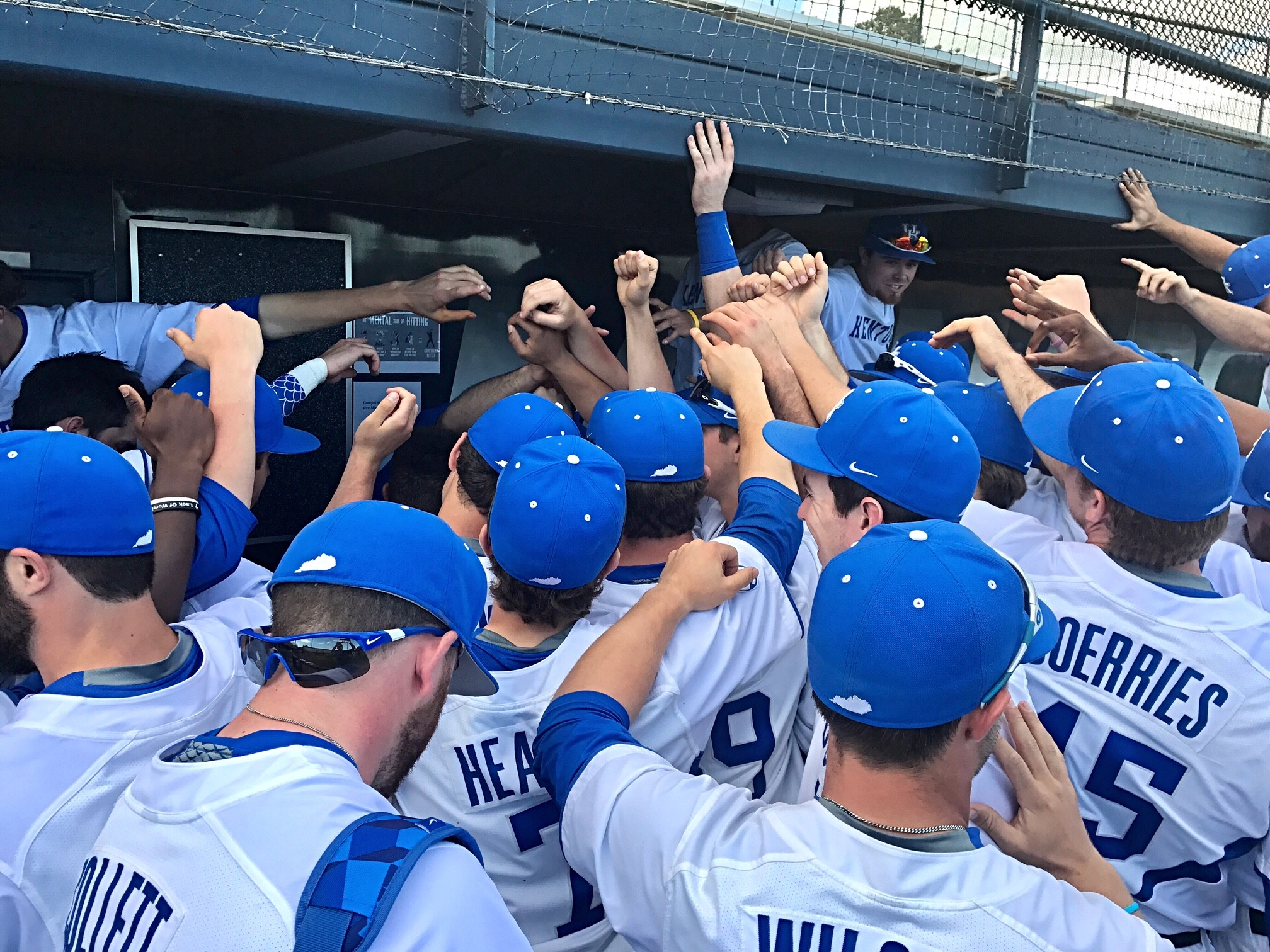 NORFOLK, Va. – Kentucky erased an early five-run deficit with an offensive barrage in the middle innings to give new head coach Nick Mingione his first career victory, defeating Saint Joseph's 16-9 under sunny skies at Bud Metheny Baseball Complex on the campus of Old Dominion.
Trailing 5-0 the Wildcats (1-4) scored a pair of runs in the third inning before unleashing a seven-run fourth inning that saw the first seven and nine of the first 10 batters reach base. After the Hawks tied the game at nine a four-run sixth inning put the Cats ahead for good, sending Mingione through the handshake line a winner.
"We will never stop competing," Mingione said. "We're up big, down big, it doesn't matter. This team is good. We did not panic. Good teams get their approach right and keep competing and that's what we did."
UK rapped out 14 hits – 12 singles, a double and a triple – and drew 12 walks to keep the pressure on Saint Joseph's. Six players had multiple hits and eight scored runs in the complete team effort. Junior right-handed reliever Zach Pop (1-0) came on in relief of starter Sean Hjelle and pitched 3.2 innings of scoreless ball to earn his first career collegiate victory. 
The game was the first of three for UK in Old Dominion's weekend tournament. The Cats face the host Monarchs on Saturday at 4 p.m. and Delaware at 11 a.m. on Sunday before returning to Lexington.
AT THE PLATE
The Wildcats brought their sticks to the yard in pounding out 14 hits and showed patience in drawing 12 walks. The combination battered the Hawks, who gave up big innings of seven, four and three runs along the way. Marcus Carson continued his hot start in going 3-for-4 with a triple, two runs and two RBI, while Luke Becker added a three-run double on his way to four RBI. Zach Reks also continued to see the ball well, going 2-for-3 with two walks, three runs and an RBI. Six Wildcats had multi-hit games.
ON THE MOUND
Starter Sean Hjelle breezed through the first five batters of the game but bad luck and a few missed locations over the rest of his outing chased the sophomore from the game after 4.1 innings. Junior right-handed fireballer Zach pop came on for Hjelle, got out of a jam and picked up his first career victory with 3.2 IP of scoreless work, striking out four and allowing just two hits. Freshman righty Chris Machamer cleaned up the ninth inning with a pair of strikeouts to seal the victory.
SCORING
Top 2nd – After five quick outs to start the game, St. Joe's took advantage of two infield hits and another bouncer through the infield to load the bases with two outs. Peter Sitaras, the Hawks' No. 9 hitter, then ripped a first-pitch fastball over the RF wall for a grand slam. St. Joe's 4, UK 0.
Top 3rd – With two outs and two strikes St. Joe's cleanup hitter Dominic Cuoci hit a home run just to the left field side of the batter's eye behind the 395-foot mark in dead centerfield. St. Joe's 5, UK 0.
Bottom 3rd – The bottom of the order got things going for the Cats, with Tyler Marshall lining a single to LF and moving to third on Connor Heady's single to LF. Zach Reks drove in Marshall with a sacrifice fly to LF and Riley Mahan tacked on the second run with his RBI groundout to 2B. St. Joe's 5, UK 2.
Bottom 4th – Back-to-back hits to CF by Kole Cottam and Marcus Carson jumpstarted a seven-run inning for the Cats where the first seven batters reached base. Luke Heyer walk to load the bases, Luke Becker singled home a run, Marshall walked to score a run, Heady hit a two-run single up the middle, Cottam drove in a run with his second single of the inning and Carson capped the scoring with an RBI groundout. UK 9, St. Joe's 5.
Top 5th – Cuoci's second home run of the afternoon – this one to RCF – brought home three runs and pulled the Hawks right back into the game. Charlie Concannon hit a bouncer up the middle that hit the second base bag and ricocheted into RF for a double, advanced to third on a groundout and scored on St. Joe's fourth infield hit of the game. UK 9, St. Joe's 9.
Bottom 6th – Heyer's bases loaded walk was followed by Becker's bases loaded three-run double off the RCF wall to cap a four-run outburst. UK 13, St. Joe's 9.
Bottom 7th – Heady walked to lead off the inning, moved to third on Reks' single and scored on Mahan's single down the LF line. A double-steal moved Reks and Mahan into scoring position and Reks came home on Cottam's sacrifice fly. Carson's triple over the right fielder's head score Mahan and provided the final score. UK 16, St. Joe's 9.
NOTES
• Senior OF Zach Reks continued his assault on opposing pitchers, going 2-for-3 with three runs scored, an RBI, two walks and a stolen base. It was his third multi-hit game of the season and 14th of his career. He is now batting .526 on the season. 
• Senior OF Marcus Carson went 3-for-4 with a triple, two runs, two RBI and a walk. It was his eighth career multi-hit game and his second straight with an extra-base hit.
• Senior SS Connor Heady scored three runs to set a new career high. He finished 2-for-4 with three runs, two RBI and a walk.
• Junior IF Luke Heyer's sixth inning walk gave him his first career game-winning RBI.
• Junior IF Luke Becker's four RBI game – capped by a three-run double – set a new career high for RBI, besting his previous high of two against George Mason on 2/20/16.
• Junior RHP Zach Pop earned his first collegiate victory.
• Preseason All-America first baseman Evan White missed his fourth straight game due to a hip injury.
• The Cats have outhit their opponent in each of the past four games.
• UK stole three bases and is now 9-of-13 on stolen base attempts this season. 
ON DECK
UK faces host Old Dominion in the middle game of a three-game round-robin tournament in Norfolk, Va. First pitch for Saturday's game against the Monarchs is scheduled for 4 p.m. and fans can listen on the UK Sports Network via UKathletics.com and iHeart Radio or 98.5 FM in the Lexington area. The game will also be aired on CUSA.tv ($) online.