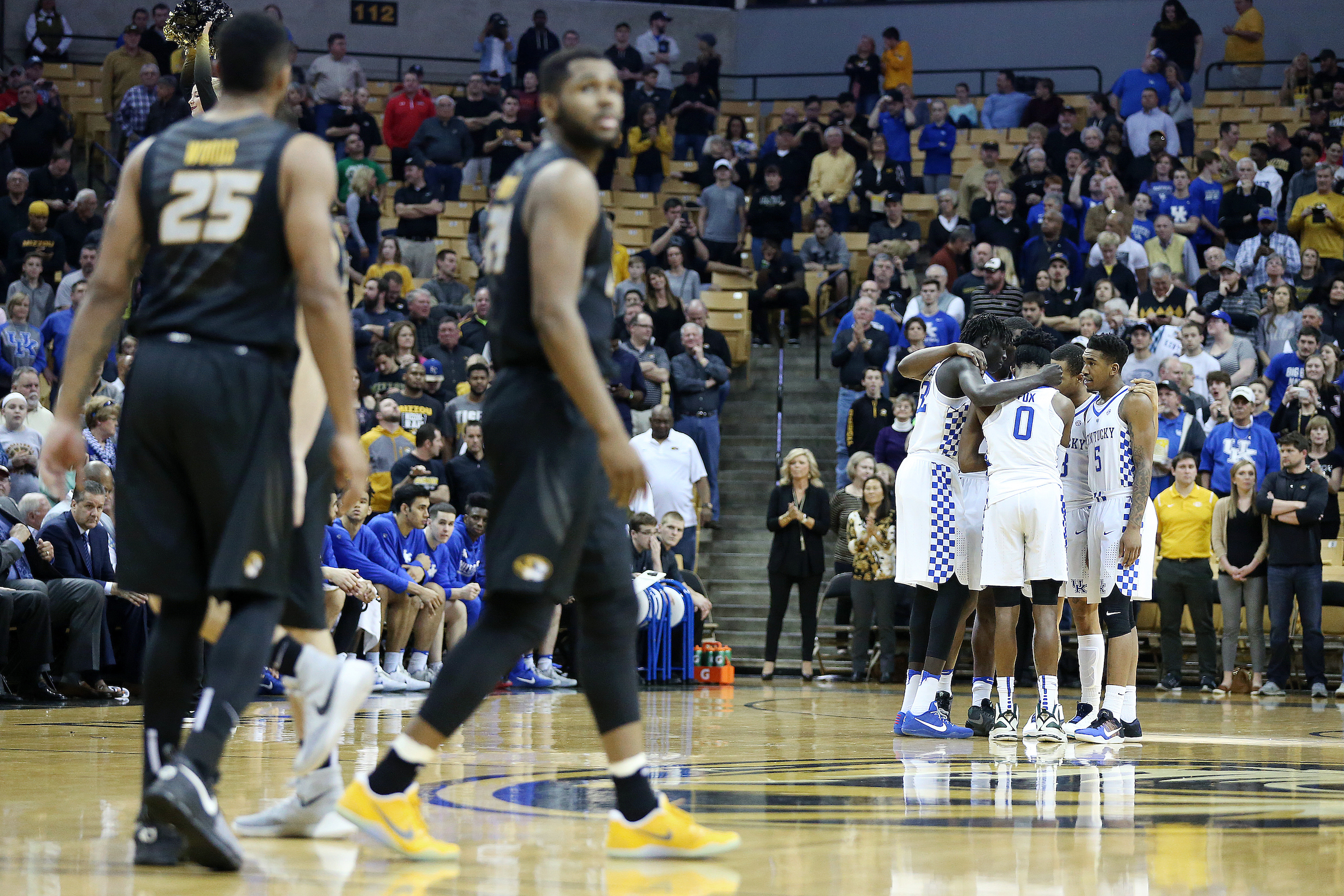 February 24, 2017 - 04:42 PM
Cats Still Working Toward 'A' Game
As John Calipari often says, there's only one loss each year that ends a team's season.
That's why it's March and April that he wants Kentucky at its best, not November, December, January or even February.
"Look, you want them to peak at the end of the year," Coach Cal said. "That's what you want, and we haven't peaked yet so that's not a bad thing."
So, the stakes will be high when the No. 11/10 Wildcats (23-5, 13-2 Southeastern Conference) play host to No. 13/12 Florida (23-5, 13-2 SEC) on Saturday afternoon, no doubt. Not only will the winner have the inside track to the SEC title and a leg up in NCAA Tournament seeding, but the Wildcats will also be looking to atone for their only blowout loss against the Gators on Feb. 4.
The date – Feb. 25, come tipoff – is important to note though.
"Well, I told the guys yesterday: 'It's a big game if you win,' " Calipari said. "'It's a huge game if you win. If you don't, then it's the next game and we march on. It's not the end of the season. We have to play on.' I'm trying to get these guys focused on what we have to do."
The mandate for the Cats is clear: find their peak and sustain it when it matters most.
Now, some observers might point to the way UK played early in the season and say its best days are in the past. Well, in Calipari's mind, UK's seven-game stretch to open the season – all wins that came by an average of more than 26 points – is easily explained.
"You know early in the year we got our thing because no one knows our team," Calipari said. "We're new. But then there comes a point they say, 'Alright, here is what you got to take away and this is what you gotta make hard.' And then you'll have guys at that point say, 'Well, this isn't fun anymore.' No kidding. They just made it harder."
UK isn't flying up and down the court the way it used to and it's certainly not because the Cats don't want to. Opponents have adjusted. So must UK.
"Now it becomes, 'OK, how are you going to play now?' " Calipari said. "And that's this team. We have gone through this every year and then we make adjustments and they get it back and then we get going. We just have to do it with this group."
To get there, Calipari knows UK's apparent inconsistency from one game to the next must be addressed.
"Not this team; just a couple of guys on the team," Calipari said. "And if you have a couple of guys on the team that are inconsistent that way, it's hard to get rhythm in how you're playing."
True to form, Calipari didn't name names publicly. He was clear about what he's asking of them though.
"So I'm saying to the guys, 'You have to come with this mindset,' " Calipari said. " 'You don't have to be perfect, but you have to be in the same area – in the same area code. You can't be here and then the next time we don't know (where you are).' "
That last game against Florida was probably the biggest outlier this season for the Cats in terms of overall performance, with almost everyone struggling and especially on the boards. Florida held a staggering edge of 54-29 on the glass in that 88-66 loss.
"We gotta come out with energy and we gotta be way more physical than they were," Malik Monk said. "They were more physical than us down there."
When it comes to physicality, no one does it better for UK than Bam Adebayo. He proved that last time out, putting up 22 points and 15 rebounds to lift the Cats past Missouri.
"I think I can be that every game the rest of the season," Adebayo said. "I just gotta put my mind to it and be more confident."
With Florida – a team that's won nine in a row and steamrolled six of those opponents by double digits – coming to town, Adebayo and the Cats couldn't ask for a better test when it comes to confidence and assertiveness.
"Now the question is we gotta get them there to where we start playing a little more aggressive, more energy, more 50-50 balls, we play tougher, make easy plays, stay connected defensively and offensively, lock in more," Calipari said. "All that kind of stuff is what we need to do."