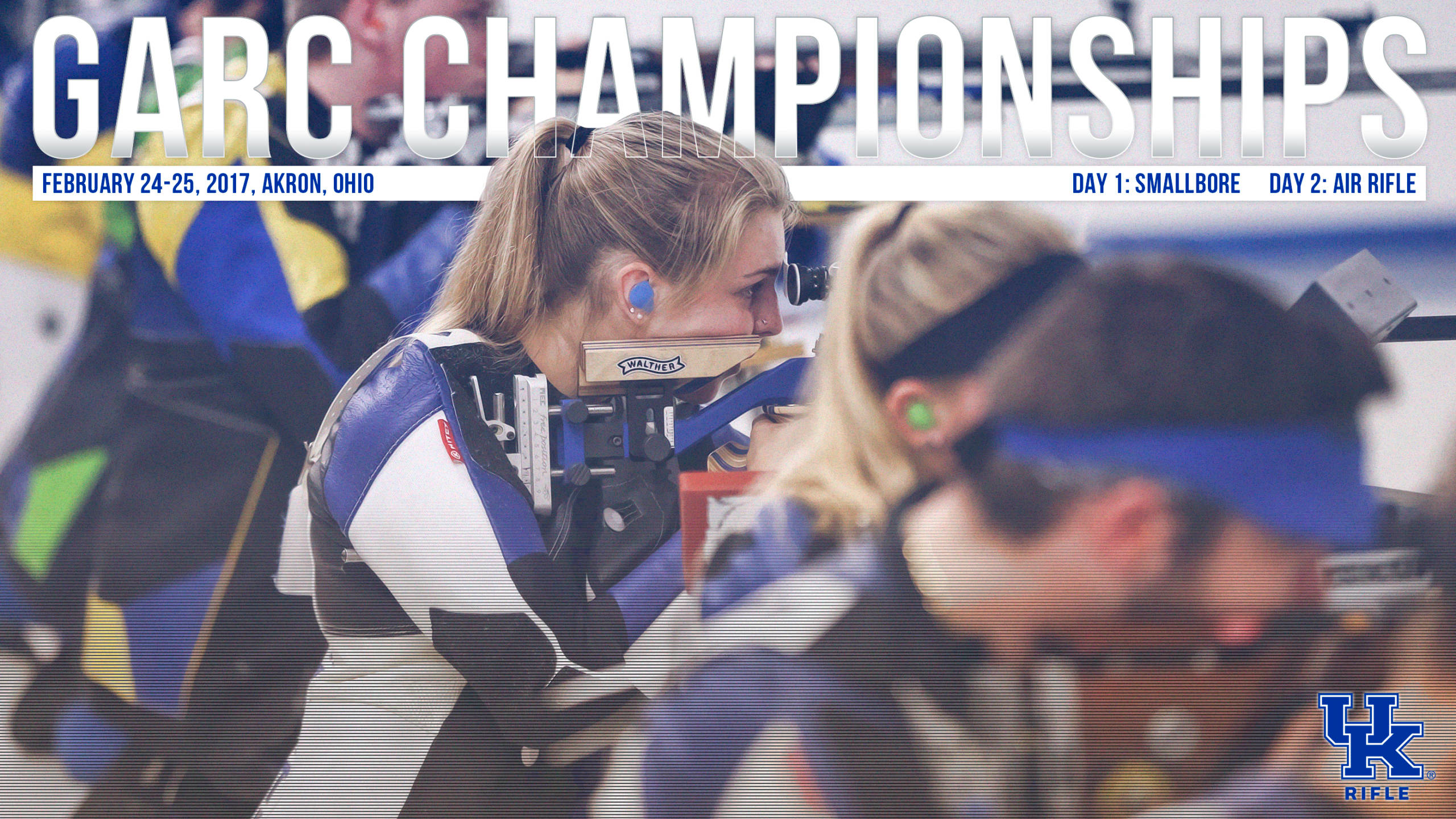 AKRON, Ohio – The sixth-ranked Kentucky rifle team will compete in the Great American Rifle Conference Championships on Friday and Saturday at the Stile Athletic Field House on the Akron campus.
The championships will begin Friday morning with the smallbore discipline. The day will consist of three relays at 8:15 a.m., 10:45 a.m. and 1:15 p.m. Air rifle will be held on Saturday. Relay times are set for 8:15 a.m., 10:15 a.m. and 12:30 p.m.
In their last action, the Wildcats shot 4768 during their NCAA Qualifier. UK owns an overall record of 20-6, 7-1 in the Great American Rifle Conference with nine ranked wins and 4676 season-average score. 
Heather Kirby, a senior from Shelbyville, Kentucky, boasts a 594.23 air rifle average, which ranks seventh in the country. 
Sophomore Hanna Carr ranks 11th nationally in smallbore with a 582.77 average. 
Kentucky finished in second place at last season's championships after a 4677 aggregate. West Virginia won the title. 
Carr won the air rifle championship last season after she edged future Olympic gold medalist in the final, while three UK shooters made the final eight in air rifle. Kirby and Sonya May finished sixth and seventh, respectively. 
The team was also honored with numerous postseason awards at the GARC awards banquet on Thursday. 
Carr was named First Team All-Conference in smallbore for the second consecutive year. The Versailles, Kentucky, native also added second-team combined honors. Kirby earned first-team honors in air rifle and made second-team in combined, while Billy Azzinaro also picked up second team combined honors and honorable mention in smallbore and air rifle. 
Cathryn Papasodora was also named honorable mention in air rifle.
May was named UK's Scholar-Athlete of the Year.  
The Wildcats finished second in GARC regular-season standings in combined, smallbore, and air rifle.
2016-17 GARC Awards
SMALLBORE ALL-CONFERENCE 
First Team: Hanna Carr
Honorable Mention: Billy Azzinaro
AIR RIFLE ALL-CONFERENCE
First Team: Heather Kirby
Honorable Mention: Billy Azzinaro, Cathryn Papasodora
COMBINED ALL-CONFERENCE
Second Team: Billy Azzinaro, Hanna Carr, Heather Kirby