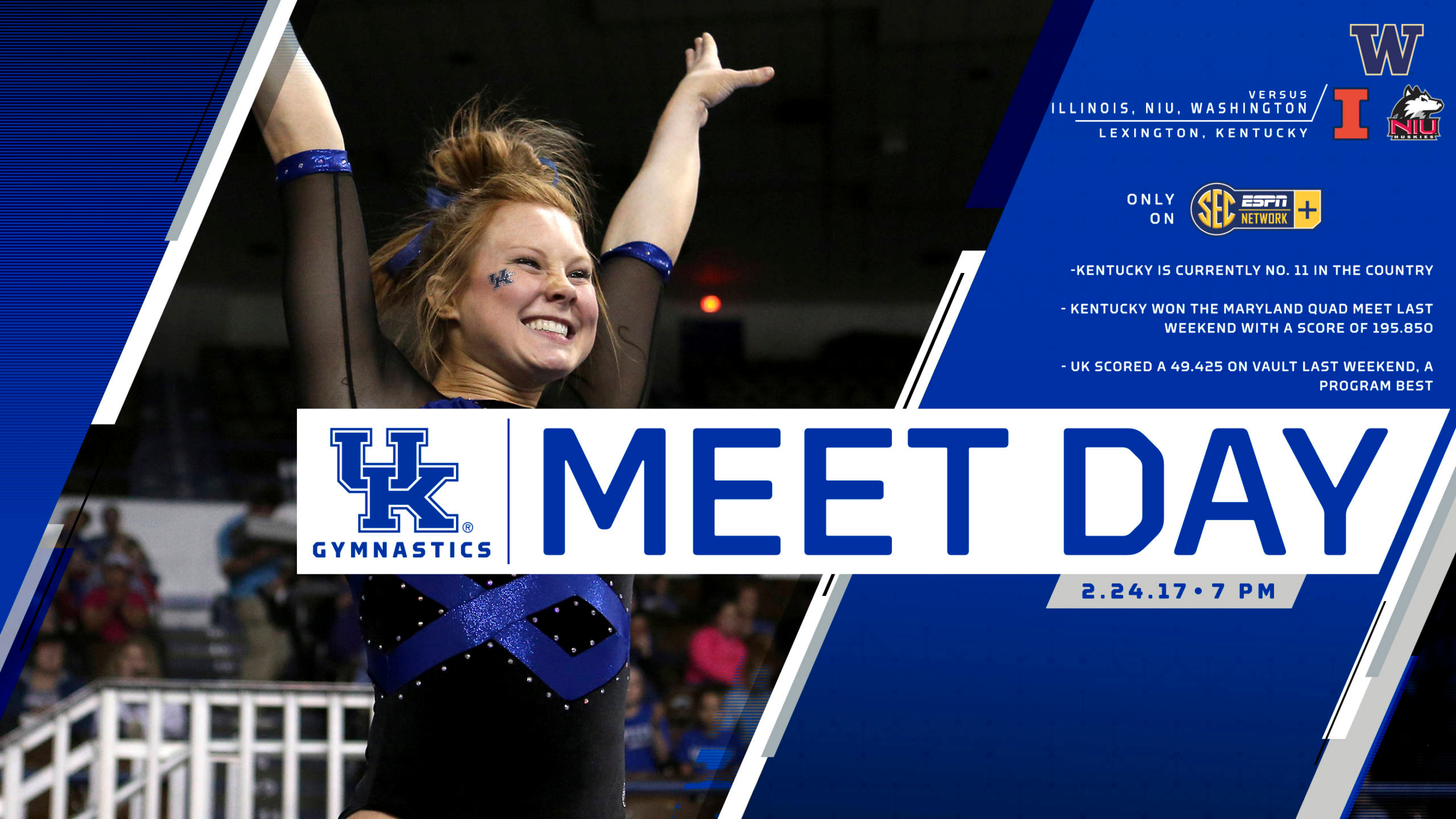 February 23, 2017 - 12:52 PM
No. 11 Kentucky Hosts Illinois, Northern Illinois and Washington on Friday
LEXINGTON, Ky. – The No. 11 Kentucky gymnastics program will compete in consecutive quad meets when UK hosts Illinois, Northern Illinois and Washington on Friday inside Memorial Coliseum. The meet is set to begin at 7 p.m. and can be watched live on ESPN3 and the WatchESPN app. 
The Wildcats are coming off a win of the Maryland Quad Meet, where UK took down the Terrapins, William & Mary and Pennsylvania. UK put up a 195.850 in the victory, and scored a 49.425 on the vault. The impressive vault score was a program record.
SCOUTING ILLINOIS, NIU, WASHINGTON
UW is the highest rated team at No. 18 with an RQS of 195.875. Illinois also sits in the top-25 with an RQS of No. 22 with a score of 195.495. Northern Illinois is the third-highest rated team in the Mid-American Conference at No. 39 with a RQS of 194.295. 
LOOKING AHEAD: ARKANSAS
UK will continue Southeastern Conference play next weekend when they face No. 21 Arkansas inside Memorial Coliseum next Friday. Arkansas has an RQS of 195.535 and an average score of 195.429. The Razorbacks high score is 196.375. Arkansas' best rotation is on the floor, where they have an average score of 49.020 and a high of 49.325.
NATIONAL RANKING
The first Regional Qualifying Score from RoadtoNationals.com was released on Monday, and the Wildcats sit at No. 11 with an RQS of 196.360. Qualification for regional competition is based on a team's and an all-around competitor's six best regular-season-meet scores, of which three must be away. To obtain the regional qualifying score (RQS), the high score is eliminated and the remaining five scores are averaged.
ROTATION RANKINGS
The Wildcats have impressive rotational rankings, including two in the top 10. Kentucky sits at No. 7 on the beam with an RQS of 49.220 and an average of 49.163.  On the floor, UK has an RQS of 49.165 and an average of 49.100 and is tied at No. 8. On vault, Kentucky is No. 12 with RQS of 49.090 and No. 14 on bars with an RQS of 49.075. 
PUTTING UP NUMBERS ON BEAM
Sophomore Alex Hyland has been impressive on beam this season. She has the third highest average in the nation with a score of 9.9, and is fifth in RQS with a 9.9. Hyland has not scored below a 9.875 this season and has scored 9.9 or higher five time this season.
RECORD-HIGH VAULT SCORE
Last weekend at the Maryland Quad Meet, UK set a school record for highest vault score ever. Kentucky put up a 49.425 on vault during the win over Maryland, William & Mary and Penn. Mollie Korth led the way with a score of 9.95, while Katie Stuart and Danaea Davis both put up scores of 9.9.
ALL-AROUND RECORD BOOKS
Before this season, only two Wildcats – Andrea Mitchell and three-time NCAA Champion Jenny Hansen – had hit above 39.550 in the all-around score. This season, Mollie Korth (39.625) and Alex Hyland (39.550) have all scored higher than 39.550. Both of the top scores came in the Wildcats' first win in school history over Alabama.  
9.9 IN FRONT OF THE HOMETOWN CROWD
Danaea Davis earned the opportunity to compete in front of her hometown crowd at the Maryland Quad Meet and did not disappoint. The Waldorf, Maryland native put up a career best of 9.9 on the vault, helping the Wildcats put up a school record 49.425. 
Parking Information
All surrounding E-lots around Memorial Coliseum including the North Craft lot, High Street Lot, Rose Street, and Linden Walk employee lots are available for event parking beginning three and a half hours prior to the start of the meet. Additionally, the South Limestone Garage (PS#5) and the Rose Street Garage (PS#2) are available two hours prior to the start of the meet.
A shuttle is available free of charge from the South Limestone Garage (Parking Structure #5) beginning two hours prior to the start of the meet. The pick-up/drop-off point at the South Limestone Garage is located on Administration Drive. UK asks that all patrons access this pick-up/drop-off location by the sky bridge, accessible from level three of the parking structure. The shuttle pick-up/drop-off location at Memorial Coliseum is located at the front of the Coliseum on Avenue of Champions. Disability parking is available in the North Craft lot. Spaces are limited and provided on a first come, first served basis with a valid, state-issued disabled parking hangtag.
Please note: Parking is prohibited in any R-lot. Vehicles parking in R-lots without a proper permit, along yellow curbs, grass spaces or other non-specified and unapproved areas may be subject to ticket and/or tow.
For complete news and updates on the Kentucky Gymnastics program, go to UKathletics.com. Season tickets can be found on UKathletics.com/Tickets. News and updates on the team can also be found on Twitter at @UKGymnastics and at @UKCoachGarrison and Facebook at Facebook.com/UKGymnastics.