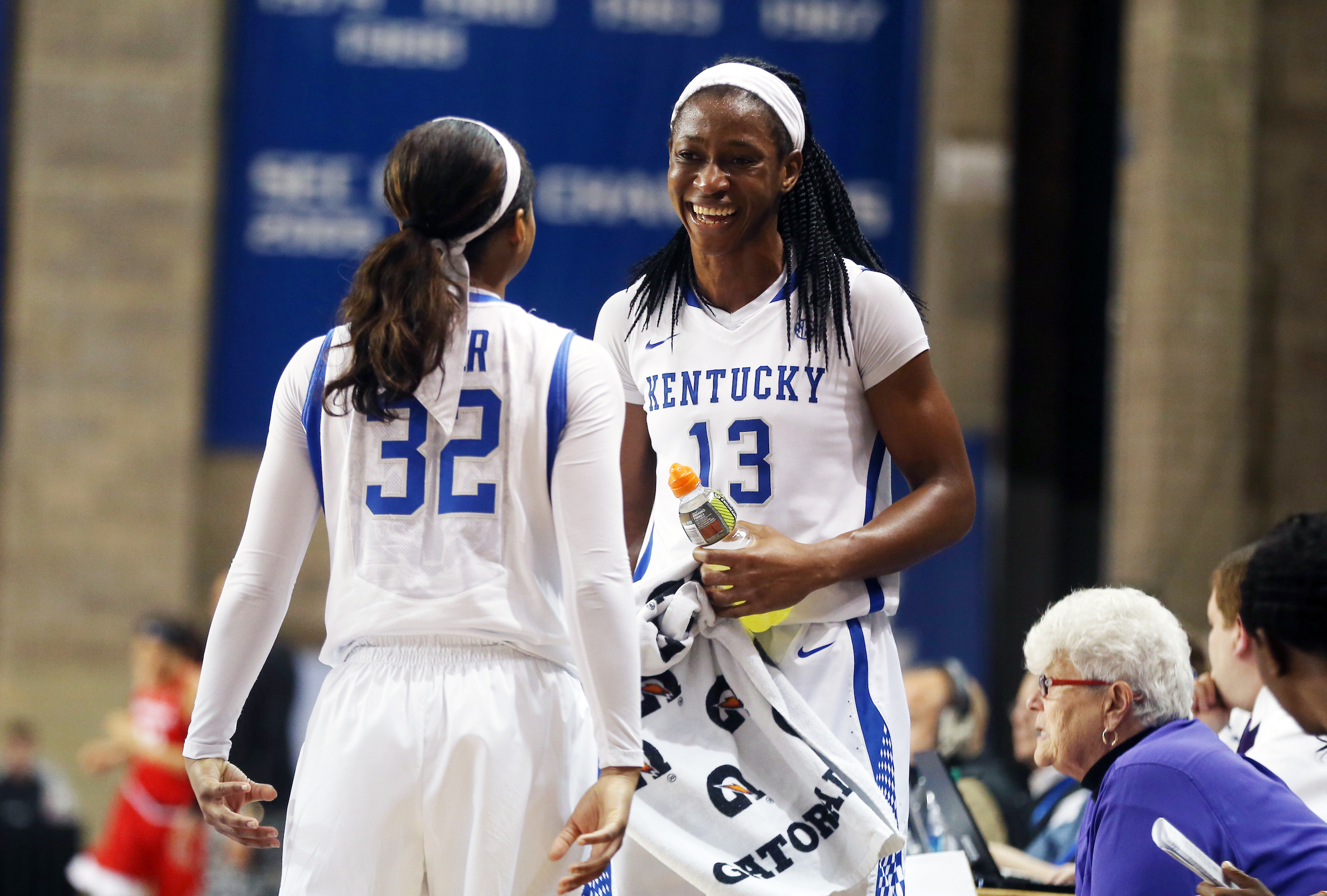 When Kentucky women's basketball head coach Matthew Mitchell was recruiting Evelyn Akhator, he could never have imagined the player, person and friend that she would develop into during her UK career. When Mitchell describes the relationship between the two, he can't help but gush about the outstanding young woman Akhator has become.
"It's been a remarkable blessing in my life to have her come to Kentucky and to be around her for this length of time," Mitchell said of Akhator. "I've really only known her for three years, recruited her for a year and coached her for two. But I do feel like she is someone that I've been connected to for a long time and will remain connected. We talk about all the time. We're family at this point."
Akhator and fellow senior Makayla Epps will celebrate their senior night on Thursday, when the Wildcats face No. 3/2 Mississippi State in Kentucky's final regular season home game at Memorial Coliseum (7 p.m. ET, SEC Network+).
The senior forward, who grew up in Lagos, Nigeria, faced her share of troubles growing up. Most significantly, Akhator's mother died when the UK senior was very young, something that Mitchell thinks made Akhator a person of very high character.
"I don't know that we will ever sign anyone who's higher character than her," Mitchell said. "She just has a really high character. Like Makayla, who was shaped through adversity, Evelyn experienced some adversity before she got here that shaped her and strengthened her. She lost her mother far too young, she came to a different county and a different culture and made the most of her opportunity. She is someone who I love very much. We have a really deep, family connection, love for those kids like they are blood relatives."
Akhator was recently honored by being inducted into UK's Frank G. Ham Society of Character, which honors Wildcats who have shown an extraordinary commitment to academic excellence, athletic participation, personal development, career preparation and serving as a role model. Akhator not only has the outstanding character that Mitchell mentions, she also sports a 3.4 grade point average, despite the fact that English is her second language.
Akhator came to Kentucky after playing two seasons at Chipola Community College in Marianna, Florida. There, Akhator led Chipola to a national junior college championship, averaging 21.2 points and 16.7 rebounds per game. 
On the floor this season at Kentucky, Akhator leads the team, and is third in the SEC, in rebounding, averaging 10.4 boards per game. She also leads the team, and is fourth in the SEC, in field goal percentage, hitting 60.4 percent of her shots from the field. She's second on the team, and 14th in the league, in scoring, posting 14.9 points per game.
Akhator knows that her game has developed during her time in Lexington, but she also thinks that she has been more of a leader this season.
"I would start with me being vocal," she says of her developing role. "That has really changed me and my leadership role. People being there for me, even when I make mistakes, they are always there for me to correct me and to be by my side and to push me to be the leader that everyone wants me to be. I think that has really impacted my life."
Although Akhator will only play two seasons in Lexington, her name will live on in the Kentucky record books. No player other than the legendary Valerie Still has had more double-doubles in a season, or a career, than Akhator. This season, Akhator has 14 double-doubles, giving her 27 for her two-year career. She thinks that will be the thing for which she will be remembered.
"I would probably say my double-doubles," Akhator said when asked how she thought she would be remembered. "Even though I don't see it as a goal, for me to get a double-double every game, but my with my scoring and rebounding, I think I could do that. But I think I will be remembered for my double-doubles."
Growing up in Nigeria, Akhator could not have thought that a place like Kentucky would feel like home. Now, she can't imagine thinking otherwise. 
"The team, it's much different than last year," she said. "We all love each other and the coaching staff is always here for us, whenever we need them. They have really made me feel at home. I don't really miss home like last year, when I was laying down, crying and I was homesick. This time, they are always here for me, they talk to me, especially Makayla. She always gets on me, but we just talk."
Perhaps the thing that Kentucky has given to Akhator is a drive to help others, which is now her passion.
"I never knew what community service was, then I came to Kentucky," she said. "At first, I was like 'what is this', but then I got used to it because I know this is what I really want to do. This is my commitment. I really want to help people. I want to show them how passionate I am with them. This school really helped me with that, and that's something I will never forget."
Mitchell is thankful that Akhator found her way to Lexington, and he knows how important she is to the team. 
"What she has meant to our program, we have a chance here to be a really great team down the stretch and have a chance to go into the NCAA Tournament and compete for a national championship," Mitchell said. "If she weren't here I don't know if we would have that opportunity and neither would we if Makayla wasn't here."
And as for the relationship between Mitchell and Akhator, it might be tough to explain, but it works.
"We laugh all the time because we don't know how a young woman from Lagos, Nigeria and an old guy from Louisville, Mississippi have a connection, but we do and God is important to both of us. We talk about those things and share that and I do think that is something that connects us and something that I love about her."