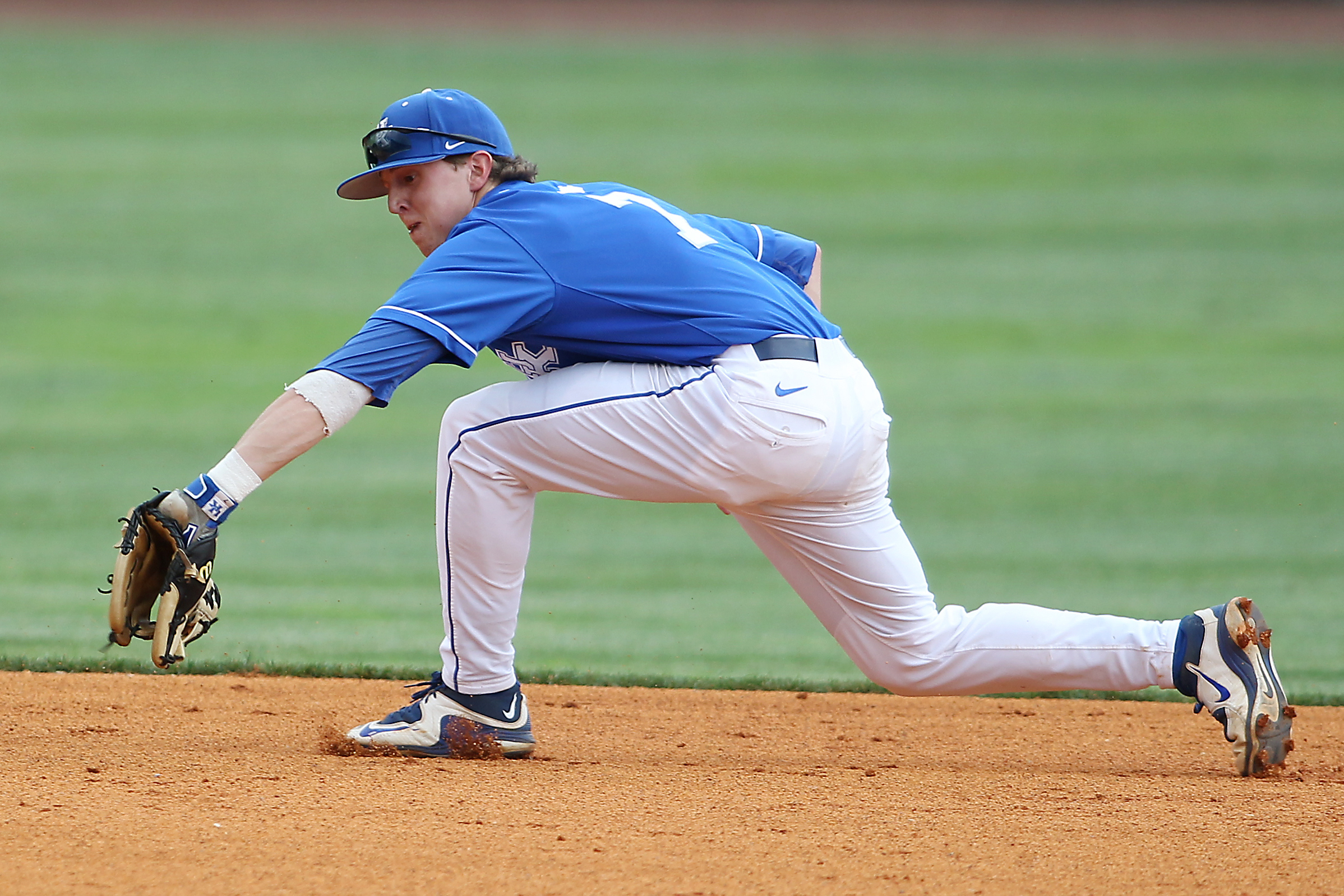 LYNCHBURG, Va. – Connor Heady and Riley Mahan homered and lefty pitcher Zack Thompson impressed in his first collegiate outing on Wednesday in the first game of a four-game road swing through Virginia. 
Kentucky outhit its opponent for the third time in four games but it wasn't enough to overcome a three-run fifth inning by Liberty University, who claimed a 5-4 victory in front of 1,335 fans on a dreary, wet day at Liberty Baseball Stadium. It was the third consecutive one-run defeat for the Wildcats (0-4).
UK got on the board first when senior outfielder Zach Reks opened the game with a single up the middle, moved to second on Mahan's sacrifice bunt, stole third and came home on sophomore catcher Kole Cottam's line drive single to left field. After an Eric Grabowski two-run home run in the second gave Liberty the lead, Mahan smoked his second home run in as many games on a soaring drive over the right field wall in the third inning.
With the Cats leading 3-2 in the bottom of the fifth the Flames (3-1) delivered the deciding rally. Thompson, who struck out eight in 4.2 innings and at one point sat down six of seven batters on strikeouts, gave up a two-out double to Jake Barbee. Junior right-hander Alec Maley entered and Will Shepherd hit a two-run single to center. After a walk, senior lefty Colton Cleary entered and gave up an RBI single to Big South Player of the Week Sammy Taormina to make it 5-3.
Junior shortstop Connor Heady clubbed his third career home run in the sixth to pull the Cats within 5-4 but that's as close as they would get. Flames third baseman Ben Highfill saved the tying run in the eighth when he dived to his right to snare a scorching line drive off the bat of junior infielder Tyler Marshall.
AT THE PLATE
The Cats managed nine hits – including two doubles and two home runs – but were not able to break through with the big inning. Heady and Mahan each clubbed home runs, while Tristan Pompey and Marcus Carson registered the doubles. Cottam also added an RBI and Carson stole a pair of bases.  
ON THE MOUND
Thompson was nasty for much of the afternoon, settling in quickly and then dominating after yielding a two-run homer in the second inning. The 6-foot-2, 220-pounder from Selma, Ind.  struck out six of seven batters in one stretch, including three straight Flames caught looking at breaking balls on the inside corner of the plate. Lefties Cleary and Brad Schaenzer were terrific in relief, giving up no runs in 3.1 innings. Schaenzer punched out four hitters and did not give up a hit in 2.1 innings.
SCORING
Top 1st – Zach Reks led off the game with a line single to CF, moved to second on a sacrifice bunt by Riley Mahan, stole third and scored on Kole Cottam's line drive single to LF. UK 1, Liberty 0.
Bottom 2nd – Sammy Taormina, the Big South Player of the Week, led off with a full count single to LF and scored a batter later on Eric Grabowski's two-run home run to LF. Liberty 2, UK 1.
Top 3rd – Tristan Pompey sliced a double to the LCF wall with one out, went to third on a wild pitch and scored the tying run on a two-out double down the RF line by Marcus Carson. UK 2, Liberty 2.
Top 5th – Riley Mahan hit his second home run in as many games, stinging a towering drive over the 371-foot mark on the fence. UK 3, Liberty 2.
Bottom 5th – A two-out double by Jake Barbee put runners on second and third and ended freshman lefty Zack Thompson's afternoon. Will Shepherd greeted right-hander Alec Maley with a line single to score two runs and advanced to third on an error. Taormina singled Shepherd home off Colton Cleary. Liberty 5, UK 3.
Top 6th – Connor Heady ripped a two-out home run into the bullpen just beyond the LF fence, the third home run of his career. Liberty 5, UK 4.
NOTES
• Senior OF Zach Reks opened the game with a single. It marked the fourth time in as many games Reks reached base safely to lead off a game (three hits and a walk). 
• Junior 2B Riley Mahan's fifth-inning homer was the second in as many games and eighth of his career.
• Senior SS Connor Heady smoked a solo home run into the bullpen just beyond the LF wall in the sixth inning, the third round-tripper of his career and first since April 25, 2015 against Florida.
• Freshman LHP Zack Thompson made his first collegiate appearance and start. He struck out eight batters in 4.2 IP, including six in a seven-batter stretch. Thompson gave up four hits, four runs and walked just one in throwing 91 pitches.
• Junior left-handed reliever Brad Schaenzer has not allowed a hit or a run in three appearances. He has recorded five strikeouts and not walked a batter in 3.2 innings.
• Senior lefty Colton Cleary has not allowed a run in three appearances. He has given up three hits, walked two and struck out one in 3.2 innings.
• Preseason All-America first baseman Evan White missed his third straight game due to a lower body injury.
• UK now has nine doubles on the season, averaging more than two per game. 
• The Cats have outhit their opponent in each of the past three games.
• UK stole five bases in the game, including two swipes of third base. The team is now 6-of-8 on stolen base attempts this season. 
ON DECK
UK hits the road after the game and heads to the Virginia coast for a weekend tournament at Old Dominion in Norfolk, Va. First pitch for Friday's game against Saint Joseph's is scheduled for noon and fans can listen on the UK Sports Network via UKathletics.com and iHeart Radio or 98.5 FM in the Lexington area.