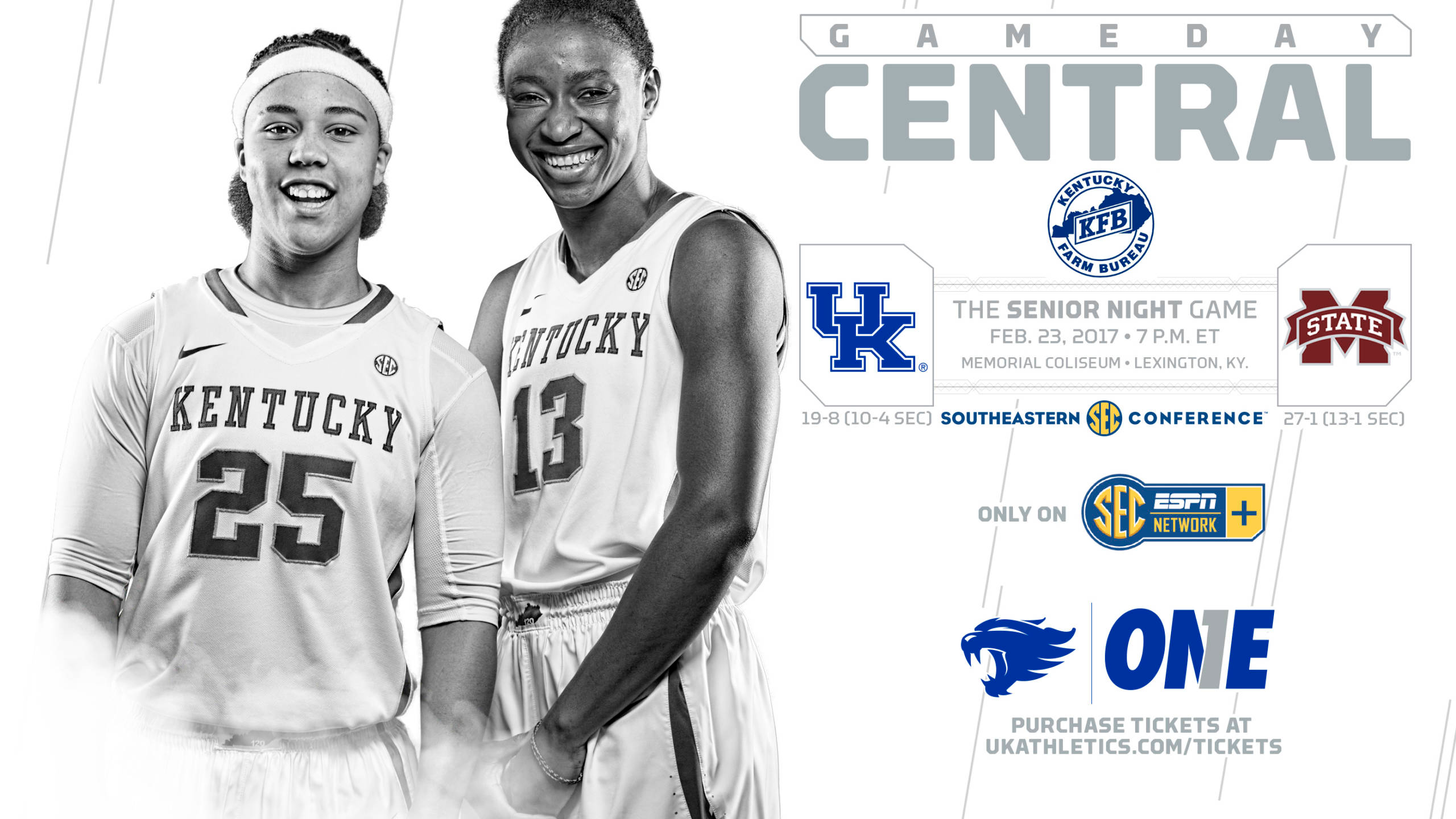 February 22, 2017 - 05:26 PM
No. 22 Kentucky Welcomes No. 3 Mississippi State for Senior Night
LEXINGTON, Ky. – The No. 22 University of Kentucky women's basketball team will conclude its 2016-17 home schedule and honor seniors Makayla Epps and Evelyn Akhator on Thursday as they welcome No. 3 Mississippi State to Memorial Coliseum for a 7 p.m. ET tip. 
The UK program will honor Epps and Akhator for their hard work and dedication to the program with a pregame ceremony set to begin at approx. 6:40 p.m. ET. Kentucky has had great success in Senior Night games, sitting 31-10 all-time in regular-season home finales (1974-75 season not included), winning 11 of its last 13 games, including seven straight.
Epps and Akhator have played a tremendous role in the success of the Wildcats not only this season, but throughout their careers. This season, the pair has combined to add 31.8 points, 14.8 rebounds, 4.5 assists and 2.5 steals per game. And that's just a small sampling of the impact these two have made on the program in their time at Kentucky.
In her four years as a Wildcat, Epps has played in 127 games with 82 career starts. Last season, Epps became the 31st player in program history to reach 1,000 points and was the third-fastest player under Mitchell to accomplish the feat. In her junior campaign, Epps also became the second player in school history to post a triple-double with 21 points, 12 assists and 11 rebounds. As it stands, her 1,664 points rank as the fifth-most in Kentucky history and her 389 assists are the eighth-most by a UK player. She is the only player in school history to rank top five in scoring and top eight in assists. Epps leads UK averaging 16.9 points per game with a team-best 99 assists. She is tied for third in rebounds at 4.4 per game and third in steals with 26. 
After coming to Kentucky from Chipola Community College last season, Akhator made an immediate impact in UK's post play and has continued to improve her game in her senior season. Akhator has played and started in all 60 games since coming to UK, adding 782 points and 587 rebounds. Her 27 career double-doubles are the fourth-most by a Kentucky player, and her 14 so far this season mark the fourth-most in a single season in program history. A three-time Southeastern Conference Player of the Week honoree this season, Akhator is averaging a double-double with 14.9 points and 10.4 rebounds per game. The native of Lagos, Nigeria, ranks high nationally in several different categories, including 15th in double-doubles, 13th in field-goal percentage, 14th in total rebounds and 21st in rebounds per game. 
Tickets for the game are available through the UK Ticket Office and through ticketmaster.com. Single-game tickets are $9 for reserved seating (all ages), $8 for adult general admission and $5 for youth (6-18/seniors 65+) general admission seating. General admission seating is free for ages five and under. Parking is available in most surface lots and parking garages around Memorial Coliseum. Shuttles are available from most lots. More information on parking and shuttles is listed below. 
The first 100 fans into Memorial Coliseum on Thursday will receive a free Kentucky women's basketball t-shirt. All fans are encouraged to bring their most creative signs to the game with the winner earning a free Xbox game system.  
The game will be broadcast on the SECNetwork+ with Jeff Piecoro on play-by-play and Andraya Carter as the analyst. The game can also be seen through WatchESPN on computers, smartphones and tablets. Now in his 12th season, Neil Price will have the call on the UK Sports Network. Fans in Lexington can hear Price's call of the game on WLAP 630 AM. Live stats and free audio will be available online at ukathletics.com.
Kentucky (19-8, 10-4 SEC) is currently on a four-game winning streak, posting wins over Vanderbilt, Georgia, Arkansas and most recently Florida at home. The Wildcats outscored the Gators 36-21 in the second half to earn the 67-48 victory inside Memorial Coliseum. Akhator was the leader for UK with 19 points and nine rebounds, while sophomore guard Maci Morris had 15 points and Epps added 14 points, three rebounds and three assists. Sophomore guard Taylor Murray added a career-best 11 assists in the game. UK shot 46.4 percent from the field and hit six 3s, moving to 7-1 during league play when it hits six or more 3s in a game. 
Thursday's game concludes Kentucky's 2016-17 home schedule as the Wildcats end the regular season Sunday at 2 p.m. ET at No. 7 South Carolina. It has been another successful season at home for UK, sitting 14-3, including 14-2 inside Memorial Coliseum. The Wildcats are averaging 5,463 fans per home game this season. UK has a +14.7 scoring margin at home this season shooting 44.4 percent from the field. 
The Wildcats are averaging 70.0 points per game this season, limiting opponent to 60.4 points per game. Four Wildcats are averaging double figures with Epps at 16.9, Akhator at 14.9, Murray at 12.2 and Morris at 11.9. Murray is second on the team with 95 assists and paces the Wildcats with 55 steals, while Morris has hit a team-high 46 3-pointers. 
Third-ranked Mississippi State comes to Lexington with a 27-1  overall record, including 13-1 in conference play. The Bulldogs' only loss of the season came on Jan. 23 at South Carolina, when MSU was defeated 64-61. Since then, Mississippi State has won seven straight contests. With its victory over No. 23 Texas A&M on Sunday, the Bulldogs moved into sole possession of the SEC standings. Their 27 victories this season are just one short of a school record. 
The Bulldogs are led in scoring by junior guard Victoria Vivians who is averaging 16.8 points per game. Vivians is the only member of the team in double-digits, but there are seven players who are averaging more than 7.1 points per game. Sophomore center Teaira McCowan leads the Bulldogs on the boards, averaging 6.4 rebounds per contest. She also leads the team in blocks, with 36 on the season. Mississippi State is outscoring its opponents by a margin of 22.9 points while averaging 76.3 points per game. On average, MSU commits just 13.2 turnovers per game while forcing 21 per contest including grabbing 9.3 steals per game.
Thursday's meeting with Mississippi State is the 44th all-time between the two teams with UK leading the series 26-17. The Wildcats have won each of the last 10 meetings between the two teams. The Bulldogs last win in the series was Jan. 18, 2009 in Lexington when they earned a 52-45 victory. Kentucky leads the all-time series in games played in Lexington, 11-8. This is the first meeting between the two teams in Lexington since UK's 92-90 double-overtime victory on Feb. 12, 2015. Mitchell is 11-1 against Mississippi State during his tenure at Kentucky and 11-2 overall as a head coach against his alma mater. 
Kentucky and Mississippi State met last season in Starkville, Miss., with No. 16 UK earning a 83-60 victory over No. 14 MSU. UK outrebounded the Bulldogs 49-34 and had 17 assists and only nine turnovers. Four Wildcats scored in double figures with Morris earning 17 points with four rebounds, while Epps had 16 points and eight rebounds. Murray had 13 points, four rebounds and four assists, while Akhator had eight points and 12 rebounds. The Wildcats limited MSU's five starters to just 15 points as Dominique Dillingham had four points while Vivians had seven.
For more information on the Kentucky women's basketball team, visit UKathletics.com or follow @KentuckyWBB on Twitter, Instagram and Snapchat, or Kentucky Women's Basketball on Facebook.
Parking
New spectator parking options include the High Street Lot, located at the corner of East High Street and South Martin Luther King Boulevard, and the Alumni Center Lot on Linden Walk, resulting in nearly 200 additional parking spaces. 
Spectator parking is located in all of the E-lots surrounding Memorial Coliseum, all lots are off control 3 hours prior to tip. Additionally, the South Limestone Garage (PS#5) and the Rose Street Garage (PS#2) are available two hours prior to tip.  
Parking is prohibited in any R (Residential) lots. Vehicles parking in R lots without a proper permit, along yellow curbs, grass spaces, or other non-specified and unapproved areas may be subject to ticket and/or tow.
Disabled spectator parking is available with a valid, state issued disabled hangtag in the E-Lot (Employee Lot) north of the Joe Craft Center. These spaces are available on a first-come, first-served basis until full.
Transit Center Parking Garage
UK women's basketball fans can avoid traffic and congestion around Memorial Coliseum and park FREE at the Transit Center – available after 5 p.m. ET on weekdays and all day for weekend games. 
The Transit Center Parking Garage is accessible from Vine Street of High Street. 
Push the green flashing button upon entry, take the yellow token and store it in a safe place. Park in the garage and find the UK Athletics event staff member at the entrance of the garage near Lexington Avenue for a free parking token to use after the game when you exit the garage. Staff will remain on site until 20 minutes after tip. 
Please do not lose your token. If you lose your token, you will be charged an $8 fee for a lost token fee. If you lose your token, visit the pay on foot station located in the seventh floor elevator lobby of the garage and choose "lost token." You will be charged $8.00 and given a new token that can be used to exit the garage. 
Shuttles
Shuttles are available beginning two hours prior to tip and pick up and drop off near the South Limestone Garage (Parking Structure # 5) (blue route) and inside the High Street Lot (green route).
Shuttles will start back up after halftime to return guests to their parking areas. The shuttle will discontinue service 1-hour postgame.
Game Day Information
Doors to Memorial Coliseum open one hour prior to tip. 
UK Athletics encourages women's basketball fans to arrive early to ease traffic and parking congestion around the Coliseum. 
Complete game day information can be found at our game day site by clicking here. 
Head Coach Matthew Mitchell
Opening statement…
"Well, two special seniors tomorrow night and real proud of them and what they've contributed to our program, what they've meant to this particular team this season. So, that'll be special. And the game means a lot for us. We have a lot to play for and need to try to continue to improve and tomorrow night will be a great test for us. So, proud of our seniors and we've been working hard this week to try to get prepared for what's an important game tomorrow night."
On what he thought early in the season seeing Mississippi State and South Carolina to close the season…
"Well, most seasons I don't look too far ahead, and in particular this season has been unique in the fact it's been very easy to stay in the present and focus on the practice that's ahead of you or the game that's ahead of you. When we embarked on the season, I don't know that any of us players, coaches, fans, media, anybody knew exactly what this was gonna hold. And up to this point, I'm real proud of the team and how hard they've worked and they've put themselves in a position to do some really great things here at the end of the year. So, we're proud of that, but I don't look at the end of the season usually ever and I certainly didn't this year. You know, as you look at it game-by-game, we were able to stay focused and have some success. We'll really have to make sure we don't look ahead of this game. This is the most important game because it's the next one, but it's against the top-ranked team in our league and they're a very, very good basketball team. So, we've got our hands full just getting through each day of trying to get better and trying to have a good practice or play a good game. So, I never look that far down the road."
On how much of an opportunity he sees for this team…
"Well, it's a fantastic opportunity. It's an opportunity to get another really important win in our conference. We've been able to get 10. We'd love to get 11 tomorrow night, just win as many as we can. So, it's a great opportunity to get another conference win and prove our position in the league. Right now, everybody behind Mississippi State and South Carolina are really, really competing and battling for that third and fourth spot. So, you know, it's really, really important and we've got a great opportunity tomorrow night."
On what makes Mississippi State so challenging this season…
"They just have some great players who play really, really hard. They're well coached. They are tenacious on defense.  I think defense always gives you a chance to win, especially when you're in an unfriendly environment your offense doesn't travel sometimes, but I've always felt like a really strong, tough defensive team always allows you to be consistent on the road. So, they've been that and I think their players have improved. I think they've gotten better since last year. It's a lot of the same players that they had last year and I think as you go down the line and you look at all of them, I don't really see anyone that didn't improve. So, that's a great testament to how hard their coaches and their players worked to develop their team. So, very talented at all positions, tough defensively, certainly have some explosive players who can score and make things happen, turn defense into offense. So, just a well-coached, very talented team."
On why Kentucky fans love Makayla so much…
"Well, it's a combination of things. One is the person she is, and she just connects so well with people. You know, she has a beautiful spirit about her. She has a great heart for people. She, I think, takes that extra few seconds maybe to connect with a fan that might be the only interaction they ever have but she takes the time to connect with people because she cares and she has a caring heart. So, I think that's a big part of it. I think her lineage is important. I think her dad having success here on a really important team in our men's basketball history and people are very excited about our men's team in the Commonwealth over a century it's just a big, big part of the fabric of our Commonwealth. So, his success, and then you have a daughter that comes along and signs with Kentucky and goes to Kentucky, I think that adds to that and then the success our program's had. She's had some incredible moments here as a player. I think all of that wrapped into one. But I don't think any of that would matter if she weren't the person that she is and have the heart that she has for people. I think that's the most important part of why people connect with her."
On if he thinks Makayla would make a good coach in the future…
"I do. I think that she communicates well with people. I think she has a good feel for people. I think coaching is so much that, being able to go beyond the technical and the tactical parts of the game and being able to get more out of a person than what he or she believes they can do. I think she has that quality. She certainly has a great basketball IQ. So, I think she'd be a fantastic coach."
On where this team has grown during its current four-game win streak…
"Well, I think the biggest thing is that we've learned some valuable lessons in communication and what we all have to do to weather a storm and to stick together, no matter what the outcome may be. I thought in the South Carolina game when they really went on a run, that kind of put us a little too far behind to catch up, we sort of fragmented and we weren't connected through communication, and I think we've worked really hard on that the last couple of weeks, players, coaches, everybody involved. And I think it's making a difference. I think that we've all decided that while we all have flaws and we all still make mistakes – coaches, players, everybody – we're committed to trying to give everybody our best down the stretch and see how far we can push this. That's been a fun thing from a coaching perspective to watch happen and develop over the last few weeks, and I've said this before, they continue to come back into practice hungry and wanting to improve and wanting to get better. It's not like, 'Well, the season's almost over. Let's just play this thing out.' I still think we have some upside on this team. So, that's some things that we've learned and you know, they've won some tough games: two tough games on the road and two tough games at home. You know, I think that our overall ability to communicate with each other in a real positive way that leads to keeping your poise and your composure and sticking together. You know, Arkansas, it was incredible that they just kept creeping up, kept creeping up, we kept answering and it wasn't perfect every time but I felt like we were doing it together. I felt like we were sticking together and that's probably where we've improved the most."
On what role Makayla plays in the close-knit nature of this team and its desire to get better…
"Well, I think that when you have her combination of stature on the team – she's one of the top players in the country and the league and certainly on our team – I think that comes with some responsibility. I think she's handled that well as far as knowing that she needed to work hard and practice hard and if she didn't, correct it. I think she also understand that when she talks, the players are listening to what she's saying. I think she goes out of her way at different times to maybe lift somebody up when they're struggling a bit or if the passions are running high and people are maybe a little bit on edge, she's got a good way of walking them back from there and settling and calming things down. She's been a great supporter of mine as far as if there's a tough decision to be made, 'Hey, we need to get on board with that and we need to do what Coach is asking us to do.' And that's very valuable, instead of the other way around where you're meeting resistance from that player in her position. So, you know, she's had a good feel for what she needed to do and you know, we haven't been perfect. She hasn't, I haven't, the team hasn't, but here we sit at the end of the season among the top teams in the country with a chance to be a good team at the end and that's what you're trying to do in basketball, play your best at the end. So, she's contributed greatly to that."
On where Makayla Epps would rank all-time in Kentucky-born players …
"Well, she is among the best, but we have some basketball to play and I will wait until she plays her final one to give you my final thoughts on that. Here is the thing, here is where she ranks in my mind. She has been shaped through the adversity she has faced and it's well documented the adversity she faced after her sophomore year. She had a choice whether to choose an easier path and go somewhere else where I am sure someone would have accepted her and her talent. I am sure she had numerous options had she chosen that path. Or she could stay here and face some opportunities to grow and to mature as a person and she chose that path and not only endured it but embraced it and flourished through that process. That is why she will always be special with me. It is funny, I don't have a great memory on the stats and who did what in games and how we won games. Those sort of fade, but the kids that really come here and who benefit by making a choice to learn and to grow and it is not easy but it is what you need to grow up and make this experience one you can draw on for the rest of your life, those are the ones that really stand out. From that respect, I will always remember her for making that decision and embracing that process and improving. She will always be real special from that standpoint." 
On his relationship with Evelyn Akhator …
"Yeah, it is a remarkable blessing in my life to have her come to Kentucky and be around her for this length of time. I have only really known her for three years. I recruited her for one year and coached her for two years. I do feel like she is someone that I have been connected to for a long time and will remain connected to. We talk about it all that time that we are family at this point. She is given as much as anyone could ever give in the amount of time that she has been here because she has given her all. She has given everything that she can give. I don't know that we will ever sign anyone that is higher character as her. She is really high character and we have had some great people come through here. But, like Makayla, who is shaped through adversity that she experienced here, Evelyn experienced adversity before she got here that shaped her and strengthen her. She lost her mother at an age that was far too young. It is never a good time to lose your mother. But she came from a different country and a different culture and has made the most of her opportunity. She is someone that I love very much, just like Makayla, very deep. I have a family connection and love for those kids like they are blood relatives. I just really appreciate both of them. We laugh all the time because we don't know how a young woman from Lagos, Nigeria and a old guy from Louisville, Mississippi have a connection, but we do and God is important to both of us. We talk about those things and share that and I do think that is something that connects us and something that I love about her. But what she has meant to our program, we have a chance here to be a really great team down the stretch and have a chance to go into the NCAA Tournament and compete for a national championship. If she weren't here I don't know if we would have that opportunity and neither would we if Makayla wasn't here. So both these kids have contributed greatly and particularly this year they have done a great job." 
On looking back at the offseason and imagining being at this point …
"Well, I will tell you it was a very tough time in my life. It was a very difficult time for our program. What all happened, I will be honest with you, at the time it was hard for me to believe the severity of everything as it related to what I thought that happened, but it happened. You don't have any other choice, as far as I see it, than to look at it and see what role you played. At the end of the day and I said it at that time, I was in charge of all of it and it happened. So it doesn't matter if I thought it was deserved of should have happened or thought it was a possibility of happening, it happened. So at that point, you have to take ownership of that and try to figure out what went wrong. From that standpoint, it has really been one of the more beautiful experiences I have bene apart of. I was strengthened by my faith and I never once thought I wasn't where I was supposed to be. That helps you kind of stay in it and stay there and be patient and open your mind, ears and eyes to see what is going on. So my faith helped me do that and once I stayed there and started opening my mind to learn some lessons, I felt like I learned some great lessons and I felt like I am continuing to learn lessons. I think this team continues to teach me very valuable things for our immediate future and for the future of the program. At this point in time, I am nothing but grateful for everything that has happened, but I don't think I would have learned what I needed to learn any other way. Obviously, that was the way I was supposed to learn what I needed to learn. I am grateful to this team. Like we said before we started, we didn't know what it would be and we still don't know where we are going to end up, but at least we have a large enough sample size to know that this is a good team and we can play some good basketball. We need to play some good basketball tomorrow night and that is what we are going to work hard on. But I am grateful for the experience." 
On changes in how he coaches or manages time … 
"Well, that has been an evolution over the nine months, but yeah. I have tried to engage and be more attentive to players because I didn't want to miss anything and make sure I was strongly connected to them personally and weren't going through any surrogates that were passing my messages along. So I did try to do that. I think the staff and the wisdom on the staff has helped greatly where they are in a position where all of us are sort of here because we want to be here. No one is climbing trying to go to another destination and everybody is here and two feet in here for each other. And you get feedback there that is valuable that maybe someone who is not all the way in or has an eye on another place might say, 'you know, I don't want to tick coach off so I am not going to confront him with you ought to do things differently,' things like that. I think the wisdom on the staff has helped me. Having someone like Lin Dunn and Kyra and Niya, people who have been in the game for a while able to confront you with, 'hey, I would think about this differently,' makes you stop and think. That has really helped me. I just try to rise very, very early in the morning and spend some quiet time trying to get things ready for the day. I spend some time praying and scripture and reflecting and making sure I am the very best I can be when I hit the office. That was a time management thing that if you get going crazy and from task to task (you lose focus). So I found that I needed that really early in the morning and that has been an adjustment. I always got up early, but now I am getting up a little bit earlier so I can have that time to get myself settled and strengthened for the day, because a bunch of things can get at you in this job and you never know what the day holds. All of those things are great gifts I have been given because of what we went through." 
On what time he normally gets up …
"On a normal day, 4 or 4:30, something like that." 
Senior Guard Makayla Epps
On whether she has thought about Senior Night…
"Yesterday I talked to Jen (Smith) a little bit and I think that's kind of when it really set in. People have been asking me, 'Can you believe it? Are you sad? Are you happy?' And I think my emotions are kind of everywhere in a sense. It's just crazy to think how fast four years have gone already for me both on and off the court, and for Senior Day to finally be here, it's a great feeling. I'm sure Memorial will be a crazy atmosphere tomorrow, great game atmosphere. I'm really excited about that, but overall I'm just going to go out there and have a good time and just treat it like another game, because that's what it is in all reality."
On what advice she would give to younger players…
"Never take it for granted and embrace it day by day. When I was a freshman, didn't play a lot. Had to transition from playing all the time in high school to not playing a lot as a freshman. That was really hard for me at the start, but then I had to work to get my body in shape and work for what I wanted, which was playing time. And then to start off my sophomore year very well and then junior year very good and then now I'm a senior. It flies by. It really does. People say time flies when you're having fun. So I guess I've been having a grand time while I've been here because it's flown by."
On whether any moment stands out in her career…
"One of the best and most fun moments I've ever had being here at the University of Kentucky I would have to say—well it's kind of two times, two-way street with Baylor. Four overtimes with Baylor, that game was incredible down in Dallas Cowboys Stadium. And then playing Baylor here I want to say maybe my sophomore year at Rupp Arena when I was on the court and I promise the floor was like shaking and it was so loud I couldn't even hear myself think. So we had two really good games against Baylor and those are the two that stick out to me the most."
On how rewarding this season has been…
"I tell them all the time: I feel like we're shocking the world and showing people day in and day out that they might have counted us down and out at the end of April when we were losing a lot of players, and people thought that we weren't going to succeed in the SEC or knock off teams that we knocked off in the nonconference, but we're doing everything that nobody said we would and I'm very proud of the team for that. Very thankful for the players that tried out and wanted to be a part of this team even through all the turmoil. There's a whole lot of love, like I've told people before. This is probably the most loving and caring team I've been on all four years of my career here, and you can just see that day in and day out. We work hard for each other and regardless of what anybody says about us, we know who we are, we know what we stand for and that's what we go out and try to prove every night on the court."
On how she has seen Matthew Mitchell grow as a coach this season…
"You gotta respect him. I don't know many coaches that could still be standing on two feet after going through such turmoil he had to go through and deal with. It wasn't easy on the players, but I can only imagine what the effect and impact it had on him as a head coach. I love him. He works hard every day. You can tell he loves the program. He loves us a lot. He wants us to succeed and be our best and I've definitely seen some growth just in different ways. He takes the time and spends time with us individually. He always reminds us how much he loves and cares about us, which is something players need to hear. Sometimes he gets on us but then he'll bounce back right after that and tell us that he loves and cares about us. So it's just little stuff like that. People don't really get the chance to know him how we know him. They all just see him as a smiling, happy guy. That's who he is, but then as our coach he's got many different emotions and stuff with us, as it's supposed to be. But hats off to him for getting us as far as we are today, just sticking by my side through all four years."
On Taylor Murray's emergence this year…
"I told Taylor and Maci (Morris) both last year, they played a lot of minutes as freshmen, so I don't consider them underclassmen. I consider them both veterans. They played a lot of minutes. They were both out there during some of our toughest times last year and then they're right back out there during our toughest times this year. But Taylor especially, she's 5-6, 5-7 on a good day getting six to eight rebounds a game. That's just incredible. With eight fingers, per se. So it's really incredible to see her do some of the things she's doing out there. She gets frustrated in practices. Like yesterday, she missed a couple layups in a row and she was like, 'I can't make layups.' I said, 'Tay, don't worry about it. You'll make them all tomorrow and have 10 rebounds and nobody will even know you practiced bad two days in a row.' Just her confidence has skyrocketed through the roof. She wants to do well for me and Evelyn. She told me at the end of last year that she was going to send me out in the best way possible personally, and I love her for that. She plays every game like it's her last, so I'm really proud of the growth she's made and I'm very excited to see where her future takes her."
On whether UK is capable of hitting enough outside shots to beat Mississippi State…
"You know, definitely. I just feel like sometimes our offense gets stagnant and that's a lot on me because starting as the point guard, me and Taylor take that to heart whenever the offense isn't clicking like it needs to be because we're the two point guards on the floor at the same time. But we're definitely capable. I've seen us do it in practice day after day after day. I get hot, Taylor gets hot, Maci and Makenzie get hot. So we're very capable. We have all the shooting, outside perimeter scorers that we need. I just feel like on any given night it might happen and one of these last two games could be that night."
On whether she looked ahead to this tough final two-game stretch…
"Of course at beginning of the season I looked at it and I was like, 'The good ol' SEC committee's out get us.' Just looking, I'm sure if it was anybody in the SEC you're playing the top-two teams in the conference, two of the top-five, ten teams in the country. It's not going to be easy, but I feel like they gave it to the team that's going to handle it best, or is going to try to handle it as best as we can. Nobody would feel—I wouldn't feel like my senior SEC season would be complete just playing – I can't call them a cupcake team because nobody in the SEC's a cupcake – but I'd rather play the two best teams in the league if I had to play any two teams in the league last."
On how she hopes she'll be remembered…
"I just want them to remember that I chose the University of Kentucky for many different reasons and that when I put that jersey on and there's Kentucky on my chest, it really meant something. Some kids just go to colleges because that was their best offer or their highest D-1 offer or whatever it is or whatever they're playing for, but I put that jersey on and it's not just about me and my dad or that little legacy we got going on. It's about, I was born and raised in Kentucky so this state really means something to me. And they showed me extreme, mad love over the four years and throughout my whole basketball career in general."
On whether her father has given her advice about Senior Night…
"You know, his and my relationship, we don't really spend a lot of time talking about everything. If we do talk about something, it's about basketball. So his Senior Day, y'all remember, I was there. Don't remember it, but I was there. He hasn't said anything to me yet. I haven't talked to him today. He played in his district game yesterday, lost by one in triple overtime. So I haven't heard from him except the other day I told him all the senior stuff going on. But I'm sure before I walk on the court or whenever I see him, he'll give me something. He always gives me something really meaningful, really worthwhile, so I'm sure I'll get something good tomorrow."
On how this team came together…
"It wasn't easy. Not too many Division-I teams are going to have tryouts. So we had to go through that process, but he brought in some kids who are going to work. Especially Paige Poffenberger, for example. Morgantown, West Virginia, small, very undersized, but she works harder than anybody on the team day in and day out regardless of what her position or rank might be on this team. But like I said, I gotta respect those kids for even wanting to be a part of the program or come join our team when we lost all them players last year. Of course it was widely and largely talked about on a national level so everybody was reading it and hearing about what was happening. So for them to even want to come out and help us out, I thank and appreciate them greatly for that. But like I said, this team's so well-knit, so close. There's no bickering, arguing, bickering day in and day out about anything. We haven't had to have any team meetings about behavior issues, attitude adjustments, none of that. And I've had some of that in recent years, but with this team we just don't have do that. If there's a problem, we settle it right then and there and that's that and we go on and continue to try to get better."
Senior Forward Evelyn Akhator
On Matthew Mitchell's growth … 
"He has really grown a lot. Especially, reminding us that he really loves us. He always tells us that he's here for us whenever we need him. That's a huge growth."
On how Kentucky become her home …
"The team, it's much different than last year. We all love each other and the coaching staff is always here for us, whenever we need them. They have really made me feel at home. I don't really miss home like last year, when I was laying down, crying and I was homesick. This time, they are always here for me, they talk to me, especially Makayla (Epps). She always gets on me, but we just talk."
On the dish she made for Makayla …
"I'm excited. At least she tried, this year. Last year, she wouldn't. So I made her something just to try, and I think she liked it."
On the last two games of the season …
"With Mississippi State, I don't think they're going to double team me because they have tall players. I think, just being there for my team. Emotional-wise, be there, lead in any way I can lead. Just produce in terms of rebounding and points, just be there for my team."
On how she wants to be remembered …
"I would probably say my double-doubles. Even though I don't see it as a goal, for me to get a double-double every game, but with my scoring and rebounding, I think I could do that. But I think I will be remembered for my double-doubles."
On what she will remember most about Lexington and Kentucky …
"I always say first, it's the fans. Being there for us, win or lose, they are always there, cheering us up and talking to us. Also, the school as a whole. And the team. I was in Florida at first, I never knew what community service was. Then I came to Kentucky. At first, I was like 'what is this', but then I got used to it because I know this is what I really want to do. This is my commitment. I really want to help people. I want to show them how passionate I am with them. This school really helped me with that, and that's something I will never forget."
On how your role has changed this season …
"I would start with me being vocal. That has really changed me and my leadership role. People being there for me, even when I make mistakes, they are always there for me to correct me and to be by my side and to push me to be the leader that everyone wants me to be. I think that has really impacted my life."