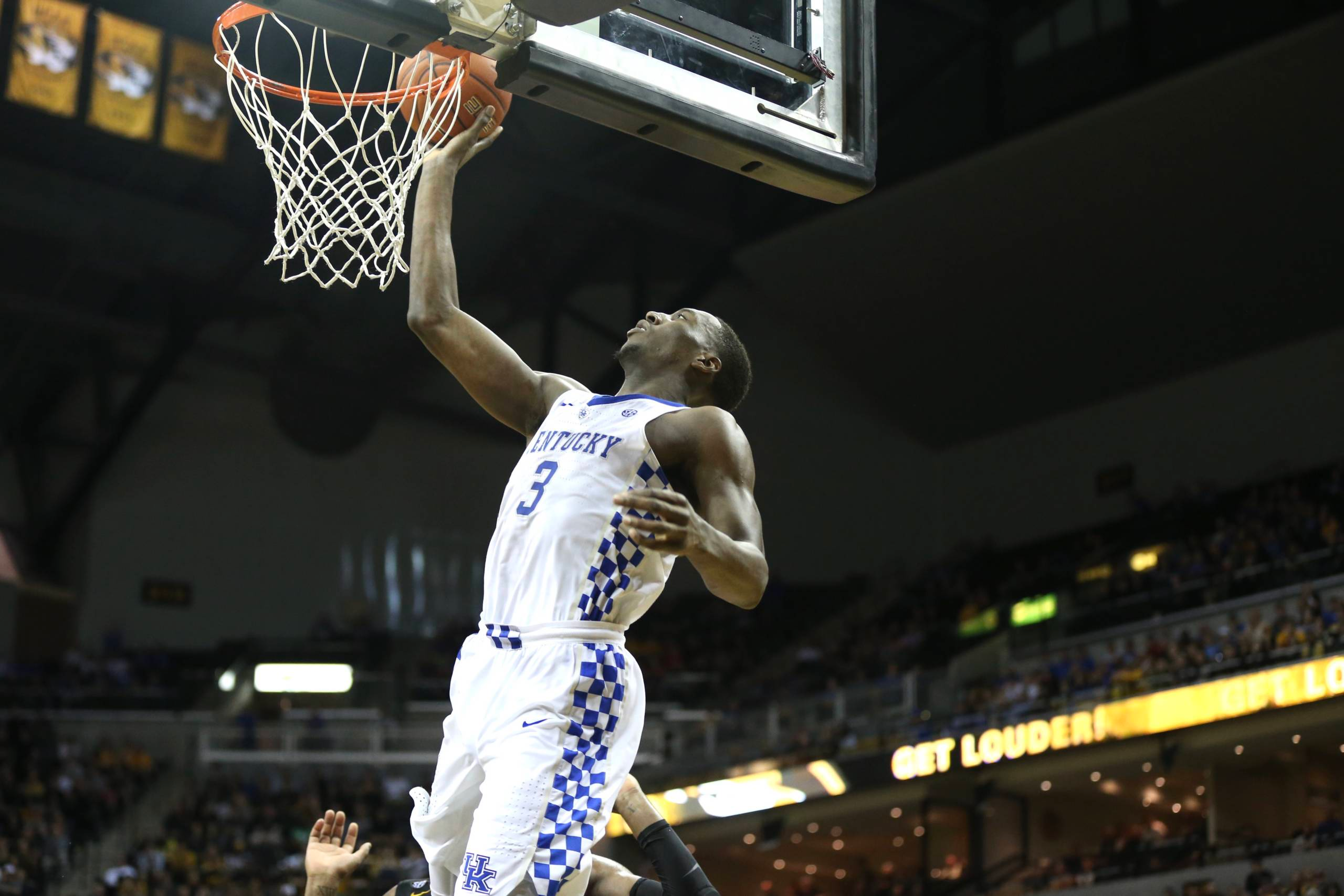 February 22, 2017 - 12:31 AM
Bam's Big Shoulders: Adebayo Lifts Cats at Mizzou
Nothing much was going right for Kentucky.
Shots weren't falling, a dynamic backcourt could find no rhythm whatsoever and the Wildcats could hardly grip the ball at times.
Lucky for UK Bam Adebayo came to play.
"Oh, we lose (if Adebayo hadn't played well)," John Calipari said. "We lose."
With little going right, the Cats fed their big man early and often at Missouri. Adebayo's big night and fourth career double-double – with 22 points and 15 rebounds – allowed No. 11/10 UK (23-5, 13-2 Southeastern Conference) to survive a close early battle and eventually pull away over the last eight minutes of a 72-62 road victory over the Tigers (7-20, 2-13 SEC).
"I feel like I played great," Adebayo said. "We came out with the W so I couldn't be happier."
When UK needed a basket, Adebayo – who shot 6 of 9 from the field and 10 of 13 at the line – was by far the safest bet. The best example came with 7:45 left when Missouri had rallied furiously to tie the game at 52-all. 
The Cats promptly fed Adebayo in the post. He scored, drew Reed Nikko's fifth foul and hit the resulting free throw for good measure. It was the start of a game-breaking 8-0 run, which also included another Adebayo dunk.
"Some of their big men were in foul trouble and we took control of that and we capitalized," Adebayo said.
Part of the reason why Adebayo was able to be so effective was that he was able to avoid foul trouble of his own. Fouls have plagued Adebayo throughout his freshman season, but not on Tuesday night. He didn't pick up his first foul until the 4:17 mark of the second half.
"Just being in the right position at the right time," Adebayo said. "That was pretty much it. Working on footwork, getting in front of post players and just coming with energy."
Adebayo's big outing comes on the heels of a five-game stretch in which he scored in single digits three times and failed to grab double-digit rebounds four times. That led to buzz from anonymous NBA scouts calling into question Adebayo's ability to get it done at the next level.
Coach Cal caught wind of that.
"Well, let me say this," Calipari said. "Somebody just told me that there are people out there saying, 'Well, Bam's not this and this.' OK. Let me explain. If someone passes on him in the draft this year, they should be f-f-fired."
No surprise there. Calipari has his guy's back.
"He guards all five positions," Calipari said. "You saw him shooting free throws and, yes, I'm jamming him next to the basket. I think I did the same with Karl(-Anthony Towns) and I did the same with Anthony Davis. And I'm making him play next to the goal right now, but he can shoot. He can handle it. 'Only thing he does is dunk.' Yeah, he dunks. He's going to dunk on your neck. He does that too, but he guards every position. For anybody to say, 'Well, he's not this and this.' You're not on an NBA team because if you were they'll look back and you'll get fired."
That's all in the future though. Of more immediate concern is what Adebayo means to his current team, which kept pace with Florida in the race for the SEC regular-season championship with a victory.
"He goes for 25 and 12 tonight and I just couldn't be more proud of him," Calipari said. "He's on a team where we've got some guards like shooting balls now. He just keeps playing. He doesn't say much. And it's on me to make sure we're throwing him the ball more."
Now, Adebayo and the Cats will prepare for a Saturday matchup with those Gators. That's all he's worried about.
"We're going to come out with intensity, we're going to have energy and we'll see where this thing goes," Adebayo said.