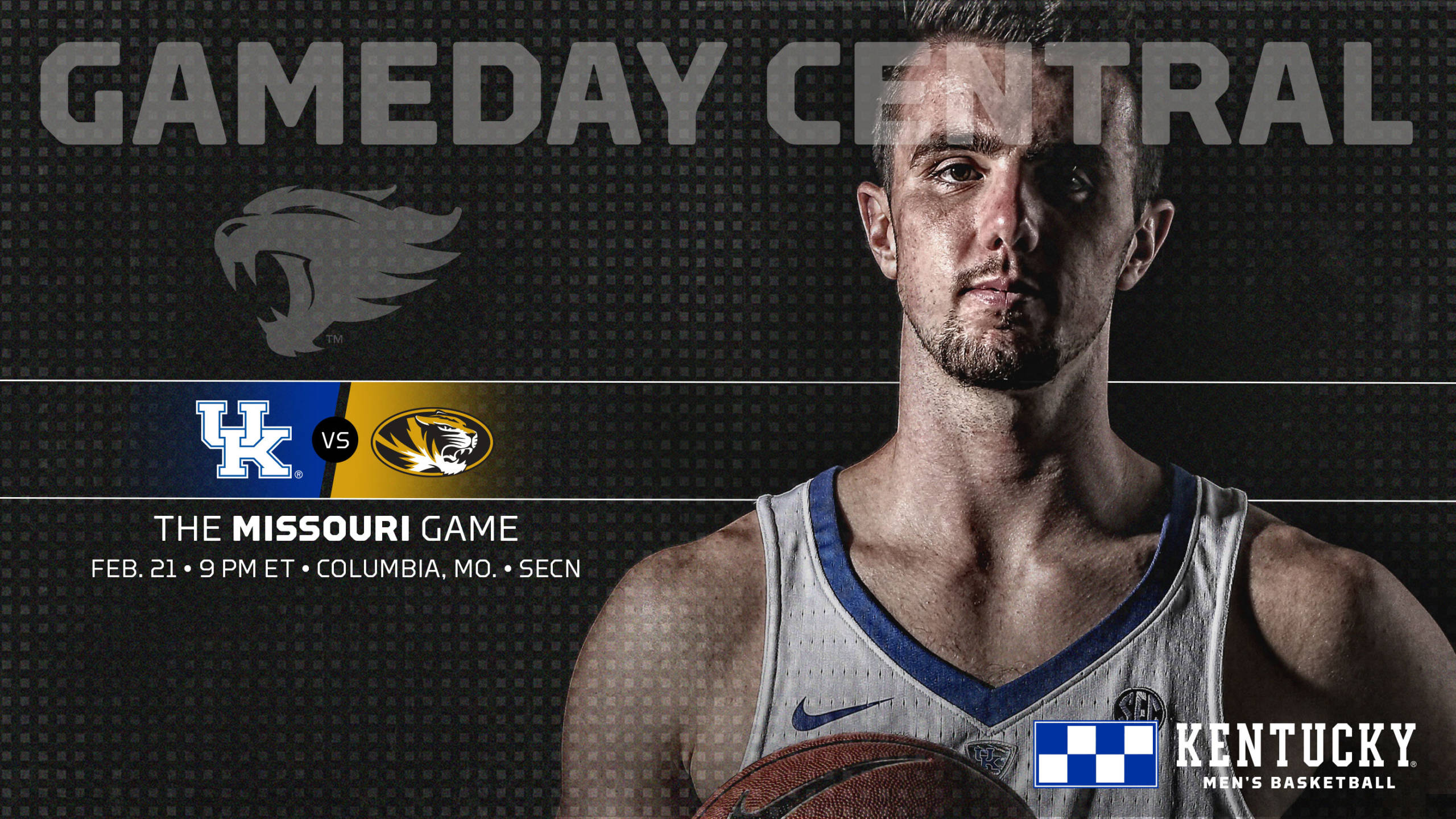 February 20, 2017 - 06:45 PM
Kentucky Keeping Focus Internal in Preparation for Missouri
In his team's preparation for games each week Kentucky head coach John Calipari always likes for his team to worry more about itself than its opponent.
Kentucky at Missouri

Tue., Feb. 21 – 9 p.m. ET
Mizzou Arena
Columbia, Mo.
Game Notes: UK

| MU



Gameday App

Coverage

TV: SEC Network
Radio: UK Sports Network
Watch ESPN
Live Audio
Live Stats
Digital Gameday Guide
Text Updates

UK
2016-17 Team Stats
MU
22-5
Record
7-19
12-2
Conference Record
2-12
88.8
PPG
69.0
73.2
Opp PPG
71.7
.482
FG%
.397
.430
Opp FG%
.420
40.4
RPG
37.7
.357
3PT FG%
.293
.313
Opp 3PT FG%
.330
.694
FT%
.680
16.6
APG
12.1
6.4
SPG
6.4
5.6
BPG
2.1
Going on the road to face a Missouri team on Tuesday (9 p.m. ET) that has struggled this season with a 7-19 record (2-12 Southeastern Conference), Coach Cal knows if his team looks ahead it could spell trouble.
"You better be ready to play harder than they play, and you better be ready to take things personal, because they are," Coach Cal said Monday on the SEC Coaches' Teleconference. "A lot of times we're playing teams that have house money, and they're letting it go, and making shots and making plays they haven't (made) all year because it's house money. And so, we're going into a game, it's a dangerous game … So, this team, if we walk in there and act like they're not – we gotta worry about us."
The Wildcats (22-5, 12-2 SEC), winners of four straight, moved up to No. 11 in the latest Associated Press Top 25 and No. 10 in the USA Today Coaches' Poll on Monday. They're a No. 3 seed in many of the latest NCAA Tournament projections and they have a rematch with No. 13/12 Florida waiting for them at Rupp Arena on Saturday.
Tuesday's game at Missouri appears to check off every box in the definition of a "trap game." It's just that Kentucky doesn't want to hear about that. That's why in leading up to Tuesday's game the Wildcats will continue to do what they always do.
"I think every game we play, I think it's important that we play to our standards," said UK associate head coach Kenny Payne, who subbed in for Coach Cal during Monday's pregame media opportunity. "It's not about the other team, and that's no disrespect to any team we play in this conference. They all are good teams. Our standard is higher. We are demanding as coaches. This is a demanding program, and when you step on the court, you're expected to play a certain way."
In a 25-point win over Tennessee on Valentine's Day, Kentucky looked as good and complete as it has in weeks. Because it came in the third game of the reboot, and after two performances that were encouraging in some areas and concerning in others, many wondered if the reboot was complete and the Wildcats were back.
One game later, facing a Georgia team that lost star junior forward Yante Maten to a knee injury less than two minutes into the game, Kentucky struggled to keep its head above water before coming through in the clutch at the foul line. Coach Cal said he was "ecstatic" to come out of the game with a win, but also that UK was "lucky" to do so.
"We're using every day to get better," Calipari said. "We're one of those teams with an enormous upside, even now. There are times I think we've figured it out, and then there are other times I look and I'm like, 'We haven't.' … Now, at some point you gotta go on that run where you're really starting to play better, and you're really starting to groove it, and you're really starting to mesh. We haven't quite hit that run yet."
In order to hit that run, Kentucky's coaches are continuing to emphasize that if the players do not play with supreme confidence then they won't play at all. With Isaiah Briscoe walking by during the press conference Monday afternoon, Payne said Briscoe will run the next day in practice if he takes a shot during a game that not only he but every single member of his family doesn't believe is going in.
"So he better believe 100 percent that he's making that shot," Payne said. "That's a layup, that's a jump shot, that's a free throw, that's defensive confidence. Whatever it is, he better do it with confidence."
Along with confidence, the coaches are also looking for more consistency. Too often for the Kentucky coaches' liking lately players have had standout performances followed by duds. Whether that consistency is with energy or defense, and whether it's from the guards or forwards, Payne said now is the time for the Wildcats to become a more consistent group.
Just like with anything they do, Calipari directed the focus in accomplishing that inward.
"Let's be at our best, let's understand what we're trying to do," Coach Cal said. "We're still trying different things. The reboot moves on. Some things offensively we're going to have to change a little bit based on what Georgia did. Everybody's watching tape, everybody's analyzing, so you gotta do the same. Know what are they looking at from us, and what do we have to do to try to get better."
Cats, Fox Close Out Georgia Late at the Free-Throw Line
When it was unable to pull away from a short-handed Georgia team, No. 13/11 Kentucky turned to freshman point guard De'Aaron Fox — again and again. Fox scored 16 points, including six free throws in the final 45 seconds as UK overcame J.J. Frazier's 36 points to beat Georgia 82-77 on Saturday night.
Frazier's season-high effort helped keep Georgia close after the Bulldogs lost their top scorer Yante Maten with a right knee injury less than two minutes into the game.
Malik Monk also had 16 for Kentucky (22-5, 12-2 Southeastern Conference). The Wildcats remain tied with Florida for the SEC lead.
De'Aaron Fox did more than make free throws. He twice scored tying baskets on layups in the final 2:07 and scored 14 of his 16 points in the final 4:36 of the game.
Georgia's last lead was 75-73 before Fox made two free throws with 44 seconds remaining. Following a miss by Georgia's Pape Diatta, Fox again made two free throws for a 77-75 lead. Frazier missed a short jumper before Fox pushed the lead to four points with two more free throws.
This one was close from the start. No team led by more than six points, and there were 15 lead changes and 13 ties.
UK was able to close this one out at the free-throw line. The Wildcats hit 17 free throws in a row during the final 6:17 of the game, including nine straight in the final minute, before Bam Adebayo's inconsequential miss with five seconds left. UK shot a season-high 82.1 percent (23 of 28) at the line.
Kentucky also held its own on the boards. Led by Derek Willis' career-high-tying 12 rebounds, UK won the rebounding battle 41-26. Since losing the battle of the boards in the loss at Florida, UK has had an average rebounding margin of plus-10 during the current four-game winning streak.
Additional notes:
• Kentucky has won eight straight in the series and leads the overall matchup 123-26
• Frazier's 36 points are the most an opposing player has scored against UK since Texas A&M's Elston Turner scored 40 on Jan. 12, 2013
• Kentucky held Georgia to three made 3-pointers, trying the season low by a UK opponent this season. It's actually the third straight game the Wildcats have held the opposing team to just three made treys
• Monk extended his double-figure scoring streak to 27 games
• Adebayo posted 13 points and eight rebounds
• Senior Dominique Hawkins followed up his season-high 10-point performance with nine vs. Georgia
• Fellow senior Mychal Mulder added nine points — his most since scoring 12 vs. Auburn on Jan. 14 — all on three made 3-pointers
Senior Trio Adding Consistency to Lineup
UK's senior class of Dominique Hawkins, Mychal Mulder and Derek Willis are all playing significant minutes for the Cats and are producing in a variety of ways. The trio averages a combined 16.9 points, 8.5 rebounds, 3.2 assists, 1.6 steals and 1.0 blocks per game.
Willis is averaging a career-best 4.8 rebounds, Mulder has scored a career high 126 points, while Hawkins owns a team-best 4.3 assist-to-turnover ratio. The 16.9 points per game from the seniors is the best in the John Calipari era. The 2011-12 team consisting of Darius Miller and Eloy Vargas averaged 11.6 points per game. The 423 points scored on the year is already the second most by a senior class since the 2009-10 season. The trio needs just three more points to become the highest-scoring senior class in the Calipari era.
Having a three-man senior class contributing and all playing at least 11.4 minutes per game under Calipari is a first in his eight-year tenure. As a matter of fact, you have to go all the way back to the 2003-04 season to find another trio of seniors playing more than 10 minutes a game. The 2003-04 class of Cliff Hawkins (30.5), Erik Daniels (30.0), Gerald Fitch (29.8) and Antwain Barbour (17.2) is the last group of seniors who all played at least 10 minutes a game for the Wildcats.