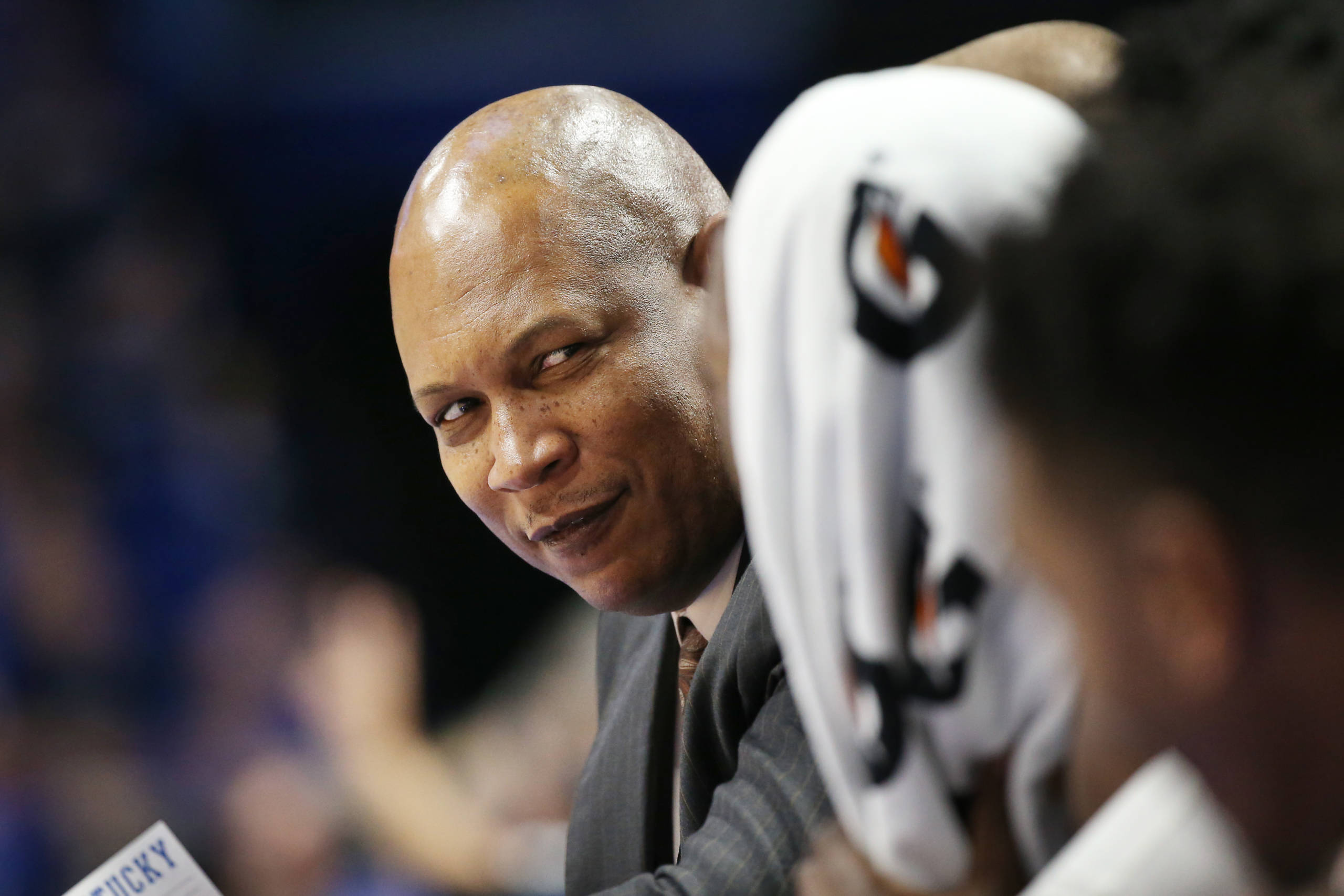 February 20, 2017 - 05:50 PM
Payne Keeping a Watchful Eye on Cats' Confidence
As part of his bid to empower his team, John Calipari has deputized two of his assistants – Kenny Payne and Tony Barbee.
Of course, Calipari remains in charge of the operation, but he's allowing Payne and Barbee a more vocal presence on offense and defense, respectively.
Payne has another responsibility as well.
"I love what Kenny is doing right now. Kenny is watching," Calipari said last week. "If a player is not playing with confidence either on defense or offense, he's out. Kenny's just taking him out."
And if that wasn't motivation enough, those midgame hooks are typically followed the next day by conditioning sessions with Payne. The sessions are not known for being particularly pleasant, so that teaching tool is just as effective.
"The last game (at Georgia), as soon as the game was over, Wenyen Gabriel said, 'What time do I have to run tomorrow?' " Payne said. "If you're not on that floor playing with confidence, I'm running you. It's that simple. They know. They know."
That might all seem a little subjective, but Gabriel's reaction – and self-awareness – suggests Payne has a pretty good handle on what to look for when it comes to confidence. Filling in for Coach Cal at a press conference ahead of a Tuesday road trip to Missouri (7-19, 2-12 Southeastern Conference) for No. 11/10 Kentucky (22-5, 12-2 SEC), Payne used a passing Isaiah Briscoe to illustrate the point.
Walking past the swarm of media at press conferences, players typically get in and out as quickly as possible on their way between the training room and gym. Briscoe, however, stopped to listen intently when he heard his name.
"When you shoot the ball, for example if Isaiah shoots the ball – he just walked by – and none of his family members believes that shot is going in, and he shoots it like he doesn't believe it's going in, he's running," Payne said. "So he better believe 100 percent that he's making that shot. That's a layup, that's a jump shot, that's a free throw, that's defensive confidence. Whatever it is, he better do it with confidence."
Two seniors are putting that directive into action as well as anyone as their careers wind down.
Dominique Hawkins has arguably been UK's most consistent player of late. Not only is he providing the energy and defense that have been his hallmarks for years now, he's also blossomed into an offensive threat, averaging 9.5 points on combined 6-of-11 shooting over the last two games.
"I feel real comfortable on both ends, offensively and defensively," Hawkins said. "I feel like the ball's going in for me now."
Hawkins' confidence is being rewarded with the most consistent playing time he's gotten in his time as a Wildcat. He's played at least 14 minutes in 11 straight games after never doing so more than five consecutive times before.
"It feels really good," Hawkins said. "I've been here for four years. I really haven't gotten to show my offensive side that much, but definitely being able to play in big moments and play big minutes and actually being able to change the game around, make a few shots our team needed, it feels good to do that and it lets Coach know that he can count on me down the stretch as well."
Though they can't match Hawkins' happiness about his emergence – no one can really match Hawkins' happiness about anything ever – his coaches feel much the same.
"I can't begin to tell you how happy we are all with Dominique as coaches," Payne said. "Dominique Hawkins brings a little something different — more energy at times, defensive toughness at times. Lately he's been our best on-ball defender. He deserves this. He shouldn't take second fiddle to any player on this team because he's just as good. He's playing that way."
Payne said the same about Mychal Mulder, the other senior who is playing better than he ever has at Kentucky. After he missed four straight games due to illness last month, some might have thought Mulder would never get another chance this season. Not Mulder.
"I knew as soon as I got back on the court I was confident enough in myself that I was going to be able to perform and get back to performing at a high level," Mulder said. "I wasn't really worried about that. I wasn't really focused on that. I was more focused on what I needed to do to help the team grow. And when it was time for me to step back in, how do I help the team get Ws?"
Mulder is now coming off one of his better games after scoring nine points – all on 3-pointers – in UK's hard-fought win at Georgia over the weekend.
"It's just having the coaches have trust in me and performing every day on the practice floor," Mulder said. "We've had a really good few weeks of practice and I feel like that's where everybody builds their own individual confidence."
Spoken like a player who's talked to Payne about the topic of confidence a time or two.
"That confidence comes from being in the gym, having the mental toughness to execute what we've practiced, and then doing it in the game," Payne said. "It's no different."