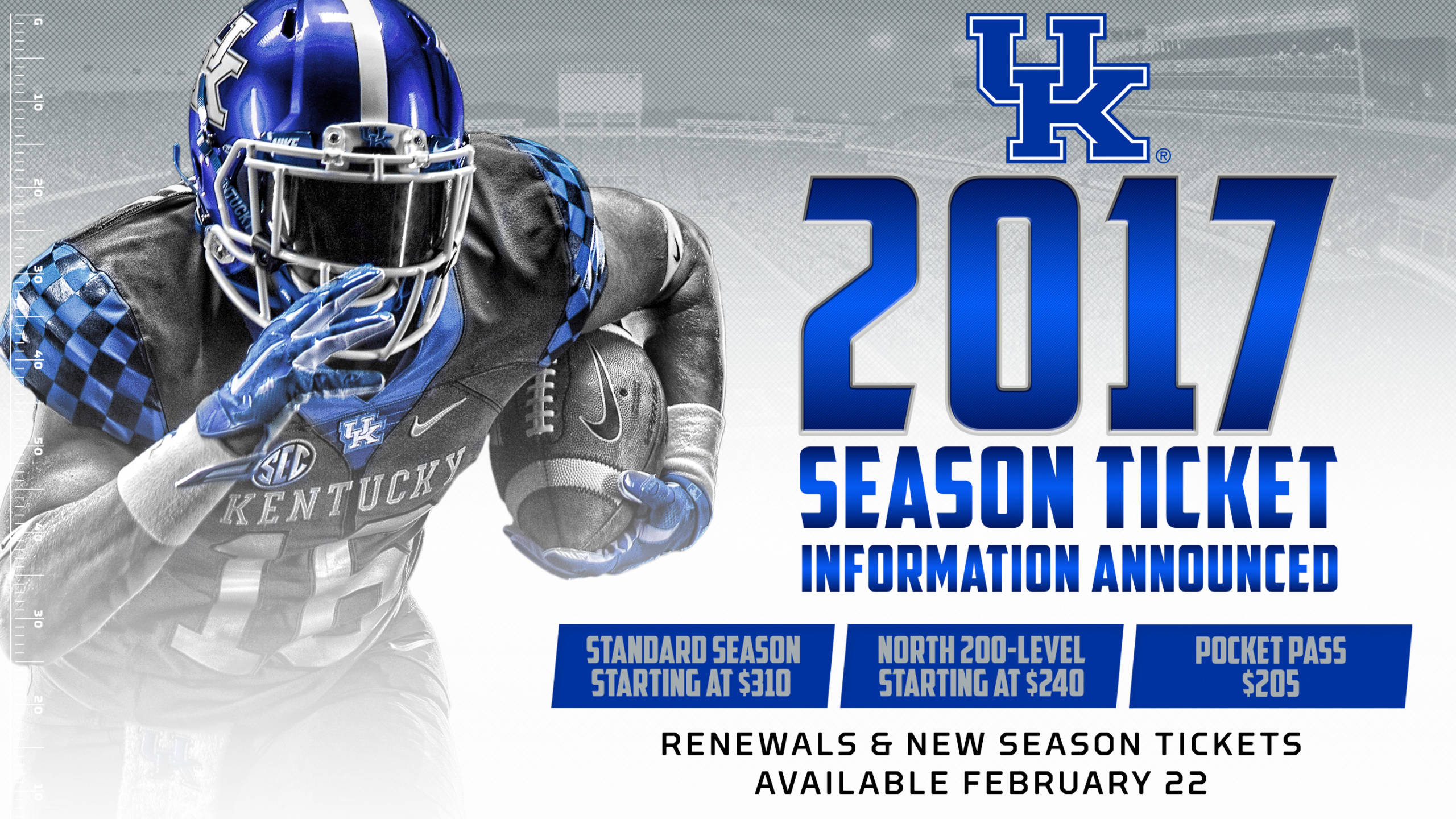 LEXINGTON, Ky. – With the Wildcats riding the momentum of their first bowl berth since 2010 and another strong recruiting class, UK Athletics announced football ticket and parking information for the 2017 season on Monday.
Limited quantities of the Kentucky Football Pocket Pass will also return for the 2017 season, which includes a mobile ticket to all seven home games for a discounted price of $205 while supplies last. This unique option gives fans the opportunity to watch games from various viewpoints with a different seat each game. Seat locations will be delivered electronically to fans' mobile devices through the Kentucky Wildcats Gameday app.
Kentucky football will play an attractive seven-game home schedule in 2017. Southeastern Conference rivals Florida and Tennessee will come to Lexington this season and UK will also host in-state foes Louisville and Eastern Kentucky. 
"The investment our football season ticket holders make in our program each season and the support they show by coming to Commonwealth on game day is the foundation of Kentucky football, particularly during this time of growth," Athletics Director Mitch Barnhart said. "We thank them for their passion and loyalty and we are committed to repaying them with a team that we can all be proud of."
2016 season ticket holders will be able to renew their tickets online through their My UK Account beginning Wednesday. Paper invoices will be mailed in early March. The 2017 football season ticket renewal deadline is April 19.
Fans who renew or purchase new season tickets by the following benchmark dates will have access to exclusive incentives listed below:
• Benchmark 1: Renew or purchase by Feb. 28:
o Receive two (2) complimentary tickets to a select 2017-18 men's basketball game
o Opportunity to receive "Season Ticket Surprises" throughout the benchmark period
o Ability to renew through a 4-month, no-interest payment plan
o Plus, receive all incentives in Benchmark 2
• Benchmark 2: Renew or purchase by Mar. 31:
o Receive five (5) bonus K Fund priority points
o Receive an invitation to a 2017 Kentucky football facility tour
o Opportunity to receive remaining "Season Ticket Surprise" opportunities
o Ability to renew through a three-month, no-interest payment plan
The earlier fans renew or purchase new season tickets, the more opportunities they will have to receive 2017 "Season Ticket Surprises." This year's surprise incentives include access to Blue-White Spring Game club tickets, autographed Kentucky football memorabilia and access to complimentary ticket offers to select home and away football games. Season ticket holders will also have the opportunity to order additional single-game tickets at exclusive prices in advance of the general public and be recognized on the Kentucky Farm Bureau "Wall of Commitment" inside Commonwealth Stadium, in addition to other benefits.
Single-game ticket information will be released at a later date. This season, in response to fan feedback, UK Athletics has created a variable pricing model based on seating location and opponent to better reflect the value of each ticket and protect the investment made by season ticket holders.
Student season tickets will go on sale later this summer, and students will receive more information by email once an on sale date is determined.
Kentucky football will next take the field on April 14 at 7:30 p.m. for the annual Blue-White Spring Game. Complete ticket information about the spring game will be announced soon. The Wildcats will open the 2017 season with a game at Southern Miss on Sept. 2 and make their home debut on Sept. 9 vs. Eastern Kentucky University.