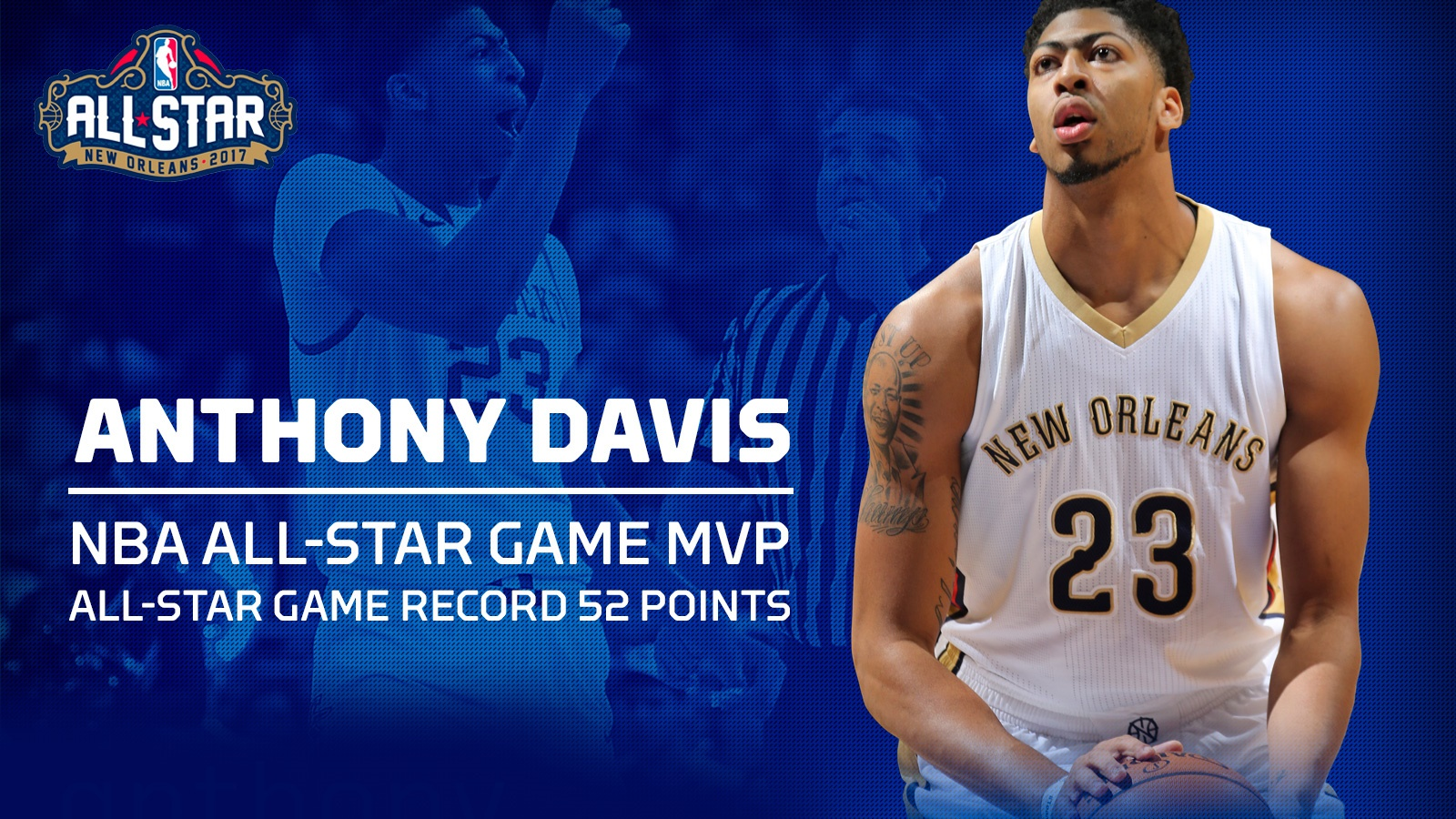 February 19, 2017 - 11:49 PM
Davis Sets NBA-All-Star Scoring Mark to Win MVP Honors
NEW ORLEANS – Anthony Davis was hoping to win Most Valuable Player honors in front of his home crowd in New Orleans for the annual NBA All-Star Game. He did that and one better Sunday night.
Playing alongside the game's greatest players, the former Kentucky men's basketball star won MVP honors with an All-Star single-game scoring record of 52 points in addition to 10 rebounds. Davis broke Wilt Chamberlain's previous scoring record of 42 points set in 1962 in leading the Western Conference to a 192-182 victory over the Eastern Conference.
Fueled by an astounding 18 dunks, Davis was 26 for 39 from the field. The makes and attempts are also game records. 
The record night for Davis also marked a first under coach John Calipari as Davis became the first former player coached by Calipari to win MVP honors at the NBA All-Star Game. He is the second UK player to win the honor as Adrian "Odie" Smith previously was the game's MVP in 1966.
"It was a lot of fun," Davis said. "My teammates did a great job of looking for me. They just told me, set a pick and go to the basket, we're going to throw it for you. So it was a lot of fun playing with these guys."
Davis said he became aware of the All-Star Game record of 42 points when he reached 32 points in the third quarter. 
"I told the guys I wanted to get 50," Davis said. "I think Russell Westbrook had told me the record was 42, so I just started playing to get lobs. And then at the end, it was just an emphasis on trying to get 50, which was very fun."
Of course, the most gratifying accomplishment for Davis was winning the MVP award in front of his home crowd. When it was announced a few weeks ago that he was a starter in his organization's city, he made it known it was his goal to win the MVP award.
"It's amazing," Davis said. "That's what I wanted to do it for – for the city of New Orleans and the Pelicans' organization. I love this city and these guys support us each and every night, so I wanted to get this for them."
It was just another milestone for a banner NBA All-Star weekend by UK alumni. 
Davis' MVP award will find a crowded trophy shelf. Among Davis' most notable awards include winning the 2012 Final Four Most Outstanding Player after leading UK to the national championship, Consensus National Player of the Year, the NABC Defensive Player of the Year and the USBWA National Freshman of the Year. And those were just his college awards.
After going No. 1 in the 2012 NBA Draft, he's made the All-NBA First Team, led the NBA in blocks in two seasons and a four-time NBA All-Star.
Davis wasn't the only Wildcat in the NBA All-Star Game. John Wall (Washington Wizards) and DeMarcus Cousins (Sacramento Kings) were also selected to Sunday's game as reserves, giving UK more NBA All-Star representatives than any other college program.
Wall, who leads all Eastern Conference guards in assists and steals and has led the Wizards to third place in the Eastern Conference at the All-Star break, posted 12 points to go along with six rebounds, four assists and four steals.
Cousins, in limited action, scored three points.
It was Davis' fourth appearance in the NBA All-Star Game and his second start. Wall was also making his fourth appearance, while Cousins made his third. 
In Friday's BBVA Rising Stars Challenge, Murray was joined by former Kentucky men's basketball players Devin Booker, Trey Lyles and Karl-Anthony Towns.
Booker, Davis, Towns and Wall made up half of the Taco Bells Skills Challenge on Saturday night. Wildcats Dakari Johnson and Alex Poythress were also selected for the NBA D-League All-Star Game.
All told, UK had nine players participate in NBA All-Star weekend, more than any other school. 
Kentucky opened the season with a record 24 players on opening-day NBA rosters. 
Using figures compiled by
spotrac.com
, Kentucky players' current contracts alone are valued at more than $659 million. John Calipari-coached players only (which includes Derrick Rose and Tyreke Evans but not Jodie Meeks or Rajon Rondo) have nearly $751 million in current contracts. In just the 2016-17 season alone, UK players are slated to make more than $172 million. Calipari-coached players only will make more than $183 million.
Over the course of their careers, Calipari players have generated approximately $1.2 billion in total NBA contracts.
Calipari has had at least one player selected in the top 10 of the draft in each of the last nine seasons, dating back to his time at Memphis. No other school in the country has had a first-round pick in each of the last nine seasons. Calipari is the only coach in the history of the sport to have four players drafted No. 1 overall (Rose – 2008, Wall – 2010, Davis – 2012, Towns – 2015).