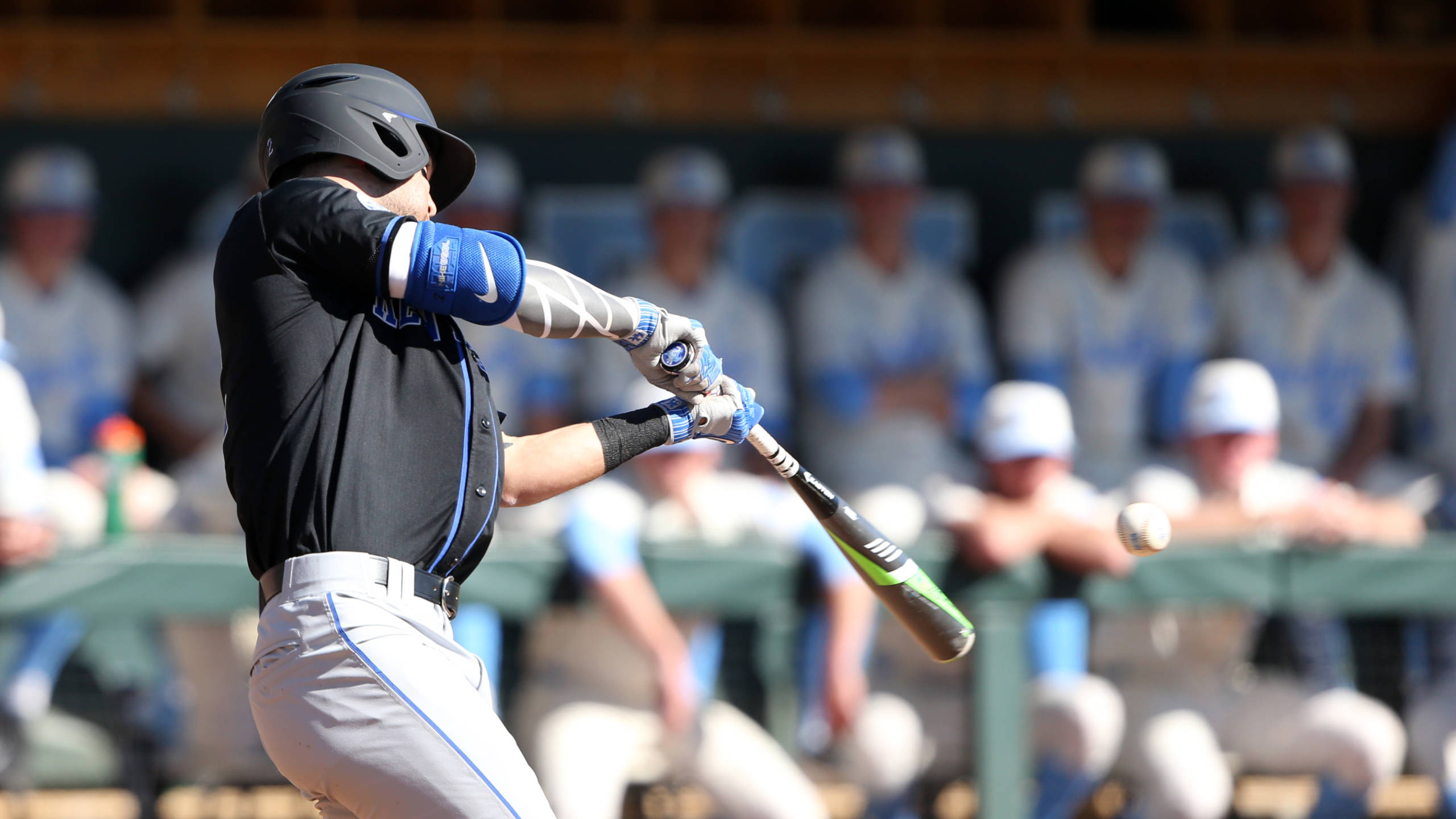 Kentucky battles again but loses second-straight one-run game and is swept by North Carolina
CHAPEL HILL, N.C. – Riley Mahan delivered the first home run of the season but it wasn't enough for Kentucky to avoid a season-opening sweep at No. 17 North Carolina, as the Tar Heels claimed a 5-4 victory on Sunday in front of 2,632 sun-drenched fans at Boshamer Stadium.
Mahan, a junior infielder from Cincinnati, Ohio, crushed a 1-0 offering over the right field wall in the third inning for his seventh career home run to tie the game at three but Carolina answered with two runs in the bottom half of the inning for all it would need to keep UK (0-3) at bay. The Cats got a run back in the top of the fourth but could not pull even as several hard-hit balls found North Carolina gloves.
Sophomore right-hander Justin Lewis made his first collegiate start after a freshman campaign where he was one of the Cats' top relievers but was not able to make it out of the third inning. The 6-foot-7 Georgia native gave up all five Tar Heel runs in his two-plus innings, allowing four hits, three walks, two balks and two home runs that gave Carolina early momentum.
Senior left-hander Logan Salow was charged with getting Lewis out of a jam and escaped the third inning with only one run crossing the plate. The Ashland, Ky. Native gave the Cats a fighting chance with 5.0 scoreless innings on work. 
North Carolina freshman pitcher Luca Dalatri acquitted himself well, going 7.0 innings and giving up four runs while striking out five. He wiggled out of harm's way several times after Mahan's laser to right. Closer Josh Hiatt picked up his third save of the weekend for the Heels with a perfect ninth inning.
AT THE PLATE
The Wildcats had their chances for the third straight day but a combination of buzzard's luck and lack of a well-times hit left them with a second-consecutive one-run loss. Riley Mahan, who UK coach Nick Mingione spent extra time with during batting practice, smoked a home run in the third inning for the main fireworks and the Cats once again out-hit the Tar Heels but could not get over the hump. Junior infielder Luke Heyer and senior infielder Connor Heady each had a double for the Cats.
ON THE MOUND
Sophomore right-hander Justin Lewis last two innings in his first collegiate start, giving up five runs on four hits with three walks and a pair of balks. Senior southpaw Logan Salow relieved Lewis and kept the Cats in the game with 5.0 innings of scoreless work, giving up three hits, three walks and striking out two. Senior lefty Colton Cleary and junior right-hander Zach Pop pitched a clean eighth inning.
SCORING
Bottom 1st – Carolina shortstop Logan Warmoth hit the first home run of the season for either team, clearing the LF wall with a solo shot to give the tar Heels and early lead. UNC 1, UK 0.
Bottom 2nd – Tyler Lynn followed Brandon Riley's leadoff single with a one-out, two-run home run to RF. UNC 3, UK 0.
Top 3rd – Troy Squires led off the inning with a line drive single to LF and scored from first on Connor Heady's double into the LF corner. Riley Mahan then ripped the Cats' first home run of the season over the RF wall to tie the game. UK 3, UNC 3.
Bottom 3rd – Warmoth walked, moved to third on Michael Busch's single and scored on a balk by UK pitcher Justin Lewis. Kyle Datres added another run with a two-out RBI double. UNC 5, UK 3.
Top 4th – The Cats manufactured a run on the strength of Marcus Carson's single, Luke Heyer's walk and a pair of fielder's choices, with Squires getting the RBI. UNC 5, UK 4.
NOTES
• Senior OF Zach Reks was held hitless after starting the season 7-for-8 but still hit .636 with two runs, an RBI, a double, three walks and a stolen base on the weekend.
• Sophomore OF Tristan Pompey had two hits, giving him the eighth multi-hit game of his career.
• Mahan's two-run homer was the seventh of his career and produced the eighth multi-RBI game of his career. 
ON DECK
UK returns to Lexington before traveling to face Liberty University on Wednesday in Lynchburg, Va. First pitch is 3 p.m. and fans can listen on the UK Sports Network via UKathletics.com and iHeart Radio or 98.5 FM in the Lexington area.