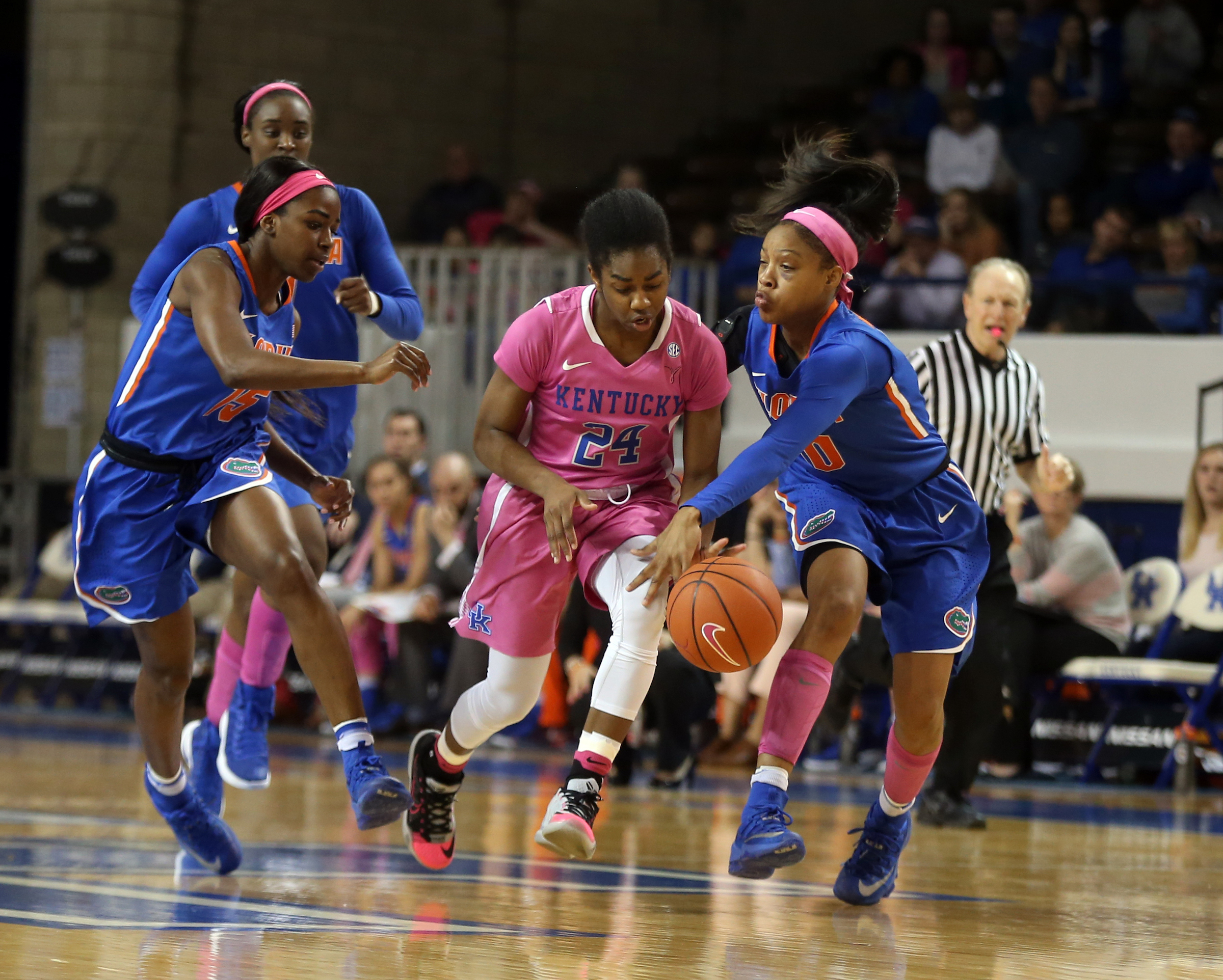 Don't let her meager total of four points fool you. No one's fingerprints were all over Kentucky's win over Florida on Sunday like Taylor Murray's.
"She just ignites us," Matthew Mitchell said.
The specifics of Murray's contributions might vary from game to game, but what doesn't change is her importance to her team. In this instance – a 67-58 victory that moved UK to 19-8 (10-4 Southeastern Conference – it was defense and play-making ability that Murray delivered.
"She's playing some good basketball right now," Mitchell said. "Eleven assists, one turnover. That's incredible."
On an afternoon in which UK struggled to take care of the ball and create quality opportunities in the first half, Murray – the Wildcats' third-leading scorer – wasn't concerned with putting the ball in the basket herself. She wasn't worried about her career-high assist total either.
"I wasn't aware of any of the assists," Murray said. "I was just making the open play and one of the things that our coaches told us was to drive. We drove and we had players that were open. So I drive and they're open, I'm going to pass it."
Though Murray's passing was a constant – she had seven assists in the first half and four in the second – it was her defense that helped allow the Cats to break open a close game. With UK clinging to a four-point lead early in the third quarter, she and Makayla Epps had back-to-back steals that led to uncontested layups for Epps. 
"She is so quick defensively and has some quick hands and can really disrupt," Mitchell said. "Man, when she gets out with the ball and gets going, it ignites us."
For the game, Murray had four steals and UK outscored Florida (13-14, 4-10 SEC) 24-10 in points off turnovers and 10-0 in fast-break scoring.
"We got stops we were able to push in transition, which allowed us to get a big lead," Murray said. "And then we were just staying focused and running our sets."
More than defense, though, Mitchell is pleased with the presence his point guard is providing as a sophomore. 
"I'm so proud of her leadership and what she's trying to do there and what she's trying to develop into," Mitchell said. "She's playing some fantastic team basketball. She doesn't care what is required of her. She'll do whatever she's asked so we can. She's just developing into a great leader for us."