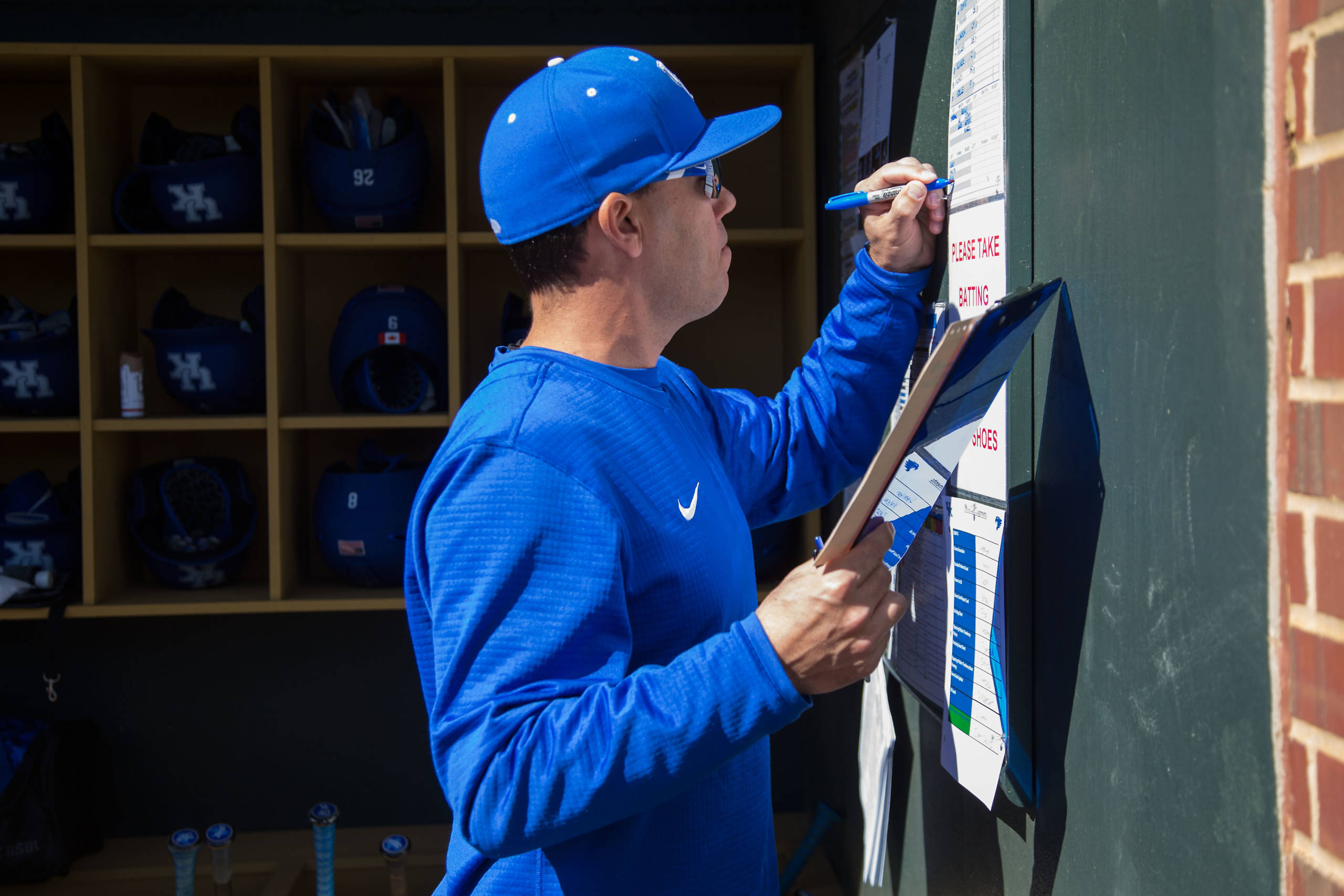 CHAPEL HILL, N.C. – Zach Reks continued his torrid start to the season and Kole Cottam mashed two doubles to drive in three runs but Kentucky's late comeback fell just short in a 6-5 loss to No. 17 North Carolina in front of 2,551 fans at Boshamer Stadium.
Reks, a senior outfielder from Orland, Ill., finished the game 4-for-4 with a double, a walk and two runs scored at the top of the Wildcats' batting order. In two games, Reks is 7-for-8 with two runs scored, a double, an RBI, two walks and a stolen base.
UK (0-2) got on the scoreboard in the first inning on Cottam's double to the left-center field gap that scored Reks, but trailed 3-1 entering the sixth inning when North Carolina tacked on three runs without a hit. Two hit by pitches, an error, a wild pitch and three walks in a four-pitcher inning led to the Cats' 6-1 deficit.
However, UK would not go away. The Cats responded with three runs of their own in the seventh inning, two coming on Cottam's two-run bases loaded double to the wall in right-center field and the other on Marcus Carson's double into the right field corner. An inning later the Cats pulled within 6-5 on an RBI groundout by Riley Mahan but ultimately could get no closer.
The Wildcats played without preseason All-American first baseman Evan White, who sat out due to soreness. He is expected to be available for Sunday's series finale.
AT THE PLATE
Seven of the Wildcats' 10 hits came from Reks and Cottam, who combined to go 7-for-9 with three doubles, three runs, three RBI and a walk. Carson added an RBI double in four trips to the plate, while Tristan Pompey and Luke Heyer each were victims of bad luck in hitting three rockets right at Carolina defenders.
ON THE MOUND
Making his first career weekend start, junior lefty Zach Logue gave up six hits and three runs in 4.1 innings, walking four and striking out five. Junior reliever Zach Pop entered in the seventh and mixed a mid-to-upper-90s fastball with a sharp breaking ball to toss 1.2 scoreless innings.
SCORING
Top 1st – Zach Reks led off the game with a single to CF for the second straight day and raced home from first on Kole Cottam's scorched double to the wall in LCF. UK 1, UNC 0.
Bottom 2nd – Clean-up hitter Zack Gahagan doubled into the LF corner in front of a walk by Brandon Riley. A sacrifice bunt moved both runners over before Kyle Datres blooped a single to CF that scored Gahagan. UK 1, UNC 1.
Bottom 4th – The Tar Heels used a two-out rally to take the lead. Brandon Martorano singled to LF, Clay Roberts walked and Brian Miller lined a single to CF to score Martorano that Marcus Carson came up just short on a diving catch attempt. UNC 2, UK 1.
Bottom 5th – A walk and a single chased Zach Logue from the game. Junior right-hander Alec Maley entered and struck out Adam Pate but Datres delivered his second RBI single to CF in the game to extend Carolina's lead. UNC 3, UK 1.
Bottom 6th – Carolina scored three runs without registering a hit against four UK pitchers in the inning. Two hit by pitches, an error, a wild pitch and three walks accounted for all of the Heels' runs. UNC 6, UK 1.
Top 7th – With one out Reks singled and Riley Mahan and Tristan Pompey both walked. Cottam followed with a double to RCF that scored Reks and Mahan but Pompey was thrown out in a close play at the plate. Marcus Carson followed with a double that scored Cottam. UNC 6, UK 4.
Top 8th – Storm Wilson led off the inning with an infield single, moved to third on Reks' double to RCF and scored on Mahan's RBI groundout. UNC 6, UK 5.
NOTES
• Senior OF Zach Reks' four hits set a career-high and gave him his 13th career multi-hit game. His previous career-high of three hits came against Tennessee on 4/3/2016.
• Sophomore C Kole Cottam's three hits set a career-high, besting the two hits he had in five games last season. It is his seventh multi-hit game. His three RBI tied a career-high and is his fifth multi-RBI game.
• Relievers Alec Maley (Jr./RHP), Mark Doerries (So./RHP) and Austin Keen (RFr./RHP) all made their UK debuts.
ON DECK
UK and Carolina will close out their season-opening three-game set at Boshamer Stadium with sophomore right-hander Justin Lewis taking on Carolina freshman right-hander Luca Dalatri. First pitch is scheduled for 1 p.m. Fans can listen on the UK Sports Network via UKathletics.com and iHeart Radio or 98.5 FM in the Lexington area. The game also is scheduled to be aired on WatchESPN.