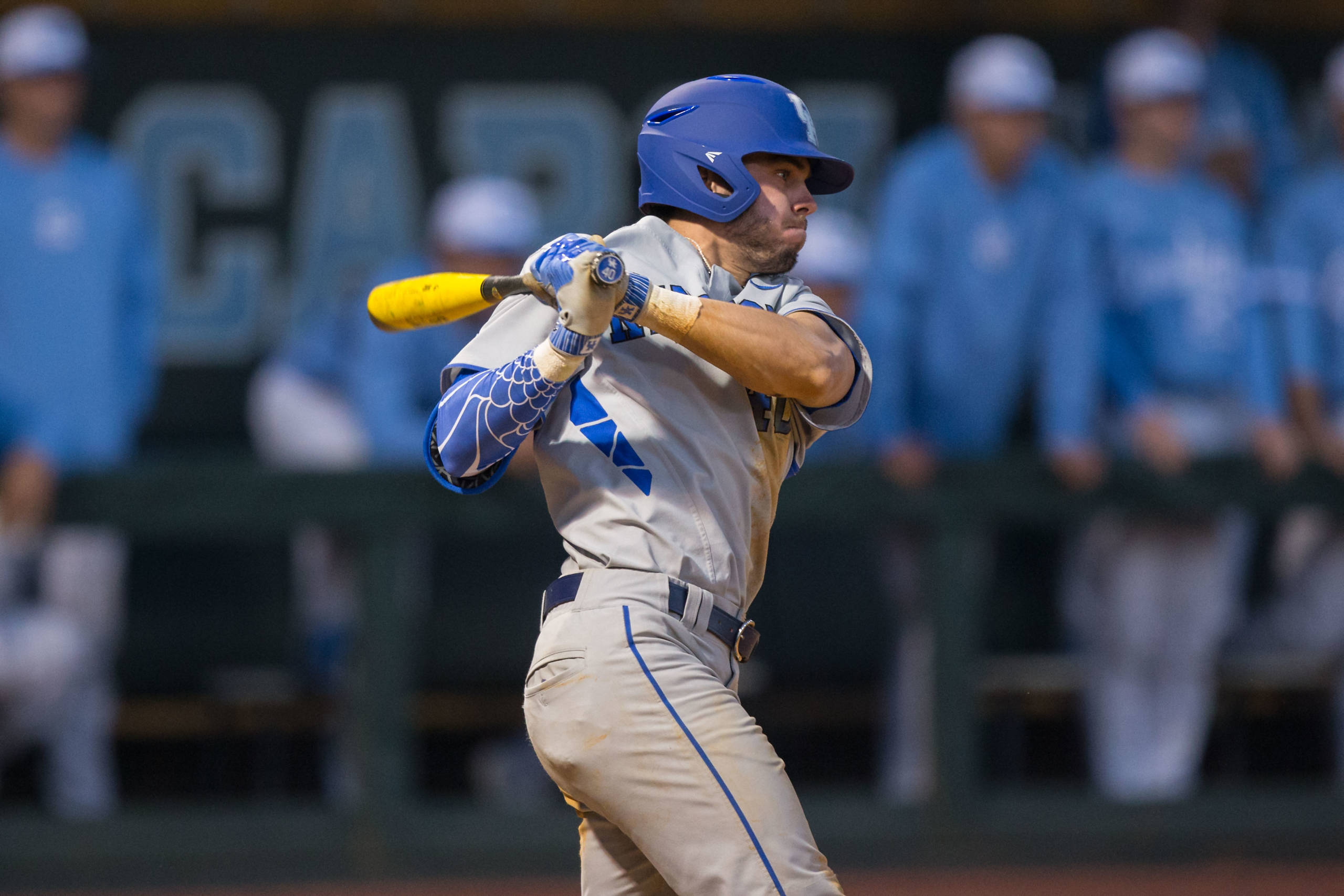 CHAPEL HILL, N.C. – Zach Reks and Evan White combined for five hits at the top of the Kentucky batting order but could not overcome an impressive performance by preseason All-America pitcher J.B. Bukauskas as the Wildcats fell 3-1 in their season opener before a sun-splashed crowd of 1,763 at Boshamer Stadium.
The game marked Nick Mingione's head coaching debut and the beginning of his second tenure at UK. He was an assistant coach with the Cats in 2006 and 2007 and part of the program's Southeastern Conference championship in 2006.
The Cats (0-1) faced a stiff test in Bukauskas, a teammate of White's last summer on the USA Baseball Collegiate National Team and considered one of the top prospects for the 2017 Major League Baseball Draft. The North Carolina junior right-hander wiggled out of trouble in both the first two innings before settling down and allowing just two baserunners over his final four innings of work. He yielded three hits – all in the first two innings – and struck out 10 in six innings before turning it over to the bullpen.
North Carolina (1-0) found holes early and plated single runs in the first, third and fourth innings against starter Sean Hjelle. The sophomore was making his first collegiate start after a highly effective season as the Cats' closer in 2016.  
UK would not go quietly though, putting two runners on in the eighth before finally breaking through in its final at bat. Pinch hitter Luke Heyer reached on an error with one out in the ninth and advanced to third on Connor Heady's single to right field. Reks, who ripped the first pitch of the game for a hit, singled up the middle to drive in Heyer and move Heady to third but Tar Heels' reliever Josh Hiatt struck out Kole Cottam with a full count to end the threat.
AT THE PLATE
UK got runners to third base in each of the first two innings off Bukauskas but were unable to push across a run. The preseason All-American settled in after that and did not allow another hit before departing after six innings. Zach Reks and Evan White combined to go 5-of-8 with White provided the Cats' lone extra base hit with an eighth inning double to right-center field. The Cats left 10 men on base, struck out 15 times and were 3-of-20 with runners on base.
ON THE MOUND
Sophomore right-hander Sean Hjelle made his first collegiate start after a rookie season that saw him set the UK freshman school-record with eight saves. Although North Carolina didn't hit many balls especially hard in his five innings of work the Tar Heels did string enough hits together to score single runs in the first, third and fourth innings. 
SCORING
Bottom 1st – All-American centerfielder Brian Miller hit a clean single up the middle to lead off the inning, went to third on Michael Busch's single to RF and scored on Zack Gahagan's opposite-field bouncer between 1B and 2B. UNC 1, UK 0.
Bottom 3rd – Logan Warmoth with an opposite-field double to RCF, moves to third on Busch's groundout and scored on Gahagan's second opposite-field single. UNC 2, UK 0.
Bottom 4th – The Tar Heels staged a two-out rally when No. 9 hitter Cody Roberts lined a single to LF before Miller and Warmoth both dumped opposite-field singles into LF. Warmoth's knock scored Roberts, who barely beat Zach Reks' throw, from second. UNC 3, UK 0.
Top 9th – Pinch-hitter Luke Heyer reached on an error and moved to third on Connor Heady's two-out single to RF. Zach Reks followed with his third hit of the day to score Heyer. UNC 3, UK 1.
NOTES
• Junior 1B Evan White logged his 45th career multi-hit game with his two hits, including his 28th double. White also extended his hitting streak to 17 games.
• Senior OF Zach Reks' three hits gave him his 12th career multi-hit game.
• Sophomore RHP Sean Hjelle set career highs for innings (5.0) and pitches (83).
• Senior LHP Colton Cleary made his UK debut, giving up just one hit in two scoreless innings of work.
• The game marked Nick Mingione's head coaching debut.
ON DECK
UK and Carolina will play the middle game of their season-opening three-game set at Boshamer Stadium with junior lefty Zach Logue taking on Carolina right-hander Josh Morgan. First pitch is scheduled for 2 p.m. Fans can listen on the UK Sports Network via UKathletics.com and iHeart Radio or 98.5 FM in the Lexington area.