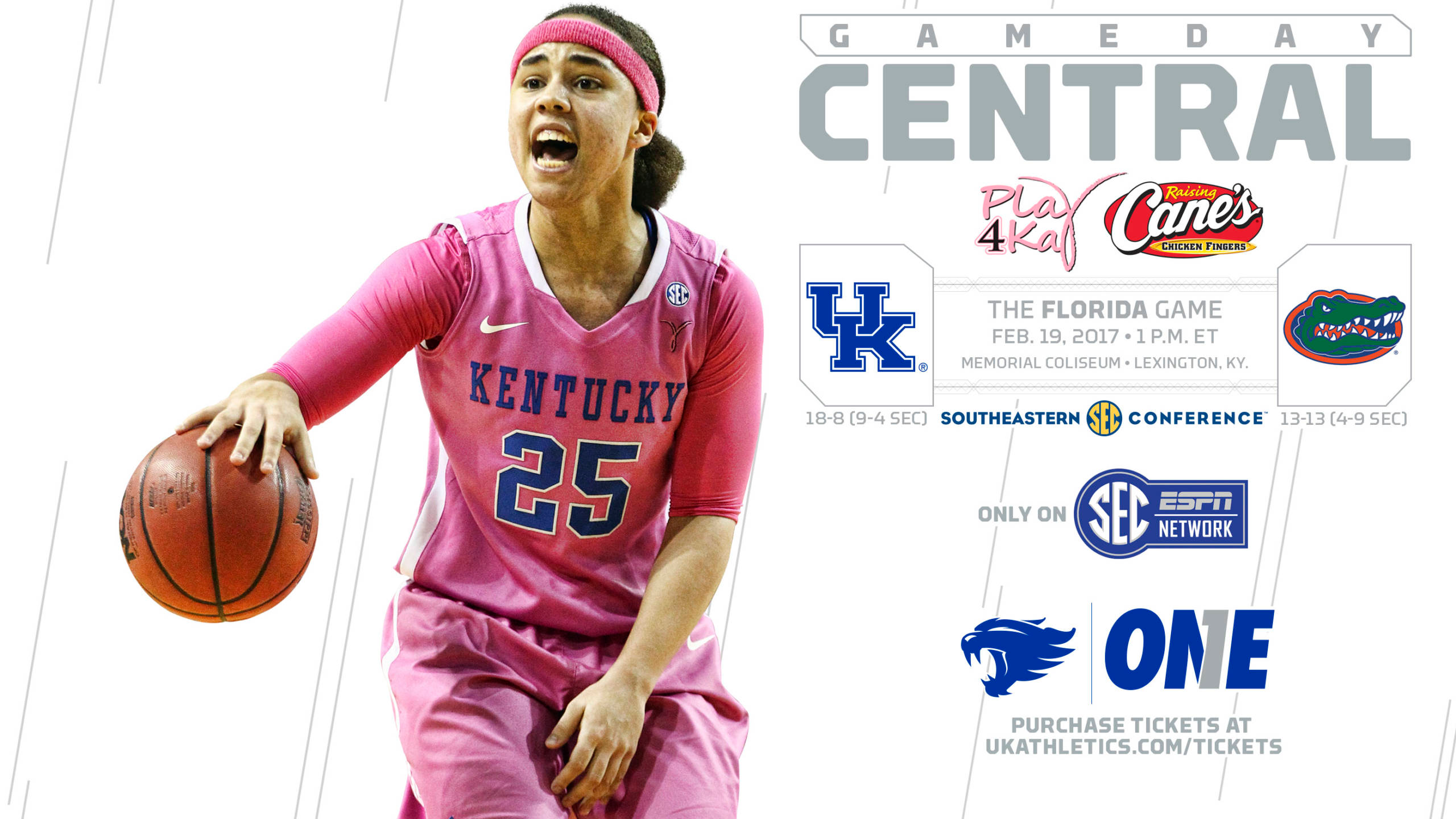 February 17, 2017 - 04:07 PM
Kentucky Host Florida Sunday for Play4Kay Pink Game
LEXINGTON, Ky. – The University of Kentucky women's basketball team looks to continue its three-game Southeastern Conference winning streak as it begins its final two-game homestand of the season Sunday against Florida at 1 p.m. ET inside Memorial Coliseum.  
Sunday's game vs. Florida will be UK's annual Play4Kay Pink Game. The Kay Yow Cancer Fund is committed to being a part of finding an answer in the fight against women's cancers through raising money for scientific research and related projects, assisting the undeserved and unifying people for a common cure. For more information about the Play4Kay initiative and how you can get involved, visit kayyow.com or call 919-659-3308. Fans are encouraged to wear pink to the game as the Wildcats will be wearing their all pink uniforms. 
Single-game tickets for Kentucky's two remaining home games are available through the UK Ticket Office and through ticketmaster.com. Single-game tickets are $9 for reserved seating (all ages), $8 for adult general admission and $5 for youth (6-18/seniors 65+) general admission seating. General admission seating is free for ages five and under. Parking is available in most surface lots and parking garages around Memorial Coliseum. Shuttles are available from most lots. More information on parking and shuttles is listed below. 
The game will be broadcast on the SEC Network with Courtney Lyle on play-by-play and Tamika Catchings as the analyst. The game can also be seen through WatchESPN on computers, smartphones and tablets. Now in his 12th season, Neil Price will have the call on the UK Sports Network. Fans in Lexington can hear Price's call of the game on WLAP 630 AM. Live stats and free audio will be available online at ukathletics.com.
Kentucky (18-8, 9-4 SEC) is coming off a 69-62 win at Arkansas for its third straight victory in conference play and the second straight road win. Sophomore guard Taylor Murray was the star for UK with an all-around impressive stat line, scoring a team-high 16 points with eight rebounds, six steals and five assists. Senior post Evelyn Akhator recorded her 14th double-double of the season with 12 points and 11 rebounds, while fellow senior guard Makayla Epps had 14 point and four assists. Kentucky hit eight 3-pointers in the game, moving its record to 10-1 this season when it has six or more 3s. The Wildcats won the battle in points in the paint 30-26, points off turnovers 21-14 and fast-break points 15-0. 
Epps leads Kentucky in scoring this season by averaging 17.0 points with 4.0 rebounds and a team-best 96 assists, while Akhator is averaging a double-double with 14.7 points and 10.5 rebounds per game. Murray is averaging 12.5 points and 5.3 rebounds per game, sitting second in assists with 84 and first in steals with 51. Fellow sophomore guard Maci Morris is averaging 11.7 points per game and has hit a team-best 45 3-pointers this season. 
Florida enters the game with a 13-13 overall record, including a 4-9 mark in conference play. The Gators are coming off a 74-67 loss at home to Missouri on Thursday. The Tigers hit 13 3-pointers against UF and went 19-for-20 from the free-throw line to earn the win. Senior forward Ronnie Williams paced Florida with 17 points with seven rebounds, while freshman guard Delicia Washington and junior forward Haley Lorenzen each had 16 points. The loss to Missouri snapped a two-game conference win streak for Florida that saw wins at Alabama and home against Arkansas. 
The Gators' roster features three players who are averaging double-digit scoring led by Williams with 18.8 points per game. Lorenzen is second with 12.5 per contest while Washington is averaging 11.1. Williams also leads the Gators on the boards, averaging 7.9 rebounds per game. Florida is forcing 19.0 turnovers per game this season, including 9.2 steals per game. The Gators are hitting 44.9 percent from the field overall, including 27.5 percent from 3-point land. 
Sunday's meeting with Florida is the 54th all-time between the two teams with UK leading the series 28-25. The Wildcats have won nine of the last 12 meetings in the series. 
Kentucky leads the all-time series in games played in Lexington, 14-10. The Wildcats have won six of the last seven meetings in Lexington. Florida's last win at Memorial Coliseum was Jan. 5, 2014 when they earned an 83-73 victory. Matthew Mitchell is 10-4 all-time against Florida as a head coach. 
Kentucky and Florida met twice last season with each team winning a game. The Gators got the best of the Wildcats in the lone regular-season meeting, posting an 85-79 victory in Gainesville. Akhator had a double-double with 14 points and 10 rebounds, while Epps scored 27 points with seven rebounds. But Florida shot 53.8 percent from the field and outscored UK 50-28 in points in the paint to earn the win. 
The Wildcats returned the favor in the quarterfinals of the SEC Tournament, posting a 92-69 victory over Florida. Epps was again the star with 22 points, while Akhator had another double-double with 12 points and 11 rebounds. Then-senior Janee Thompson had four 3s in the game for 19 points as UK outrebounded Florida 51-34 and outscored the Gators in points in the paint 42-28.
For more information on the Kentucky women's basketball team, visit UKathletics.com or follow @KentuckyWBB on Twitter, Instagram and Snapchat, or Kentucky Women's Basketball on Facebook.
Parking
New spectator parking options include the High Street Lot, located at the corner of East High Street and South Martin Luther King Boulevard, and the Alumni Center Lot on Linden Walk, resulting in nearly 200 additional parking spaces. 
Spectator parking is located in all of the E-lots surrounding Memorial Coliseum, all lots are off control 3 hours prior to tip. Additionally, the South Limestone Garage (PS#5) and the Rose Street Garage (PS#2) are available two hours prior to tip.  
Parking is prohibited in any R (Residential) lots. Vehicles parking in R lots without a proper permit, along yellow curbs, grass spaces, or other non-specified and unapproved areas may be subject to ticket and/or tow.
Disabled spectator parking is available with a valid, state issued disabled hangtag in the E-Lot (Employee Lot) north of the Joe Craft Center. These spaces are available on a first-come, first-served basis until full.
Transit Center Parking Garage
UK women's basketball fans can avoid traffic and congestion around Memorial Coliseum and park FREE at the Transit Center – available after 5 p.m. ET on weekdays and all day for weekend games. 
The Transit Center Parking Garage is accessible from Vine Street of High Street. 
Push the green flashing button upon entry, take the yellow token and store it in a safe place. Park in the garage and find the UK Athletics event staff member at the entrance of the garage near Lexington Avenue for a free parking token to use after the game when you exit the garage. Staff will remain on site until 20 minutes after tip. 
Please do not lose your token. If you lose your token, you will be charged an $8 fee for a lost token fee. If you lose your token, visit the pay on foot station located in the seventh floor elevator lobby of the garage and choose "lost token." You will be charged $8.00 and given a new token that can be used to exit the garage. 
Shuttles
Shuttles are available beginning two hours prior to tip and pick up and drop off near the South Limestone Garage (Parking Structure # 5) (blue route) and inside the High Street Lot (green route).
Shuttles will start back up after halftime to return guests to their parking areas. The shuttle will discontinue service 1-hour postgame.
Game Day Information
Doors to Memorial Coliseum open one hour prior to tip. 
UK Athletics encourages women's basketball fans to arrive early to ease traffic and parking congestion around the Coliseum. 
Complete game day information can be found at our game day site by clicking here. 
Kentucky Head Coach Matthew Mitchell
Opening Statement…
"Alright, another really tough game facing us on Sunday. Florida is a really tough team and explosive offensively. They always play really hard and we always have really difficult games with Florida. They are always well prepared and well coached. I am proud of our group right now, they are working hard each day and finding ways to win. We will need another great couple of practices to prepare and see if we can earn another victory. We will work hard over the next couple of days and see if we can get that done." 
On Taylor Murray …
"Yeah, she is so gifted athletically. She is not very tall, but she does have some length and has great explosive speed straight ahead that is elite and just her overall athleticism and her lateral moves and jumping allows her to do some of those things. Her hands are so quick. She just batted a couple balls out last night just with quick hands and was off for the races. So she is just a tremendous athlete and when you couple that with extremely high character and tremendous desire to win and compete and tremendous love for her teammates, she is a great, great young woman and we are fortunate to have her. But just her total package allows her to do these things. She has worked really hard too. I tell people the first day she showed up on campus, we were having camp around here and so the gym was taken up so we were over across campus at the Johnston Center for her first individual workout and I remember telling the coaches, 'I don't know if we are going to be able to let this kid shoot in the game.' Her shot was so bad and she had just such a tough workout that first day. To see what she has done in less than two years is a real testament to her be coachable and just getting in the gym and working hard every day. She is having a great season and can still continue to get better." 
On if he is surprised at how her and Makayla have been able mesh so quickly and become such a great guard tandem …
"Well, I am not surprised at really anything that this group has been able to do because of the strength of their character and how much they really care about each other. It is just a really fun group to coach because they genuinely – it is not fake or phony, you can see it on and off the court – they are great people and they are committed to winning for each other. I think both of those kids, Makayla and Taylor, had a strong desire to win and compete this year and to be the very best we can be and they are doing whatever is necessary to get that done. We are not perfect and have flaws, but at the end of the day, they really work hard for each other." 
On his 100th SEC win …
"Well, the honor is just having the opportunity. I thank God Almighty for that. From my point of view, it is a miracle that I am here and only God could provide that opportunity. So I give him the glory for that. All of the great people over the 10 years, it is overwhelming to thank about all the effort that different people have put into making it possible. I am just very blessed to be at Kentucky. My prayer is that we can continue to be successful and continue to impact people's lives and continue to help young people develop and grow. The honor is just having the opportunity every day." 
On where he thought he would be at 22 years old …
"Well, jail was a possibility at 22. Thank goodness by 24-25 I had eluded the authorities to the point where I didn't think I was going to jail anymore. I was going to try to be the best America history and high school football and basketball coach that I could be and just try to be a solid citizen and solid person. All of this has been a miracle in my life and I praise God for it." 
On any concerns of the team wearing down …
"No concerns from that because they continue to come in and give it to you every day. They give great effort every day and I think that we have worked ourselves into a position where we understand how to play a 40-minute game and somehow and someway everybody is figuring it out. Each game we are just trying to win that game. I think that our ability to stay focused in the moment is sort of helping us. When you start looking at that as it relates to the end of the season or where we came from at the beginning of the season, it might could get into your head that this is really difficult. But I think the team wants to win. I think they want to become their very best and they show up at practice every day with a great effort and somehow we are figuring it out. We don't discount it totally from a coaching standpoint, we have tough practices but we don't stay out there for three hours. We try to get it down to an hour and 15 or an hour and 30 minutes or work, not including the stretching and the shooting. We try to stay mindful of that. It is a group that seems to be holding up very well."