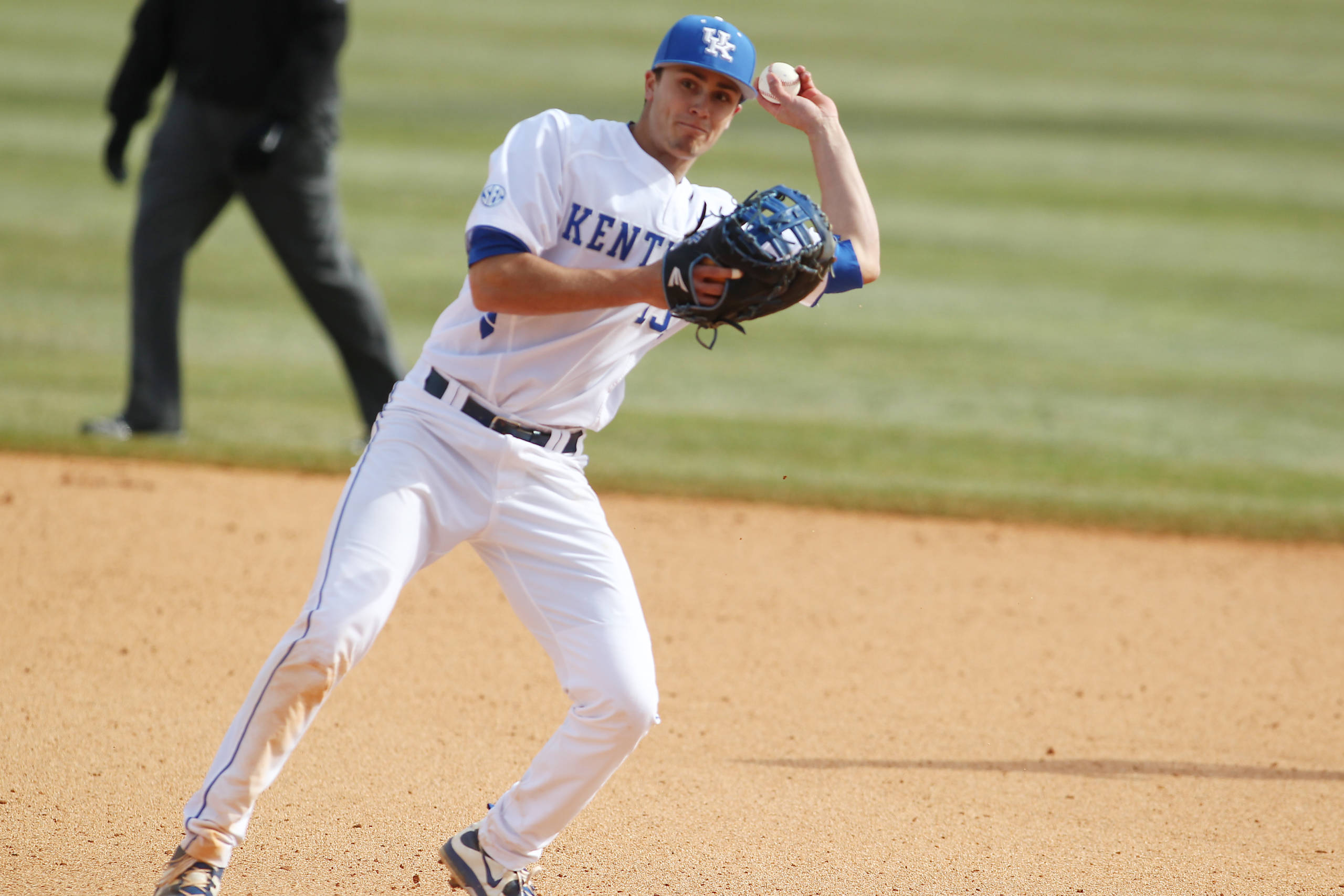 Kentucky baseball standout Evan White has made his mark on the program over the course of two seasons in Lexington. And as he approaches his junior season, White is on the verge of cementing his name in the UK record book.
As a sophomore last season, White led the team, and was third in the SEC, with a .376 batting average. He also led the Wildcats in at-bats (226), runs (44), hits (85), doubles (15), RBIs (40) and stolen bases (10). White carried a Kentucky offense that struggled much of last season, finishing in the lower half of the SEC in nearly every offensive category.
White enters his third season at Kentucky with 154 career hits, which is good for 26th place on the UK career hits list. White needs 61 hits this season to make it into the Top 10 in career knocks, and would need 78 hits to make it into the top five. 
The preseason accolades are pouring in for White, as he prepares for his junior season. He has been named first-team All-SEC by the league's coaches, second-team All-American by Collegiate Baseball and Perfect Game, and as a third-team All-American by D1Baseball.com. He is ranked as the 29th-best prospect in the country by D1Baseball.com, and 33rd by Baseball America.
New Kentucky head coach Nick Mingione knows what a special talent White is.
"This guy is gifted," Mingione said of White. "When you start going through his tools – the five tools to run, hit, field, throw, and power – the guy can run a 4.0 from home plate to first base, steal a base at any time, and score from first base on any double. He can pressure our opponents in so many different ways. He's one of the premier hitters in the entire country."
And while hitting is where White makes a name for himself, it's not the only thing he does well.
"The defense part – the guy has a Gold Glove from Rawlings last year sitting at his house right now," Mingione said. "Obviously, the power just keeps getting better. He's five-tool player. I'm extremely impressed with him and his leadership thus far."
With all of the potential records and the preseason honors, one might think that White, a native of Gahanna, Ohio, would be basking in the attention he is receiving. But the reality is that it's quite the opposite. When asked about having his name appear in the UK record books, the humble White was surprised.
"To be honest, I didn't even know that," White said. "It's something I don't focus on. I focus on doing whatever I can to help the team win. If that's me getting hits, and I break into the record books, that's awesome. It's something everyone wants to do, but the main focus is definitely on the team goals and helping the team win." 
And with that team-first attitude, White has been excited about Mingione's arrival and his vision for the UK program.
"It's definitely a difference from last year, energy-wise," White said. "But it's been good for us. We've really bought in from the very beginning. I think that's something that's going to be huge to our success this year. It's been fun to be a part of. I'm excited to see how it's going to play during the season."
As for his role on this year's team, White will continue to be the starting first baseman. There had been talk of a move to the outfield, a position he projects to play professionally. But for now, White will remain at first base, which works for him.
"I'm willing to do whatever it takes for the team," White said. "I've practiced a lot (at first base) and I feel like that's an area where I can help the team out best. I'm going to do whatever it takes for the team to win. If that's first base, then so be it. I'm looking forward to it."
Coming off of a stellar sophomore season and a summer with USA Baseball's Collegiate National Team, White still thinks he can improve. And he's concentrating on a few specific areas to become an even better player.
"Trying to be more consistent," White said. "Baseball is a game where you try to be as consistent as possible, and that's when you're going to be your best. I'm trying to focus on staying off that low and away slider with two strikes, that's something that's gotten me out in the past. Coach (Todd) Guilliams has been awesome on my two-strike approach."
And as for the team, the new energy instilled by Mingione and his staff has had a positive effect on the Wildcats.
"We're incredibly hungry," White said of the 2017 Cats. "Coach Minge has had us do motivational speeches, and each day, a different player talks to us. Justin Lewis really challenged us. He said our class, we haven't accomplished anything. It was good to have him call us out because it fires us up because we want to do something, we want to leave Kentucky with a mark. We're really hungry to do so."
The hungry and humble White hopes to make history this season, both individually and on a team that changes the direction of the Kentucky program.