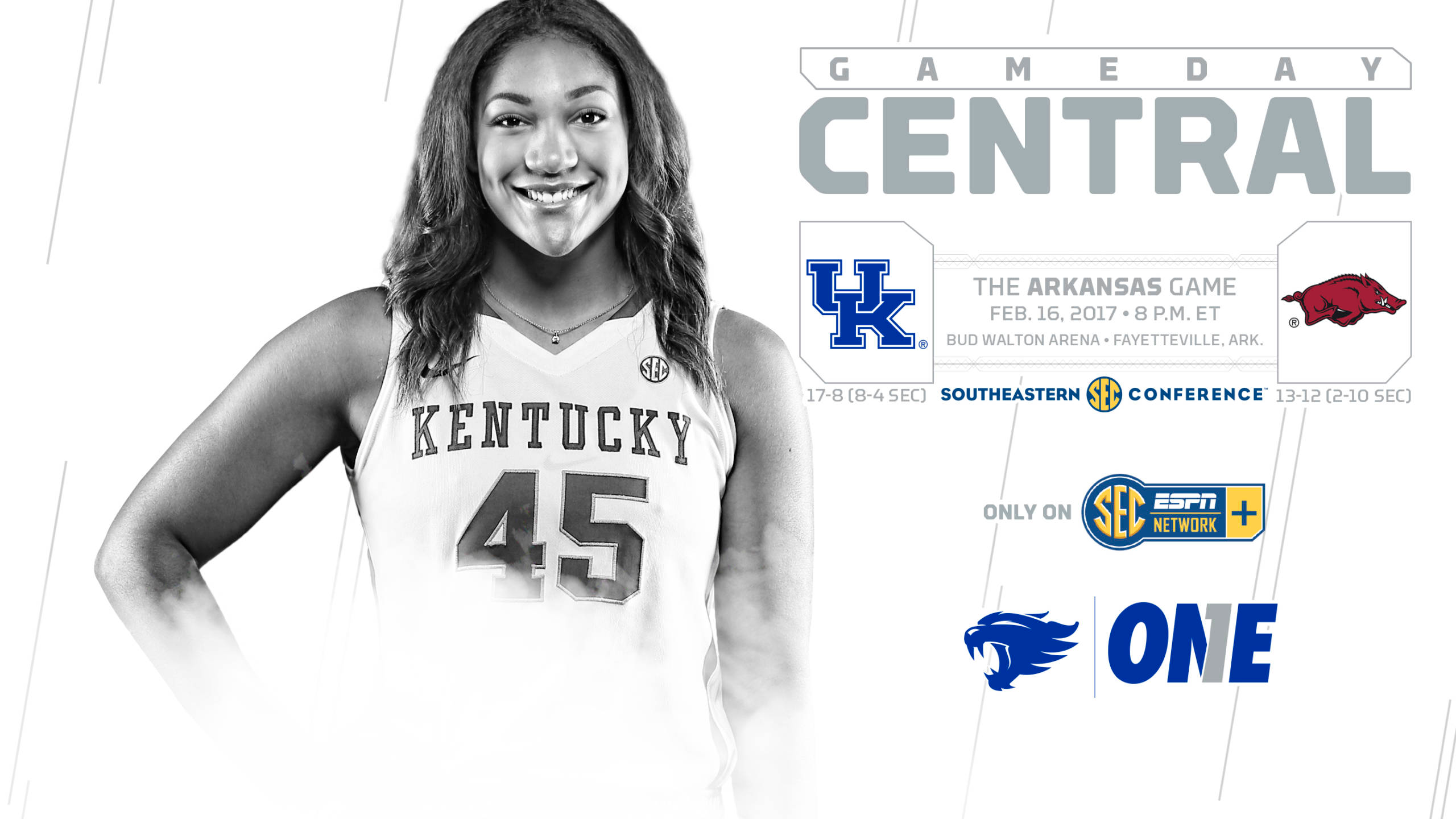 February 15, 2017 - 04:24 PM
Kentucky Looks to Continue Win Streak Thursday at Arkansas
LEXINGTON, Ky. – Fresh off back-to-back Southeastern Conference wins and its lone bye weekend of the season, the University of Kentucky women's basketball team looks to extend its winning streak Thursday as it travels to face Arkansas at 8 p.m. ET inside Bud Walton Arena. 
The game will be broadcast on the SECNetwork+ through WatchESPN on computers, smartphones and tablets. Now in his 12th season, Neil Price will have the call on the UK Sports Network. Fans in Lexington can hear Price's call of the game on WLAP 630 AM. Live stats and free audio will be available online at ukathletics.com.
"We have a tough game ahead of us tomorrow night at Arkansas, it has always been a difficult place for us to earn a victory. This will be a very tough game for us. They have some very good players and play extremely hard and pose a lot of difficult situations for our team that we will have to work hard to handle," UK head coach Matthew Mitchell said. "They can really drive the basketball and have good 3-point shooters and can spread the floor, so you really have to play great team defense against them. So it will be a real challenge. We have worked hard this week to prepare and we have a little bit more time to try to get ready for what I know will be a tough battle tomorrow night in Fayetteville."
Kentucky (17-8, 8-4 SEC) is coming off one of its longest stretches between games this season as UK last played on Feb. 9 in Athens, Ga. The Wildcats took down the Bulldogs, 66-56, earning its second straight conference win as UK has won seven of its last nine league games after starting the season 1-2. A win Thursday would guarantee Kentucky a winning record in conference play for the ninth time in Mitchell's 10 seasons. The Wildcats are 4-2 in conference play on the road this season. 
Four Wildcats are averaging double-digit scoring this season, led by seniors Makayla Epps (17.2) and Evelyn Akhator (14.8). Sophomore guard Taylor Murray is third in scoring with 12.3 points per game. Morris rounds out the list adding 11.7 per contest. In all, seven different Wildcats have posted double-digit scoring performances this season and four returning letterwinners have set new career-high scoring marks. 
Epps has scored in double figures in each of Kentucky's last six games, including four 20+ point performances during that stretch. Akhator leads Kentucky in rebounds with 10.4 per game to average a double-double. Her 26 career double-doubles ranks as the fourth most in Kentucky history, while her 13 double-doubles this season ties the fourth most in a season. 
Arkansas enters Thursday's game with a 13-12 overall record, sitting 2-10 in conference play. The Razorbacks are 9-6 at home this season and just 2-6 away from Bud Walton Arena. Arkansas started the season 9-0 before falling at Missouri State in early December and entered conference play 11-2. The Razorbacks lost their first four SEC games before a two-game win streak against Alabama and Vanderbilt. Recently, Arkansas has lost six straight league games. 
As a team, Arkansas is averaging 65.1 points per game this season, hitting 40.2 percent from the field, including 32.8 percent from long range. The Razorbacks have a +2.9 rebounding margin this season with a +1.3 turnover margin. Teams are scoring just 59.1 points per game against Arkansas, hitting just 38.1 percent from the field and 31.4 percent from 3. 
Senior forward Jessica Jackson leads the team by averaging 14.5 points per game, adding a team-best 6.1 rebounds per game. Sophomore guard Malica Monk is averaging 9.1 points per game and 2.7 rebounds per game, while freshman point guard Jailyn Mason leads the team with 79 assists adding 8.1 points per game. Overall, Arkansas has six players averaging six or more points per game this season. 
Thursday's meeting with Arkansas is the 34th all-time between the two teams with Kentucky leading the series 20-13. Arkansas leads 9-5 in games played in Fayetteville. Kentucky has won six in a row over Arkansas, including 14 of the last 15 meetings.  Arkansas' last win over Kentucky was 78-67 victory in Fayetteville in January of 2011. Matthew Mitchell is 10-1 all-time against Arkansas as a head coach. 
Kentucky and Arkansas met once last season in Memorial Coliseum with the Wildcats earning a 77-63 victory over the Razorbacks. Evelyn Akhator posted a double-double in the game with 14 points and 11 rebounds, while Makayla Epps had 16 points, seven rebounds and four assists. The Wildcats hit 49.2 percent from the field in the game, while Arkansas hit 44.8 percent. UK outrebounded Arkansas 37-24 and had a 40-24 advantage in points in the paint. Both teams hit four 3s but UK outscored the Razorbacks 10-0 in fast-break points.
For more information on the Kentucky women's basketball team, visit UKathletics.com or follow @KentuckyWBB on Twitter, Instagram and Snapchat, or Kentucky Women's Basketball on Facebook.
Kentucky Women's Basketball Matthew Mitchell Pre-Arkansas Quotes
Opening Statement…
"We have a tough game ahead of us tomorrow night at Arkansas, it has always been a difficult place for us to earn a victory. This will be a very tough game for us. They have some very good players and play extremely hard and pose a lot of difficult situations for our team that we will have to work hard to handle. They can really drive the basketball and have good 3-point shooters and can spread the floor, so you really have to play great team defense against them. So it will be a real challenge. We have worked hard this week to prepare and we have a little bit more time to try to get ready for what I know will be a tough battle tomorrow night in Fayetteville."
On how the team handled the time off …
"All of us appreciated the time off. It has been a real long and tough grind here in the conference. It was welcomed for our team and they came back with good attitudes and high spirits. We've had some fantastic energy and effort in practice. We are trying to improve and trying to get better. We are trying to round into a team that can be our very best here at the end of the year. It seems like we have a chance to do that with the kind of attitudes that they have. We still lack focus in some key areas for us to be our absolute best, but the effort is good now. We just have to try to really maintain focus in practice from beginning to end so we can play our very best."
On the team's confidence …
"I think they have a good understanding of what they need to do to be successful. I still think that we struggle with being perfect sometimes and when we stop to kind of evaluate our performance mid-play or mid-game, that is when you see some drops in our efficiently. We are not the kind of team that can go with anyone losing focus or confidence or dropping energy. We really have to do it as a team. It is a challenge for everyone to stay focused and everyone to put their own personal evaluation aside. That is what I call it. We say to let us coach you in-between plays and during timeouts. Don't try to coach or evaluate yourself in the middle of the game. Let's just keep playing until the whistle blows and we can figure things out. It is that challenge that we have to try to face or not getting down on ourselves or frustrated when things don't go just like we want them to go. For the most part, we are doing a good job, but what we are talking about now is trying to become our very best and it is a hard thing to do and a difficult goal to achieve, but we are working on it." 
On positioning the team for postseason play …
"I think that is a fair question. I think with our team the best approach is that they are very smart kids and they are very intelligent kids that are highly motivated. I think they understand all the implications are and know we are trying to win as many games as we can to have the very best position that we can have. It would be great to play in Memorial. The fact with this team is we have so many things for us to try to stay focused on every day to improve. I still don't feel like we have had our best game and that everyone has clicked on one night and really shot the ball great all together. When that night happens, I think we will be something special. I don't think this team needs any of that. I don't think they need me to come in and put any pressure on them. I think the pressure we feel right now is trying to clean up the few areas we need to clean up so we can go out and give somebody our very best shot. I just don't feel like I have enough time nor do I feel like it's the right thing to do for us to focus on postseason right now. I think it's going to be a really, really difficult game for us Thursday night. There is not a team in this league we don't feel like we have a chance going into the game. But you flip that around there is also not a game I go into thinking we have this one wrapped up. It is just that kind of year. It is that kind of team that we have. We really have to focus on the task at hand or the postseason isn't going to be something we will have to worry about. So, really it is sort of a blessing from that standpoint that I am not worried about the postseason. I am not concerned about it. The only thing that I have on my mind as a coach trying to give to them is an opportunity to try to become their best. And if they become their best, we won't have to worry about postseason. We will be in postseason and be a dangerous team in the postseason. If we flip that around and are jockeying for position, we could lose focus and lose some games down the stretch and then you are putting your postseason dreams in jeopardy. For us to be honest, we just aren't that kind of team where we can worry about that. We have to worry about today's practice and prepare well to beat a really good Arkansas team." 
On the team having success on the road during league play …
"I think some of the things that I just mentioned. They have the ability to focus in enough to win some tough games. You look at any of those games on the road: LSU could've gone either way; Auburn came down to the last possession; the Alabama win was tough; Georgia was really, really tough the other night; Missouri  we were right there at the end of the game and that one didn't go our way. They are a good group of players and high-character people. I think that we have done a good job of developing into a team that understands how we need to approach a game. We try to be real detailed about what the gameplan is and hold them accountable to what the gameplan is and they have done a good job of absorbing that and taking it to the floor. You know, it is a combination of some really good stuff and being tough at the right time. That Georgia game, with two minutes and 20 seconds was a five-point game their ball. It is anybody's ballgame and we make a big steal and make some big plays. They have just had an ability to do that. It will take another incredible effort tomorrow night. Arkansas plays extremely hard and it will be tough on us. But we are going to go down there and see if we can hold it together for another night and get another big road win. It would be huge for our team." 
On the health of the team …
"I feel like we are getting closer to being healthy. You just pray that you can stay that way. I feel like the weekend really helped us and people are feeling about as well as we have in a while. You know, Taylor (Murray) continues to improve. I think Makenzie (Cann) looks a lot better and I think the flu took the wind out of her sails. I think you look at the players who have been healthy to the point where they haven't missed any time in practice and games it was great just to rest for Makayla (Epps), and Evelyn (Akhator) and Maci (Morris). Those kids log a lot of minutes. So I think that it came at a good time for us. The thing about this team is that we have to practice so hard every day that you don't know what the day holds and you just cannot worry about it. You have to go turn it loose at full speed and see what you can do. As we speak right now, it is trending in the right direction for us and hopefully we can be healthy down the stretch here." 
On getting healthy but not upsetting rhythm and rotations …
"Well, that is the thing with Jess (Hardin). She brings us so much physically, but she is out of rhythm and that is a hard thing for her, but yesterday I really felt like we made some progress and there was some light at the end of the tunnel. It is very difficult to miss 12 games and then come in for the last four, but it is not a physical issue anymore with her it is about calming down and getting back into the rotation and the rhythm and a lot of her difficulties in practice have been with her trying to get it back too quickly and you just have to settle down and clam down and let it happen. But man, would she be a great breath of fresh air for us. Another really quick, fast athlete that allows us to maybe put a little more pressure on teams. You know, she has to stay patient because if she can just get herself back in, she can be a factor for us down the stretch. This team has been really resilient and that is one of the things that we try to teach in our program no matter what is going on. I am just so proud of our two freshman and how hard they have worked every single day and how much improvement they have made over the last month. I was watching them practice the other day and was thinking about fortunate and blessed we are that those two kids are on our team and contributing and playing hard. The rotation gets upset with injury and foul trouble and we have just found some way to hold it together. I would love to get Jess back going and that would give us a little more depth and that would be welcomed from the team. But you cannot rush it and cannot upset the rhythm of the team. If you cannot get out there and contribute then you can't be out there just to be another body. So we have to work our way through that process. We won't upset anything, we will make sure whoever is contributing and getting the job done is who will play. But, I think that we are moving in a really positive direction there." 
On his relationship with Lin Dunn …
"Personally, having Lin on staff has impacted me in every imaginable way. Sometimes it is hard to tell the leader or the boss or whatever here is what you need to do to improve. I would say that any leader that I admire would crave that type of interaction, but it is a difficult thing to do. Well now you have a hall of fame coach who is doing this totally from – I am sure she enjoys the competition and gets something from that, but she doesn't have to do this – she is doing this to help me and to help Kentucky and help these young woman on our team. She is unafraid to say, you didn't handle this situation well or you are doing a great job here let's see if you can improve that or keep doing what you are doing. It is completely unafraid of consequence or repercussion and that kind of relationship for someone like me is incredible. It is exactly what I hoped it would be and exceeded every possible plan I could've had for it. She has really, really helped me grow as a coach. This has been one of the greatest years of my life from a professional standpoint and personal standpoint of learning some lessons that quite frankly I think I needed to learn to become my best coach. She has aided with that. And we just have so much fun together. She has made it fun and Kyra (Elzy) and Niya (Butts) and Amber (Smith) and Amy Tilley and Beth Price. We just have a good time laughing and a lot of trust in our office. So she is a big part of what we do and is a big reason we have had the success that we have had and I am really grateful that she has been on the staff and done what she has done. I hope we can stick together here for a long time because she is a huge part of our success."