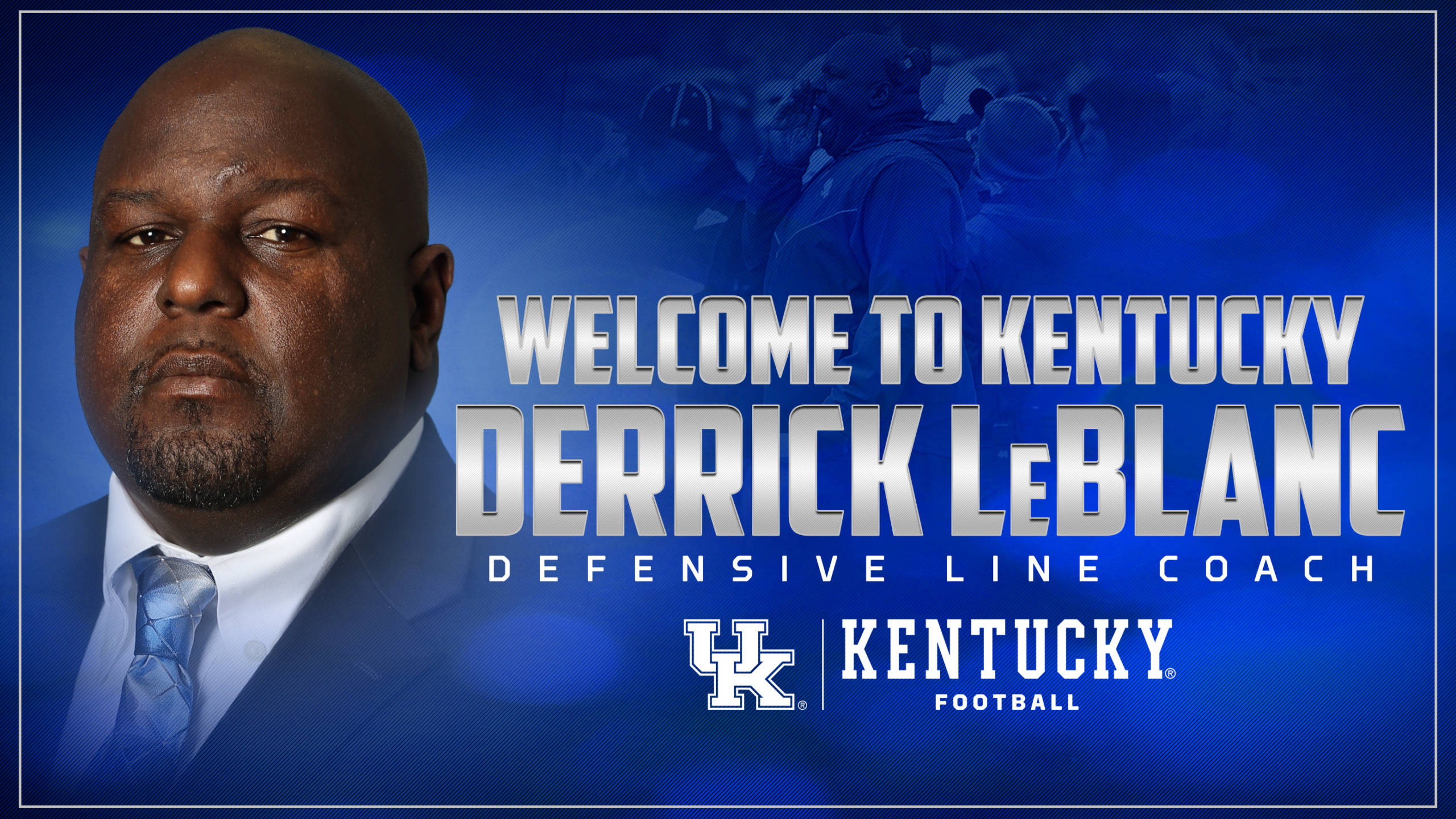 LEXINGTON, Ky. – Derrick LeBlanc (pronounced "luh-blon" the "c" is silent) has been named the defensive line coach at Kentucky, head coach Mark Stoops announced Wednesday.
"It's a great pleasure to be here at Kentucky with Coach Stoops and his staff," LeBlanc said. "I'm excited about the opportunity to teach the young guys at UK and coach in the Southeastern Conference. Coach Stoops is a great defensive mind and he's a great teacher of the game. On the outside looking in, there's always been the potential to win at Kentucky and Coach Stoops has found a way to get it going in that direction and I'm looking forward to working with him and these players."
LeBlanc joins the Wildcat program after one season as the defensive line coach at North Texas. He was a part of the Mean Green's remarkable turnaround from winning just one game in 2015 to five wins and an appearance in the Zaxby's Heart of Dallas Bowl in 2016. The Mean Green defense ranked 13th nationally in defensive turnaround in points per game, allowing 41.2 ppg in 2015 and 32.6 in 2016. They also ranked third in Conference USA in pass defense, allowing just 200.2 yards per game. LeBlanc went to North Texas after one season as the defensive coordinator and defensive line coach at Pearl River Community College in Poplarville, Miss.
"I've known Derrick and watched his progress as a coach," Stoops said. "I was super-impressed with his interview, with the organization of his teaching and how good he is as an instructor. Fundamentals are important at every position but especially in the defensive line and I believe Derrick will be a great teacher of proper technique and fundamentals."
During the 2013 and 2014 seasons, LeBlanc helped revitalize the defensive line at Southern Miss. In his first year he managed a defensive line led by Khyri Thornton, who was named second team All-Conference USA and selected in the third round (85th overall pick) to the Green Bay Packers in the 2014 NFL Draft. Under LeBlanc's tutelage, Thornton recorded 39 tackles, including 16 solo tackles and 23 assisted tackles. He also coached first-team All-Conference USA selection Rakeem Nunez-Roches, now going into this third season with the Kansas City Chiefs. 
LeBlanc joined the Golden Eagle staff after spending the 2012 season coaching the defensive line at the University of Wyoming for head coach Dave Christensen. Though his tenure there was brief, LeBlanc made a lasting impact on the Cowboy program, coaching defensive tackle Mike Purcell to All-Mountain West Conference first team honors. Purcell was third on the team in tackles, a tough mark to achieve for an interior lineman, with 83 while recording eight tackles for loss. Purcell was also one of two Wyoming seniors selected to play in a postseason collegiate all-star game. He currently is a nose tackle for the San Francisco 49ers.
LeBlanc went to Wyoming from LSU, where he was an assistant strength and conditioning coordinator from 2008-11 under head coach Les Miles. He also assisted with on-campus recruiting and during his four years with the Tigers, the team captured the 2008 Chick-fil-A Bowl Championship, faced Penn State in the Capital One Bowl following the 2009 season, defeated Texas A&M for the Cotton Bowl Championship following the 2010 season and in 2011 captured the SEC Championship and earned a berth in the BCS National Championship Game.
Prior to LSU, LeBlanc was the defensive line coach and academic coordinator at Arkansas Tech for the 2005 season. He went from there to Missouri State in Springfield, Mo., coaching the defensive line in 2006 and 2007. 
LeBlanc's first full-time college coaching position was at Henderson State University in Arkadelphia, Ark. He coached the defensive line and was the school's strength and conditioning coordinator for four seasons from 2001-04.
He began his coaching career in 1997 at Breaux Bridge High School in Breaux Bridge, La., where he was the offensive and defensive line coach for three seasons from 1997-99. LeBlanc broke into the college ranks in 2000 when he accepted a graduate assistant position at LSU. There he assisted then-defensive line coach Pete Jenkins in coaching the defensive line, as well as assisting the strength and conditioning staff.
LeBlanc, a native of Breaux Bridge, La., was a four-year football letterman at Northwestern State University in Natchitoches, La., from 1992-96. He played both defensive and offensive line during his playing career, and earned Southland Conference All-Academic honors as both a junior and senior. He graduated from Northwestern State with a degree in business administration and earned a master's degree in sports administration from LSU.
He and his wife, Niema, have two sons, Dayton and Derrick, and one daughter, Kennedy.
Derrick LeBlanc Coaching Career
| | | | |
| --- | --- | --- | --- |
| 2017 | Kentucky | Defensive Line | |
| 2016 | North Texas | Defensive Line | 2016 Zaxby's Heart of Dallas Bowl |
| 2015 | Pearl River CC | Defensive Coordinator/Defensive Line | |
| 2013-14 | Southern Miss | Defensive Line | |
| 2012 | Wyoming | Defensive Line | |
| 2008-11 | LSU | Assistant Strength & Conditioning Coord. | 2008 Chick-fil-A Bowl; 2009 Capital One Bowl; 2010 Cotton Bowl; 2011 BCS National Championship |
| 2006-07 | Missouri State | Defensive Line | |
| 2005 | Arkansas Tech | Defensive Line | |
| 2001-04 | Henderson State | Defensive Line/Strength & Conditioning Coord. | |
| 2000 | LSU | Defensive Graduate Assistant/Defensive Line | |
For more information on the Kentucky football team, follow @UKFootball on Twitter and Instagram, or like Kentucky Football on Facebook.