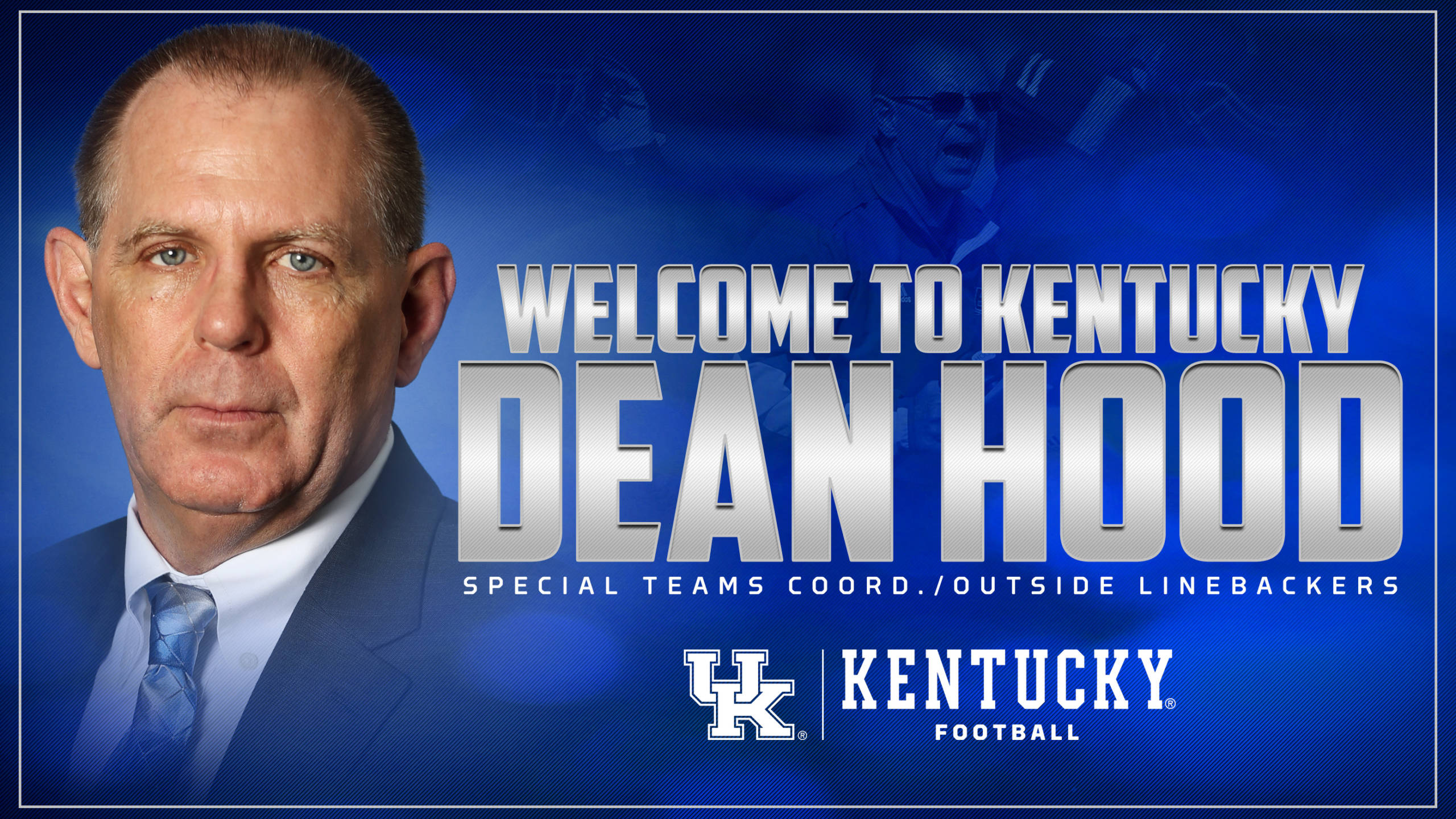 LEXINGTON, Ky. – Dean Hood, a familiar name for football fans around the Commonwealth, returns to the Bluegrass to join Mark Stoops' staff as the special teams coordinator and outside linebackers coach, it was announced Wednesday. Hood spent 13 years at Eastern Kentucky in Richmond, Kentucky, including eight seasons as the head coach from 2008-15.
"I could not be more excited to have Coach Hood join our staff," Stoops said. "He brings extensive experience and knowledge as a head coach, defensive coordinator and special teams coordinator. Having watched him at Eastern Kentucky, I developed great respect for him and I know he is held in high regard by the high school coaches in the state.  He is a welcome addition to our program."
Hood, who has 29 years of college coaching experience, spent the 2016 season as the assistant head coach, special teams coordinator and tight ends coach at Charlotte. Prior to that, he was the head coach at EKU, leading the Colonels to two Ohio Valley Conference Championships, three FCS Playoff appearances and an overall record of 55-38 (59.1). In 2008 he was named the OVC Coach of the Year and in 2011 he was the American Football Coaches Association Regional Coach of the Year. He also was a finalist for the Eddie Robinson Award, which goes to the best coach in FCS football, in both the 2008 and 2014 seasons.
With Hood at the helm, EKU produced nine All-Americans, one OVC Offensive Player of the Year, one OVC Defensive Player of the Year, one OVC Freshman of the Year and 26 first team all-conference performers. Three of his former players have seen success in the professional ranks as Matt Langel is a tight end for the Super Bowl Champions New England Patriots; Noah Spence, a defensive lineman for the Tampa Bay Buccaneers, was named to Gil Brandt's 2016 NFL All-Rookie Team after charting 22 tackles, including 5.5 sacks in 2016 and Jordan Berry is the Pittsburgh Steelers' starting punter who set the team's single regular-season record highest punting average (40.2) in 2016.
"I am from northeast Ohio and I take a lot of pride from being from there," Hood said. "Being from Ohio I have followed the Stoops family for a long time and they are known for being tough, hard-working and family oriented. All of those things are important to me as well. When I was coaching at Wake Forest and we had to play against Florida State, I noticed how well the defense played once Coach Stoops got there. They were very tough to play against. Also, being 17 miles away at EKU, I was always impressed with him and the discipline of his program. I was impressed with how he presented himself in the media and public with an honest and let's-go-to-work attitude and how they have put together a really good strategic recruiting plan. I'm excited and honored to be a part of his staff."
Before EKU, Hood spent seven years (2001-07) as the defensive coordinator and secondary coach at Wake Forest and his defensive units were known for creating turnovers and scoring touchdowns. The Demon Deacons forced 186 turnovers during his tenure, more than two per game.
In 2006, Hood helped the Demon Deacons win the Atlantic Coast Conference Championship for the first time since 1970 with an impressive 11-3 record (the most wins in school history). His defense ranked second in the conference, allowing just 15.4 points per game, while leading the league in interceptions with 22, second most in the nation. Against the run, Wake yielded just 105.8 yards per game, 21st nationally and the third lowest total in Wake Forest history. Wake Forest earned its first and only BCS Bowl bid, facing Louisville in the FedEx Orange Bowl.
The following season, Wake Forest led the ACC with 35 forced turnovers on its way to finishing 9-4 and capturing the Meineke Car Care Bowl title with a 24-10 win over Connecticut.
Hood's defenders earned All-ACC mention 14 times. That list included four NFL draft picks – Calvin Pace, Montique Sharpe, Eric King and Josh Gattis.
Hood's first coaching stop was at Fairmont (W.Va.) State working with the defensive backs (1987-88). The 1988 team won the WVIAC championship and led the nation with 31 interceptions. He then spent time at Colgate (1989), Glenville (W.Va.) State (1990-93) and Ohio University (1999-2000). 
At Glenville, Hood helped the 1993 team finish 10-3 with an appearance in the NAIA Division I championship game and his defense led the nation in scoring, allowing just 9.2 points per game, 118 passing yards per game and 223 total yards per game.
During his two seasons at Ohio as the defensive backs coach, Hood's 1999 defensive unit charted 17 interceptions, the most in more than a decade. In 2000, Ohio ranked 20th nationally in defense, allowing 18.9 points per game. His defense was one of only five programs in Division I-A that did not allow more than 30 points in a game through the entire season.
He also had a previous five-year stint at EKU as the Colonels' secondary coach (1994-96) and defensive coordinator/secondary coach (1997-98) under College Football Hall of Fame head coach Roy Kidd.
Hood, a native of Ashtabula, Ohio, earned his bachelor's degree in biology from Ohio Wesleyan in 1986 and a master's degree in physical education from West Virginia in 1989. 
At Ohio Wesleyan, he was a three-time all-North Coast Athletic Conference selection as a defensive back. He was elected captain two seasons and was a first-team All-American as a senior. In 2001, he was inducted into the OWU Athletic Hall of Fame.
He and his wife, Crystal, originally from Richmond, Ky., have four children – two sons, Trey and Daven, and two daughters, Jada and Cordia.
Dean Hood Coaching Career
| | | | |
| --- | --- | --- | --- |
| 2017 | Kentucky | Special Teams Coordinator/Outside Linebackers | |
| 2016 | Charlotte | Assistant Head Coach/Special Teams Coordinator/Tight Ends | |
| 2008-15 | Eastern Kentucky | Head Coach | 2008 FCS Playoffs/OVC Champs; 2011 FCS Playoffs/OVC Champs; 2014 FCS Playoffs |
| 2001-07 | Wake Forest | Defensive Coordinator/Secondary Coach | 2002 Seattle Bowl; 2006 Orange Bowl/ACC Champs; 2007 Meineke Car Care Bowl |
| 1999-2000 | Ohio | Secondary Coach | |
| 1997-98 | Eastern Kentucky | Defensive Coordinator/Secondary Coach | 1997 FCS Playoffs/OVC Champs |
| 1994-96 | Eastern Kentucky | Secondary Coach | 1994 FCS Playoffs/OVC Champs; 1995 FCS Playoffs |
| 1990-93 | Glenville State (W.Va.) | Defensive Coordinator/Assistant Head Coach | 1993 NAIA Runner-Up |
| 1989 | Colgate | Assistant Secondary Coach | |
| 1987-88 | Fairmont (W.Va.) | Secondary Coach | 1988 NAIA Playoffs, WVIAC Champs |
For more information on the Kentucky football team, follow @UKFootball on Twitter and Instagram, or like Kentucky Football on Facebook.