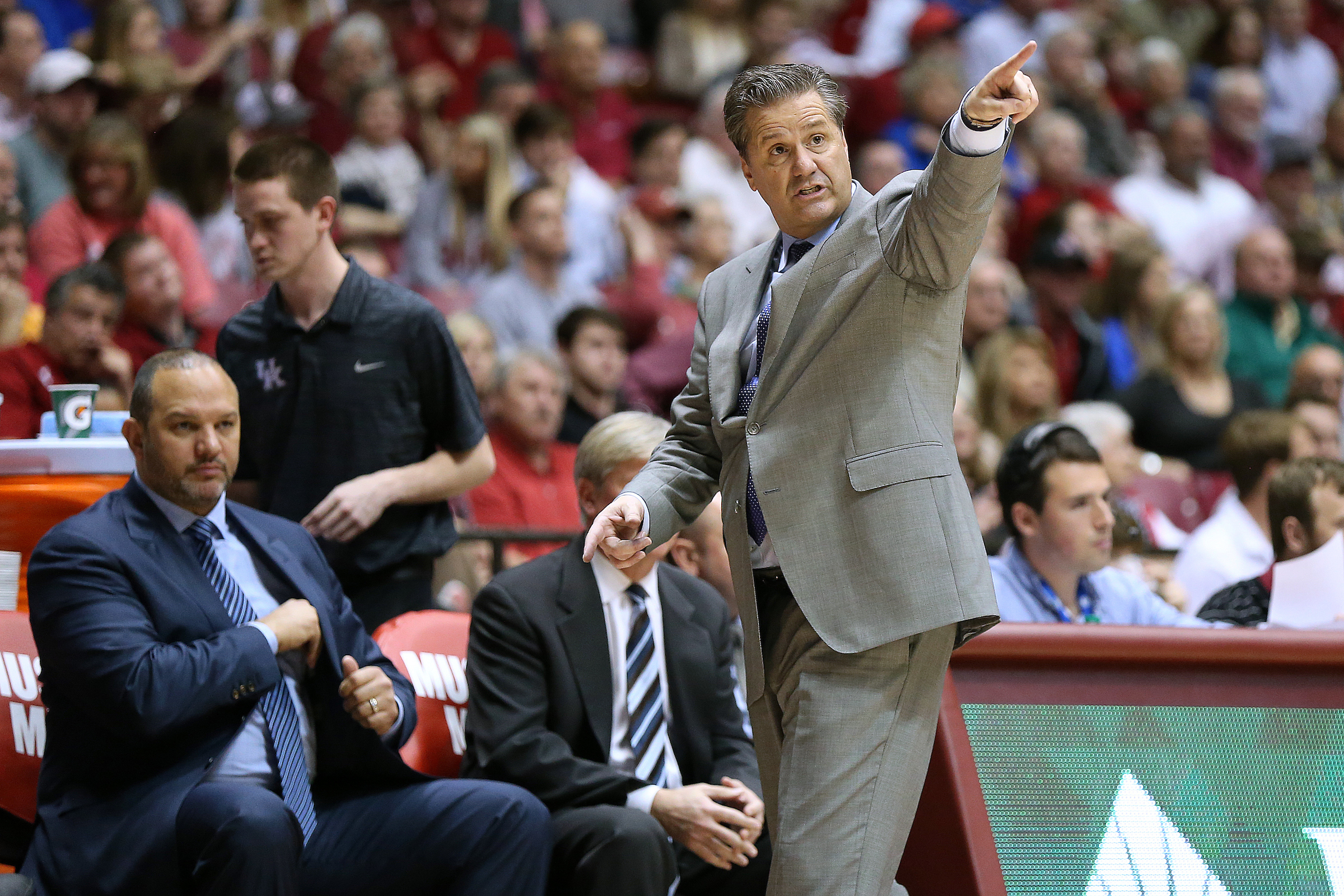 February 13, 2017 - 05:17 PM
Calipari Zeroing in on Disappearing Leads
Kentucky's struggles protecting a big lead are well documented. Naturally, John Calipari has heard all about them – from fans, friends and media alike.
The thing he doesn't want in that situation is to not have the answer for why it's happening, so he set out to find it.
"I don't want to walk into a room and have people tell me, 'This is what I think it is,' " Calipari said. "Why don't we just watch the six games, the five games, watch it go away, the lead, and now tell me what you think it is?"
In truth, it's the last two weeks when the issue has reared its head.
No. 13/11 UK (20-5, 10-2 Southeastern Conference) has played four games over that time, winning three entering a game Tuesday at 7 p.m. against Tennessee (14-11, 6-6 SEC) in Rupp Arena. In each of the wins, the Wildcats have led by at least eight points only to see the margin dwindle at a remarkable pace.
And it's all happened late.
Breaking the games down into quarters – an appropriate exercise, perhaps, given the NCAA will experiment with resetting fouls every 10 minutes in this year's NIT – UK has won all but one of the first three 10-minute segments in each of those games. In total, the Cats are winning those quarters by an average margin of 19.2-14.2. Contrast that with the final 10 minutes of games against Alabama, LSU and Georgia (excluding overtime), when UK is being outscored 30.3-20.7 on average.
While guesswork might be an option for everyone else, it's not for the man responsible for fixing the issue.
"You don't throw things out that were working and you don't make up the reasons," Calipari said. "So I watched those on an airplane and came back with an idea of how we're going to attack it, some of it today and then we'll go Wednesday and Thursday and Friday before we go to Georgia."
Not surprisingly, Coach Cal wasn't willing to publicly part with the secrets he uncovered. His team, however, gets to hear all about them.
"We've been really focused on that, really working hard in practice, situationally, just to focus on when we're up how we're playing, how are we playing defense, and can we maintain that," Mychal Mulder said. "We've done some drills, some work where we're doing some runs and sprints, and right now we're going to lock down on defense, right when we're tired."
Defense, considering the 121-point pace at which opponents have played in the final 10 minutes of those losses and the fact that six consecutive opponents have shot 53.3 percent or better against UK in the second half, would seem to be the main issue. Coach Cal says it doesn't stop there though. Nor is it all about what's going on in the Cats' heads.
"I think it's as much technical as it is mental," Calipari said. "Like, they've got to have a plan. OK, you're up 18, here's how we gotta play. They don't know."
They don't know, in many cases, because they haven't learned yet. That's where coaching comes in.
"Today we met in the morning with some film stuff and I asked the guy, 'Why didn't you do this?' " Calipari said. "He said, 'I didn't know I was supposed to.' Not his fault. If he doesn't know then we've got to teach him."
The idea, in Calipari's mind, is for the Cats to absorb those concepts and eventually take ownership of them.
"They're starting to take more responsibility," Calipari said. "At some point someone's going to say, 'I'm not playing well and this is on me.' I'm not sure they're ready for that yet, but they'll start moving in that direction. The more they take on responsibility, the more it's what they have to do together, the better for all of us."