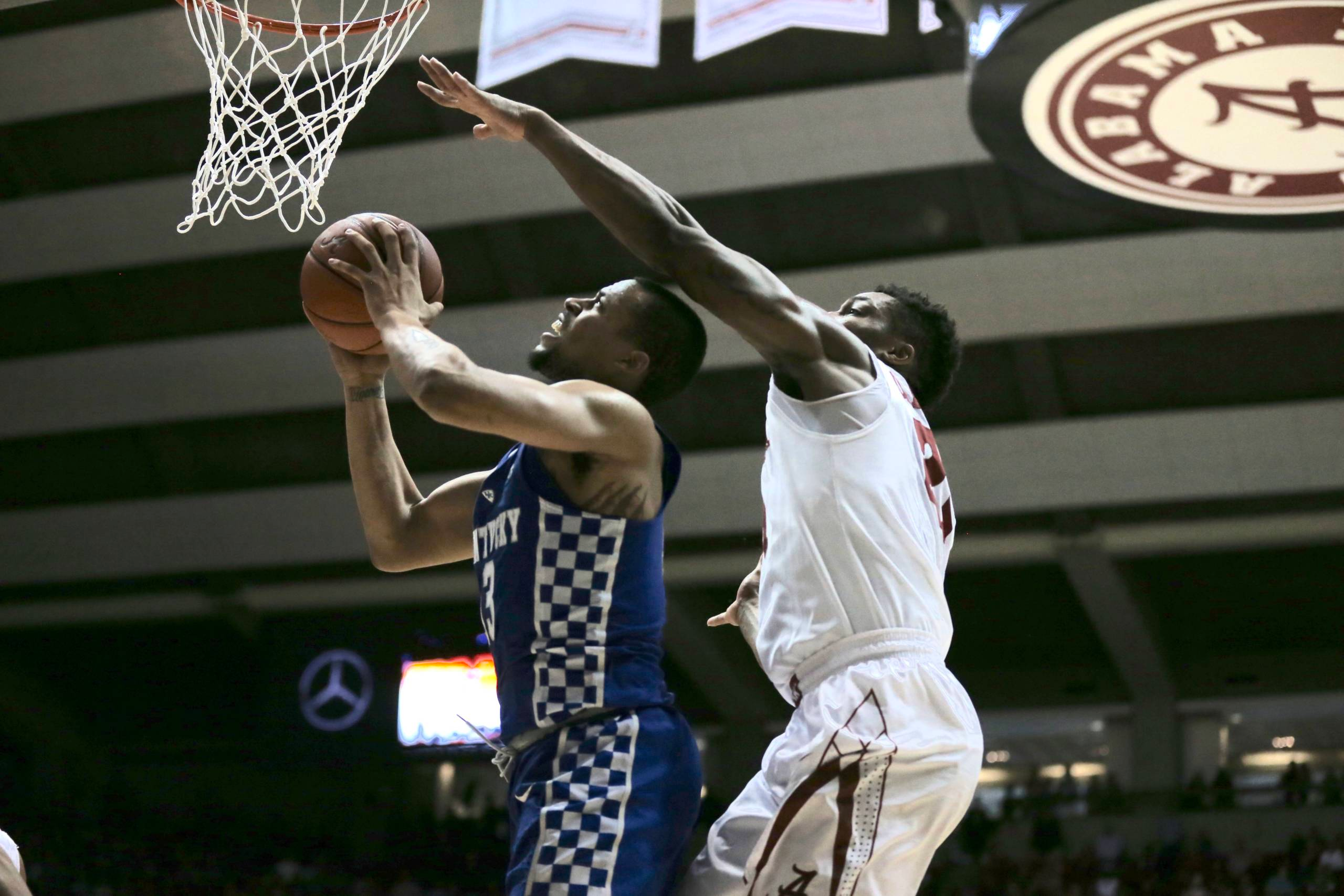 February 11, 2017 - 04:49 PM
Clutch Briscoe Wills Cats to Win
Shots weren't falling, Alabama was starting to heat up and foul trouble was becoming a major issue.
These are the moments when leaders step up, so it's no coincidence Isaiah Briscoe did exactly that.
"He's our team leader and our go-to guy, definitely, for big buckets at the end," Dominique Hawkins said.
Briscoe – who had struggled from the field and the free-throw line for most of the afternoon – was at his best just as the Crimson Tide made its run. He scored seven straight points for the Wildcats starting at the 4:24 mark, including a pair of layups while being fouled.
"Coach trusts me with the ball late down in the game," said Briscoe, who had a double-double with 11 points, 11 rebounds and four assists. "I take care of the ball. I don't turn it over or anything like that. They were leaving me open and I was taking what they were giving me and I was able to make big plays down at the end."
It wasn't athleticism or skill that allowed Briscoe to get the job done, though his plays did have their share of both. Instead, it was sheer power of will that carried the No. 15/12 Cats (20-5, 10-2 Southeastern Conference) to a 67-58 win over home-standing Alabama (14-10, 7-5 SEC).
"He's got a toughness to him, and he's got a fight," John Calipari said.
Even though he was a mere 2 of 8 from the field and 0 of 5 from the line when his takeover began, Briscoe didn't shy away from the moment.
"I'm out there playing basketball and I'm thinking to myself, 'Next play.' " Briscoe said. "I know my free throws were terrible today, but I just kept on playing. I didn't let it bother me and I was able to make big plays down at the end."
Briscoe's play kept the Cats afloat just long enough for his teammates to follow his lead. First, De'Aaron Fox found Derek Willis for 3 on a play Coach Cal drew up out of a timeout. Then, Malik Monk made a driving lineup before Fox had the exclamation point with a steal and open-floor slam.
"It was big for us to win this game on the road," said Hawkins, who added five points, three assists and two steals in 14 energy-filled minutes. "We know that every road game in the SEC is going to be rough for us. Everybody, like Coach Cal says, it's everybody's Super Bowl when we come to their place. And at the end, we definitely gotta grind out teams and be able to pull off with a win."
That grind-it-out style – this game featured just 70 possessions, significantly fewer than the 76.4 UK is averaging this season – is a departure from the freewheeling, fast-paced brand of basketball the Cats deployed early in the season. Speed remains a strength of this team, but Calipari knows UK must be able to win games like Saturday's too.
"If you can't grind it out some games, your season's going to end earlier than you want," Calipari said. "You gotta be able to grind. You gotta be able to execute in the half-court after seven, eight passes, get it to nine seconds on the clock, make a play. You got to at times. Maybe 10, 15 times in a really good game."
The Cats will now return to practice – their sanctuary in a season full of distractions, the latest being three fire alarms at the team hotel in the wee hours of Saturday morning – to find a happy medium between the two poles. 
"We were just out there having fun and playing basketball and we're trying to focus on us," Briscoe said. "We do hear what people are saying about us and stuff like that, but at the end of the day it starts in practice and it starts with us. So we're not really worried about what people are saying. We're just trying to be the best we can be."
Briscoe, just like he did at Alabama, is going to do everything he can to make that happen. Calipari, however, will tell you ultimate responsibility lies elsewhere.
"That was a happy locker room," Calipari said. "It's a locker room that cares, that cares about each other. But I've got to do, the technical stuff, I just gotta keep coaching them and I think I got away from what I needed to do for three weeks. We slipped and let's see if I can get these guys on the right path."