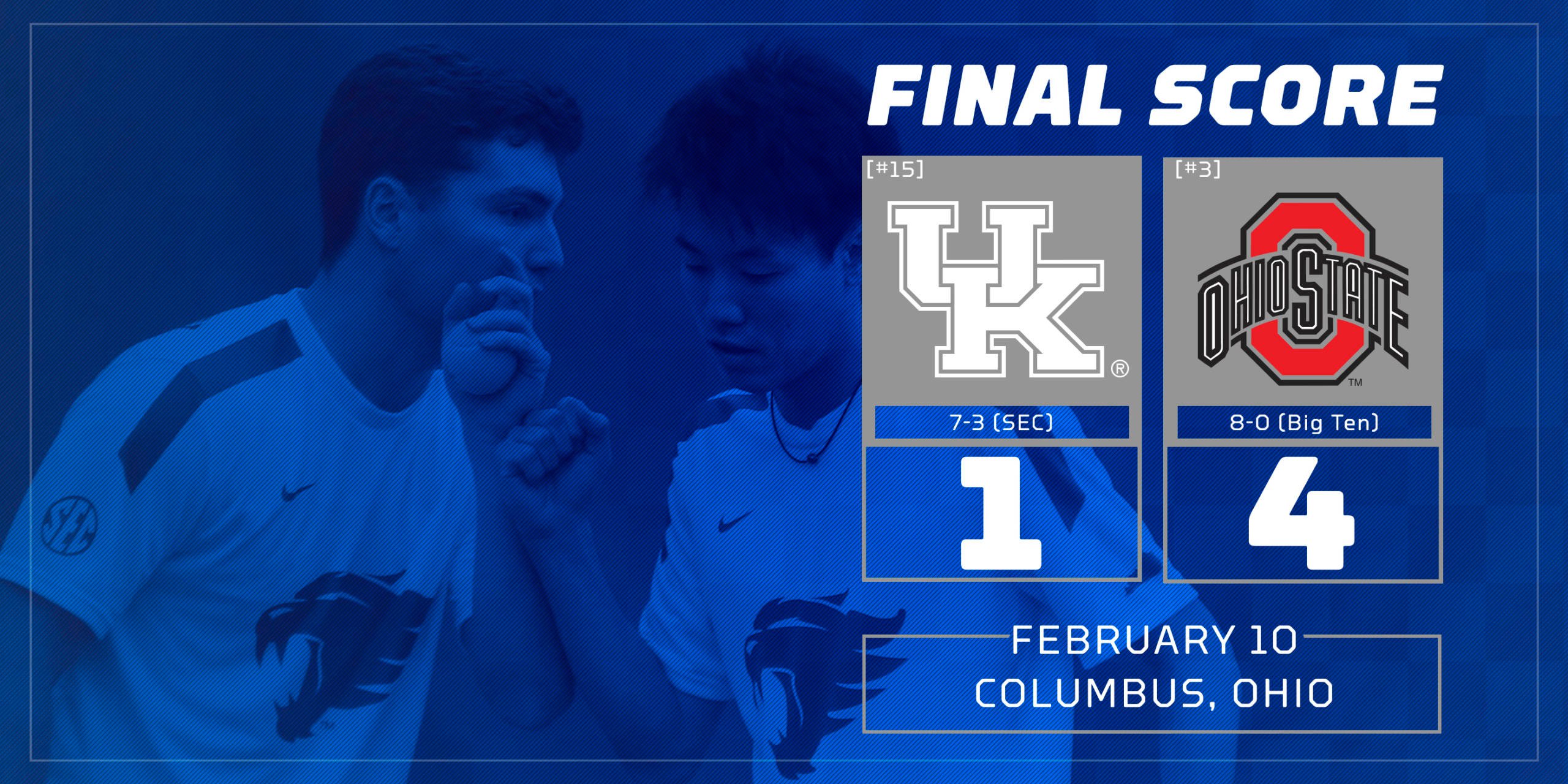 February 10, 2017 - 11:58 PM
No. 15 Kentucky Falls to No. 3 Ohio State, 4-1
COLUMBUS, Ohio – No. 15 Kentucky traveled to No. 3 Ohio State on Friday and fell, 4-1, at the OSU Varsity Tennis Center. UK dropped to 7-3 and while OSU improved to 8-0. Kentucky continues play on Sunday when the Wildcats take on Indiana at noon.  
Ohio State jumped out in front when the No. 25 pairing of Hugo Di Feo and Martin Joyce defeated Will Bushamuka and Nils Ellefsen, 6-1. Matt Mendez and Hunter Tubert clinched the point for the Buckeyes when Yates and Matsumura, 6-2. Beck Pennington and Enzo Wallart were locked in a battle with No. 38 Mikael Topegaard and Herkko Pollanen at 5-4 when the point was clinched.
Kentucky evened the match at 1-1 when Nils Ellefsen earned a ranked win over No. 77 Martin Joyce in straight sets, 6-4, 6-2. 
Ohio State took the next three points to win the match, 4-1. No. 17 Matsumura fell to No. 2 Torpegaard, 6-1, 6-3 to give the Buckeyes the lead. No. 47 Pollanen defeated Trey Yates, 6-4, 6-4 to give the Buckeyes a 3-1 advantage and Seelig defeated Wallart in a hard fought 6-3, 3-6, 6-2 battle to get the win.
No. 33 Will Bushamuka was up 7-6, (7-5), 6-1, 5-4, when play was called. Pennington was also locked in a 6-3, 5-7, 5-5 battle as well. 
For more information on the Kentucky men's tennis team, follow @UKMensTennis on Twitter or Kentucky Men's Tennis Team on Facebook. 
Tennis Match Results
Kentucky vs Ohio State
Feb 10, 2017 at Columbus, Ohio
(OSU Varsity Tennis Center)
#3 Ohio State 4, #15 Kentucky 1
Singles competition
1. #2 Mikael Torpegaard (OSU) def. #17 Ryotaro Matsumura (UK) 6-1, 6-3
2. JJ Wolf (OSU) vs. #33 Will Bushamuka (UK) 6-7 (5-7), 6-1, 4-5, unfinished
3. #8 Hugo Di Feo (OSU) vs. Beck Pennington (UK) 6-3, 5-7, 5-5, unfinished
4. Nils Ellefsen (UK) def. #77 Martin Joyce (OSU) 6-4, 6-2
5. #47 Herkko Pollanen (OSU) def. Trey Yates (UK) 6-4, 6-4
6. Kyle Seelig (OSU) def. Enzo Wallart (UK) 6-3, 3-6, 6-2
Doubles competition
1. #38 Mikael Torpegaard/Herkko Pollanen (OSU) vs. Beck Pennington/Enzo Wallart (UK) 5-4, unfinished
2. #25 Hugo Di Feo/Martin Joyce (OSU) def. Will Bushamuka/Nils Ellefsen (UK) 6-1
3. Matt Mendez/Hunter Tubert (OSU) def. Trey Yates/Ryotaro Matsumura (UK) 6-2
Match Notes:
Kentucky 7-3; National ranking #15
Ohio State 8-0; National ranking #3
Order of finish: Doubles (2,3); Singles (4,1,5,6)
Official: Marcus Lee T-2:40 A-314