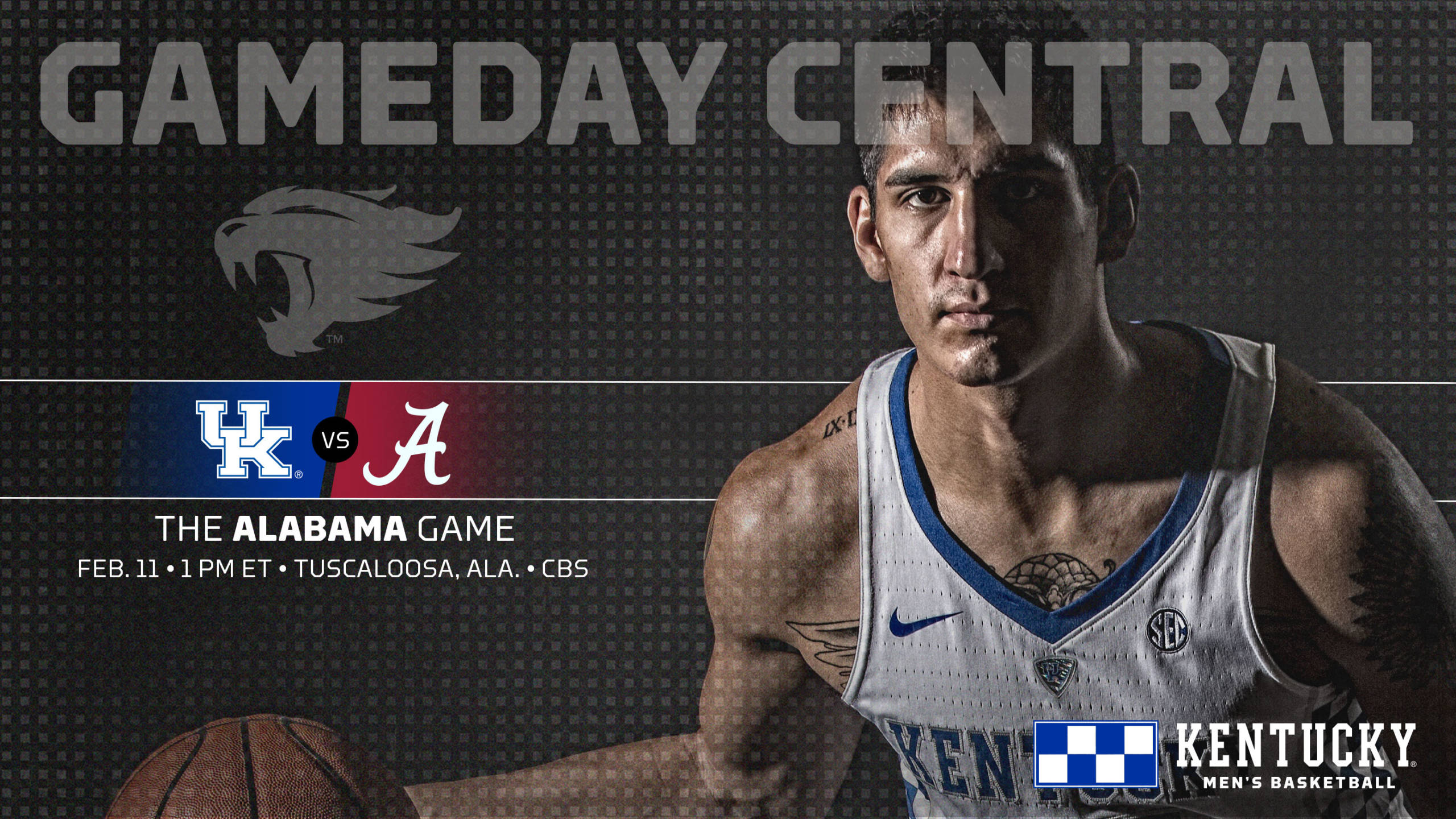 February 10, 2017 - 03:38 PM
Alabama Presents Calipari's Reboot Its Next Test
The Kentucky basketball team was rolling. It was No. 1 in the country and had one of the five most efficient offenses and defenses in the country.
Kentucky at Alabama

Sat., Feb. 11 – 1 p.m. ET
Coleman Coliseum
Tuscaloosa, Ala.
Game Notes: UK | UA
Gameday App

Coverage

TV: CBS
Radio: UK Sports Network
Live Audio
Live Stats
Digital Gameday Guide
Text Updates

UK
2016-17 Team Stats
UA
19-5
Record
14-9
9-2
Conference Record
7-4
90.2
PPG
70.3
74.3
Opp PPG
66.0
.487
FG%
.423
.430
Opp FG%
.404
40.3
RPG
40.0
.357
3PT FG%
.321
.323
Opp 3PT FG%
.359
.693
FT%
.652
17.0
APG
11.7
6.4
SPG
6.7
5.8
BPG
4.7
Then, over time, the Wildcats' defense began to slip, their offense began to stall and Ws were replaced with Ls.
First, it was a two-point setback at Tennessee. That was followed by a six-point home loss to Kansas. After an overtime victory over Georgia in which Malik Monk netted the second-highest freshman point total in program history, the Wildcats were blown out at Florida by 22.
Now it's about putting all the pieces back together, and head coach John Calipari likes the path that his team is on.
"The kids were great," Coach Cal said Friday when asked about his team's three-hour practice earlier in the week. "They know we gotta create some habits that we've gotten away from and they know that. We did what we have to do. I feel much better with the direction. When it takes you three weeks to get to a point, it's going to take you time to get out of it's because you're trying to create different habits, both offensively and defensively."
Some of the Wildcats' problems lately have been technical issues on both offense and defense. Other problems relate more to "energy, effort and enthusiasm."
After installing a reboot on Monday, Calipari was pleased with the first three-quarters of Tuesday's win over LSU. The No. 15/12 Wildcats (19-5, 9-2 Southeastern Conference) took a 25-point lead on the Tigers, were sharing the ball, dominating the boards and resembled the team that was cruising through much of its non-conference schedule.
But over the final eight minutes of the game, the Wildcats reverted to their more recent level of play and won by just seven points. While frustrating at the time, the dose of reality may actually be a blessing in disguise.
"I'll say this, and I said it to the team, the best thing to happen to us is LSU," Calipari said. "We were on track. We were going to beat them by 30 and then they make that run in the last seven, eight minutes. And if we had won by 30, possibly me would have looked at it and said, 'OK, now we're right'. We've got this right. And by them coming back on us, it showed me, we've got to, this ain't no – this is not going to work this way."
If the remaining three weeks of the regular season are anything like the past couple weeks, it will be one wild ride to Selection Sunday on March 12. In addition to Kentucky's struggles, a number of other highly ranked teams have experienced bumps in the road. On Feb. 4 alone, six teams ranked in the Associated Press' top 10  – including Kentucky – went down with losses. That, too, hasn't been lost on Coach Cal.
"You're looking at teams all across the country trying to figure stuff out, and we're one of them," he said. "I love that I'm coaching this team. Where we are defensively I'm not happy with, but the last two days and even Monday's practice, where we were zeroed in on moving that ball on offense, they're responding."
Based on Friday's media opportunity, it sounds like Calipari is toying with the idea of using the bench as his ally even more than before. Noting that outside of the anomaly that was the 2014-15 season in which he platooned two groups, Coach Cal said that many of his best teams had shorter rotations. 
Malik Monk, for one, told Calipari that if he isn't rebounding the ball he should come out. Other Wildcats weren't as forthcoming, but as Coach Cal continues to try to shore up his team's defense, a simple message resonates: defend and rebound or sit.
"You know, one of the things you do is just say if you really want to get better defensively, you play your best six defenders and that's it," Calipari said. "Don't play anybody else. Now, you're seeing teams across the country start doing that right now. Syracuse went to playing six guys. That's it. I'm playing six, and I'll play five if no one gets in foul trouble and you can all play 40 minutes and they've won seven in a row. … So, we're not at that point yet, but again, if you're going in and you're breaking down or you can't fight or rebound, you just can't be in there. I've made it clear to the guys. We've got to get back to having a defensive presence and making it about defense."
Coach Cal's reboot will get its next challenge against Alabama on Saturday at 1 p.m. ET at Coleman Coliseum in Tuscaloosa, Alabama. The Tide (14-9, 7-4 SEC) are alone in fourth place in the league standings after winning at South Carolina in four overtimes on Tuesday.
One of the deepest teams in the country, Alabama has 10 active players averaging at least 12.6 minutes per game and eight scoring between 5.4 and 11.8 points per game.
"Their players are good," Coach Cal said on Monday's SEC Coaches' Teleconference, "but their team is really good."
And what Alabama perhaps does best is rebound. The Crimson Tide's plus-6.6 average rebounding margin is the best in the SEC. Freshman forward Braxton Key, who leads the team in scoring (11.8 ppg) and rebounding, is pulling down just 6.0 boards per game, but four other players are just behind him averaging between 4.0 and 5.7.
"It's our guards that got to stick their noses in there and go rebound," Calipari said. "This team is going to shoot it and send four guys to the rim. That's what they do. And if your guards don't rebound, it's going to be ugly."
After being outrebounded at Florida by 25, a record in the Calipari era, the Wildcats outrebounded LSU by 14 the very next game. Coach Cal said that he expects Alabama to employ a similar strategy as Florida and play with great energy and effort. And at the end of the day, win or lose, Saturday's game will show Calipari exactly where his team and this reboot is.
"We got a month to get this right," he said. "These guys are in a great frame of mind right now. It's going to be a really hard game for us to win down there the way they're playing and how hard they rebound the ball. It's exactly the medicine we need to say 'Where are we right now rebounding the ball?' Because you're going to find out, similar to what Florida did, shoot it and go get it."
Gabriel's Career Night Leads Kentucky Past LSU
Wenyen Gabriel scored a career-high 23 points, Malik Monk also had 23 and No. 15/12 Kentucky withstood a late LSU rally for a 92-85 victory Tuesday night.
The Wildcats (19-5, 9-2 Southeastern Conference) won for just the second time in five games and had to withstand the Tigers' late rally that got them within 91-85 with 14 seconds remaining. Monk's free throw with 8 seconds left sealed a win that followed Kentucky's 22-point loss at Florida on Saturday.
Gabriel provided the initial offensive boost and finished 7 of 11 from the field, including three 3-pointers, to beat his previous career best of 15. He also grabbed eight rebounds, including three offensive, as Kentucky controlled the boards 40-26.
Monk bounced back from an 11-point outing to make 8 of 15 from the field with four 3s. De'Aaron Fox had 16 points and Isaiah Briscoe added 14 for Kentucky, with all but two coming in the second half.
Antonio Blakeney had a season-high 31 points and Brandon Sampson added 17 for the Tigers (9-14, 1-10).
In the opening 20 minutes, Kentucky showcased the "reboot" its head coach proficized on his Monday call-in show. The Cats turned the ball over just four times and outrebounded the Tigers 24-15.
Additional notes:
• Kentucky's streak of consecutive games with a made 3-pointer has reached 999
• Gabriel scored 11 of 13 points to help UK open up to an 18-4 advantage
• The Wildcats are 7-0 when Gabriel scores in double digits
• UK is 205-4 under Calipari when leading by 10 at some point in the game. UK's largest lead was 25 in the second half
• Kentucky is 38-8 in "bounce back" games following a loss under Calipari
• UK has won 44 consecutive games in Rupp Arena against unranked foes and 25 straight against SEC opponents
• Monk has scored in double figures in all 24 games this season
• Bam Adebayo just missed out on a double-double with eight points and a game-high nine rebounds
Three is Better Than Two … 1,000 Times
UK passed UNLV for the nation's longest active streak of consecutive games with a made 3-pointer in its final game of 2015-16. With UNLV having played one more game than Kentucky this season, the two are tied for the national lead with 999 consecutive games with a made 3-pointer (through games on Feb. 8).
With a 3-pointer in a game vs. Alabama on Saturday, UK will beat UNLV (hinging on the Rebels also making one) by a mere few hours for the first team to knock one down in 1,000 consecutive games.
The Cats' last game without a made 3-pointer came against Seton Hall on Nov. 26, 1988 a "three-point" loss in the Great Alaska Shootout.
Calipari Closing in on 23rd Consecutive 20-Win Season
With a home win vs. LSU on Tuesday, Kentucky secured its 19th win of the season, just two shy of an eighth straight 20-win season under John Calipari. Calipari as a collegiate head coach has posted 22 consecutive seasons of 20 or more on-court wins. He leads all active coaches with that streak, ahead of Mike Krzyzewski of Duke (20), Bill Self (19) and Jim Boeheim (17).
More impressive, Calipari has nine seasons with 30 or more on-court wins. Only Mike Krzyzewski (13) and Roy Williams (10) have more. Calipari is the first coach in NCAA Division I history to record five straight on-court 30-win seasons, notching 30 straight in consecutive seasons from 2005-06 to 2009-10.