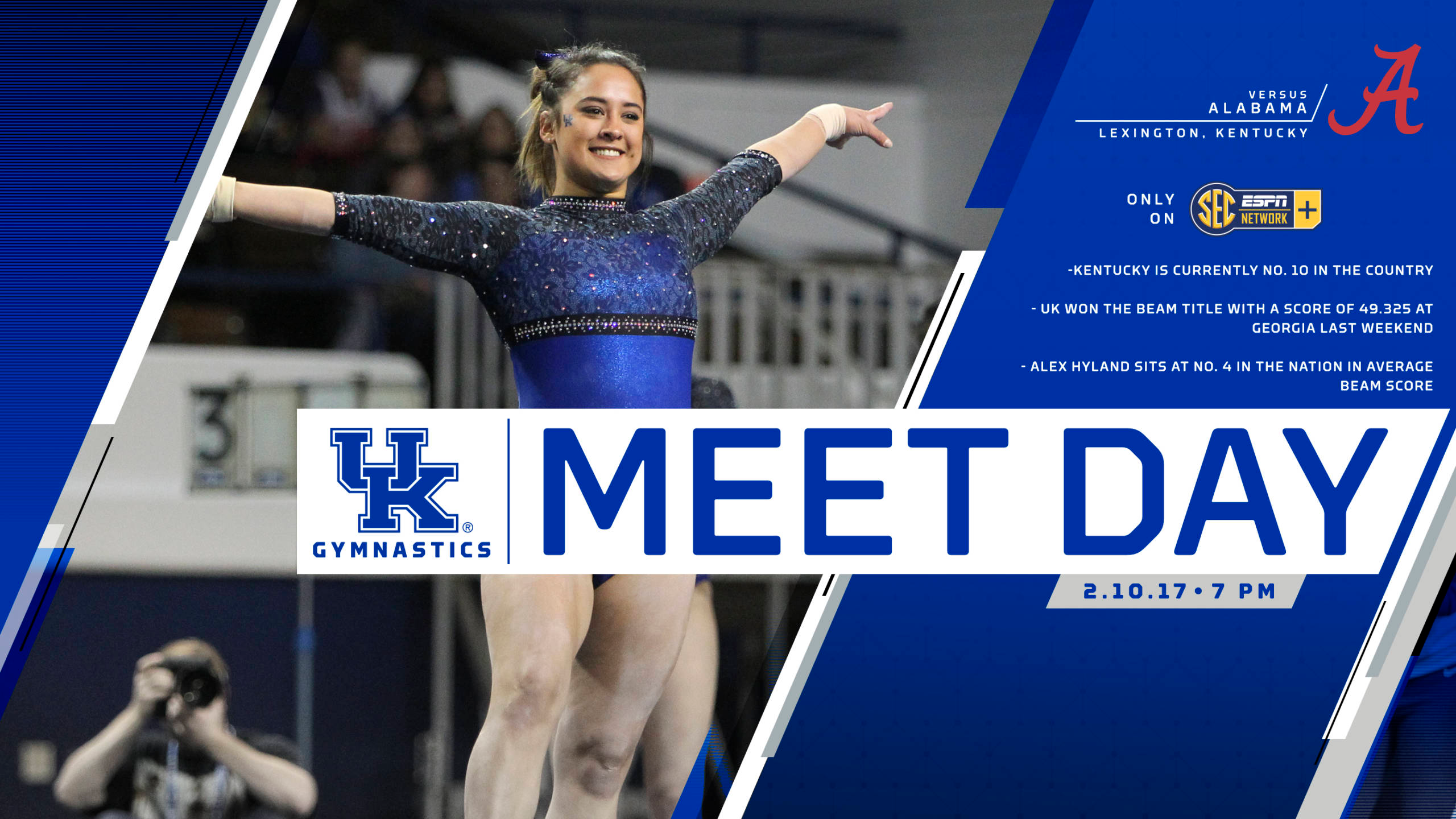 February 9, 2017 - 02:47 PM
No. 10 Kentucky Hosts No. 6 Alabama on Friday
Meet
Notes | Watch Live | Live
Stats
LEXINGTON, Ky. – The No. 10 Kentucky gymnastics team will return to
Memorial Coliseum on Friday at 7 p.m. to face the No. 6 Alabama Crimson Tide.
The meet can be watched live on SEC Network+ and will be shown on replay on
ESPNU on Tuesday at 5:30 p.m.
Kentucky is coming off a close meet with No. 9 Georgia last Friday. The
Wildcats fell to the Bulldogs, 196.500 – 196.150, but UK won the beam title
with an impressive 49.325. On the beam, sophomores Alex Hyland and Sidney Dukes
both posted scores of 9.925 to take the individual beam crown. Hyland now sits
at now No. 4 in the nation in average beam score at 9.892.
The meet is father/daughter date night, and UK invites all fathers and
daughters to spend the Friday before Valentine's Day at Memorial Coliseum. The
meet will feature concession specials of two heart-shaped cookies for $1.50 and
two hot dogs, two drinks and a box of candy for $5.00.
SCOUTING ALABAMA
Alabama is ranked sixth in the nation, and is coming off its best
performance. The Crimson Tide scored a 197.825 last week to beat No. 3 Florida
last Friday. Alabama has already faced the No. 1, No. 2 and No. 3 team in the
country. Bama ranks in the top 12 on all four events, including fourth on the
balance beam.
LOOKING AHEAD:  AT MARYLAND, PENN & WILLIAM & MARY
Kentucky will head east to take on Penn, William & Mary and host
Maryland. Penn is currently the No. 58 team in the country with an average
score of 191.788. William & Mary sits at No. 63 with an average score of
190.625.  The host Maryland is the highest ranked team of the group at No.
41 with an average score of 194.090.
NATIONAL RANKING
After week five, the Cats sit at No. 10 in the nation for the second
consecutive week. Kentucky has been ranked in the top 15 of the Road to
Nationals poll every week this season, and has remained in the top 10 for the
last four weeks.
ROTATION RANKINGS
Not only has Kentucky sat in the top 15 in the Road to Nationals poll,
the Wildcats also sit high in every rotational ranking. The Cats' highest
ranking comes on beam, where they rank No. 11 at 49.117. The Wildcats sit at
No. 12 on the floor with an impressive average of 49.067, and No. 14 on the
bars with an average of 48.979. On vault, UK is No. 20 with an average of
48.892.
PUTTING UP NUMBERS ON BEAM
Sophomore Alex Hyland has been phenomenal on beam this season. Hyland has
not posted a score below a 9.875 this season, and recently put up a career-best
9.925 at Georgia on Friday. Hyland currently sits at No. 4 in the nation in
average beam score with an average of 9.892.
ALL-AROUND RANKING
Kentucky has four athletes who compete in the all-around, and three sit
in the top 50 in average all-around score. Freshman Mollie Korth has the
highest all-around score with an average of 39.317, and has a high of 39.575.
Sophomore Sidney Dukes follows at No. 29 with an average score of 39.235 and
Alex Hyland is No. 39 at 39.160.
For complete news and updates on the Kentucky Gymnastics program, go to UKathletics.com. Season tickets
can be found on UKathletics.com/Tickets. News and updates on the team can also be found on
Twitter at @UKGymnastics and at @UKCoachGarrison and Face