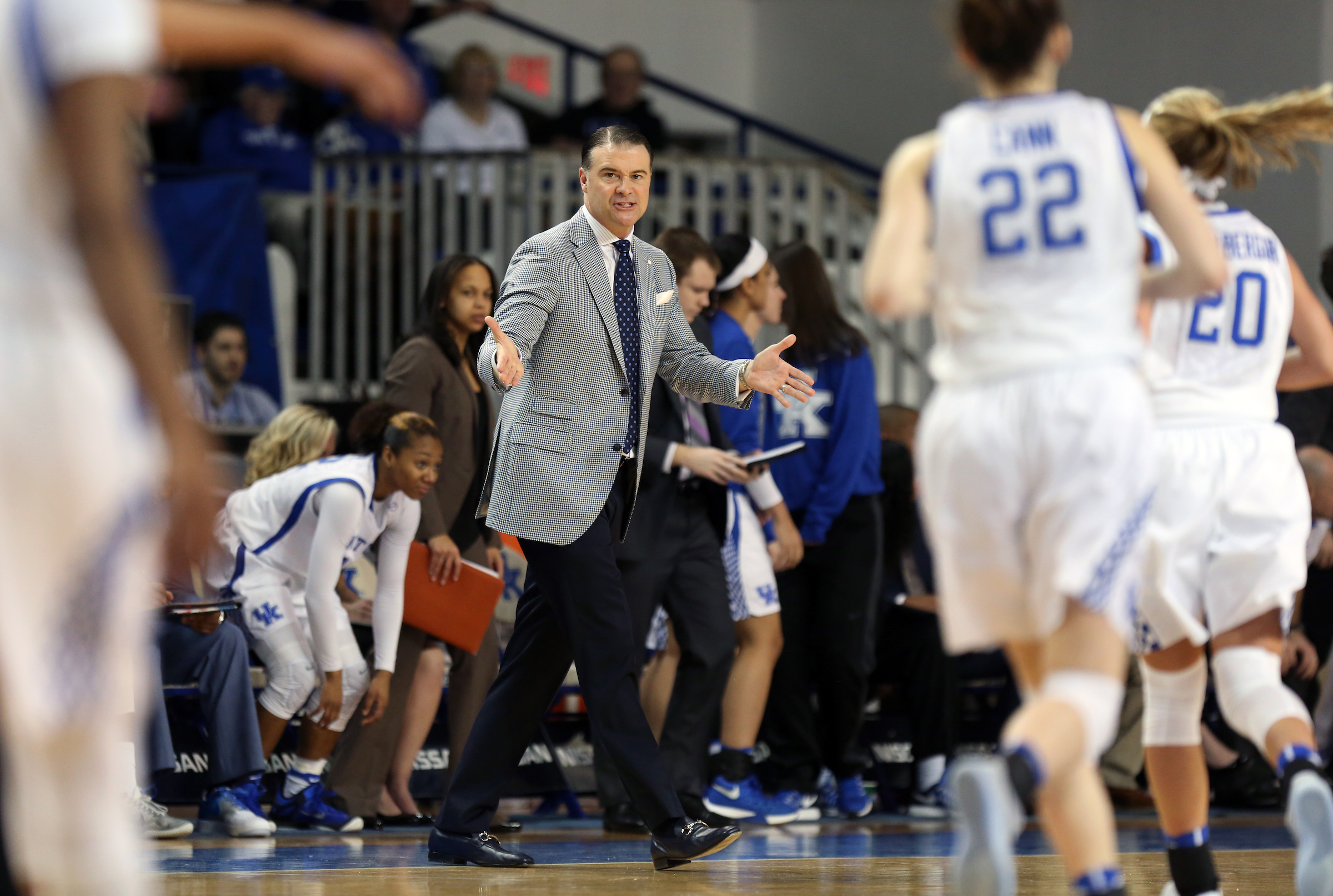 The big picture doesn't mean a whole lot to Matthew Mitchell right now.
Every moment, every day and every game are too important for him to think beyond what Kentucky is immediately facing.
"We don't look too far off into the distance," Mitchell said. "We just really try to stay focused on the moment and see if we can get better each day and see if we can scratch out as many victories as we can."
The next opportunity for a victory for the Wildcats (16-8, 7-4 Southeastern Conference) will come in the form of a trip to Georgia to face the Lady Bulldogs (12-11, 4-6 SEC) at 7 p.m. on Thursday. The game is a rematch of a game in Lexington on Jan. 15 that UK won, 82-61. The loss was the second of a five-game losing streak for Georgia, but the Lady Bulldogs have since reeled off back-to-back wins to start February.
"We were fortunate to win here in Lexington," Mitchell said. "They are coming off one of their best wins of the year, really looked good versus Tennessee on Sunday (in an 81-78 victory in double overtime). So, I'm sure they're coming into the game with a lot of confidence and also, it's always difficult to go on the road. We'll have to prepare well to defeat Georgia and we're going to try to get ready to do that."
UK, meanwhile, is coming off a challenging week in which the Cats lost at Missouri on Monday, fell to SEC-leading South Carolina on Thursday and rebounded on Sunday with a 71-63 victory over Vanderbilt.
"Thought we learned a lot on Monday and Thursday, think it helped our basketball team to come and turn it around and get the victory on Sunday," Mitchell said. "So, I really thought last week was very beneficial for our team and you know now as you look at this game against Georgia, we certainly have a chance to win, but so does Georgia."
With the stakes so high down the stretch in SEC play, some coaches might lament a 1-2 week. That's not Mitchell's mentality, though, nor his team's. Instead, he saw the setbacks as chances to get better.
"We have identified some things that happened in Columbia, Missouri, and against South Carolina that we felt like we could've done better from a communication standpoint and keeping our poise and hanging in through adversity – players and myself and coaches," Mitchell said.
That's a team-wide approach that Mitchell says is his favorite thing about his 2016-17 group.
"I feel like everyone is still very, very hungry to be the best that this team can be," Mitchell said. "If we can continue to improve and we can continue to win some games, that is going to give us an opportunity to be our best in the postseason. Our No. 1 goal coming into this year was to push it to the absolute limit to whatever we can become. I don't sense any wavering in that attitude."
The two-week stretch the Cats are now in the middle of – which features just two games sandwiched around UK's open date on Sunday – will be crucial to reaching the upper limit they all want to get to.
"We just really try to stay focused on the moment and see if we can get better each day and see if we can scratch out as many victories as we can. So, our approach is, we've sort of been myopic in our game to game, I really haven't given it much thought," Mitchell said of UK's bye. "But I do know we're giving the kids a couple days off here at the end of the conference schedule and we'll have four when we get back."
That's about as much thought Mitchell will put into the future. Then it's right back to the moment at hand.
"I think that'll be good for them," Mitchell said, "but we'll sure enjoy that a lot more if we can play hard and find a way to win in Athens."