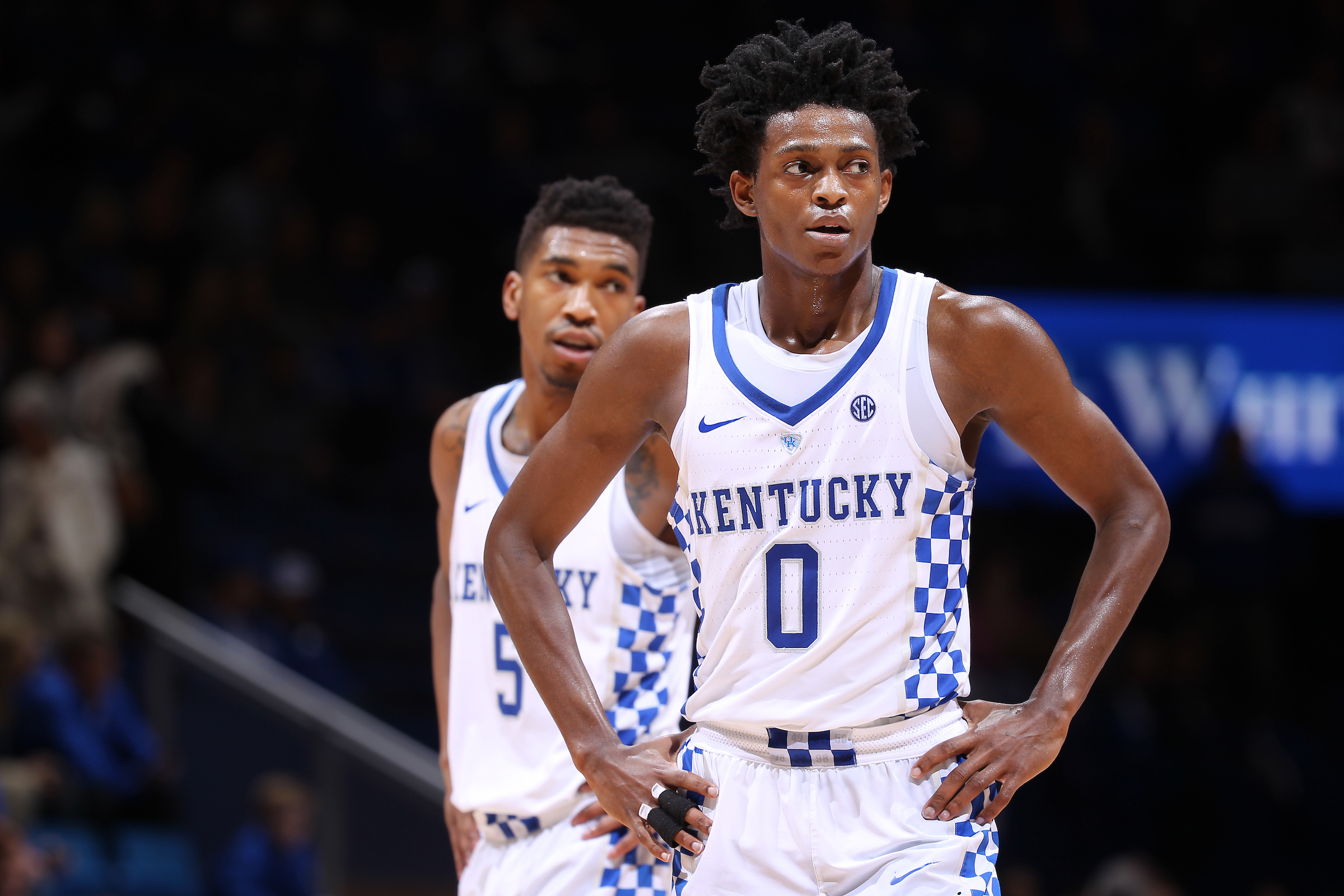 February 8, 2017 - 06:43 PM
Fox, Monk on Wooden Award Late Season Top 20 List
LOS ANGELES – Kentucky freshman guards De'Aaron Fox and Malik Monk are among the 20 players on the John R. Wooden Award Late Season List, announced Wednesday by the Los Angeles Athletic Club. The Wooden Award is presented annually to the top player in college basketball.
Chosen by a poll of national college basketball experts, the Wooden Award Late Season Top 20 List  is comprised of student-athletes who are the frontrunners for one of college basketball's most prestigious individual honors. The finalists for the award will be announced on March 4. 
UK is one of three schools (UK, Kansas and North Carolina) with two players on the late season 20 and the only school with two freshmen. Six total freshmen total were among the late season top 20 list with UK comprising a third of the freshmen on the list.
Monk, a freshman from Lepanto, Arkansas, is one of the most prolific scorers in the country. Averaging 21.9 points per game, he is ranked 10th nationally in scoring, second among all freshmen and first in the Southeastern Conference. No John Calipari-coached player has ever averaged more than 21.2 points for an entire season (Dajuan Wagner at Memphis in 2001-02). He's scored in double figures in every game this season and has 14 games of 20 points or more, including a Kentucky freshman record 47 points vs. North Carolina in December, a 34-point outburst at Ole Miss and 35 points in an overtime win over Georgia at home. 
He's the only freshman in program history and just the third player overall to post games of 34 or more points at a neutral-site game, an away game and a home game in the same season.
Monk has proven to be one of Calipari's most dynamic scorers ever. Routinely a feature on SportsCenter's Top 10 for his jaw-dropping dunks, he's also proven to be one of the nation's top 3-point shooters. He's made 77 3-pointers through 19 games, ahead of Jamal Murray (72) at this point in the season when he went on to break the freshman record with 113 3-pointers a season ago.
Fox is a speedy, yet dynamic playmaker who has the ability to create for his teammates and score at a high rate at the same time. He is currently averaging 16.0 points, 5.5 assists and 1.6 steals. His 5.5 assists per game ranks 33rd in the country, fourth among all freshmen and first in the SEC, while his 2.3 assist-to-turnover ratio is third in the conference. His 126 assists are already the sixth most by a John Calipari freshman in a single year.  
Fox already has a team-leading four double-doubles by way of points and assists, which includes his historic triple-double against Arizona State – the second triple-double in school history and first since Chris Mills did it Dec. 27, 1988. The Houston native has 11 games of six assists or more.
The players on the list are considered strong candidates for the 2017 John R. Wooden Award. The top 15 players who have proven to their universities that they are also making progress toward graduation and maintaining at least a cumulative 2.0 grade-point average will be submitted to voters on the final ballot prior to the NCAA Tournament. Every year, players have made the final ballot that were not on the preseason or midseason lists. 
Voting will open prior to the start of the NCAA Tournament and will allow voters to take into consideration performances during early round games. The Wooden Award All-American Team will be announced the week of the Elite Eight round of the NCAA Tournament. The winner of the 2017 John R. Wooden Award will be announced during the ESPN College Basketball Awards Show on April 7.
Previous winners of the Wooden Award include such notables as Larry Bird (1979), Michael Jordan ('84), Tim Duncan ('97), Kevin Durant ('07), Trey Burke ('13), Doug McDermott ('14), Frank Kaminsky ('15) and Buddy Hield  ('16). UK's Anthony Davis won it in 2012.